Image: Ubisoft/Joao F.
On Aug. 15, the Six Berlin Major will take place as 16 of the world's best teams meet to stake their claim to the crown of best in the world. With all but one of these teams having prior experience on the global scene, this will not be the first time many of these teams have met.
Here's a look at the prior meetings in each group and how they went for each team: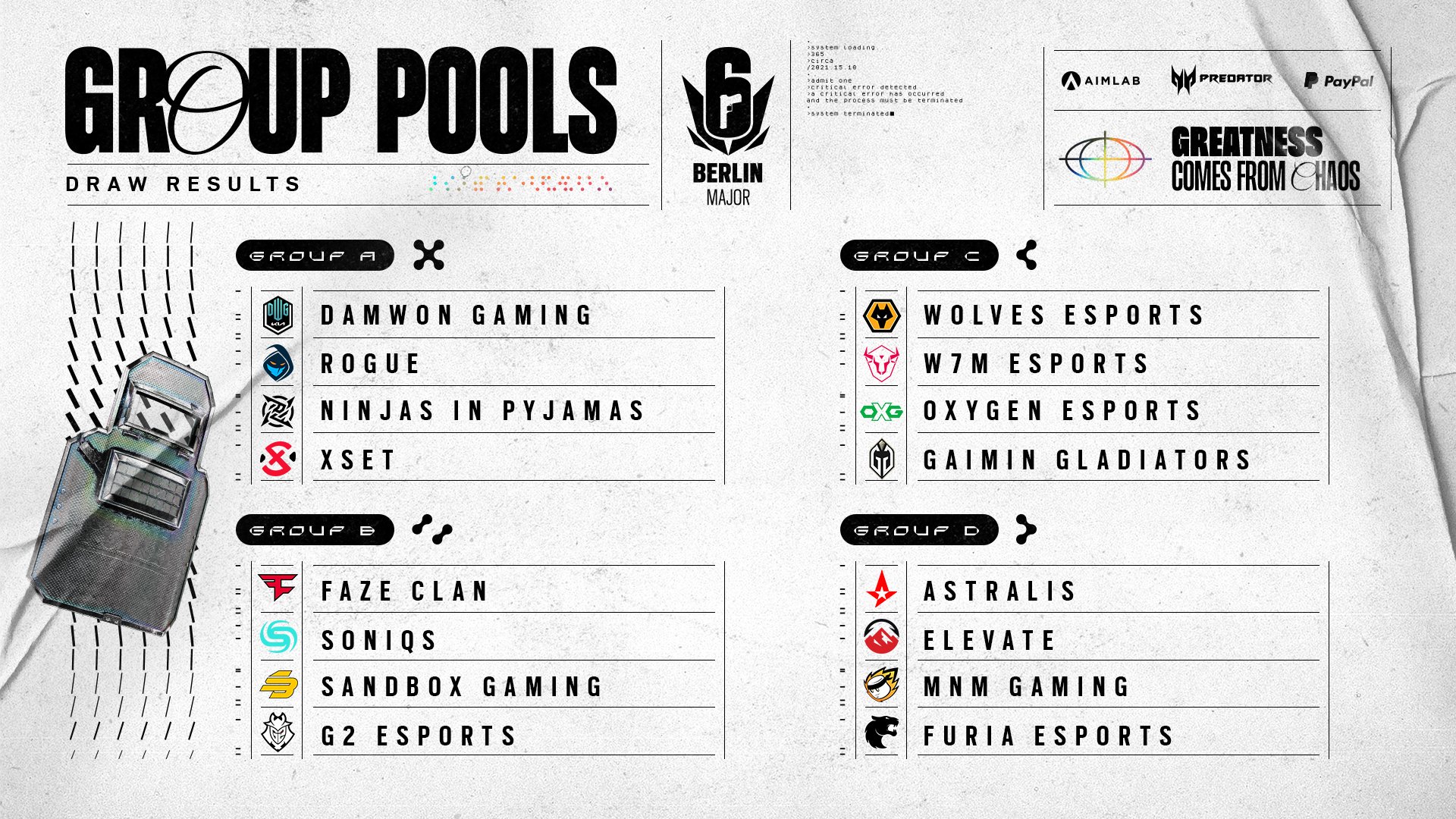 Group A
DWG KIA -- RIN, Coted, Woogiman, CATsang, yass, HoundBird (Coach), and PJH (Coach)

Rogue -- Cryn, LeonGids, Kantoraketti, Deapek, Spoit, meepeY, Bernie (two coaches), and Saethus (analyst)

Ninjas in Pyjamas -- Kamikaze, Psycho, Muzi, Pino, Wizard, and Sneepy (coach)

XSET -- Kyno, DiasLucasBr, GMZ, Spiritz, Yoggah, Vivas (coach), and PFernandes (analyst)
The biggest head-to-head of this group is NiP vs Rogue, which will be a repeat of the Sweden Major semi-finals. While that game ended decisively for the Ninjas, Rogue has since changed three-fifths of their team.
NiP also have a long history against Rogue members prior to this, as Kanto beat NiP in the Pro League Season 6 grand-final, NiP knocked Kanto's G2 out of the 2020 Six Invitational, and Kanto took down NiP at the Raleigh Major groups. LeonGids also met NiP during both his DreamHack Valencia and Allied Minor title runs, losing the first 2-1 and winning the latter 8-6.
Looking over at APAC, DWG KIA have only played one of their opponents before when they beat NiP in back-to-back group stage games in their debut event.
Finally, XSET's only prior tournament was the Charlotte Major, an event none of the other three teams attended.
Nevertheless, there's still a history here, as Kyno and Yoggah lost to DWG at the 2022 Six Invitational groups before knocking them out of the playoffs, lost to Rogue during the Sweden Major groups, and lost to NiP 5-7 in the SI 2021 groups. They'll be in a good position to avenge all three group stage results in Berlin.
Group B
FaZe Clan -- Astro, cameram4n, Bullet1, Cyber, soulz1, and Ramalho (coach)

Soniqs -- supr, Gryxr, Kanzen, Rexen, Yeti, and Goddess (coach)

SANDBOX Gaming -- Arukaze, EnvyTaylor, SyAIL, Static, GoodBoy, Nova (Coach), and FanXy (Coach)

G2 Esports -- CTZN, Virtue, Alem4o, Doki, Prano, and Shas (coach)
At the 2022 Six Invitational, the most recent event they attended, the Soniqs met two of their Berlin Major group stage opponents as they beat SANDBOX 2-0 before being knocked out of the tournament by FaZe Clan. The Soniqs also beat FaZe in the DreamHack Montreal decider match, but supr was the only player there from the current lineup.
Whether it's just for the content or not, the rivalry between supr and Alem4o will drive a lot of attention to this group as the two players have been going at each other on social media for months:
FaZe, meanwhile beat G2 but lost to SANDBOX in the 2021 Six Invitational group stage. G2 also beat SANDBOX here 7-5. G2 also beat FaZe at the Pro League Season 8 grand finals, however, no G2 members from that team remain on this roster.
Finally, SANDBOX lost to the original G2 core in their opening game of the Season 6 Finals and the 2019 Six Invitational.
Group C
Wolves Esports -- BiBooAF, Mowwwgli, P4, risze, Shiinka, Lyloun, and Helbee (two coaches)

w7m esports -- HerdsZ, GdNN1, Kheyze, Jv92, volpz, Abreu, and igoorctg (two coaches)

Oxygen Esports -- FoxA, LaXInG, VertcL, Nuers, Dream, HOP3Z, and Redeemer (two coaches)

Gaimin Gladiators -- Jo, Ape, Hovenherst, Tolji, Rixx, Hermosa, and Sunan (Coach)
As this is Gaimin Gladiators' debut event, they haven't played any of their global opponents. Furthermore, w7m didn't meet either Wolves or Oxygen in their first and only prior tournament, the Charlotte Major.
This leaves Wolves vs Oxygen, a clash which also has never happened before, but a few of their players have met in the past. BiBooAF's most high-profile meeting came on the Xbox, as LaXInG knocked him out of the 2017 Xbox Invitational semi-finals. He also beat FoxA and LaXInG's beastcoast 2-0 off-stream at the very first R6 Minor event.
Meanwhile, risze has met VertcL, FoxA, and LaXInG several times during the other R6 Minors. During VertcL's successful DreamHack Valencia title run, risze was beaten on four maps, including 2-0 in the grand final. This came just a month after risze beat VertcL 2-0 in the Allied Minor quarter-finals.
FoxA and LaXInG also knocked risze out in the semi-finals of the DreamHack Montreal event on their way to the title as well.
Group D
Astralis -- Dpfire, iconic, J9O, Shuttle, Forrest, Callout (coach), and Mango (analyst)

Elevate -- Onigiri, DCH, Sapper, MrPuncH, markshortboyz, and DrBestsiaer (Coach)

MNM Gaming -- Yuzus, neLo, Tyrant, Neonical, Solotov, Archer, and Eden (two coaches)

FURIA Esports -- Miracle, R4re, Handyy, Stk, Fntzy, and Julio (coach)
Finally, we have D, which will only have one repeat matchup.
Astralis and MNM have never played any of their opponents, while Elevate's only prior meeting was a 2-0 loss to FURIA at the 2022 Six Invitational.
There are so few here because three of the four teams are new to this level of play, with this being just the second tournament for MNM, Elevate, and Astralis. While Elevate did qualify for the Charlotte Major as well as SI 2022, they could not secure their US visas in time.