Stage 2 of the APAC South League is now done. While the top two teams -- Elevate and Gaimin Gladiators -- will now travel to Berlin for August's Six Major, the remaining six have over two months to prepare for Stage 3.
Here's a speculation-heavy look into where these changes could come.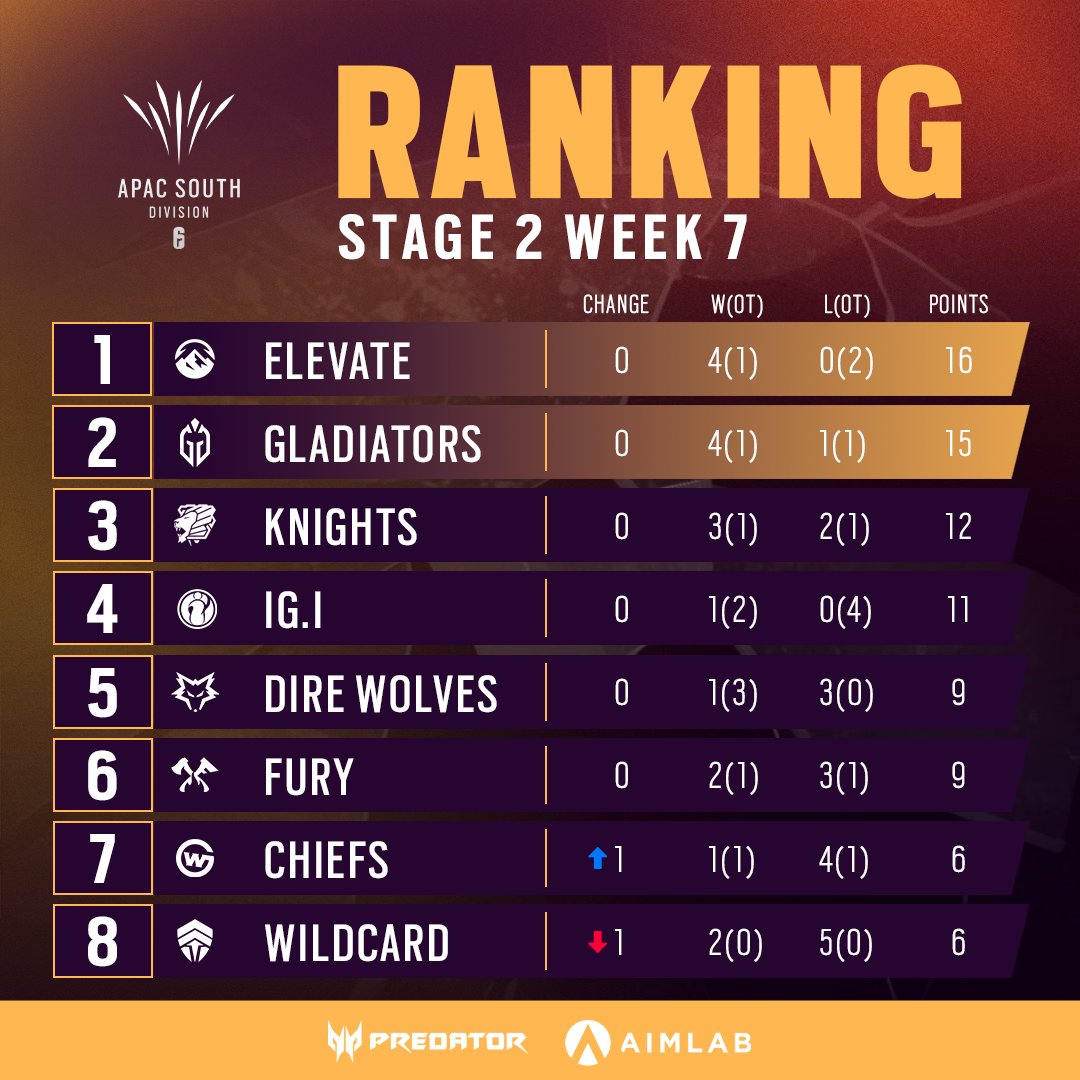 Wildcard Gaming
While Wildcard are still ahead of FURY in the overall APAC South standings, FURY are improving dramatically. The bottom two teams will need to face relegation at the end of the year and Wildcard are certainly going to be in the fight after yet another poor stage.
During Stage 2, Patrick "Pat" Wines was the worst player in the entire league with a 0.65 SiegeGG Rating. While he was playing Thermite, he was the lowest-rated player on both the attack and defence. Even though he took more opening defensive engagements than any of his teammates, he won just two out of 12.
What does help his case is that he is the longest-tenured player on the roster and likely is important behind the scenes. But even if he is calling plays during the game, they may wish to switch up the shot callers anyway, considering their current standing.
Also of note is Matthew "Oj" Grech, who had a fairly big dip in performance this stage, particularly on the attack while playing Iana. This is still just oj's second ever professional stage, so it is unlikely they will make any changes here for now.
Dire Wolves
Huang "HARAM3E" Chih-hang had a very poor stage with the tournament's second-lowest SiegeGG Rating, the lowest kills per round figure, the lowest KOST figure, and the worst kill differential. This was all while only managing four plants down in eight games and having the team's worst opening kill differential.
This comes after he was also the worst player on Dire Wolves in Stage 1, his debut professional stage. He is also the team's newest player, with the rest of the roster together for a year now.
Dire Wolves just made a Major and may thus not want to make a change, but may need to keep SI 2023 in mind. After all, this will be the last transfer window that can still provide a full-stage of experience to anyone signed before SI 2023.
FURY
Between stages, FURY added two ex-Elevate players who had just attended the 2022 Six Invitational, which led them to go from zero points won during Stage 1 to nine in Stage 2.
The team is almost certainly happy with where it is heading, but things may change quickly later this month -- depending on Elevate.
If Elevate drops any players, then FURY will be the obvious destination for them, while any upcoming tier-two Thai players can be scooped up by Elevate much easier meaning Elevate's decisions and performance will heavily impact FURYs window. However, after a much-improved Stage 2, FURY will likely be keen to continue with this roster for at least another stage.
Chiefs Esports Club
The Chiefs went from third in Stage 1 to tied on points with last-placed Wildcard in Stage 2 with less than half the points of third-placed Knights. This wasn't, however, due to a single player, as four of the five players had massive declines in SiegeGG Rating. Without a look under the hood, it's hard to know what caused the problem.
Kelton "Bouncinballz" Mclachlan, who is also the team's newest player, had the biggest drop on the team after going from a 0.93 to a 0.68 KPR figure. It's unlikely they will drop him just yet, but if he's unable to put up those Stage 1 numbers in scrims, the team may be worried about its Stage 3 prospects.
Like Wildcard, the team's worst statistical player has also been on the team the longest, with Raine "Dgtl" Wright having been with this roster since late 2019. Once again, it's hard to judge his true value without being in the lineup to see his calls and captaincy.
Knights & Invictus Gaming
The Knights technically improved their standings from fourth place to third and from 11 points to 12 but were still short of their goal. No player had a bad stage, and even Jai "Quiz" Riddle-Browning, who was the lowest-rated on Knights, improved his performance from Stage 1. From the outside, they seem comfortable.
Similarly, Invictus went from fifth to fourth with 11 points in both stages. Once again, it's short of their "super-team" goals.
With Patrick "MentalistC" Fan drastically improving, their primary problem (statistically) is their sheer lack of plants. While Nathaniel "naate" Williams had eight of the team's nine plants during Stage 1, Stage 2 saw five from the team in total, with Naate and Matin "SpeakEasy" Yunos getting two each.
This is definitely an internal issue to fix but somewhat implies that Naate is struggling to fill this designated role.