After a surprising finish to Season 2, where Team Demise beat the defending champions of Trust Gaming, BeNeLux (a sub-region containing Belgium, the Netherlands and Luxemburg) returns to our screens once again as we detail everything you will need to know before the new season begins.
The Teams:
As with last season, there will be 4 teams who automatically qualify due to their positions in the league.
Trust Gaming (GXT): Leonski, Avaiche, Deapek, Quadzy and Anthony (their coach)
GXT returns from last season after finishing top of the online league and claiming the second place at the LAN finals. Since the last BeNeLux Season, the lineup made quite a name for themselves, firstly at DreamHack Winter where they defeated Team Liquid, and secondly in the Challenger League qualifier playoffs which they finished undefeated to make the league, a first for a BeNeLux roster.
At this time the roster currently lacks a fifth player after the departure of Jari "Snuf" van den Berg with their second coach, Michiel "oVie" van Dartel, also leaving to join the new mousesports lineup (formerly ENCE eSports). This all means that while this roster has obvious potential and success within the region, changes are in store for Trust Gaming.
Flash Point: Xoogle, DreamR, WishMaster, leaky (their substitute) and DyVerze (their coach)
This will be a different Flash Point roster than last season's, however, the organization held on to the league spot as their previous roster had finished joint-third during the last season's LAN finals. The new roster also currently lacks a full lineup as two of its members were benched "due to internal differences within the team", meaning they'll be on the active search for members to complete their roster for the time being.
Demise: Farooq, Staed, rxwd*, sNKy* and NoerA*
Demise also keeps their spot as they finished second during the online season only to go and defeat the favourites of Trust Gaming during the LAN Finals to claim the BeNeLux title. At this time, however, it is unclear if the organisation will retain this spot with a complete roster.
While the roster listed above remains the same on the team's ESL page, rxwd and sNKy have since joined Team Vitality in the Challenger League, with NoerA playing on oui oui tonight against XTreme Video Esports for a spot in the league as well. This makes it somewhat unlikely they'll commit to both teams simultaneously, especially considering they'll possibly be on opposing teams in the Challenger League.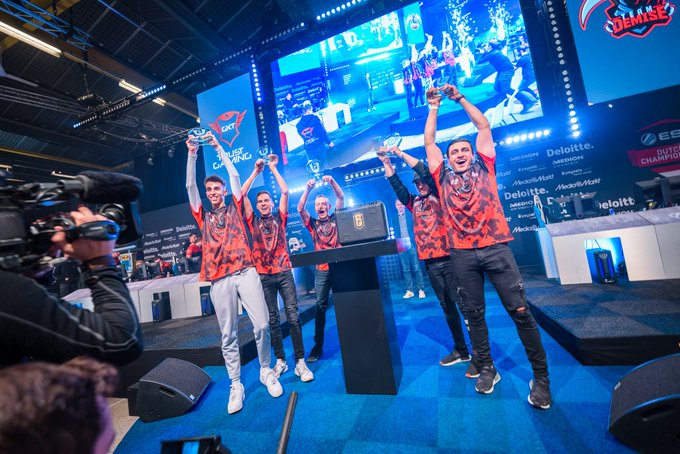 Conquer Gaming: Dark, TigerB, ScorpZ, Sejinex and Envii (their coach)
This is the old Flash Point roster who claim this spot due to the Guidance Gaming roster disbanding at the end of last season, and Guidance not qualifying to claim the spot as an organisatino. The roster has consistently been one of the top teams in the region, finishing both seasons so far in joint-third position.
Qualifiers:
With each new season brings a new set of challenges that the returning teams will face. There will be a total of four spots up for grabs and the qualifiers will take place on the following dates:
- Qualifier 1: 27th of March
- Qualifier 2: 3rd of April
- Play-Offs: 10th of April
You can sign up with your team here: https://play.eslgaming.com/rainbowsix/europe-pc/benelux-league
All players are required to be 16+ years-old, and the roster must consist of three BeNeLux players to be eligible.
Prize Pool:
This season the prize pool will consist of:
1st place receiving €3,500
2nd place receiving €2,000
3rd and 4th place receiving €1,000 each
On top of this, BeNeLux will introduce a loyalty system to reward teams for playing each week by receiving €50 per week played. If a team plays for all seven weeks, they will receive an extra bonus of €150 and thus bringing the total bonuses to €500 (this is in addition to any prize winnings they may receive from LAN).
Format:
The online league will consist of a single round-robin format where each team will play every other team in the league once in a Best-of-One (Bo1). The league is set to begin on the 24th of April and continue up to the 5th of June.
Resident casters Hap and Toldersma along with observer Easy will return to bring you all 4 games each week.
The LAN finals will be held on the 22nd June with a location to be confirmed.
Other Leagues:
Besides the league, BeNeLux will also bring back Go4s. These are weekly cups where teams can gain points to play in the monthly finals where the top two teams will vie for a piece of the €500 pie. First place will receive €350, and second will take home €150.
In addition, the region will also introduce community cups with a changing format every month in a hope to bring more competitions and opportunities to the region.
Over the coming weeks we will be posting a series of interviews with the key members of the BeNeLux region. First up Decibel - ESL Staff head for the region:
You can tune into the matches over at the Rainbow 6 BeNeLux twitch channel: https://www.twitch.tv/rainbow6bnl