Just over two weeks after he announced he was leaving the Finnish roster of ENCE eSports, Sua has announced he will be joining the reigning World Champions of G2 Esports for their upcoming title defence at the Six Invitational 2019 in under a week.
Following a fairly limited career as a player, Sua joined ENCE just after the Six Major Paris in August 2018 in order to guide Willkey, Bounssi, UUNO, Gomfi, and SHA77E through the Challenger League and back to the Pro League for Season 9. As we've seen, he was successful in this endeavour as ENCE finished Season 8 in second place, behind just Team Empire, before defeating Team Vitality in a somewhat clear 6-2, 4-6, 6-2 result to book a place back in the premier league of R6 esports for this Season.

Following this, they suffered a disappointing performance at both DreamHack Winter 2018, where they lost both their games against Team Liquid and Chaos, and the Invitational qualifiers, where they also went out in two games against XTreme Video Esports and PACT. Despite this, ENCE have performed fairly well in the first half of the Season even if 6 out of 7 of the games were played without Sua or any replacement coach on the roster.
Sua has now left this team after 128 days to join the team (somewhat staggeringly) below them in the Pro League standings, G2 Esports. We spoke with Sua to ask what it is like to be joining the most successful team in the world and how he can improve them further.
Firstly, can you introduce yourself?
Hello, I'm Kevin Stahnke but the community knows me as Sua. I'm the former Coach and Analyst for ENCE. I'm a 24 year old Graphics and Communication Design student from Germany.
What are your specific roles within G2?
My position in G2 is the co-coach and analyst role. Shas and I will share the coach and analyst task to work efficiently with the team. It's always good to have a second opinion and a second pairs of eyes.
How did this opportunity come about?
That's a really good question and to be frankly honest with you, i don't know. I was in talks with a team before I made my departure from ENCE known to the public. And yeah, I just got approached by Shas and Pengu and said yes.
G2 is the most successful and dominant team in Siege history, how does it feel to be joining this roster?
It's an honor to work alongside this legendary roster, and mostly I'm really happy to work with Shas again who was my coach when I was a player, to a certain degree, in Year 1. And I'm really looking forward to learning from him.
What skills do you bring to this team?
I have a really big variety of skills. First of all I was a player and IGL for almost my entire "career" in Siege, so I have a deep understanding of what's going on on the battlefield. In addition to this, thanks to my studies I bring analytical skills to the mix alongside with expert knowledge in graphics design in all Adobe programs. But how all of this makes me the perfect choice for G2 will be our little secret.
Do you have a message for G2 fans?
First of all, I want to thank all of you for being an amazing fanbase. G2 experienced some 'stuttering of the engine' in the past few play days of the Pro League, but you still root for us and we will bounce back! And I will always give 110% to provide the players all tools they need to claim the victory. Thank you.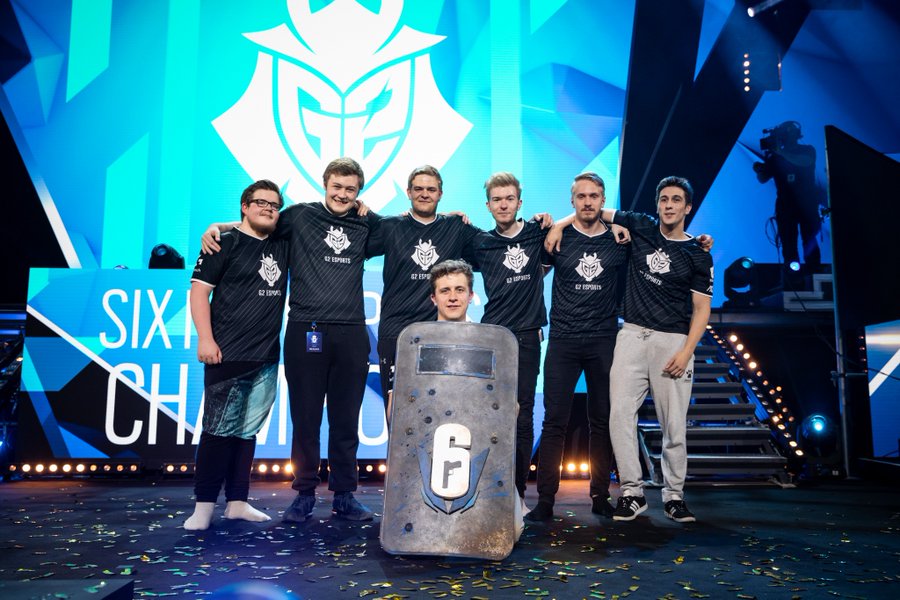 With Sua joining as an analyst this means the G2 roster will be waving goodbye to their previous analyst and ex-Team Secret (then known as I Don't Know) player of Ferral after six and a half months of him on the roster. Ferral joined the team a few weeks prior to Season 8 and went with them to the Paris Major, Season 8 Finals, DreamHack Valencia, and DreamHack Winter in what is a fairly successful career as an analyst.
As a player, Ferral's career highlights include substituting in for Pengu against Supremacy in his debut in the Pro League and finishing second behind Team Secret at the ESL Premiership Winter 2018 British national tournament in December -- two impressive feats.

Sua will now travel with the rest of G2 Esports to Montreal to compete for the top share of the estimated $2m prize pool which, considering their recent weak showing in the Pro League and the likely day 2 matchup against Team Liquid, could be a real challenge for the roster. They will first have to defeat mantisFPS on the opening day -- a team which Pengu previously remarked at the Paris Major as being a really promising team -- in a match which should be a good test of Sua's analyst skills considering the lack of information on mantisFPS and their unique playstyle.
This roster change is possibly the biggest one in the world since the beginning of the mid-season break in what should be a very busy period for many Pro League teams if the last transfer period is anything to go by. This transfer also continues a tradition of ENCE members joining G2, with the ex-ENCE members of jOONAS, Kantoraketti, blas, and SHA77E all a part of this G2 roster at one point.
Overall, it is unclear how big an effect this change will have on the roster, however as we near the Invitational, G2 will be confident that every little bit helps on their path to victory with this current lineup:
Fabian "Fabian" Hallsten
Niclas "Pengu" Mouritzen
Juhani "Kantoraketti" Toivonen
Daniel "Goga" Mazorra
Joonas "jNSzki" Savolainen
Thomas "Shas[O]Udas" Lee (as coach)
Kevin "Sua" Stahnke (as an analyst)
---
For more details on the upcoming Six Invitational or any roster changes, keep an eye right here at SiegeGG!