Six Invitational 2019
Dates

- February 11-17th 2019
The initial qualifiers will take place from the 11-13th where we will see the 16 teams be cut down to 8 for the main event. Then, from Friday the 15th to Sunday the 17th, the arena will open to the public where viewers can watch the top 8 teams in the World fight to be crowned the R6 World Champions.
Prize Pool

- $1,000,000+
While the prize pool of 1 million dollars was confirmed at the Season 8 Finals, this total is still rising as revenue from the golden Pro League cosmetic bundles is added on.
Venue

- Place Bell, Montreal
The Place Bell ice hockey rink and multi-purpose sports facility will host the tournament this year with a capacity of 10,000 people. The rink, which opened in 2017, is home to the local American Hockey League team, the Laval Rocket, and is considered an Olympic-sized arena. Should the venue be sold out it shall be the largest crowd at any R6 event to date, beating the reported Season 8 Finals total of 9,000 people in attendance.
Tickets

- General Admission STILL AVAILABLE
Standard tickets are still on sale for CA $103.75 (€66 or $75) via TicketMaster, here.
Teams

- 9/16 Teams Confirmed So Far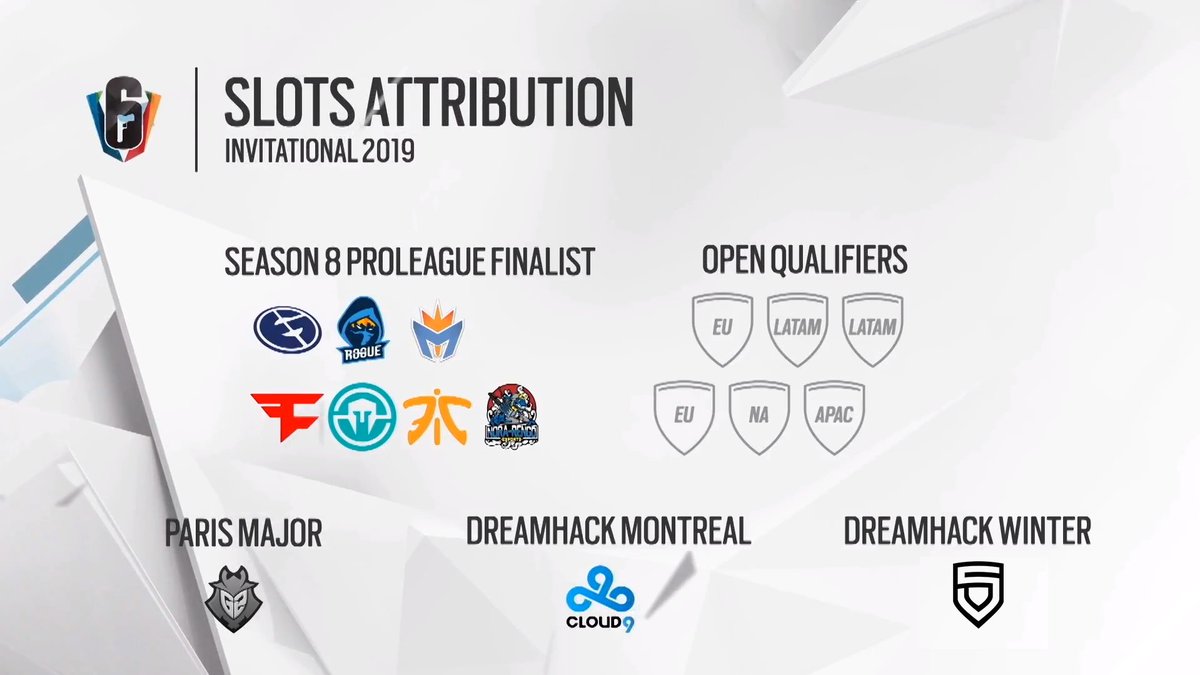 As seen above the teams qualified for the Invitational are as follows:
Six Major Winners
As reigning World Champions, the previous Major winners are invited to defend their title at the Six Invitational.
G2 Esports: Pengu, jOONAS, Goga, Fabian, Kantoraketti, and Shas (their coach)
The reigning Six Invitational, Six Major, DreamHack and Pro League Champions will be the clear favourites at this tournament as they aim to not only win yet another title but also do so in style and sweep their opponents as they did in Paris and Rio.
DreamHack Winners
As official R6 Minors, the winners of each of the two DreamHacks get an automatic spot at the following Major, in this case, the Six Invitational 2019.
Reciprocity: Skys, FoxA, Retro, LaXInG, MarkTheShark, and Robn (their coach)
Despite a rough showing during Season 8 of the Pro League, Cloud9 shocked most people when they defeated Millenium, Rogue and Evil Geniuses to claim the DreamHack Montreal title back in September, the first title for a North American team in an international tournament in over 18 months. They topped this surprise further after the roster left C9 and joined the Halo/CoD/GoW organisation of Reciprocity with the new addition of Skys for Goddess just prior to Season 9 making this roster a real wildcard hope for fans across NA.
PENTA Sports: ENEMY, RevaN, Hungry, SirBoss, blas and Jess (their analyst)
This roster will be in a rather strange position as they attempt to defend their organisation's title as Six Invitational champions despite never winning a game at a Major event. PENTA Sports, however, are probably a severely overlooked contender as, out of just 5 maps lost by G2 since they joined earlier this year, this roster has been the cause of 4 of them showing that they do possess a sheer skill or strategy that could make the roster a surprising "giant-killer".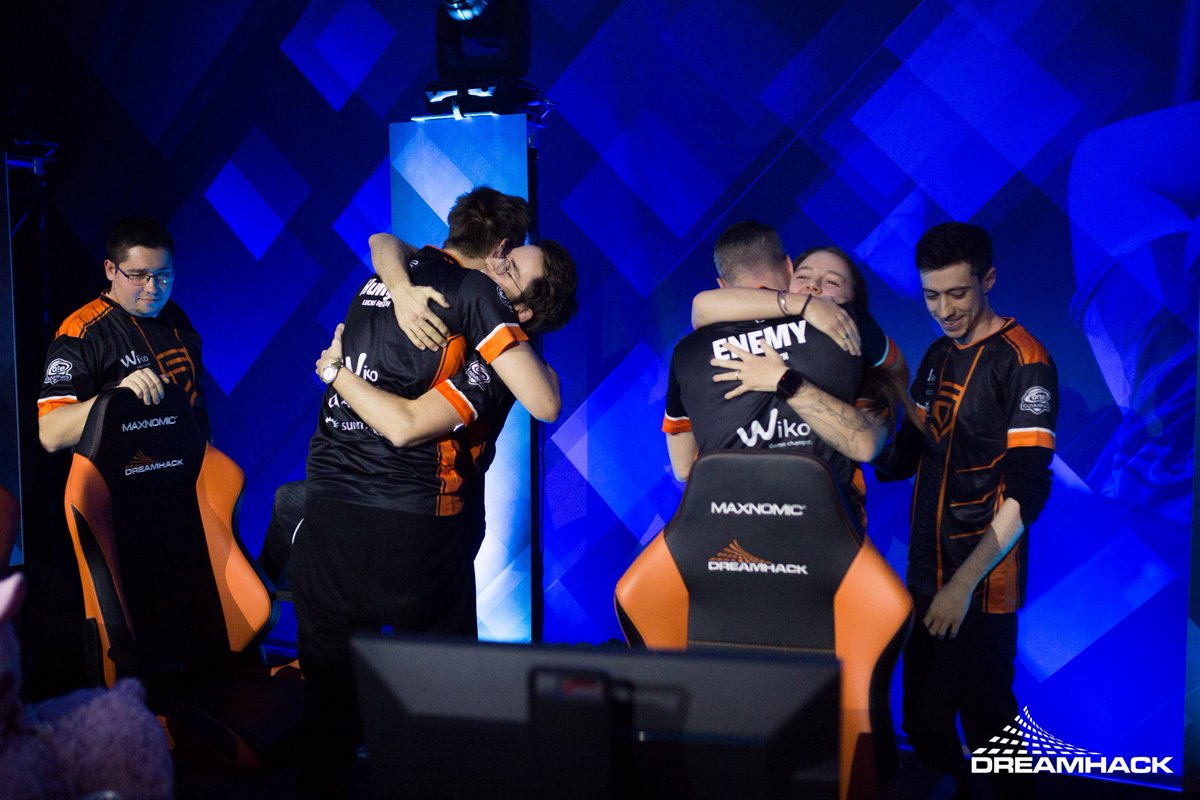 Pro League Season 8 Finalists
The 8 finalists from the previous season get an invite to the following Major as the best two teams in their region.
Evil Geniuses: Canadian, Necrox, nvK, geoo, Yung, and Gotcha (their coach)
Fresh off defeats against G2 at the Six Invitational 2018, the Season 7 Finals and the Six Major 2018 as well as a shock defeat by the hands of Fnatic, the NA titans will be hoping to regain their Invitational title won back in 2017 and finally win another major title for North America
FaZe Clan: Astro, cameram4n, HSnamuringa, mav, and Yoona
Latin America's Season 8 champions almost did what Black Dragons failed to do -- take a Pro League title home in front of a home crowd -- but fell against the last hurdle, G2, at the Season 8 Finals in November. This performance in Rio, however, will act as a huge motivation boost to the only qualified team without a coach that they can compete with the best internationally.
Fnatic: Acez, Magnet, Lusty, RizRaz, NeophyteR, Virtue and Dizzle (their coach)
Hailing from the APAC region usually leads many people to dismiss Fnatic's chances at international events but after this Australian team's performance at the Season 8 Finals, knocking out the #1 team in North America with their coach playing instead of Magnet, no one can dismiss this team anymore. They'll be hoping to repeat their performance at the last Invitational where they defeated the soon-to-be Pro League champions, Team Liquid, to make it to the knockout stages.
Immortals: oNe, cyb3r, Novys, Bullet1, MKing and Mohammed (their coach)
While they were somewhat dismissed going into the Season 8 Finals, this team came the closest to doing the impossible and defeating G2 than any team has done on LAN in quite a while. Taking the World Champions to overtime on map one showed the World that IMT meant business and, if they had got a luckier draw, could've advanced quite far in the Finals -- something they would be aiming to prove at the Invitationals.
Mock-it Esports: ripz, KS, Vale, Korey, Cry1NNN, and Lazzo (their coach)
This German majority roster was somewhat of a breakout story in Season 8 as, following three departures from their starting roster at the mid-season, they still managed to pull themselves together and qualify for LAN. They'll now aim to do one better and win the LAN as they go into the Invitationals as the second best team in Europe.
NORA-Rengo: Wokka, Merieux, Ramu, Papilia, ReyCyil, and kizoku (their coach)
Just like their fellow APAC team, Fnatic, this Japanese roster shocked the world when they beat the NA team of Rogue to become the very first Asian team to make it as far as the semi-final of a major tournament. Unlike Fnatic, tho, NORA-Rengo almost went a step further to make the Finals in their somewhat close game against FaZe Clan. This roster will be a huge obstacle in the way of any unprepared team as they aim to break another R6 record and make it as far as the Grand Finals -- the first for an APAC team.
Rogue: Ecl9pse, Slashug, easilyy, Shuttle, VertcL and Ranger (their coach)
Rogue has been constantly North America's #2 team, behind Evil Geniuses. Following Rogues victory over EG at DreamHack Montreal and the US Nationals as well as EG's weak showing at the Season 8 Finals, Rogue may now have their chance to break through to the very top of NA and establish themselves as one of the best teams in the World. What better place is there to do this than R6's de facto-World Championships, the Invitational?
Open Qualifiers
The winners of an open qualifier event will be invited to the Invitationals as the region's representative.
The qualifiers will take the form of a standard Swiss Format system with 8 rounds and 3 lives, which means your team can lose up to 3 Matches before they drop out for the day. The teams will be assigned points based on their performance at each of their qualifiers, with the top six teams at the end of the sixth qualifier qualifying for the playoffs where they'll join the Pro and Challenger League squads.
Europe TBD:
Europe TBD: Europe earnt a second qualification spot as G2 Esports qualified for the Invitational twice, after winning the Six Major and qualifying for the Season 8 Finals, but, obviously, can only attend once.
North America TBD:
Latin America TBD:
Latin America TBD: Latin America will receive two qualification spots as they don't have a DreamHack tournament of their own like North America and Europe does.
Mantis FPS: EnvyTaylor, Neilyo, SweetBlack, h3dy, Nova and SummerRain (their coach)
This South Korean roster previously known as Element Mystic will be attending their second Major in a row thanks to a victory at the APAC Qualifier LAN on January 12th - here they won the Bo3 Finals 2-0 against the Japanese favourites of FAV to ensure the Korean sub-region will be represented on the biggest stage in R6 history.
----
Keep an eye out for more updates right here on this page!