Of all the teams hailing from Asia-Pacific (APAC), there is perhaps none more widely adored than NORA-Rengo. Hailing from Japan, the side has not always been the dominant force they are now, similar to Fnatic from Australia-New Zealand (ANZ).
While they have always been domestically dominant -- finishing in first place in Japan in Seasons 6 and 7 -- it took them a while to find their international footing. In the Season 6 APAC LAN, they had been knocked out by Mindfreak (now Fnatic) in the Quarter Final, while their 2018 Six Invitational Qualifiers journey was derailed by mantisFPS and Team CryptiK (now Aerowolf).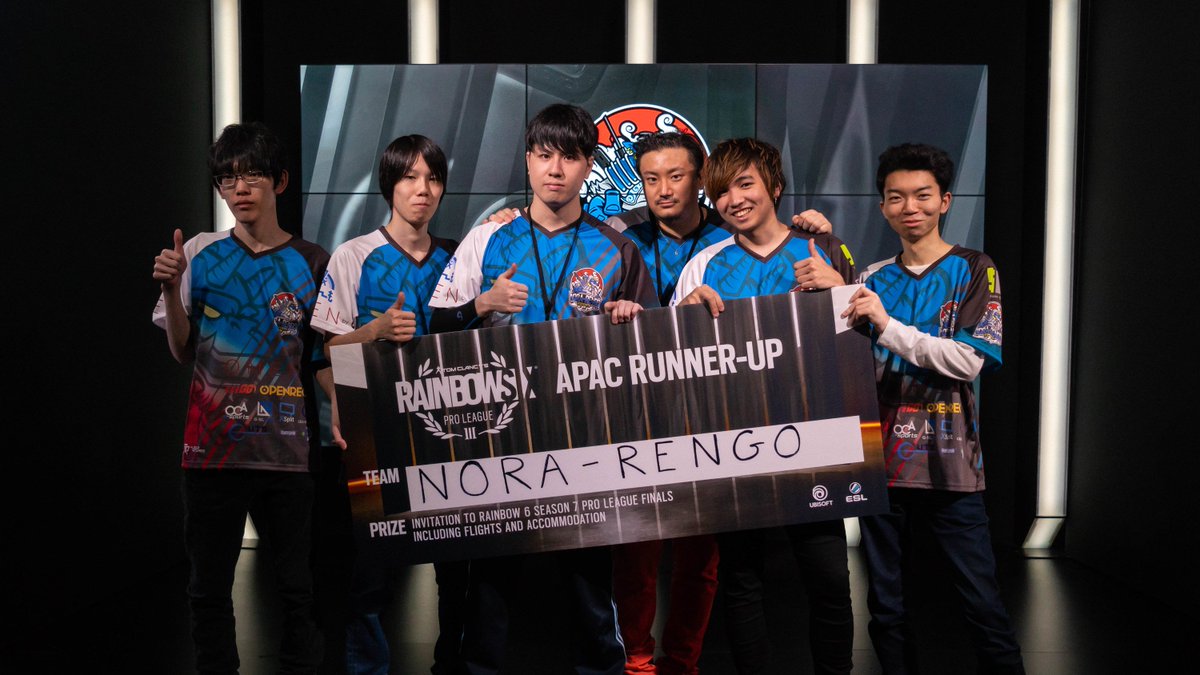 After those losses, though, the team saw a revolutionary change. Dropping NoTimeGG in favour of CrazyPapiyoN, NORA-Rengo successfully made it to Atlantic City for the Season 7 Pro League Global Finals, where Wokka engineered a fantastic ace in the very second round against Rogue. While the team lost, they did so with their head held high, and having earned the respect of everyone around the globe.
Working harder, the team was next seen at the Six Major Paris. Having swapped the underperforming Cloud out for the on-loan eiNs player ShiN, they seemed to have gone from strength to strength. Once again, they impressed, winning their opening group stage game against Obey Alliance. However, losses to Team Vitality and Obey the second time meant that they would not be able to make it to the knockouts.
In Season 8, though, while they finished first in the regular Pro League, they were unable to secure the first seed in the playoffs against Sengoku Gaming Extasy (SGE). Of note is the fact that the team has seen some significant changes post-Paris; ShiN's loan expired, and CrazyPapiyoN left the team due to internal disagreements, leading to ex-SGE players Papilia and ReyCyil being brought in.
As such, despite their strong season, they find themselves first facing Korean first seeds New Life. If successful against them, they will then face either Athletico Esports or Aerowolf.
We had a chat with team captain, Yudai "Wokka" Ichise about his team's performance this season, and their expectations from the Tokyo event.
(The interview responses have been translated by Operative and lightly edited for grammar.)
NORA-Rengo was first seen back at the Season 6 APAC LAN, where a fairly different team around Wokka and JJ was defeated 2-1 by Mindfreak. How far have you come since then?
There has been no change in particular.
You most recently made it to the Six Major Paris, where you won one match against Obey but were unable to make it out of the groups. What do you think were your main issues?
We are very strong at executing pre-planned strategies, but in the middle of the game we struggle with unexpected things happening. I think that is why we lost.
Your only losses this season came to RsK Ninjas Gaming and eiNs, before and after Paris respectively. Would you consider these losses to be upsets, and taking these into consideration, how would you rate your regular online season?
This year our only loses have been to Japanese teams. We are relieved that Japan's skill level has risen to this point.
After Paris, CrazyPapiyoN left your team due to internal disagreements, and ShiN's loan spell ended. JJ, who had wanted to take a break from competitive Siege thus had to be recalled. Could you elaborate on what happened?
This case is quite a delicate story, so I can not tell you.
Your team also surprisingly lost to Sengoku Gaming Extasy a few days ago in the seedings playoffs. What would you say you learnt from that match, in terms of your domestic opponents, and your own issues that need fixing?
Although we lost, we have not changed so much and we don't think we lost because of a big difference in play.
Your team has gained a fairly large following outside of APAC, being well liked by almost the entire international community after strong performances at Atlantic City and the Paris Major. Wokka won the Esports Awards Play of the Month for June as well. Did you expect all this adulation?
This was a surprise that we did not expect. From the bottom of our hearts, we extend our thanks to our foreign fans.
This is going to be the first APAC Finals outside of Sydney, Australia, and it is going to be at home in Japan for you. How big is the competitive Siege community in Japan, and how do you feel about being able to play an APAC LAN in front of them?
Since I previously heard from Ubisoft that 10% of Siege's total player base is Japanese, I think that Japan's in-game population is incredible. At PC tournaments, around 300 teams enter, and at PS4 tournaments around 800 teams enter.
Is there anything you would like to share with your fans, and to the international audience that will read this?
Since day one we have devoted ourselves to becoming the best in the world, and from here on out we humbly request your support! We also await your financial support too, hahaha!
The NORA-Rengo roster is:
Yudai "Wokka" Ichise (Captain)
Tsukasa "Merieux" Asano
Takumi "JJ" Iwasaki
Toya "Papilia" Miyazawa
Yuta "ReyCyil" Inoue
Yasuhiro "kizoku" Nishi (Coach)
Catch all the APAC LAN action from Tokyo, Japan, on the 13th and 14th of October from 9:45 AM GMT+9 onwards at twitch.tv/Rainbow6.