Game 1: SK Gaming 6-0 Cloud9
Map: Clubhouse
SK: Mint, Pojoman, Hotancold, Jarvis and Nyx
C9: Goddess, Laxing, Retro, Shlongii and FoxA
These teams haven't faced one another since the S6 relegations game when SK (Back then F3) beat C9 (Back then Reckless) 2-0. Cloud 9 banned Lion and Echo, while SK banned Hibana and Mira. This is the 3rd time that Cloud9 gets 6-0'd this season. (vs SSG week 1, vs Rogue via forfeit week 4 and vs SK week 5).
---
Game 2: Noble Esports 4 - 6 Evil Geniuses
Map: Border
Noble: Yeti, Heavy, Krazy, Breezy and Acid
EG: Canadian, Yung, nvK, BC and Necrox
These teams had never faced one another in an official game. Noble banned Thermite and Maestro with EG banning Glaz and Mira. This is EG's second win this season. The first being vs Obey 6-2 during week 2.
---
Game 3: Mousesports 5 - 5 Obey Alliance
Map: Clubhouse
Mouz: VertcL, Vandal, Neptunez, Hyper and Beastly
Obey: Bosco, Skys, MahMan, Adam and Benji
Obey bans Thermite and Mute, Mouz counters with Lion and Maestro. Obey came into this matchup with a 4-0 map record in official maps between the Paris Quals Grand Final (3-0) and the Second Round of the US Nationals Quals (1-0). This is the third tie for Mouz and the second for Obey.
---
Game 4: Rogue 6 - 1 Spacestation Gaming
Map: Clubhouse
Rogue: Slashug, Easilyy, Geoo, Ecl9pse and Bryan
SSG: Chala, Redeemer, Thinkingnade, Rampy and Shuttle
Rogue and SSG approach this matchup tied in the Standings with 7 points each. Rogue banned Thermite and Mute, SSG banned Lion and Pulse. With this win Rogue goes all the way up to first place and SSG remains tied in fourth with 7 points.
---
These are the new standings for NA Pro League after 5 games: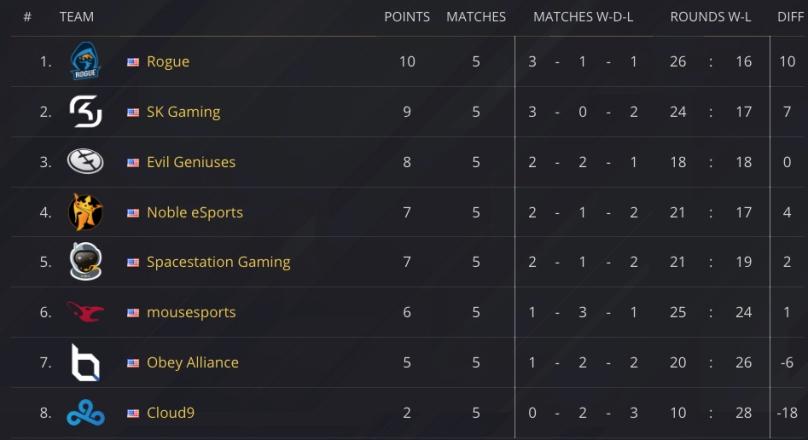 Be sure to catch Day 6 of North American Pro League on the official Twitch and YouTube channels on July 23rd at 8 pm EDT, 2 am CEST and 9 pm BRT. To see all the upcoming games' schedules, go to our Matches page, and check out completed games' stats by clicking on the individual games.