Image via Ubisoft
Next week, the Six Invitational will see the top 20 teams meet to compete for the global title. The tournament is split up into two parts, with the group stage taking place from Tuesday to Saturday, before the top four teams from each group progress to the six-day playoffs the following week.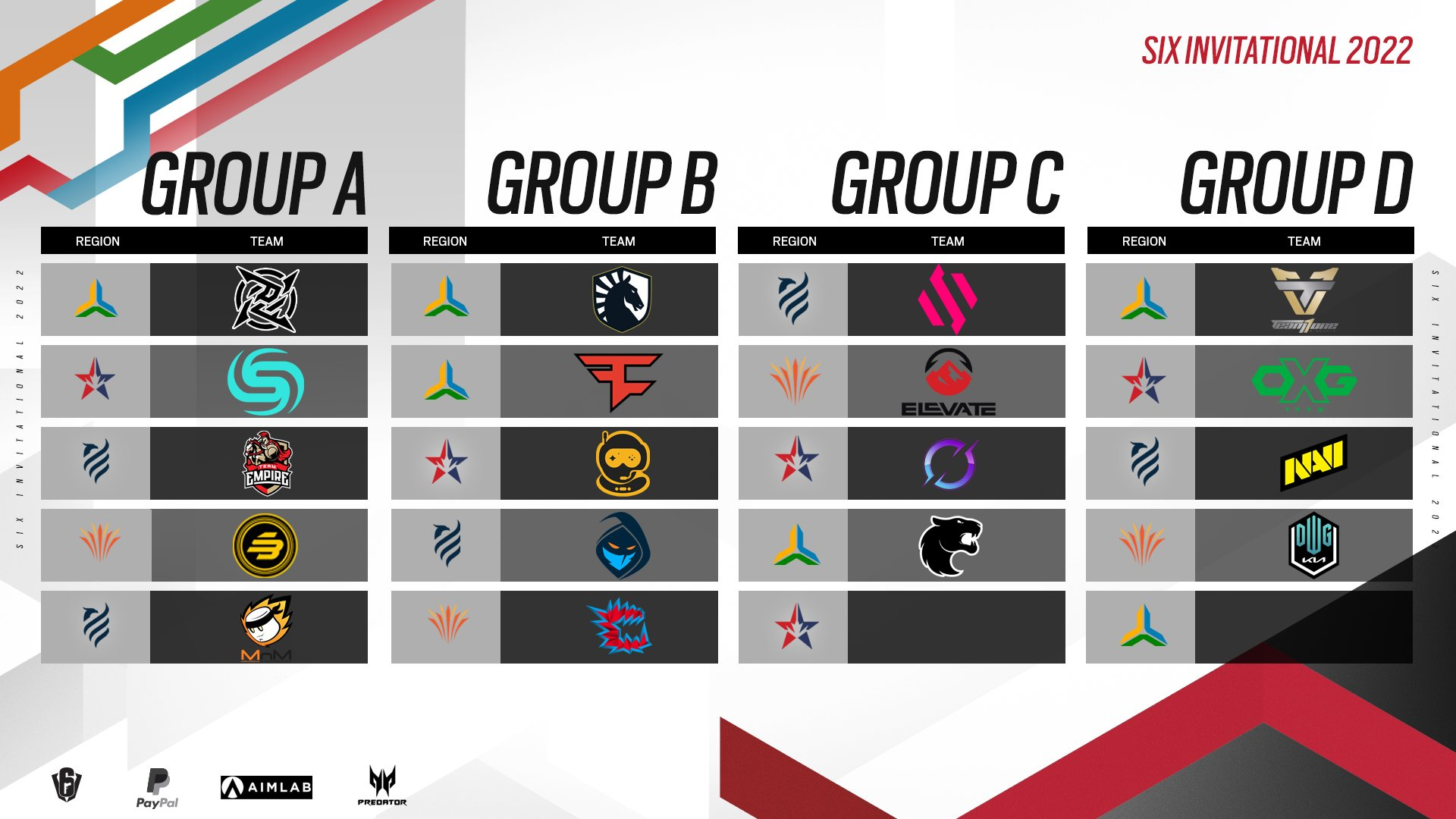 Group B
Like Group A, Group B also has several titans with the reigning Major champions, the Brazilian 2021 title holders, NA's most successful team, a Sweden Major semi-finalist, and APAC North's joint-top team by 2021 points.
While Brazil's utter dominance means FaZe and Liquid will be almost certain to exit the group, Spacestation will also be confident in their abilities after they made it to the quarter-finals during both the Sweden and Mexico Majors. They're the only team in the group to have made the playoff phase in both Majors.
While Rogue's semi-final exit two months ago means they'll also be confident in their abilities, the team is famously inconsistent, swinging from the top to bottom of the EUL standings from stage to stage. We won't be able to get a read on them until the tournament itself kicks off.
Finally, we have CYCLOPS, who are the odd ones out here after a downright awful Stage 3. CAG are, however, very used to being the underdogs.
Previously FaZe and Liquid have met constantly in the BR6 league with the head-to-head standing tied at 21 maps to 21 all-time and 4-3 in maps over the last 12 months to Liquid. As well as this, Liquid lost to CAG 7-4 last SI and beat SSG three times way back in 2019. FaZe meanwhile beat CAG 7-2 at SI21 and went 5-7, 7-3 against Rogue in Sweden.
These leave SSG vs FaZe and CAG as well as Rogue against Liquid, SSG, and CAG as fresh matchups.
Let's take a deeper dive at the numbers that will drive these upcoming games:
Team Liquid
SI 2021 runner-up, Mexico's semi-finalist, and both LATAM's Stage 1 and BR6 2021 victors Team Liquid opted to make two changes to their roster in September, and subsequently failed to qualify for the Sweden Major. This loss isn't as bad as it sounds, however, as it was NiP, Sweden's eventual runner-up, that kept them from qualifying.
Now almost three years on from Liquid's last tier-one title and with a fresh BR6 title under their belt, the roster aims to complete LATAM's perfect year by adding to NiP, oNe, and FaZe's three Major titles won over the prior 12 months.
Stats wise, Liquid has always been led by their two untouchable fraggers: André "nesk" Oliveira and Luccas "Paluh" Molina. Over the last year, Paluh has overtaken every player in R6 history on every fragging statistic all while nesk sits just behind him as LATAM's number two fragger. The duo finished SI 2021 as the first and second-highest-rated players at 1.26 and 1.24 respectively, and are absolute forces in every tournament they play in.
For once, however, the focus will not be on them, but rather on the two new members of Team Liquid – Gabriel "AsK" Santos and Pablo "resetz" Oliveira. These two will both be making their global debut on R6's biggest stage, and have a lot to live up to.
Roles-wise, these two were initially slotted in as direct replacements for the outgoing players -- AsK for S3xyCake and resetz for Muringa. Here AsK has been lifting his weight sitting just behind nesk despite playing hard breach and primary planter while resetz struggled, hitting ratings of 0.92 and 0.74 during BR6 Stage 3 and the Elite Six Cup despite playing on Jager. His best performance to date, in fact, came during Stage 2 where he secured a 1.07 Rating while playing for Black Dragons.
Liquid can trust Paluh and nesk to perform, their SI22 fates will ultimately come down to how well AsK and particularly resetz can fit into this new environment, something they've been working on for the last three months.
FaZe Clan
While the team did win November's Sweden Major, FaZe come into this group as the second seed as they previously failed to qualify for the Mexico Major and finished fifth in LATAM during Stage 1. Nevertheless, FaZe is arguably the number one favorite to take the SI 2022 title and should make light work of their group stage opponents on their way to do so.
Unlike their four opponents, FaZe's year-long statistics stand out in how even they are between them, with a spread from 1.09 to 0.98. This wasn't the case, however, in Sweden where Jaime "cyb3r" Ramos was undeniably the team and tournament MVP. He top fragged for the roster and also achieved a remarkable 40-18 entry record, a major increase compared to the 12-8 and 10-8 he'd hit in the BR6 during Stages 1 and 2. Just below him sat Lucas "soulz1" Schinke who himself achieved 15 plants and a tournament topping six 1vXs, two of which came during overtime on map three against DWG.
Combined, these two's performances seem to be the biggest reason why FaZe managed to bounce back from Stage 2 which had been the first tier-one LAN they hadn't attended since early 2017.
FaZe's reliance on Leonardo "Astro" Luis that we saw in prior years as well as during Stage 2 seems to be over with both him and Gabriel "cameram4n" Hespanhol slinking into the support roles with lower ratings rather than carrying the team themselves. Altogether, this matured FaZe proved they have the skills to win SI 2022 and tie up NA and EU's two current world championship titles. They just need Cyb3r to stay on form.
Spacestation Gaming
While Soniqs beat them to the NAL 2021 title, since signing Hotancold after Stage 1 SSG has been NA's most dominant force. As well as topping the NAL during Stages 2 and 3, the team also tied with DZ as quarter-final finishers in Mexico and was the lone North American playoff team in Sweden.
Now after a few rocky tournaments for North America, SSG will likely be NA's number one hope for a strong performance in Stockholm as they aim to win NA's first-ever tier-one title without Troy "Canadian" Jaroslawski.
A lot of this hope and these results are on the back of Matthew "Hotancold" Stevens who has been a revelation this year as his transition back to a fragging role led him to hit NAL Ratings of 1.33 and 1.48 during Stages 2 and 3, truly insane numbers matched only by Shaiiko and yass on the regional level.
His teammates have also been keeping up. Nathanial "Rampy" Duvall and Alec "Fultz" Fultz joined Hotancold in the top eight during NAL Stage 3 and were on the NAL's Team of the Year alongside two Soniqs members.
Unfortunately, just like the Soniqs, their domestic success isn't translating well globally. While SSG has done better than their counterparts, quarter-final exits are still disappointing for the SI 2020 champions. Hotancold, meanwhile, has been completely neutered with personal ratings of 1.07 and 1.02 as he slumps down to third on his team in international competition.
This is an issue that's plaguing most of NA's top teams, however, one SSG is most likely to have solved coming into SI22. They statistically have the best players in their region, are being stumped globally the least compared to their counterparts, and have the most experienced support staff in the region. Whether the last three months have seen these improvements won't be known until the tournament starts, however.
Hotancold has the ability to contend with the likes of AceeZ, Paluh, and Cyb3r. If he can do so to the degree we've seen in the NAL, SSG will have a strong shot at another Six Invitational title.
Rogue
The last two years have seen the following results in the EUL from Rogue in order; first, tenth, fourth, tenth, fourth, and now most recently they finished joint-third globally in Sweden.
While Rogue in 2020 seemed just unpredictably crazy, some logic has seemed to return to their result for 2021. Now, following their semi-final exit two months ago it's still very unclear whether we'll get an SI-winning Rogue tearing up the server or a relegation-level Rogue flying home on week one.
Within the team, there's now a relative consistency in their performance. Stages 1, 3, and the Sweden Major all saw Maurice "AceeZ" Erkelenz top the standings with Ratings of 1.12, 1.23, and 1.14 while Leon "LeonGids" Giddens and Jan "ripz" Hucke sat in fourth and fifth respectively.
During Stage 2 in which Rogue dropped to 10th in the EUL, AceeZ very notably dropped from first down to last on the team with a 0.79 Rating. Leon and ripz, however, remained consistent just above him in third and fourth.
This shows just how reliant the team had been on AceeZ, if he doesn't perform then the team collapses. Following Stage 2, Lukas "korey" Zwingmann retired and was replaced by Kevin "Prano" Pranowitz who has helped lend a strong backbone to prop up AceeZ with Prano primarily playing hard breach and yet hitting a Rating of 1.12 in Sweden with the most plants in the tournament.
Rogue is still unpredictable, but the Six Sweden Major saw them find a missing piece of the puzzle. It's unclear if the other required pieces will arrive in time for SI 2022, but either way, they are a wildcard.
CYCLOPS athlete gaming
While Korea and much of the rest of APAC is thriving, Japanese R6 is in somewhat of a regional sinkhole at the moment with CAG falling down it the quickest.
As well as them being the worst team at SI21, they then threw away the perfect opportunity to progress through the Mexico Major groups as oNe bested them in a tiebreaker rematch. Finally, the team was then knocked out of the Stage 3 APAC Playoffs by Dire Wolves finishing in sixth place.
Now CAG's got one last chance to join their Korean colleagues in what has been an excellent 2021 Season for the rest of APAC.
When looking towards the stats to explain this fall in results, the answer is fairly obvious as three members of the roster were in the bottom 10 players during Stage 3 while none were in the top-10. While this is a team-wide issue, this is most of note from Sho "BlackRay" Hasegawa.
BlackRay was the team's top player during the Stage 1 Playoffs and the joint best at the Six Mexico Major where he played Ash and Mozzie and was the team's top fragger. During Stage 3 he then moved to the curious picks of Flores and Alibi and achieved the second worst entry in the whole of APAC North.
Taiyo "Ayagator" Hirayama, meanwhile, was APAC North's second-best player during Stage 2 while playing on Zofia and Valkyrie and yet spent Stage 3 on Hibana and Maestro with the defuser in hand.
All-in-all, Stage 3 saw CAG make several baffling decisions that in no way panned out, which is particularly unfortunate considering their Stage 2 promise. With no APAC Finals, we have not seen them in action since Stage 3, so it's unknown if they've reverted to their old form or either failed or succeeded in making this new-look CAG work. Either way, we'll surely find out on day one of SI 2022.
2022's Six Invitational will kick off in just over a week on February 8th. Be sure to check out more of our pre-tournament coverage on our hub page for the tournament.