After the holidays and after the mania of the open qualifiers, competitive Rainbow Six action is back with the first of the Six Invitational 2022 Closed Qualifiers.
APAC will kickstart the action from Jan. 8 to 9, with four teams vying for the final APAC spot at the world championship event next month.
Who are the teams?
CYCLOPS athlete gaming - Anitun, SuzuC, gatorada, BlackRay, Aygator, Fuji3 (Coach), Hybrid (Analyst)
Talon Esports - AzzyyS, Soldies, Kanos, saeyeora, h3dy, Demic, Zelgadiss (Head Coach), DongUk (Coach)
Invictus Gaming - Lunarmetal, SpeakEasy, HysteRiX, Jrdn, Jo, GiG (Coach)
Dire Wolves - Ed, JackyWu, Pikan, Ray, Souffle, Odin (Coach), Ratio (Analyst)
Of the four teams, only CAG and Talon had qualified for the event -- the Japanese side through the Global Standings, and the Koreans through the APAC North Open Qualifier. Invictus Gaming and Dire Wolves had each replaced Knights and Team APR, respectively.
Knights had forfeited their positition in the qualifier due to Canada's travel restrictions for a potential Six Invitational, and the retirement of Mark "Dino" Abboud. They were officially replaced by iG on Dec. 28.
Conversely, Dire Wolves' entry only came on Jan. 7, just 18 hours before the competition. In addition, the team had decided to drop a player and trial new ones in the meantime.
Hong Kong's Team APR had beaten Dire Wolves in the grand final of the APAC South Open Qualifier, but the result was put in doubt after claims from Dire Wolves that APR had played with an underaged player. A Moss screenshot from that grand final match of one of the APR players' screens seemed to lend credence to Dire Wolves' claim.
Despite the change in the team entry list, though, there has been no official confirmation of APR having played with an underaged player. Instead, an official Ubisoft tweet simply stated that "APR failed to field an eligible roster".
What's the format?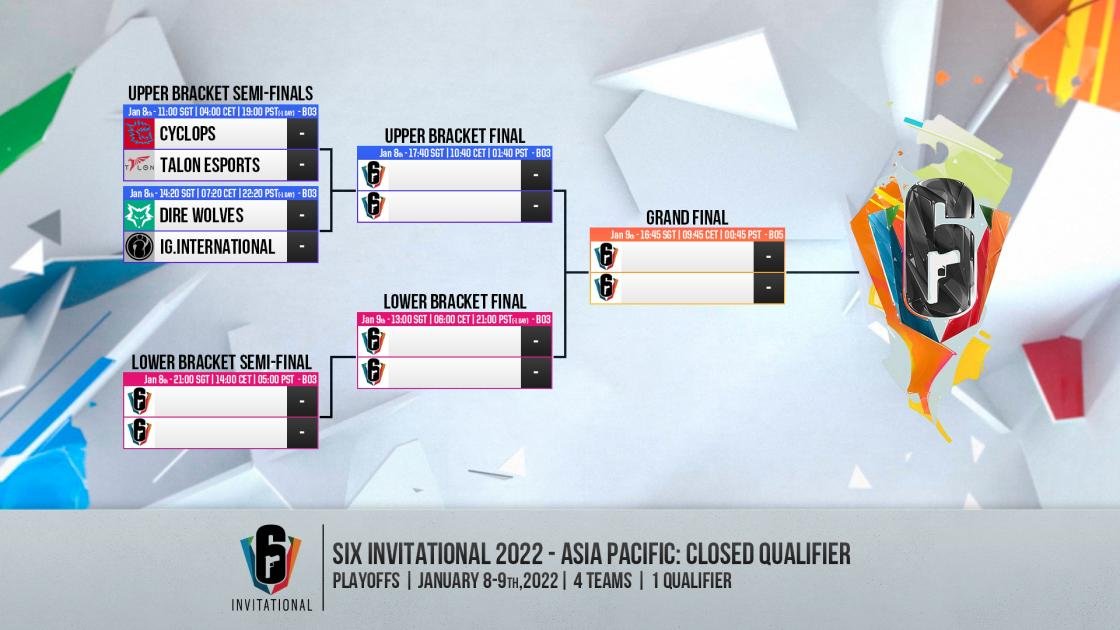 The Closed Qualifier will have a double-elimination format, with each game a Best-of-Three until the Best-of-Five Grand Final.
CAG will take on Talon first, before Dire Wolves will go up against Invictus Gaming.
The winning team will then join Elevate, DWG KIA, and SANDBOX Gaming at the Six Invitational 2022 in Montreal, Canada next month.
Where and when can I watch the games?
Catch the action starting from 11 AM SGT (UTC+8) on Jan. 8, and from 1 PM SGT on Jan. 9, live on the English-language and regional Rainbow6 Twitch and YouTube channels.
Who have you got your money on?