(Banner image: Ubisoft/Kirill Bashkirov)
FaZe Clan defeated Ninjas in Pyjamas in an epic five-map marathon to take home the Sweden Major title 3-2.
You could be forgiven for believing that FaZe Clan would steamroll NiP after the first map of the series. FaZe swept to a commanding 5-1 round lead on their attacking half, and converted their final pair of defensive rounds to take home the map.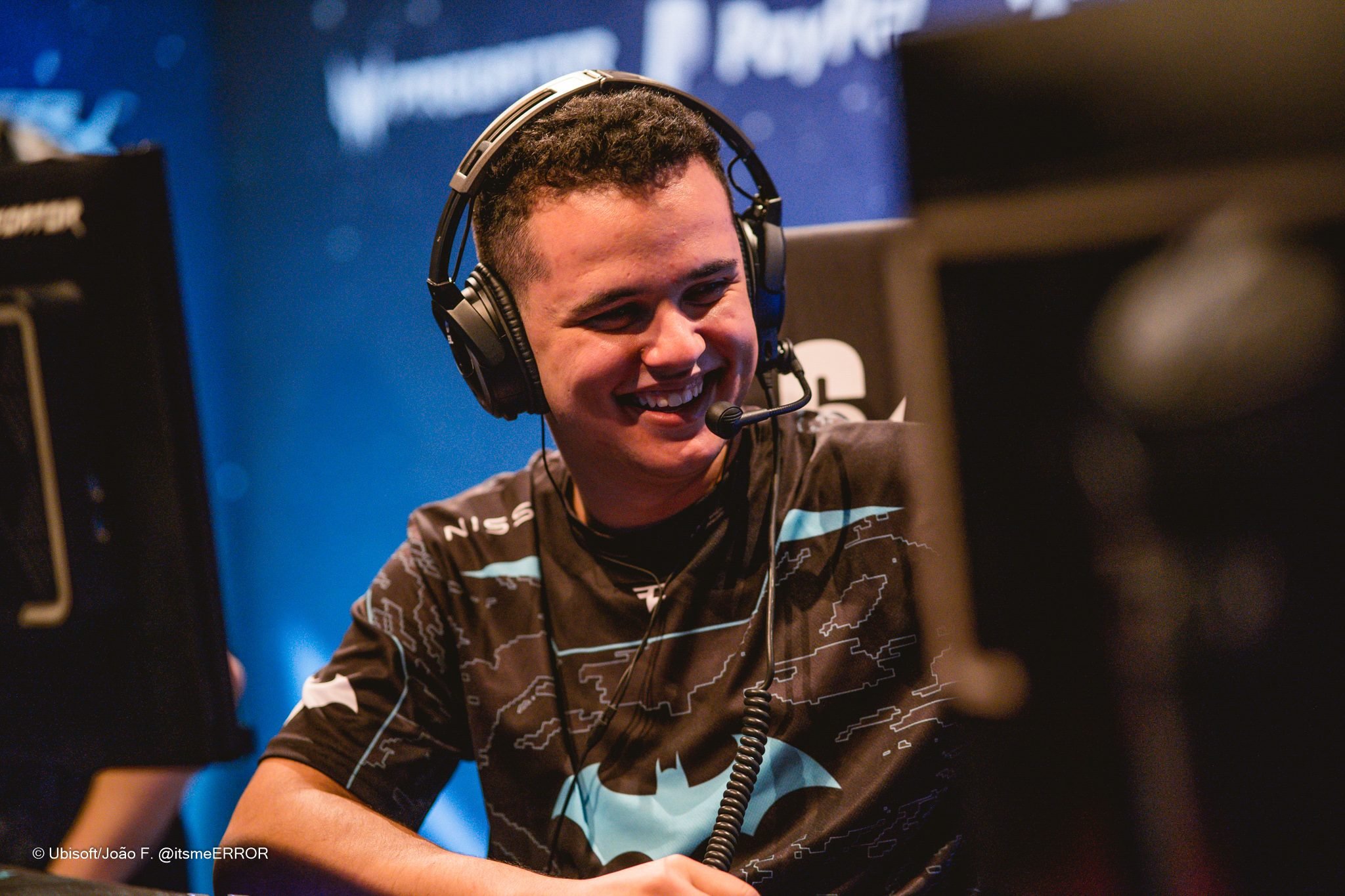 NiP stormed back on Villa, pushing FaZe to overtime before eventually triumphing 11-9. Outside of the infamous Team Empire-G2 match, it's the only time unlimited overtime has had to be used in a major tournament. NiP's momentum carried into Chalet, and they won that map 7-4.
"They added Chalet in their map pool that they played really good," said cameram4n.
On what could've been the final map, however, NiP faltered. FaZe Clan won Bank 7-3 after raced to another 5-1 lead, and forced a final map: Kafe Dostoyevsky.
FaZe Clan once again stormed to another 5-1 lead on their attacking half and didn't look back. Following their 7-3 victory on Kafe, they were crowned the Major champions.
The title is FaZe Clan's first as an organization, and the first for longtime duo Gabriel "cameram4n" Hespanhol and Leonardo "Astro" Buzzachera.
"We both work really hard, we both don't know how to lose [well]," cameram4n said in a post match press conference when asked about his relationship with Astro. "I appreciate that he's like me, that we work really hard together."
Cameram4n and Astro finally winning a title is the feel-good story, but their teammate Jaime "Cyber" Ramos stole the show in the server. He broke the best-of-five kill total kill record with a staggering 57 total frags across the five maps. The record was formerly held by Team Empire's Russian cyborg, Danil "JoyStiCK" Gabov.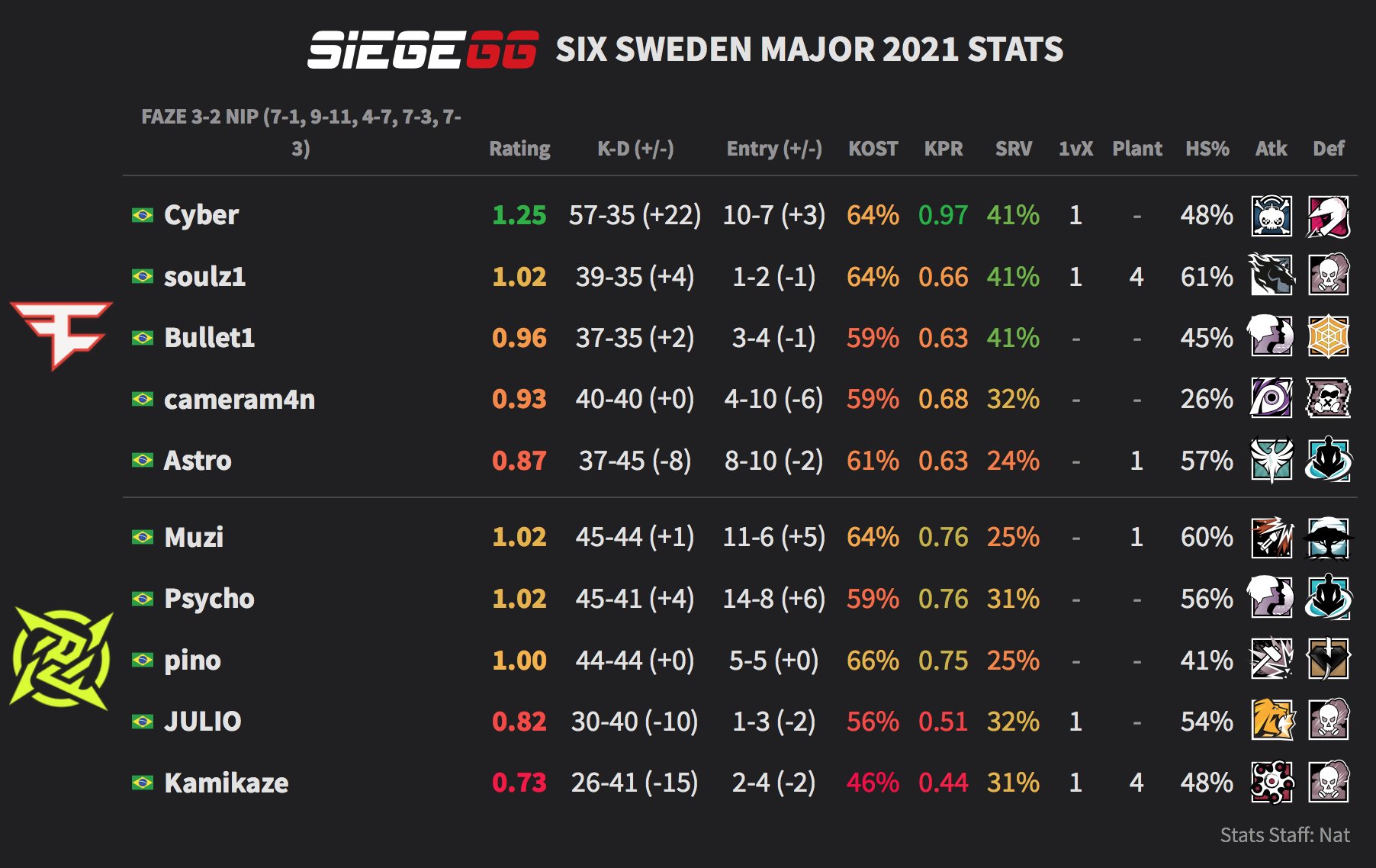 This is the second title for only one FaZe Clan member. José "Bullet1" Victor won the Season 7 Pro League Finals with Team Liquid, but was dropped for Luccas "Paluh" Molina.
The title also continues the era of LATAM dominance in Rainbow Six Siege. Every single international tier one event has been won by a LATAM team -- NiP won SI 2021, Team oNe won the Mexico Major, and now FaZe Clan have won the Sweden Major title.
Of the three grand finals that R6 has had, only one non-LATAM team has participated: Team Empire at the Mexico Major. At least two LATAM teams have advanced to the semifinal round of every single tier one event, and three finished in the top four spots at the Six Invitational.
"I think we have some additions of some great teams," said cameram4n when asked about how LATAM became so strong. The dominant teams used to be just the trio of Liquid, FaZe, and NiP, but the emergence of Team oNe, MIBR, and FURIA have made the region unfathomably stronger.
FaZe Clan say they aren't finished here.
"This means the world for us, but we know that we have a lot more to achieve," cameram4n said about the victory. He says that he encouraged his team by telling them, among other things, that "we are not a one-tournament team."