(Banner image: Ubisoft/João Ferreira)
As the group stage drags on, the playoff picture becomes clearer. There are several teams that appear mathematically safe, and quite a few others that appear mathematically likely to be eliminated. Let's break down what we know about the action thus far.
Winners and Losers
Winners: Rogue, NiP
Congratulations to the first two teams to punch their playoff tickets: Rogue and Ninjas in Pyjamas. Rogue is outperforming all expectations at this event, and with another good day could secure first in their group. NiP is back up after a bit of a down spell, the ninjas look like their old, SI 2021 winning selves.
Maurice "AceeZ" Erkelenz was the R6 Esports and SiegeGG MVP for day two, Kevin "Prano" Pranowitz currently leads the field with 82 KOST%, NiP hasn't given up over five rounds to anyone. Great start to the tournament for them.
Winner: Korean Rainbow Six Siege
DWG KIA's exploits in the group of death are well known - they end the day tied with Spacestation for the lead in the group - and look primed to make the playoff stage provided they can score another regulation win.
SANDBOX owe a big thank-you to DarkZero; DZ's victory over Vitality pulled the Frenchmen down to stay at six points. SANDBOX's game against Vitality tomorrow might decide which team goes to the Six Invitational 2022, not just which team will be in the driver's seat for a playoff spot.
Loser: FURIA
FURIA didn't lose poorly, but they did lose twice, in regulation time at that. If Spacestation and DWG KIA secure one more point each, they're out of the Sweden Major.
If FURIA doesn't win both of tomorrow's matches in regulation, they're out of the Sweden Major. It's a tough situation for a genuinely great team that's just caught up in the group of death.
Stats of the day
DarkZero and Vitality create a palindrome scoreline in their games
Hey, that's pretty neat: DarkZero and Vitality both beat each other in 7-1 scorelines. The similarities mostly end there, both games were blowouts, both ended in 7-1 scorelines.
Money in the Bank
Bank has been the most played map through two days of Sweden Major group stages, sitting at eight total plays. Coastline and Kafe are tied at six, Chalet sits at five, Clubhouse is next at four.
What's interesting about Bank is simple: in the regional leagues, no one region played Bank this many times. The highest was EUL at seven total Bank plays.
Yass drops 22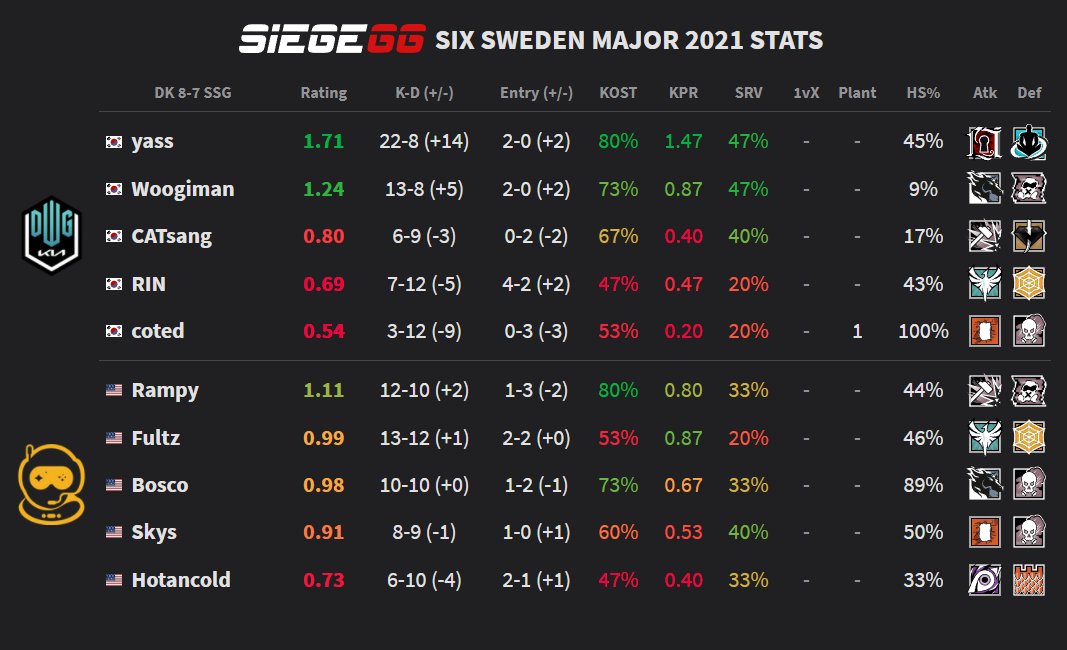 If yass doesn't drop a staggering 22 kills against Spacestation, DWG KIA don't win. Period, end of the story. Therefore, if yass doesn't drop 22, Spacestation might have already punched their ticket to the playoffs. But, he did, and DWG KIA won.
Day two matches to watch
Group A: FaZe Clan vs. Chiefs
Chiefs are mathematically still alive. If they lose here, it's over, their Sweden Major run is done. FaZe Clan is the heavy favorites, but we've seen APAC magic in this Major before.
Group B: SANDBOX vs. Vitality ... again
What was a race for the playoffs might end up being a race for a Six Invitational spot? Team oNe is the frontrunner, but the other team to get out of this group is more or less set for SI. Despite other important games, this one will be the game of the day.
Group C: Soniqs vs. NiP
Soniqs need a regulation win here to stay alive in this group. The big X factor here is how invested NiP is - they're already confirmed for playoffs and may end up essentially taking the day off. There's still seeding to play for, but they play BDS later in the day, and if they just win that one they're the first seed in the group.
Group D: Spacestation vs. Empire
If Empire wins, their hopes are still alive. DWG KIA is likely to beat FURIA in the other match, and a victory here would mean Empire hops Spacestation or ties them in points. If Empire loses... better luck next year, and good luck to Spacestation and DWG, who will play for seeding.