(Banner image: Ubisoft/Joao Ferreira)
After lifting the hammer at SI 2021, Ninjas in Pyjamas showed its worst version in Mexico with a group-stage elimination. The team's results throughout the third stage have not been the greatest either, the Brazilians would not be playing in Sweden if it was not for LATAM's unique format.
But they are in Europe, and the team is ready to fight. Ninjas in Pyjamas' first victim has been Invictus Gaming, who surely cannot show their best form as Jeremy "HysteRiX" Tan was not allowed to fly, meaning that iG's coach Ellis "GiG" Hindle would have to step in.
Despite the APAC's roster situation, they put the Brazilians between a rock and a hard place. The team from the Red Dot, led by Matin "SpeakEasy" Yunos with an 18-8 record, initially stumbled the Brazilian side with a 5-1 after the first half. The Aztecan ghosts were back.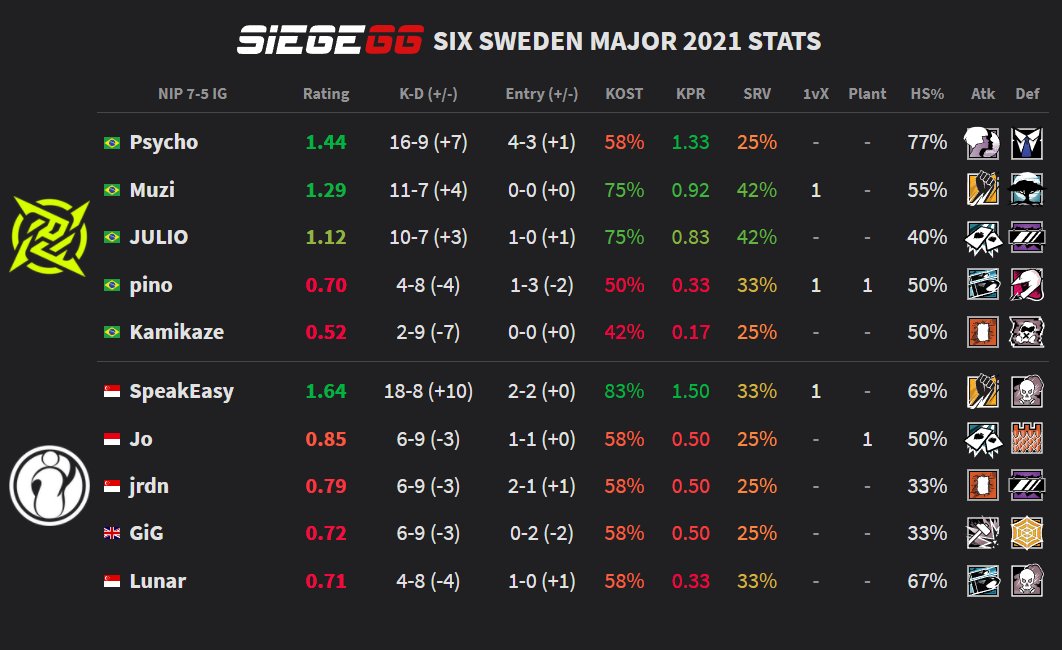 "We were prepared for that, we were ready for the game to be challenging especially because we started from the worst side of the map, at first they attacked us quite skillfully, but we were able to turn the tables," said Muzi Moscatelli in a Ubisoft-organized press conference.
The Ninjas' main man today was Gustavo "Psycho" Rigal, a player who had a third stage to forget in terms of entries as he finished it with a very poor record of 4-16. However, just against Invictus Gaming, he managed to get four for his team. His accuracy in gunfights was key at maintaining NiP's hopes alive.
"It was an important game for me because the beginning of the match was difficult, the game was good but what really matters is the win and helping in everything I can," said Psycho.
So far so good, with the Brazilian dynasty taking care of business in Europe as many expected. Team oNe, FURIA Esports and Ninjas in Pyjamas started Day 1 with victories in their respective matches.
Something is clear, Ninjas in Pyjamas want to turn the page and write Brazil's new chapter. Following an awful display in Mexico and some bad results in Brazil, Sweden gives them the chance to make a statement. It is now on them to show the viewership that the old ninjas are back.
"Mexico doesn't show our true potential," concluded João "Kamikaze" Gomes.
Following a 7-5 victory against Invictus Gaming, Ninjas in Pyjamas next match will be later today against the Susquehanna Soniqs, which will be followed by tomorrow's game against the European powerhouse BDS Esport.