This weekend will see the European Challenger League kick off its long-awaited 2021 Season as 16 teams fight for a spot in the 2022 European League. Here's a look at the teams, schedule, and format of the tournament as we near its start.
Jump to:
The Teams
The Challenger League tournament invited the top two teams from the 2021 Season along with nine national victors and five open qualified rosters to total the 16 competitors.
2020 Season teams:
Nubbles -- VITO, Hxsti, REDGROOVE, JTc, and DogeFather
MnM Gaming -- Yuzus, Tyrant, neLo, Solotov, and Neonical
Nubbles comes in as the auto-relegated team from the 2020 EUL Season, however, since then four players have changed leaving just Aleks "VITO" Lyapun left and they changed organizations from Chaos Esports Club to the Italian Nubbles organization.
MnM Gaming meanwhile finished last year's Challenger League tournament as runners-up but lost their relegation match to Rogue. Since then the team has also made four changes with just Josh "Yuzus" Pritchard remaining from this roster as Jonas "Jonka" Kaczmarzyk left for G2 Esports and Nathan "Nathan" Sharp left for Natus Vincere.
National league victors:
Mkers -- Scatto, Aqui, Gemini, Sasha, and Lollo
GAMMA GAMING -- Leonski, Deapek, Avaiche, ASTRO, and korey
Viperio 86 -- Curly, Draw, Monkey, Erkkari, and Joe
WYLDE -- BZ, Gisela, Daya, Tooobi, and Jay
HellRaisers -- SmashByAsh, flaers0, eXoduSS, rush, and Amision
Rebels Gaming -- HuliK, NaoResh, Nubaii, Deivid, and aLex
DeathroW -- FuZiion, Ra1kos, JaKs, KuQuS, and Neox
Riddle Esports -- Yuki, Mengo, Assassin, Krizz, and Pat
SKILLSTARS.pro -- Ryba, Szagi, Foster, AueR, and Optyk
Each of these teams has managed to prove themselves in one of the nine supported national leagues around Europe.
Out of the above, all attention will be on Mkers who have already beaten six pro-tier rosters during their Six Invitational campaign; Rogue, NAVI, and Tempra during the qualifiers, and TSM, SSG, and C9 at the SI21 event itself. Should they put up a performance like this, the 15 other competitors here will have an almost impossible task in taking them down.
Also of particular note is GAMMA GAMING who has come third in three of the last four Challenger League seasons, each time just missing out on a chance to be promoted by just a few rounds. This year they've only made one change as Dimitri "Panix" de Longeaux retired and was replaced by freshly out of retirement Lukas "korey" Zwingmann.
Elsewhere, both Viperio and WYLDE have caught attention having beaten pro opponents in the UKIN and GSA Leagues respectively, however, all nine of these teams have an ability to upset.
Open qualifier teams:
Helios Gaming -- Purple, BryanS, Nztro, Robin, and Nay0z
Ovation eSports -- Zenoxo, Acelele, Witheball, slshr, and Ryoo
GoSkilla -- Exp0, Mekses, M4DMAN, Turqo, and Shermi
Totem Esports -- DjuZ, Mowwwgli, Linkoo, Ayzenn, and Neyox
Acend -- ENEMY, RevaN, Meloo, EiZ, and Jeya
Finally, we have the wildcards who qualified via the open qualifiers after being bested in their own national leagues.
Helios Gaming and Acend finished the ongoing 6 French League tournament in sixth and fifth respectively behind the official 6FL representative of DeathroW who will compete in the league's finals in a week's time.
Totem meanwhile is another French roster that lost in the grand-final against Mkers for the PGN spot in a respectable 1-3 (7-8, 7-1, 2-7, 3-7) scoreline.
Finally, GoSkilla and Ovation hail from the GSA League in which the former team finished ahead of Rogue and Secret in third but behind WYLDE in second place forcing them to come through the open qualifiers.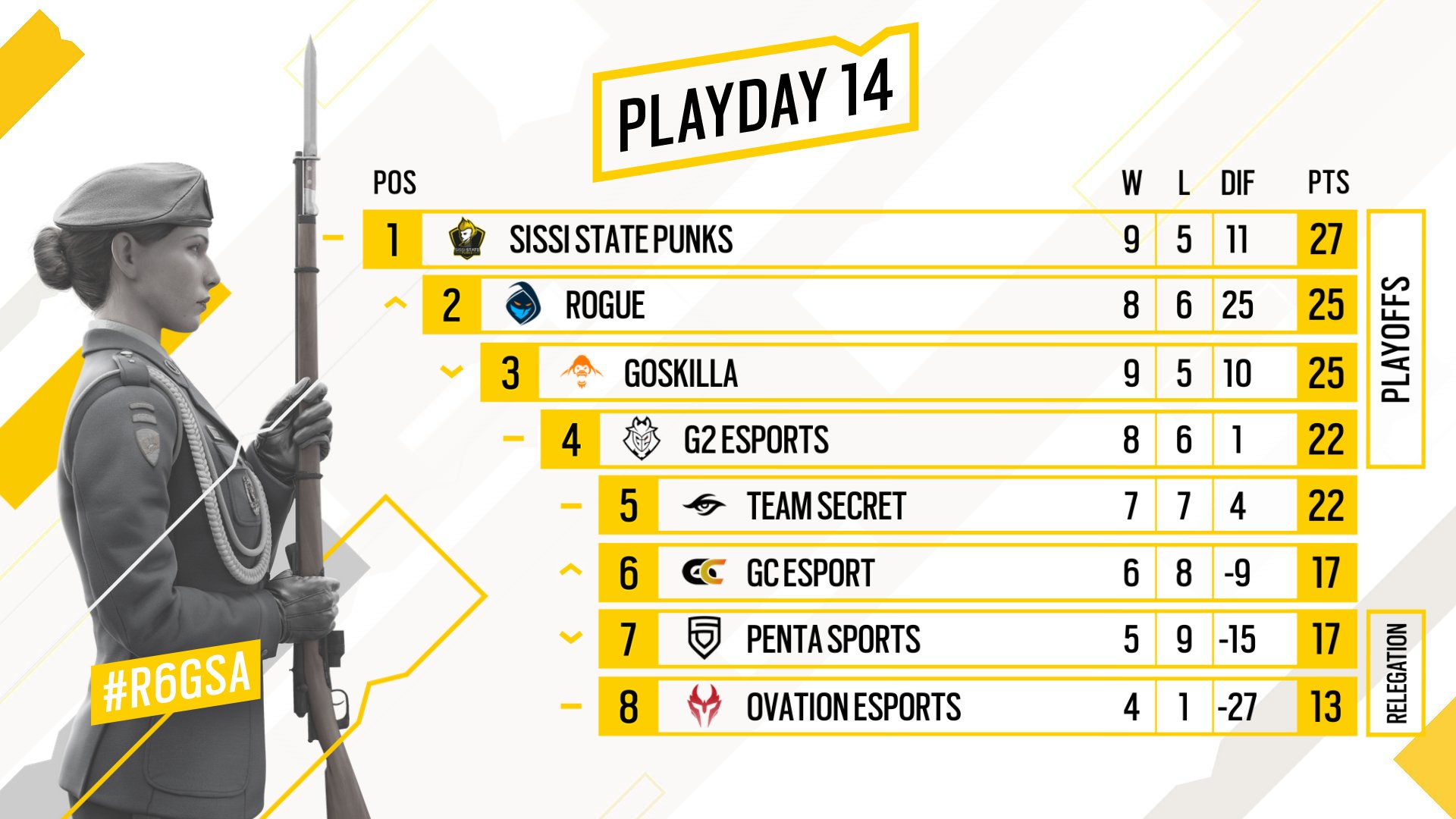 The Format and Schedule
Group Stage
The 16 teams above have been split into four groups of four teams who will play in a single round-robin best-of-one group stage over this weekend. The top two teams in each group will then progress onwards to the playoffs.
This means each team will play just three maps total -- one per day from Friday to Sunday -- which will cut the number of teams down from 16 to just eight. This increases the likelihood of an upset drastically with a few stray rounds possibly knocking out some of the favourites early.
Playoffs
Following this, these eight survivors will compete in the double-elimination, best-of-three map playoffs, a format which should both be a thrill to watch and will do a better job at deciding which teams are the best.
There are currently no confirmed dates for these playoffs, however, they will take place sometime in November, likely after the Six Sweden Major.
Finals
Finally, the top two teams will face each other in a BO5 map game alongside the European Finals in December. The winner of this match will replace Heroic in the EU League for the 2022 Season.
Following this, the loser of this match will play another BO5 against Team Secret for their EUL 2022 spot also.
The Broadcast
All the games listed above will be broadcast by community casters initially in various languages and then presumably on the rainbow6 Twitch channel later on in the tournament. Each play day will start at 7pm CEST (UTC+2) and run till approximately midnight.
---
SiegeGG will be covering all these games with both news and stats over the weekend. Be sure to check back for further information.