Banner image: Ubisoft/Joao Ferreira
So far, this week has seen surprise showings in all four regions as we near the end of Stage 3. During these games, we saw some remarkable plays and standout flops, so let's take a look at some of the numbers that drove this week's results.
Latin America
FURIA's Diogo "Fntzy" Lima was without a doubt the best performer of the week with one of the greatest performances we've ever seen in this tier of play. The 18-year-old secured 22 kills to just two deaths across just nine rounds against INTZ on Saturday, totalling an average of 2.44 kills-per-round and a SiegeGG Rating of 2.73 -- the largest ever recorded in a best-of-one match.
This included two back-to-back aces on Wamai and Aruni, as well as a near-ace while playing Finka.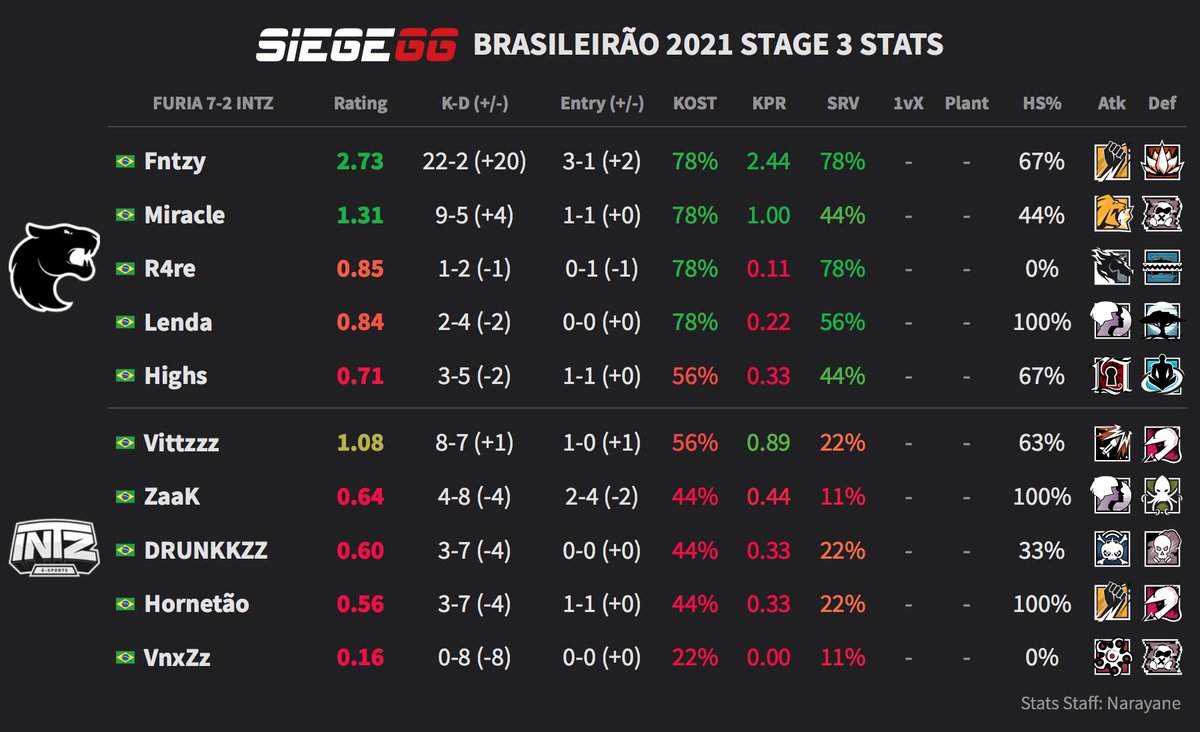 While individuals have beaten this kill count, none have done so in so few rounds and in such style, as the rest of his team combined only secured 15 kills and INTZ only secured 18.
This performance now makes Fntzy the top-performing overall player in the BR6 by a large margin, with him just shy of a 2.0 kill-death ratio after already playing against teams like NiP and Team oNe.
FURIA now sits in second place in the BR6 when just looking at Stage 3 results. Ahead of it by one point is FaZe Clan in first place while Team oNe sits in third, though both teams have played six games compared to FURIA's five.
Later tonight, FURIA will play Team Liquid, followed by MIBR, W7M Gaming, and FaZe next weekend in what's a rather tough set of games.
Should Fntzy continue this unparalleled performance, however, none of these teams will likely be able to touch them, which would put FURIA as the number one team in the top region in the World going into the Copa Elite Six.
Asia Pacific
Over in APAC, Elevate's Atibordee "Sapper" Noichan (previously known as Scatman) came into this week as a player to watch after he struggled at the start of this stage. Though he secured four separate clutches in just his opening two games, he simultaneously was only able to get four kills. He could not keep the momentum up, though, failing to secure a clutch in his next two games.
These four put him tied with Astralis' Aaron "Shuttle" Dugger and GUTS' Tsukasa "Merieux" Asano as the player with the most clutches across all top-flight leagues. But while these two have played six and five maps respectively, Sapper has only played four so far. Furthermore, achieving these four clutches with just four kills total is remarkable, as he's been able to make a crucial impact with so little presence on the scoreboard.
Out of his four clutches, three have involved him winning by the round timer without getting any kills -- two of which saw him injure the planter at the zero-second mark -- while the fourth came in a post-plant offensive 1v1. This highlights Elevate's ability to waste time in order to put Sapper in these positions.
In total, these two games saw Elevate defend nine times. Four of those six defensive round wins were due to the timer running out, which is a rate not seen by any other team. This is due to Elevate's fondness of the more unusual trap and area-denial operators, as they bring at least three of the following operators each round; Kapkan, Lesion, Aruni, Goyo, Castle, Clash, and Smoke.
Europe
As highlighted earlier in the week, G2 Esports is really struggling on its attacks, having lost all nine played over the last two play days:
However, this gets even worse if you look at the team's record all stage. Out of 25 attack rounds played, the team only won seven total -- four against Vitality and three against Cowana.
If you take these seven and exclude those won by individual plays -- 3ks, 4ks, and clutches -- this leaves just a single round all Stage won which they took against Vitality three weeks ago on play day two while attacking Coastline's Kitchen objective.
This is as against Vitality three rounds were won by a 3k from Kayak, a 4k from Hungry, and a 1v2 from CTZN while the three against Cowana was due to two 3ks and a 4k from CTZN.
The team's six multi-kills highlight the talent on the roster, especially from CTZN, but the team's reliance on these plays is to a degree not seen anywhere else globally. 1 clean attack win in 25 rounds is definitely not the sign of a healthy team.
North America
Across five maps, Spacestation Gaming's Matthew "Hotancold" Stevens is so far sitting on a flawless 12-0 record on entry, with all 12 being untraded kills. This is unprecedented globally, as his closest rivals on this stat are Alem4o and Benjamaster on +8, but without the flawless opening death count.
In the NAL, meanwhile, the only players to hit this number in prior stages include Hotancold himself (in Stage 2, he went 20-8 over seven maps), and his teammates of Fultz and Rampy, who got a differential of +20 and +19, respectively, during Stage 1 of the 2021 season.
As well as highlighting the fragging power of the Spacestation roster, this shows that this number is the result of more than an individual effort, with the team working together to gain this opening advantage.
Excluding Hotancold, the remaining four members of Spacestation have a +1 combined differential, with Fultz and Rampy on -1 and +2, respectively, as the attention that helped them get the astronomical numbers during Stage 1 is now being given to Hotancold.
---
Next week, two EU League play days will take place on Monday and Thursday along with the NA League on Wednesday, the BR6 over the weekend, and the two APAC Leagues on Wednesday and Thursday.
Keep an eye out here at SiegeGG for full coverage of these games as they happen.