The Polish national league ended its four-month long 2021 season with a double-elimination Finals this weekend at the Polsat Games Studios in Warsaw.
Homeless, Invicta, ESCA, and PACT (previously known as xXx) all met in this tournament to fight for the title, the EUCL spot, and the lion's share of the €15,500 prize pool following a somewhat-close regular season.
Upper Bracket
The opening semi-final saw the back-to-back champions of Homeless face PACT, who had only announced the acquisition of its roster a few hours before the match.
With two 7-2 victories on Consulate and Kafe, this was a complete stomp in the favour of Homeless. Homeless was led by its newest player, Szagi, who secured 20 kills to 10 deaths on Ash and Jager. AueR, meanwhile, had secured two separate 1v1 clutches on map one, which made the difference between a 7-2 finish and a much closer 5-4 scoreline.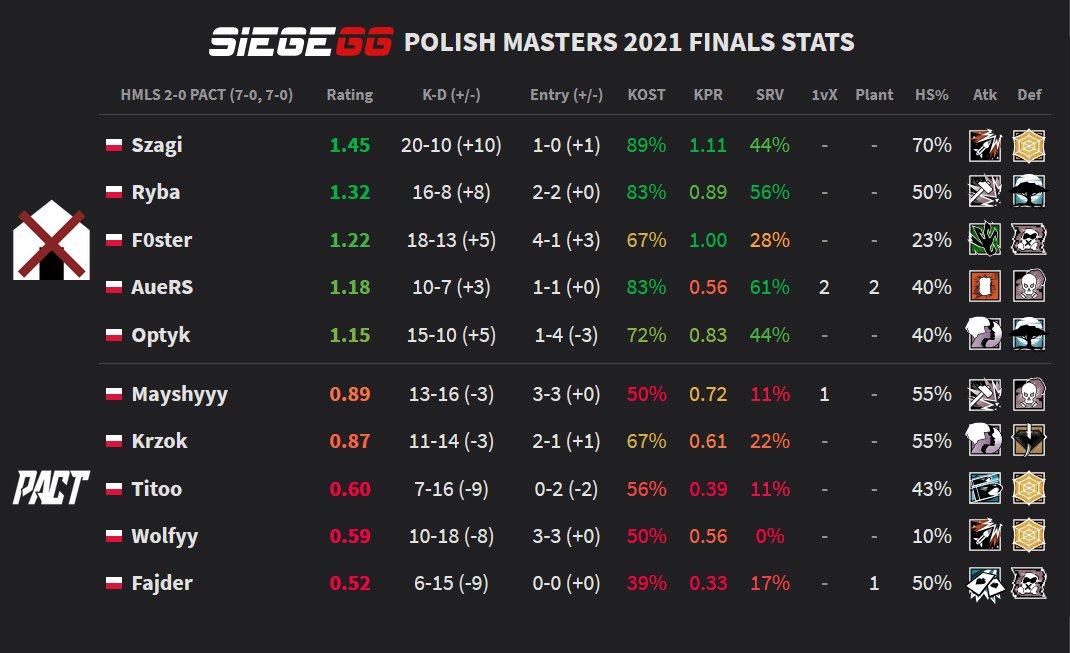 The second semi-final was much more of a contest, as the first map saw a 1v1 victory from A7s0n over Jin followed up by a plant and triple kill from Hunt. As a result, ESCA secured rounds 13 and 15 to take a map one victory against Invicta.
Map two once again went into overtime, with round 13 ending with another 1v1 between Jin and A7s0n. This time, Jin got his revenge, following which his teammate, Denio, secured a quadruple kill to win map two just one round short of maximum overtime.
And so, the game went to Chalet for the decider map. After a successful start from ESCA with two round wins running, Invicta tied up the half before four straight attack wins ended the map 7-3, giving Invicta the comeback series win.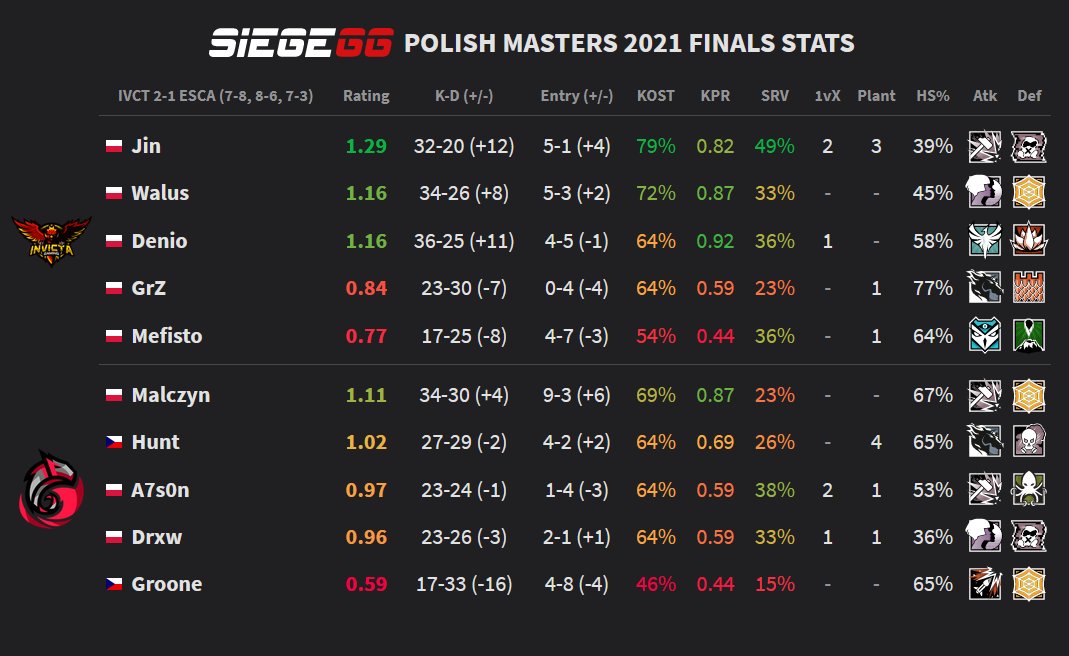 Finally, the upper-bracket final then saw Homeless face Invicta, a matchup that had ended 7-3, 6-8 across their two BO1 group stage meetings.
Starting on Chalet -- the map Homeless had won during the league season -- a 1v3 ace from Mefisto gave Invicta an early start, before Homeless came back. Remarkably, another 1v3 ace was to come, as Ryba ended the half in style for Homeless.
While Invicta did initially reel Homeless back in, it was not enough as Homeless took a 7-5 win to go 2-1 in head-to-head maps.
The following two maps both came down to 8-7 results, as two triple kills from Walus on Oregon's overtime handed the map to the Iana/Jager player. Meanwhile, Chalet, which had ended 8-6 the last time they had played, saw Walus secure a 1v3 by time before an early double kill on the execute helped Homeless take round 15.
Lower Bracket
These semi-final results meant that PACT and ESCA met in the lower-bracket semi-finals and treated viewers to another close series. A standout performance from Mayshyyy, who hit a 2.26 kill-death ratio, helped lead PACT all the way to overtime on map three, where his teammate of Krzok secured a quad-kill on Goyo to win the map 8-6 and the series 2-1.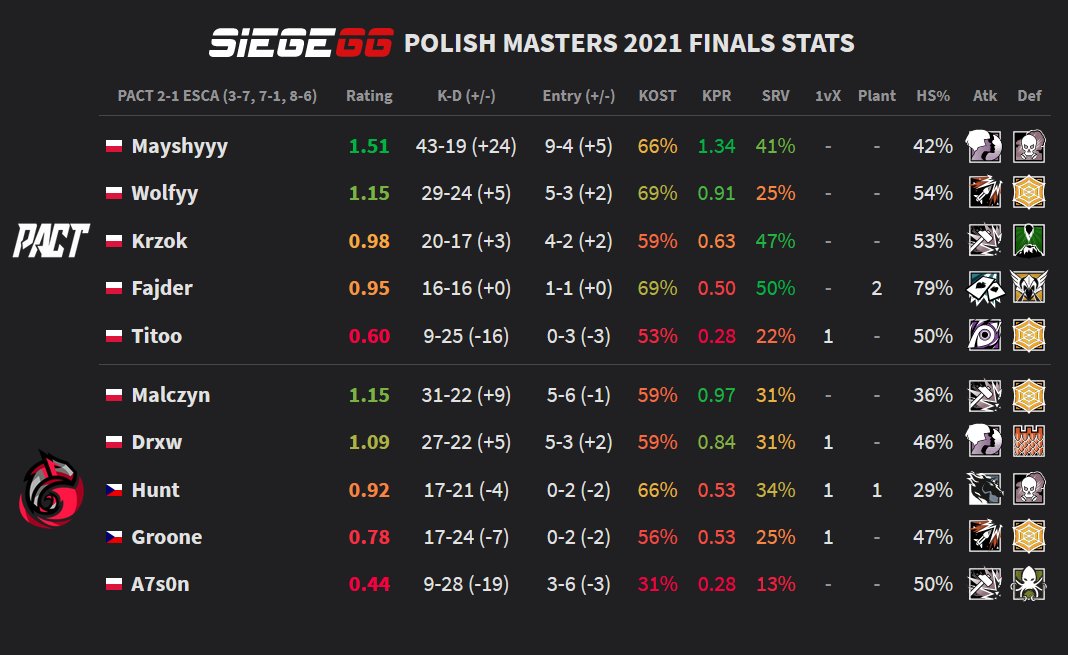 As such, PACT went on to meet Homeless again in the lower-bracket final, following the former's 2-7, 2-7 loss on the day prior. Likely to the detriment of PACT, the map bans were nearly identical as the day prior, and Homeless made short work of PACT on Consulate and Kafe.
AueR led his team to a 7-5, 7-4 victory with a 1.37 SiegeGG Rating, while PACT struggled again and only had Krzok with a 0.94 Rating as its top-rated player.
Grand-Finals
And so, Homeless and Invicta met in another rematch for the title.
This best-of-three map grand-final started on Oregon, which Invicta had won in its matchup 8-7 earlier in the day.
Homeless began by going up 4-1, due in part to a 1v2 from Ryba and a 1v1 from Szagi. While Invicta ended its attacks with a win, Homeless simply cleaned out on its own attacks after. AueR, in particular, brought a level of ferocity unseen in their earlier meeting, as he racked up eight kills in just three rounds on top of a defuser plant.
Next up was Villa, which remained even throughout the first half as the two teams simply traded rounds back and forth. As they switched sides, though, we once again saw Homeless race off with four round wins in a row, with Invicta unable to gain ground without bleeding manpower.
This map win gave Homeless its third Polish title in a row with the team's Mateusz "Ryba" Środoń being crowned the Finals MVP with a 1.16 SiegeGG Rating.
With this, Homeless becomes the 16th and final team to qualify for the 2021 European Challenger League tournament. Next month, these 16 teams will start their campaigns to become one of possibly two teams to secure a EUL 2022 spot.
Full Challenger League 2021 team sheet:
Homeless -- Ryba, Szagi, Foster, AueR, Optyk, and Sways (analyst)
MnM Gaming -- Fonkers, Yuzus, neLo, Tyrant, Sparxo (coach), and Eden (analyst)
GAMMA GAMING -- Leonski, Deapek, Avaiche, ASTRO, Sternab (coach), and Phenomene (analyst)
GoSkilla -- Shermi, Exp0, Mekses, M4DMAN, and Turqo
Acend -- ENEMY, RevaN, Meloo, EiZ, Jeya, and BiOs (coach)
DeathroW -- FuZiion, Ra1kos, JaKs, KuQuS, Neox, and Nouda (coach)
Helios Gaming -- Purple, BryanS, Nztro, Robin, and Nay0z
Totem Esports -- DjuZ, Mowwwgli, Linkoo, Ayzenn, Neyox, Bolt (coach), anShocks (analyst)
Sissi State Punks -- BZ, Gisela, Daya, Tooobi, Zeus (coach), and nOose (analyst)
Ovation eSports -- StrkR, Acelele, Witheball, slshr, and Ryoo
Mkers -- Aqui, Gemini, Scatto, Sasha, and Lollo
Viperio 86 -- Curly, Draw, Monkey, Erkkari, Joe, and Px7 (coach)
Chaos Esports Club -- VITO, REDGROOVE, Hxsti, JTc, and Liinux (analyst)
43rti -- SmashByAsh, flaers0, eXoduSS, rush, Amision, and ViKiNG (coach)
ex-Wizards Esports Club -- HuliK, NaoResh, Nubaii, Deivid, aLex, and al0kaka (coach)
Riddle Esports -- Yuki, Mengo, Assassin, tARREN, Pat, Owen (coach), and ATK (analyst)
Be sure to tune in for the EUCL tournament when it starts next month and check out our full coverage of the Polish Masters league including results, stats, and predictions right here.