GSA is truly the league that keeps on giving. Even as the league comes to its conclusion, the upsets have not let up -- and Week 12 was no exception.
Sissi State Punks (SSP), once seemingly dominantly beyond any other team, seems under threat, while the three European League (EUL) teams are seemingly having to fight over just two playoff spots.
Keep on reading to find out what happened in what could end up becoming a pivotal week in the GSA League 2021.
The play day started with somewhat of a let-off, as Team Secret took an important but thoroughly dominant win to keep itself in the hunt for a playoffs spot.
Aside from the 7-0 scoreline, the highlight of the game was Keenan "Keenan" Dunne returnning to play again after missing last week's match against Rogue due to personal reasons.
On the other hand, Ovation's loss means that the German team will be relegated from the GSA League after falling eight points behind sixth place.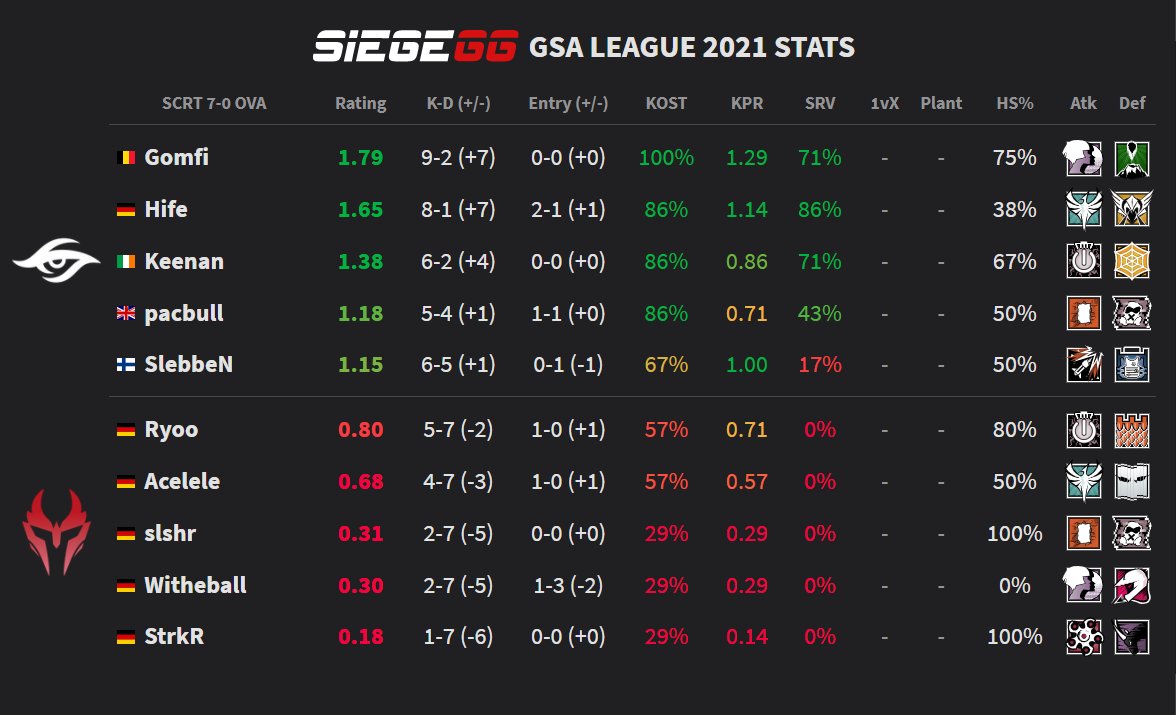 With both teams tied on points for second place, this was a match to follow closely.
Although G2 Esports was the favourite to take the win, Team GoSkilla had been on a four-game win streak. Moreover, GoSkilla's stand-in Turqo had been registering the best numbers of any player since he had joined the GSA League.
G2 Esports enjoyed a great start, as the EUL side won the first two rounds, but two successive clutches saw GoSkilla level the match. If that was not enough, Daniel "Exp0" Massierer completed what was GoSkilla's third clutch right after.
However, the best play was yet to be seen, as Leo "M4DMAN" Kukielka put his team ahead after yet another 1v3 clutch, with G2 seemingly unable to hold onto its man-count advantages.
Pushing things to overtime, GoSkilla took the two rounds required there, capping off a vital victory for the Challenger League hopefuls.
While Turqo was top-rated on GoSkilla (and the only one to have a rating above 1.00), Jake "Virtue" Grannan's almost perfect performance with a rating of 1.47 and a KOST of 91% went under the radar, as his team lost for a third consecutive time.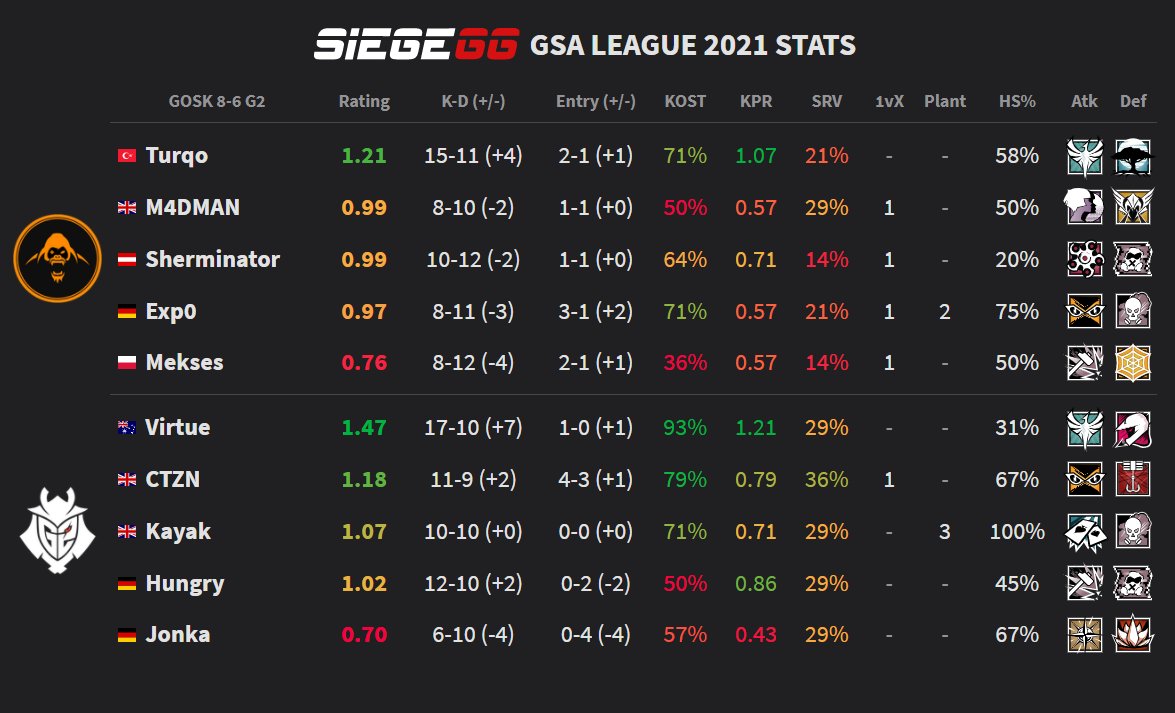 With Rogue now in fifth place after Secret's win, the EUL team had a chance against GC Esport to restore its strong position. Meanwhile, GC was looking for a win to escape the relegation zone.
Although GC had a strong start, primarily thanks to Koji getting seven kills in two rounds, Rogue took over from then on. An ace from Jan "ripz" Hucke ace in round eight was just the cherry on top of the cake, as Rogue took seven rounds while just conceding an additional one for a 7-3 win.
Unlike in Rogue's past few games, Pascal "Cryn" Alouane was not the standout performer this time, as his teammate Maurice "AceeZ" Erkelenz secured a dominant 1.67 rating.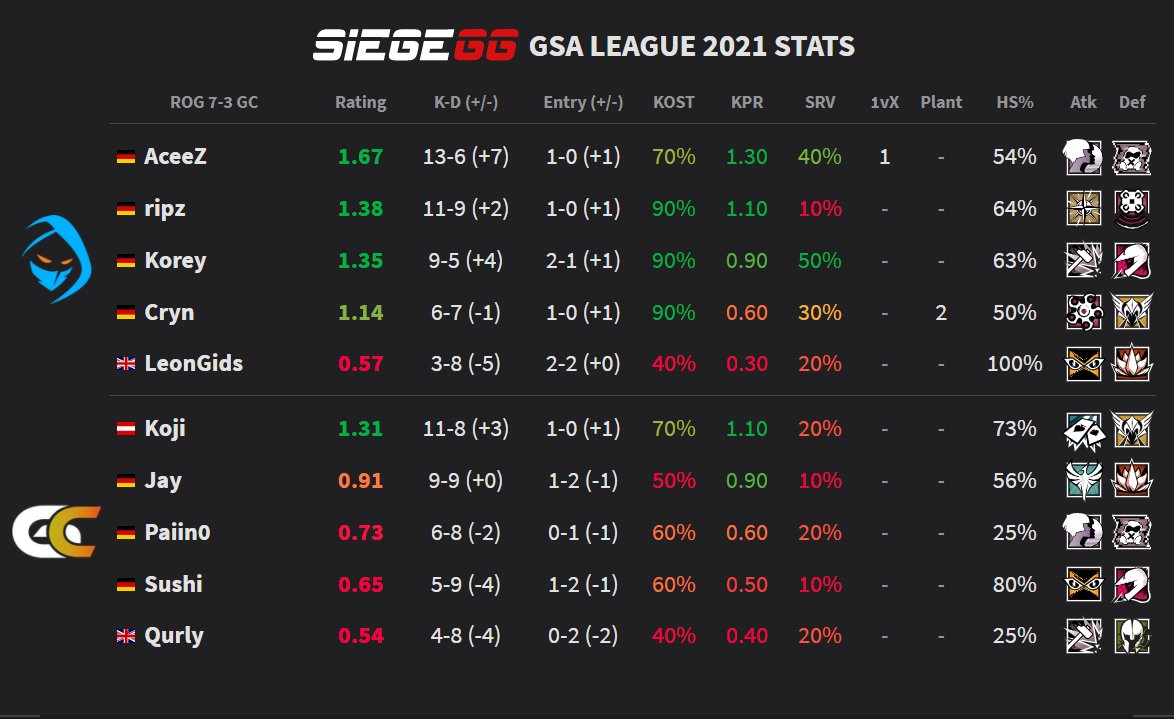 GC's loss thus meant that PENTA had the chance of leaping ahead and out of the relegation zone. But few were expecting the Turks to take down the league leaders.
PENTA started off well, winning four of its six defences on Chalet, a map that just had a 47% defensive win rate.
But, against all odds, PENTA secured match point on Round 9. Despite SSP surviving the first, the Turkish team confirmed the win in Round 11 and pulled off a stunning upset and secured a vital win that could see it survive the GSA League Relegations.
As a result, PENTA moved three points clear of GC Esport and could confirm its safety if it wins without overtime in Week 13 and if GC Esport does not manage a regulation-time victory.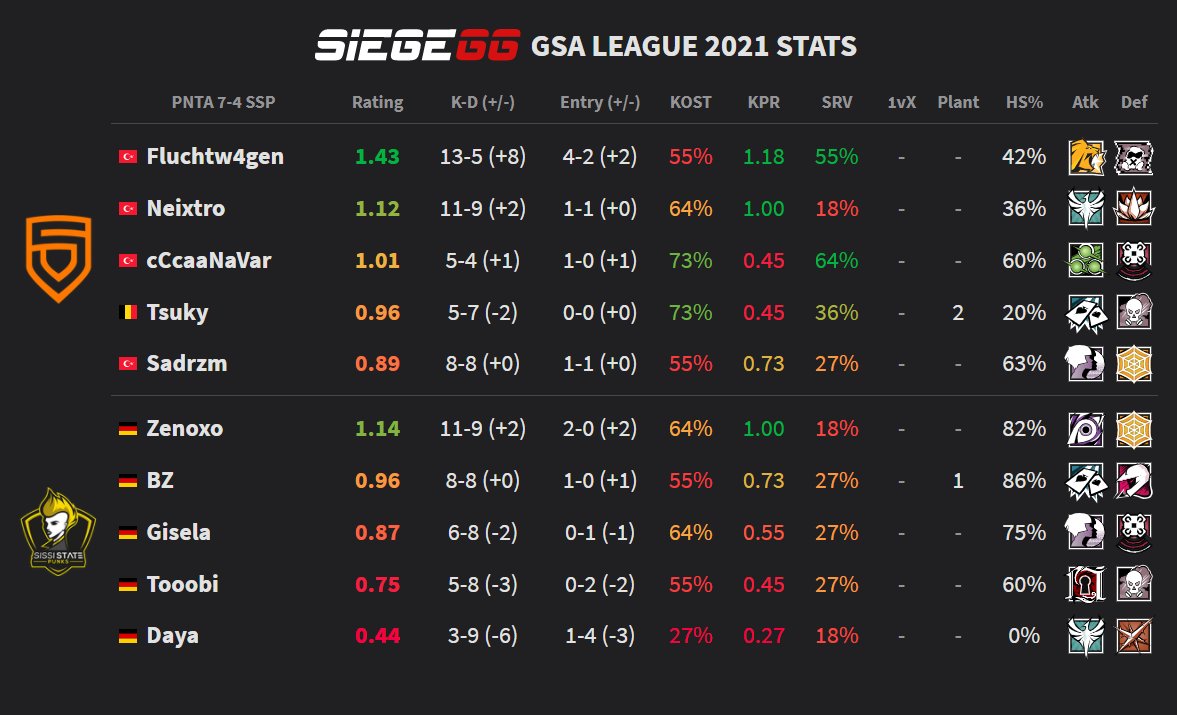 What's Next?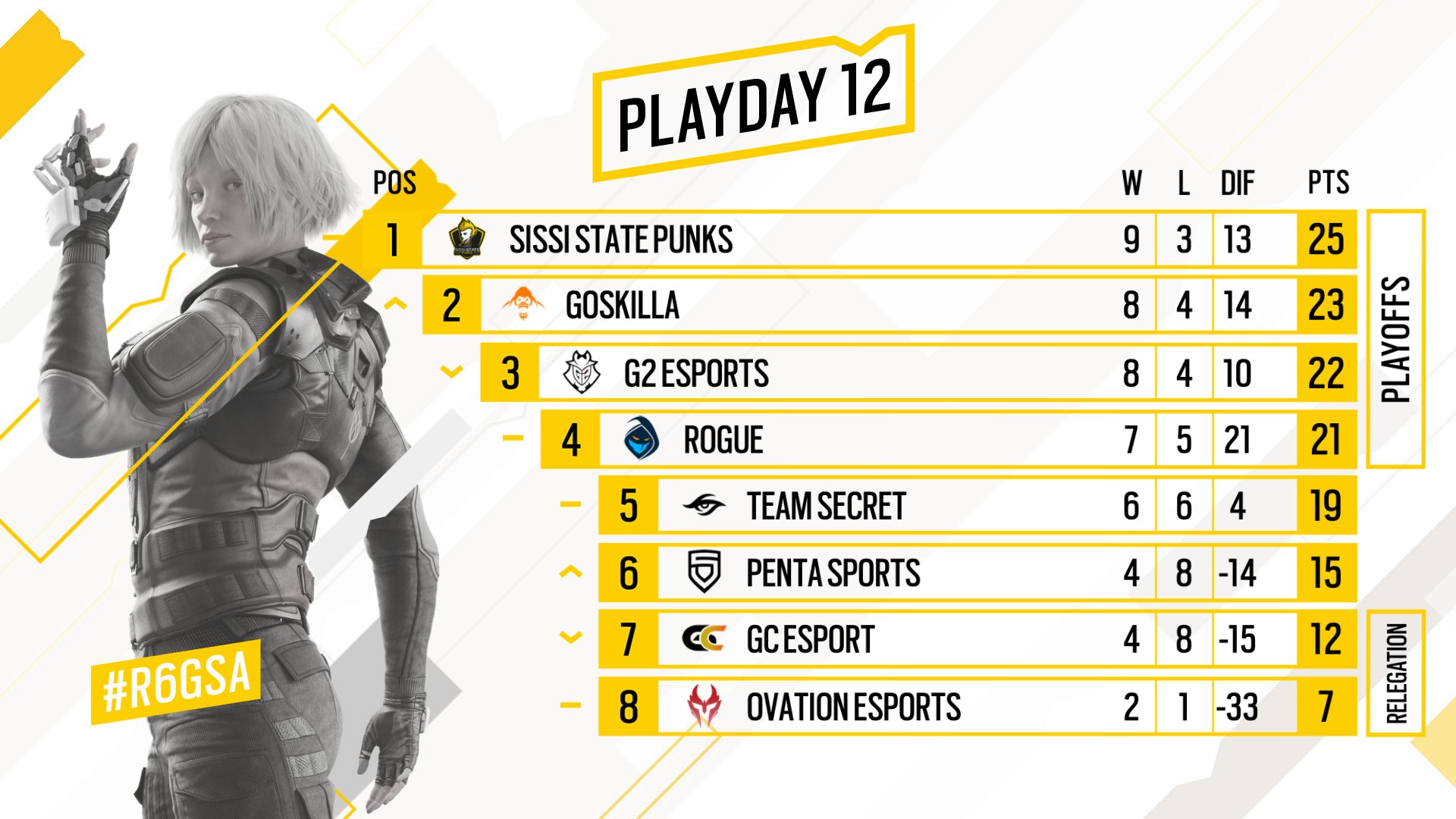 With just two more weeks left, we will likely see the first teams confirmed to play in the playoffs after the 13th play day this week.
Rogue and PENTA will start the action with a pivotal game for both, as Rogue looks to finally qualify for the playoffs while PENTA looks to put itself in prime position to avoid the relgation zone.
GC Esport, meanwhile, has to play SSP.
While the current championship leaders have had some great performances against the European League sides, PENTA's victory shows that they are still vulnerable.
To finish the week, G2 Esports will face Ovation, who are guaranteed to finish in the bottom two no matter what. Therefore, this is G2's best chance to seal a Top 4 finish.
Make sure to tune in for all the action on the Rainbow6DE Twitch channel, starting from 7 PM CEST (UTC+2).