Outside of Europe, people may be forgiven for not being aware of Sissi State Punks (SSP) just quite yet. But the up-and-coming German team is determined to make its name known and seems well on its way to do so.
Having been assembled for the GSA League 2021 specifically, SSP's success has been quite remarkable.
The full-German squad first took the lead of the group stage in the third week of play and even though G2 Esports wrested it from them for four weeks, SSP kept pace throughout. The seventh week then saw SSP level on points with G2, but the challengers have been leading since the 10th week of play.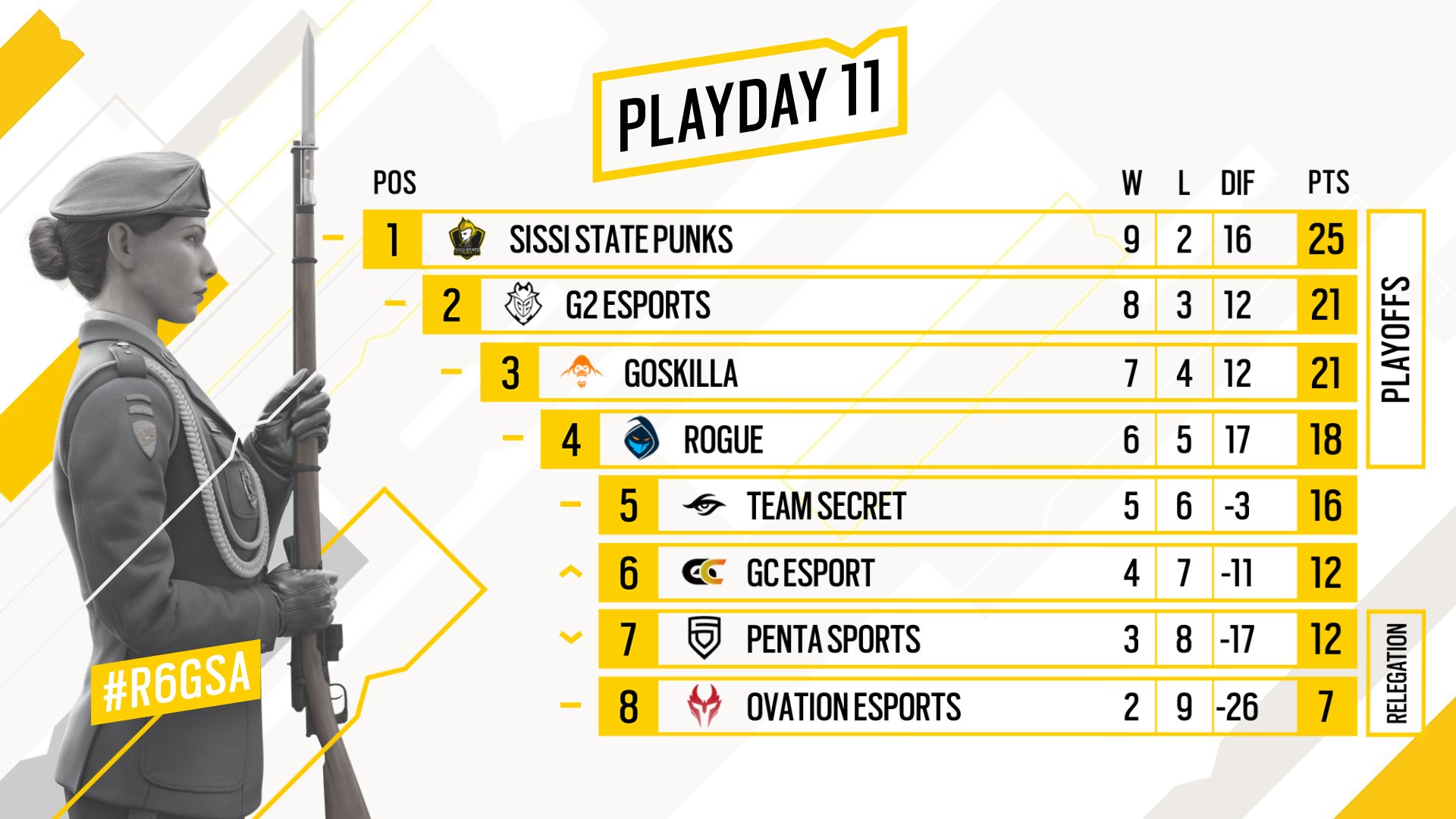 Currently, they are both four points clear of current European League (EUL) leaders G2 Esports, as well as GoSkilla, their main rivals for the Challenger League spot on offer in the GSA League.
In the season so far, they have also beaten the three EUL teams, Rogue, G2 Esports, and Team Secret in the GSA League at least once. Not only that, aside from an opening 3-7 loss to G2, SSP has not conceded more than five rounds to any of its three EUL rivals.
While none of its players feature in the Top 5 in terms of Rating, both Zenoxo and Gisela have a +24 K-D split, while Zenoxo has a +6 on Entry, and BZ is tied for the most clutches with five to his name.
SSP's ability to stay cool in the face of tough odds and mount comebacks has also been vital and has given the team much confidence ahead of the double-elimination playoffs.
To know more about the SSP season, SiegeGG spoke to team manager Patrick "LocoLoki" Krippner.
SSP is a team that was constructed with players from various different teams and had two months of preparation. Safe to say, it's really been working out, hasn't it?
In fact, Daya and Tooobi have been playing together since WarKidZ (SSP was a consolidation of the two organisations of WarKidZ and TKA), while BZ (our In-Game Leader), Gisela and Daya have played together before.

Zenoxo was a new addition and immediately took over an important role for the team.

Also, in case of emergencies, we can fall back on Keto, who is a terrific substitute. Together with Zeus (our coach) and noose (our analyst), we have been working on perfecting this team since the last GSA season and in the current situation it should work quite well. This is also shown by the current table position we hold.
How did this team come together and what were the key identifiers and criteria for them?
The most important thing is cohesion and the chemistry within the team. It took some time here to find the right people, but the current composition of the individual players is perfect.

We have very emotional players, like Zenoxo, but also extremely calm ones, like Tooobi or Gisela. And that works very well together. I love that!
Your team just has two losses this season, one to G2 Esports and another in a significant upset against GoSkilla. What happened in both those games and how have you learnt from them?
We lost our first game against G2 probably because of nervousness.

Consulate is a map that G2 simply dominates and we had to learn that the hard way.

Against GoSkilla, everything that could go wrong went wrong. We just came into bootcamp, it was 36°C (inside!), we were tired, the communication didn't fit and we just couldn't find our way into the game at all.

This was also our most bitter defeat so far, but we made up for it by beating G2 on the last day of bootcamp. So this offline experience was definitely worth it.
Conversely, your fine form has seen you lead with 25 points from nine wins, including wins against Rogue (twice), Team Secret, and G2 Esports the second time. How are you able to take on and win these EUL teams so effectively?
This team is ready for a higher league. We have proven that we can compete with EUL teams, even though it's always said that these teams save strats.

For us, everything fits together: the individual player strength, the tactics, the mood in the team, etc. The boys really love to play R6 and I think you can see it every game we play.
Now four points clear of GoSkilla in second place, your rivals for the Challenger League spot, how confident are you in making that Challenger League spot yours?
GoSkilla is, of course, our toughest competitor on the road to the Challenger League. But they still have to play G2, against whom we have already won.

Nevertheless, we expect them to reach the playoffs and are already preparing for tough and exciting games against them. As a safety rope, we still have some points in the Challenger League Qualifiers, but it would be nicer to win the slot via the GSA League.
Both Zenoxo and Gisela have strong +24 K-D splits, while Zenoxo has a +6 on Entry, and BZ is tied for the most clutches at 5. How important have their performances been and does your team structure its style of play around them, or to specifically help them?
Both are very good and important players. So is the rest of the team. Each player has their individual role on the team and it's not always about securing a lot of kills, but winning maps and implementing our strategies correctly.

We don't play around individual players, but perform as a team. We work very hard and fight for every victory, which you could see in the numerous comebacks we had this season.
Your team has essentially played every single map in the past three months, save for Villa. Any reason for avoiding Villa, specifically? And has your team been worried that others would be able to counter-strat yours on all the other six maps?
We just wanted to save the best for last! In fact, we practice all the maps, of course. We have our favorites, where Villa is actually even one of them. But, probably, the opponents know that we can play very well on it.
Is there anything you or your players would like to say to your fans?
Very much! We are so damn proud to offer you R6 gameplay of the highest order and are happy about everyone who permanently cheers for us.

Thank you so much for your support and love! We hope we can live up to your expectations and give you what you want to see. You are awesome!
---
Catch Sissi State Punks next during the 12th play day of the 2021 GSA League, when they take on PENTA on the 22nd of July at 10:45 PM CEST (UTC+2).