Banner image via Ubisoft
The "biggest charity event in gaming" saw its R6 portion take place over the last four days, as 16 teams were invited to compete this year.
With the event now done, here's a look at the games and causes the tournament supported.
Jump to:
Gamers Without Borders Rundown
Gamers Without Borders is an annual charity tournament that offers $10 million to a number of select charities. The tournament itself takes place over six different games -- CS:GO, R6, Fortnite, RL, FIFA, and PUBG Mobile -- with the R6 games being worth $1,500,000.
The world's biggest charity esports event!

The best gamers on the planet, community tournaments for all and a $10m prize-fund going directly to COVID-19 vaccine distribution for those most in need.
All participants decide where their prize money will be donated to, out of a select range of charities.
This followed on from the 2020 Gamers Without Borders tournament, which saw just eight teams (two NA, two LATAM, and four APAC) compete. Then, FaZe Clan, Oxygen Esports, and CYCLOPS athlete gaming had been crowned champions.
Latin America
Starting with LATAM on Thursday and Friday, the six Brazilian teams that had attended the Six Invitational faced Stage 1's South American champions and Mexican runners-up in a single-elimination tournament.
While almost all of these teams are set to meet in a few weeks' time for the Elite Six Cup Playoffs, this was still a good chance to get a first look at the teams and led to five out of seven games ending in an upset.
Most notably, four of the best teams in the world all were knocked out in the first round -- Liquid against Atheris, MIBR against FURIA, oNe against FaZe, and NiP against 9z -- with only NiP taking the game to Map 3.
Following this, 9z defeated FaZe to reach the grand final, but Atheris couldn't achieve the same, falling to FURIA.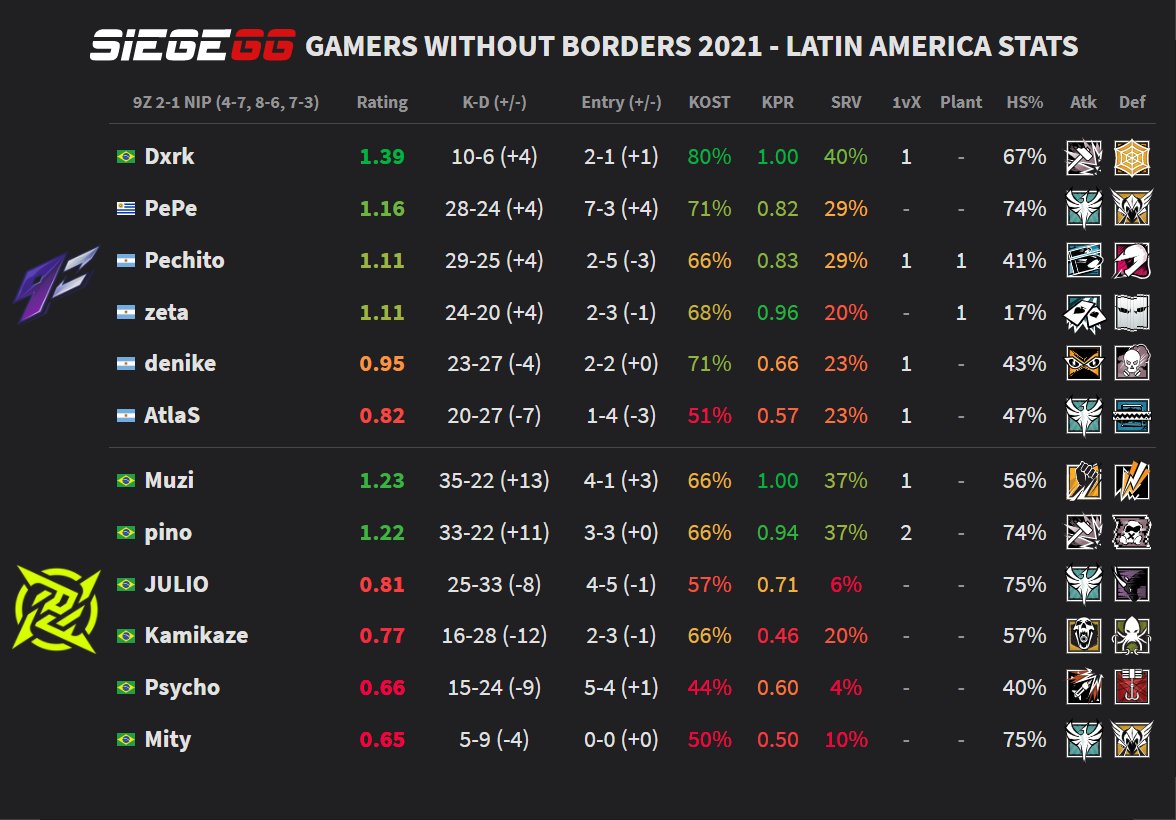 Eventually, FURIA defeated 9z in the grand-final in a clear 7-3, 7-4 scoreline, which was a pretty big result for both teams -- FURIA won their first tournament since picking up the roster and 9z proved they could compete with their Brazilian counterparts.
1st:
FURIA Esports -- h1ghs, LENDA, Miracle, Fntzy, R4re, Twister, and Kizi (two coaches)
2nd:
9z Team -- ZETA, denike, AtlaS, Pechito, PePe, RICK (coach), and Dxrk (analyst)
3rd:
FaZe Clan -- Astro, Cyber, Bullet1, cameram4n, soulz1, and Ramalho (coach)
3rd:
Atheris Esports -- Guicho, SkMzY, Novys, Navy, MKing, Royz, and GOKU (two coaches)
5th:
Team oNe eSports -- Lagonis, KDS, Neskin, Alem4o, Levy, TchubZ (coach), and RafadeLL (analyst)
5th:
Ninjas in Pyjamas -- Kamikaze, Psycho, julio, Muzi, pino, and Mity (coach)
5th:
MIBR -- reduct, Faalz, LuKid, Rappz, Budega (coach and stand-in)
5th:
Team Liquid -- nesk, S3xyCake, psk1, Paluh, muringa, Silence (coach), and mcunha (analyst)
With twice the number of LATAM teams competing than NA or EU, this tournament was also worth the most at $700,000, compared to $400,000 for each of the other regions.
Seven of the teams all donated their winnings to UNICEF -- totaling $660,000 -- while Team Liquid opted to donate their $40,000 to the charity of GAVI instead.
We guarantee $250,000 to @UNICEF at our first charity championship! It was so much fun and we were happy to be able to help so many people just by doing what we love! Tomorrow BR6 day and we're back in full swing! #DIADEFURIA
Europe
Upsets were also seen in Europe, as all three games had unlikely winners; V.p beat Cowana (despite losing to them 1-7 in the EUL), before the Saudi team of Osh-Tekk Warriors took down both Russian sides to win the Gamers Without Borders event.
These wins came 7-2 and 7-4 against Empire, followed by a 7-8, 7-4, 7-0 against Virtus.pro in what was the very first matchup between a MENA (Middle East and North African) and non-MENA team.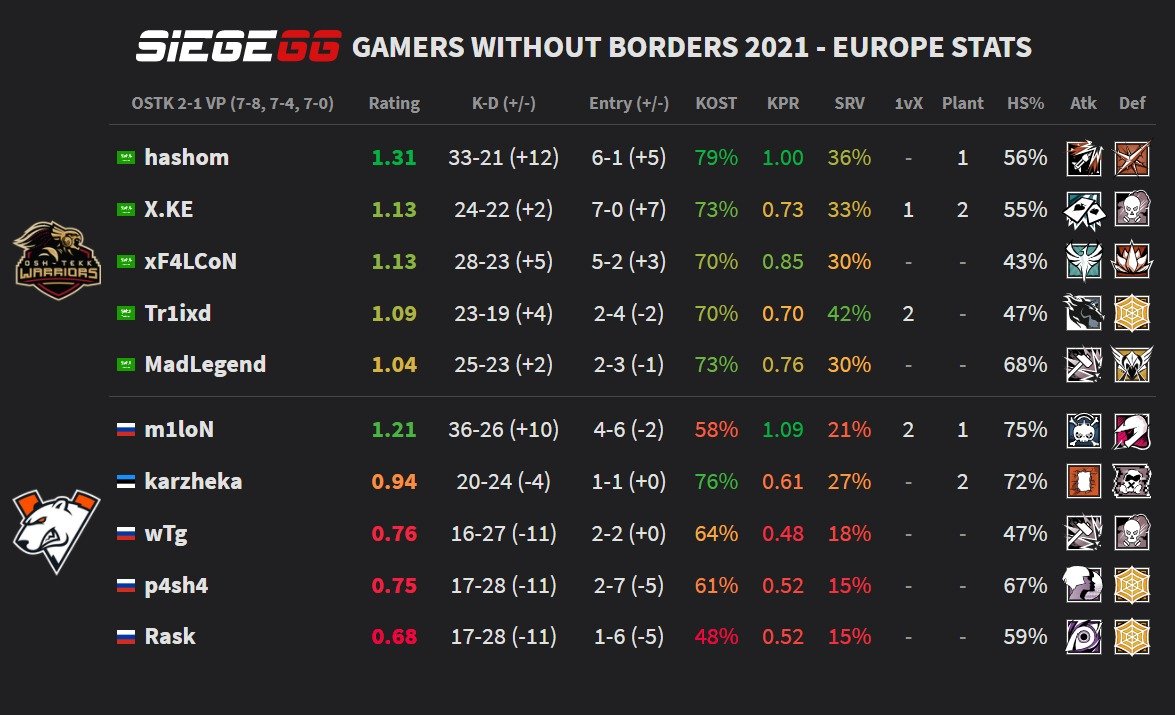 Despite replacing half of its team in May of last year, the Osh-Tekk organisation has won virtually every tournament of note in the sub-region since 2018, including the Ubisoft-supported MENA Regional League and the $173,000 Saudi eLeague.
1st:
Osh-Tekk Warriors -- Hashom, X.Ke, MadLegend, OF4LCoN, Tr1ixd, and Nalbagame (coach)
2nd:
Virtus.pro -- Rask, p4sh4, m1loN, karzheka, Andreezy, and wTg (coach)
3rd:
Team Empire -- ShepparD, JoyStiCK, Scyther, dan, Always, RayzerGM (coach), and Zheka (analyst)
3rd:
Cowana Gaming -- Anarchic, Grizzly, GorgoNa, Sloth, Kendrew, Mrofficer88, Rideo (two coaches), and davil (analyst)
With the Saudi Arabians taking the title, the team opted to donate its $200,000 winnings to the Saudi-based charity of KSRelief, while the rest of the money went to UNICEF.
While it was "just" a show match, this is a truly momentous result for the MENA sub-region, which to date has been largely neglected.
Beating 2020's third and fifth-best teams in Europe in almost straight maps shows Osh-Tekk has real promise, which will hopefully help to increase attention to the sub-region from Ubisoft and get MENA-based tournament organisers to run Europe-wide tournaments for their teams to play in.
For now, these players will be hoping to prove their abilities once more in a year's time, when one MENA nation -- extremely likely to be Saudi Arabia -- is guaranteed a spot at the R6 World Cup.
May God make you all happy and thank you for standing with us and your awesome support. Indeed, praise be to God, an opportunity came and we were able to prove ourselves in it. Thank you to the people who helped us in this opportunity. We played with the biggest names in Europe.. I personally enjoyed it and your words to us made us very happy.
Show Match
Sunday morning then saw a one-map $100,000 showmatch that included players from NA and EU and starred Beaulo, KingGeorge, and Fabian.
The map was a complete frag-fest from Beaulo who, despite losing, secured 36 kills in 15 rounds.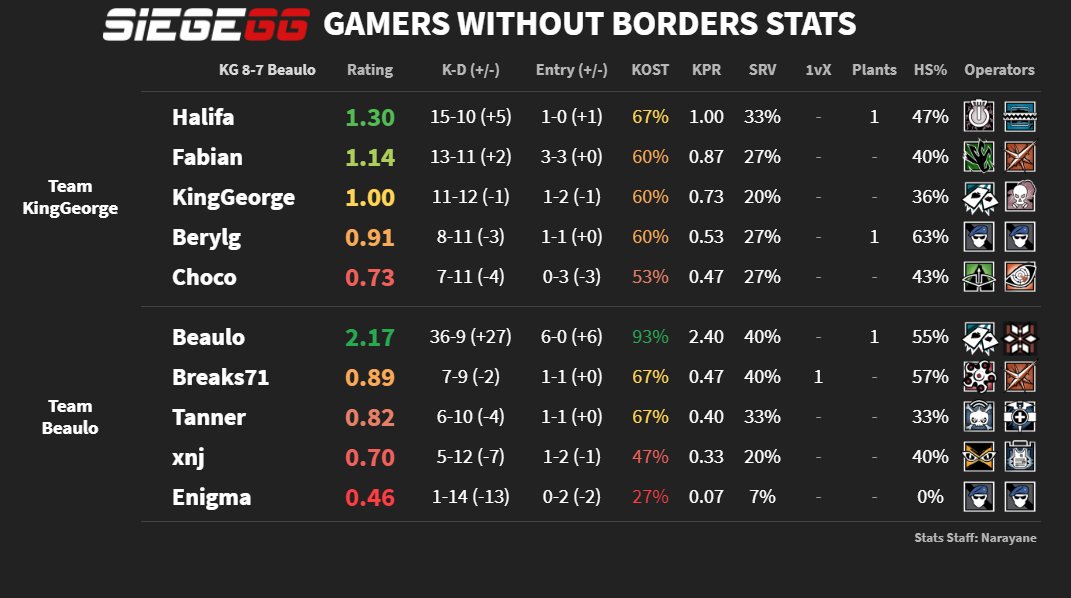 North America
Finally, we have North America on Sunday. Here, the current Challenger League leaders of Org-Less and Stage 1 CL victors of Wichita Wolves joined the two NA League rosters of bc and TSM in the first cross-tier meetup since the DZ Pro-Am in March.
While TSM dispatched the Wolves in a straight 7-4, 7-0 scoreline, we did see another upset as beastcoast -- who are yet to win a game since April -- lost to the Group A CL leaders, pitting Gotcha against his ex-roster in the grand-final.
Finally, after a rough start, TSM won the title in a 7-5, 7-0 scoreline to end the Gamers Without Borders R6 tournament.
1st:
TSM FTX -- Achieved, Merc, Beaulo, Geometrics, Chala, Pojoman, Daeda (two coaches)
2nd:
Org-Less -- Barring, Oasis, Gotcha, YungAlec, Prod, and Novozo (analyst)
3rd:
Wichita Wolves -- Callout, Forrest, Melted, Jaay, Abunai, Forceful (coach), and SmiTaSous (analyst)
3rd:
beastcoast -- Phozzo, Sippin, Rooty, AnthonyMGS, b1ologic, and Krux (coach)
The Wolves, TSM, and beastcoast gave their money to UNICEF while Org-Less were the only team to opt for Direct Relief.
The Charities
The R6 teams then donated their winnings to their chosen charities to total the following amounts:
UNICEF -- $1,100,000
KSRelief -- $200,000
Direct Relief -- $100,000
Gavi -- $40,000
This leaves $160,000 won by V.p and Team KingGeorge, who haven't announced their recipients yet.
Here's a further look at all these charities:
UNICEF
Supported by FURIA, 9z, FaZe, Atheris, oNe, NiP, MIBR, Cowana, Wichita, bc, Empire, and Team Beaulo
UNICEF (the United Nations Children's Emergency Fund) is a UN agency that focuses on helping children around the World. Concerning COVID-19, UNICEF is supplying health supplies, hygiene facilities, and clear water to those in vulnerable regions to help slow the spread of COVID.
Gavi, the Vaccine Alliance
Supported by Team Liquid
GAVI (the Global Alliance for Vaccines and Immunization) focuses solely on increasing access to life-saving vaccines which now includes the COVID-19 vaccine, as well as co-leading the COVAX scheme to get the COVID vaccine to be shared with countries around the world.
The Vaccine Alliance is providing immediate funding to health systems, enabling countries to protect health care workers, perform vital surveillance and training, and purchase diagnostic tests.

Gavi will support countries to adapt and restart immunisation services, rebuild community trust and catch up those who have been missed both before and during the pandemic, while also investing in strengthening immunisation systems to be more resilient and responsive to the communities they serve.
Direct Relief
Supported by Org-Less
Direct Relief is a global charity that usually responds to emergency situations, such as natural disasters, around the world and so has been helping to supply the equipment needed to fight COVID-19 to these same areas.
The organization is leveraging its global distribution infrastructure and financial resources to aid in the response, with emergency deliveries of critical medical resources -- vaccines, PPE, and medications -- leaving daily for medical facilities across the U.S. and world.
International Medical Corps
The International Medical Corps' focus, meanwhile, is on health training and so they are providing medical expertise, equipment, training, and triage and treatment services to countries particularly at-risk of uncontrolled COVID-19 outbreaks.
King Salman Humanitarian Aid and Relief Center
Supported by Osh-Tekk Warriors
Finally, we have KSRelief, which is included as Gamers Without Borders is run by a Saudi Royal who works as the President of the Arab eSports Federation.
This charity has been helping in the fight against COVID by donating significant amounts to both the WHO and UNICEF and aims to become "a regional hub for the production of coronavirus vaccines" and PPE to their Middle Eastern and wider neighbors.
---
This tournament was, therefore, a major success for both the South American and MENA regions and hopefully, is an indication of successes to come.
The Gamers Without Borders event will continue with a Rocket League tournament next weekend, followed by PUBG Mobile the weekend afterward as the last of the $10,000,000 is awarded.