In a continuation of the 2021 Korean Open season, the Summer version of the ₩60,000,000 (US$53,000) Korean national tournament got underway about two weeks ago, featuring four APAC North teams in attendance, with the monumental organisations of T1, Cloud9, and DWG KIA.
Here's a rundown of the games from the week prior and here's what to expect from the penultimate group stage week ahead.
Jump To:
Day 8
SGA 3-7 5PM
T1 5-7 Talon
Faust 7-5 Cloud9
DWG 7-4 StarRise
The eighth day of play kicked off with multiple exciting games, including Talon Esports getting revenge on T1 for the opening day 1-7 loss. But the match that made fans sit up and take notice was the third one of the day.
Having already defeated Cloud9 7-3 on the first day, Faust would have certainly been confident of yet another strong result. Sure enough, an off-form Cloud9 got off to a shockingly poor start, sinking to a 1-5 deficit on its Coastline defense.
Swapping roles, though, Cloud9 put a fantastic four rounds in a row together to tie up the score, but a post-plant retake from Faust arrested the slide. Just one round later, Faust completed the victory, getting only the third defensive win on the map, and taking Coastline 7-5.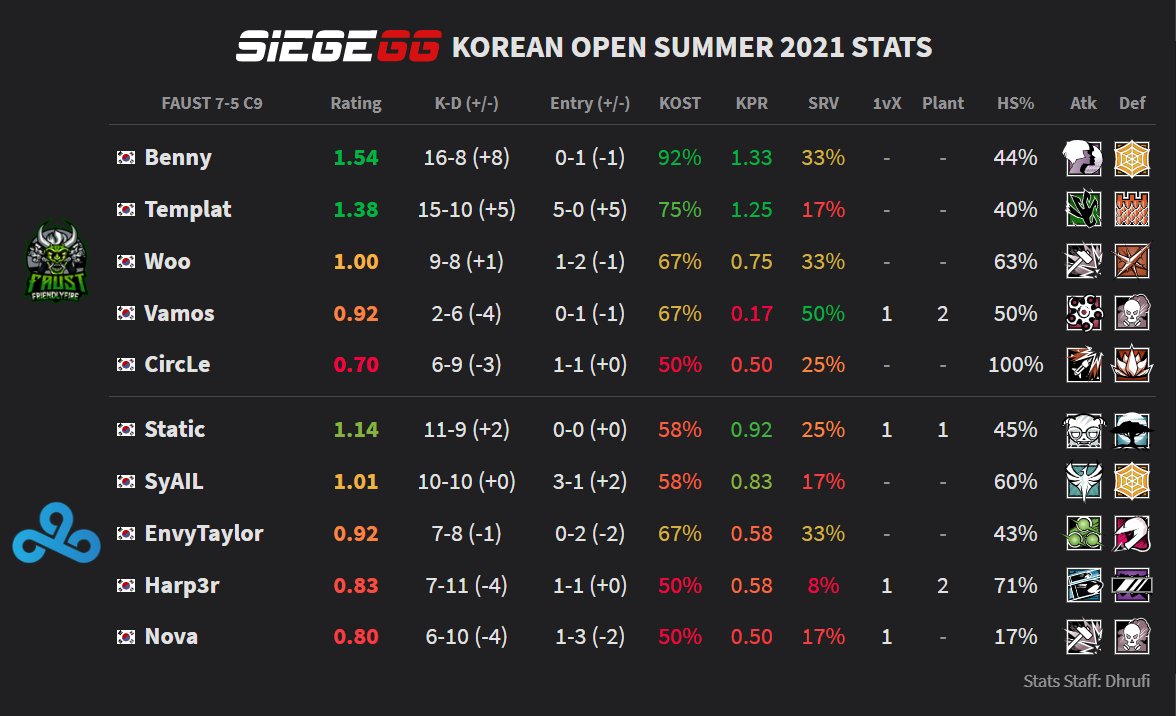 Day 9
Talon 7-5 Faust
T1 8-7 5PM
Cloud9 7-0 StarRise
DWG 7-5 SGA
The next day, while Faust faltered against Talon and Cloud9 demolished StarRise, a resurgent T1 was pushed to the brink by 5PM.
An amateur team in last place, 5PM was not expected to be able to compete with T1, who had been tied for first after Day 7. But 5PM, helped by the defensive start, went up 4-2 in the first half on Clubhouse and managed two rounds on the attack to secure match point at 6-5.
While T1 then scrambled to force overtime, 5PM then secured match point once more -- this time on the attack. T1 fought back, equalling the score, but an incredibly tense Round 15 saw a last-gasp plant from 5PM that was eventually disabled by T1, giving the APAC North team the 8-7 win.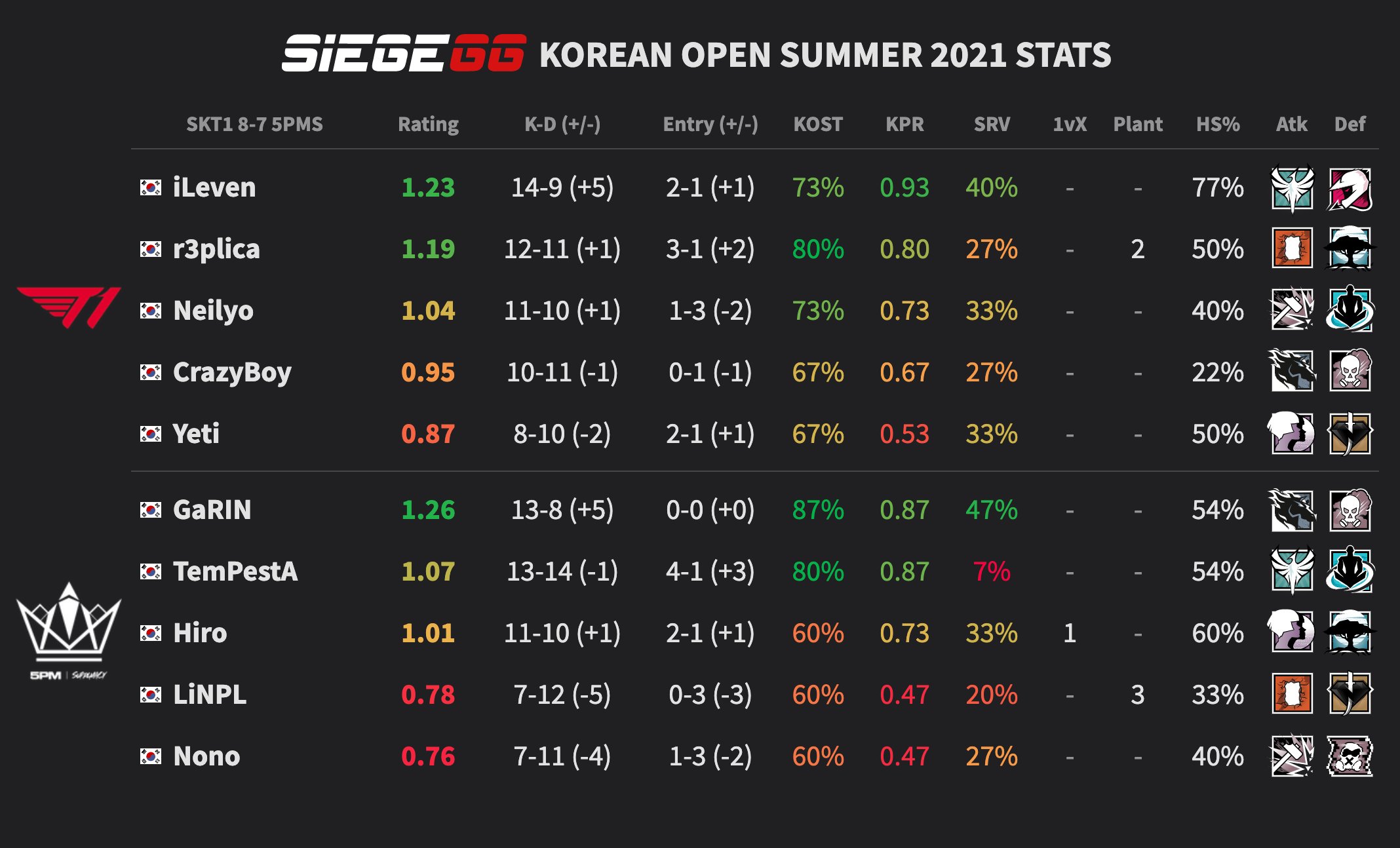 Day 10
StarRise 4-7 Talon
SGA 2-7 Cloud9
DWG 7-1 5PM
Faust 7-5 T1
On the 10th day, as Spring champions SGA continued their freefall, T1 and Faust were once again party to the game of the day.
Faust, smarting from the loss to Talon the previous play day, wanted to return to the Cloud9-beating form against T1 and started off well. Despite being on the attack on Clubhouse, Faust managed a 3-3 first half to put itself in a good position for the second.
Sure enough, after an initial back-and-forth, Faust pulled off three defensive victories in a row, taking the game 7-5 and pulling up just one point behind T1 in the standings.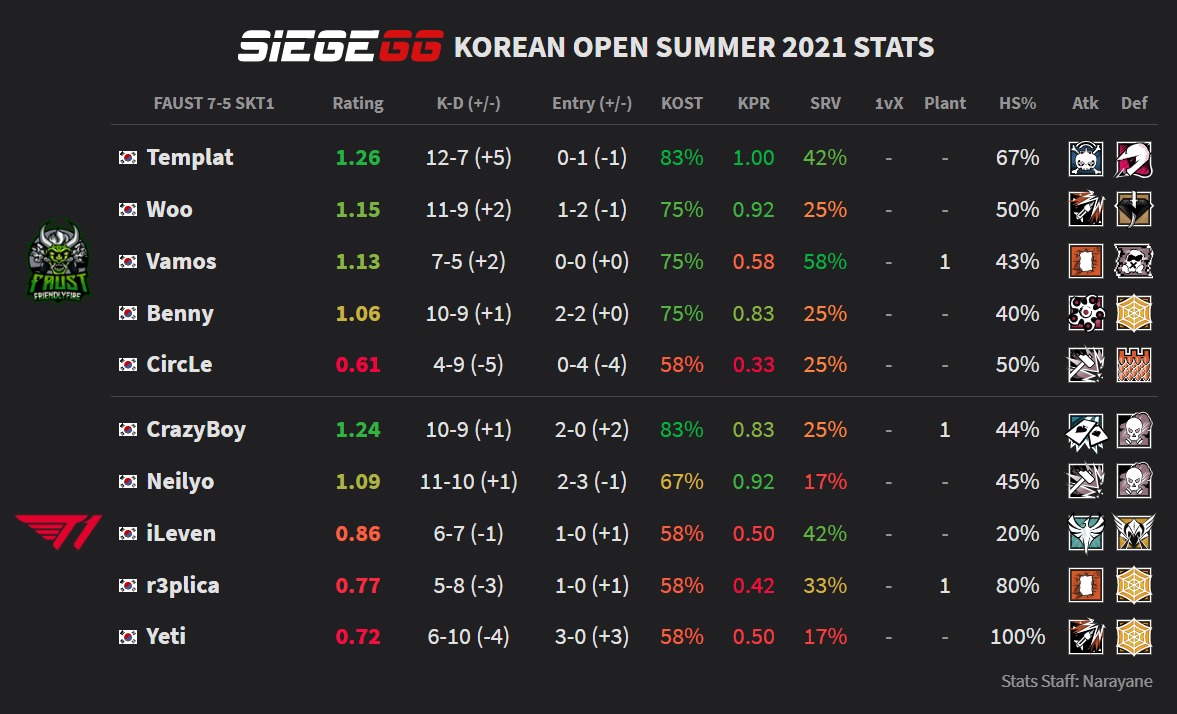 What's Next?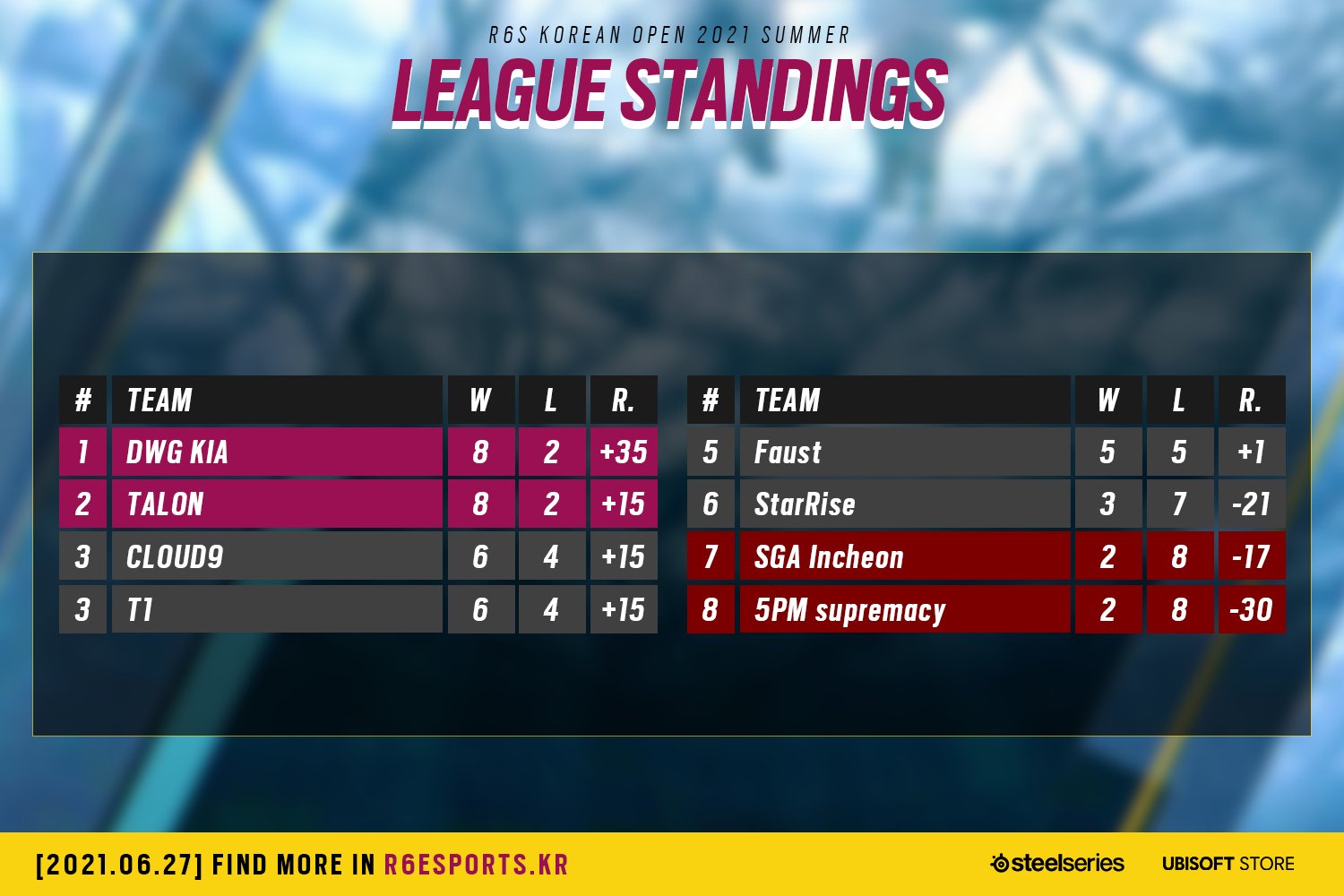 This upcoming week will mark the penultimate week of play for the regular season of the Korean Open 2021 Summer, with the Cloud9 and DWG KIA opener for the week certainly one to watch.
DWG KIA will then again be in action against Talon on Day 12, before then going up against T1 in a tough final run-in, while Talon will also play Cloud9 on Day 13.