The English-language commentators, analysts, and hosts for the upcoming stage of the R6 Esports Global Circuit have been confirmed for all regions, with all but the Brazilian region remaining in the five top-flight leagues.
While many of these regions see no change from Stage 1, there are a few returning names as the global COVID-19 restrictions ease.
North America
Starting with the NA League, the usual names of Parker "Interro" Mackay, Michael "KiXSTAr" Stockley, John "BLU" Mullen, and Samuel "Stoax" Stewart have returned to cast, while Jesse Chick and Jacob "CaliberJacob" Anderson sit on the analyst desk and Loviel "Velly" Cardwell hosts.
Behind the camera a Ronreald "Cyano" Kaleo Fernandez and Alberto "Tiie" Chavez Benitez observing, with Tiie coming in as talent for the second season running after observing Challenger League games throughout 2020.
Finally, Devin "KraTyr" Hoot has joined the main talent for Stage 2, as he will be working with replays for the NAL. As such, we'll likely get a much deeper post-game dive into the matches using this tool.
Europe and APAC North
The main change for Stage 2 will be the return to a studio environment, as the casters all meet up in Paris to cast in person. While this happened a few times during 2020, Stage 1 of 2021 was purely from home as most of Europe had travel restrictions in place.
This, therefore, means the Brits of Derry "Dezachu" Holt, Em "CaptainFluke" Donaldson, and Tim "AceOfPyrite" Leaver, the Dutchman of Stijn "Hap" Hapers, and the Australian of Jessica "Jess" Bolden have come together to cast both the European League and the APAC North League.
Meanwhile, Ghassan "Milosh" Finge is hosting and the duo of Stephan "Easy" Kemink and Ante "med1cz" Medić are observing the games.
This move to hosting from Milosh now means there is an odd number of casters.
Prior to the first EUL playday, Jess had released a Twitlonger explaining how she plans to move to an analyst role and how they're going about finding her new duo:
... After discussing this thought with Ubisoft, they understood my vision for wanting the desk to have dedicated experts and familiar faces dedicated to it each and every time. I want to lead a desk for EUL and APACN that viewers could look to and know they'd get the full analyst experience each and every time.

... As a result, I have asked Ubisoft, for now, to ditch the idea of me choosing a duo to continue commentating. Instead, I am now on the search for a dedicated expert to join me on the analyst desk full time here in Paris. I am extremely open to the idea of hand-picking an analyst/colour commentator out of T2/3 and helping foster more talent, especially analysts, into Tier 1 level experts. If you think you know someone, or you are that someone, please do message me.
APAC South
APAC South, meanwhile, is being cast by the Australian casters that brought us the Stage 1 action; James "Devmarta" Stewart, Michael "Guzz" Gurrie, Brandon "Raven" Langiano, Robert "Manic" Munday, and Jake "Zenox" Brander. Meanwhile Alex "Skye" McCallum observes.
As well as moving back to the OCE region for the 2021 season, Devmarta has also returned to his Esports Specialist role for Ubisoft ANZ, a job he previously held before his move to Europe.
Brasileirão
Finally, while both the Mexican and South American Championships will not be cast in English once again, the BR6 Championship will be cast by the returning names of Ollie "XRTROIKA" Hatton and Geo "Geo" Collins and hosted by Riley Knight and Liam "Chunks" Desposito.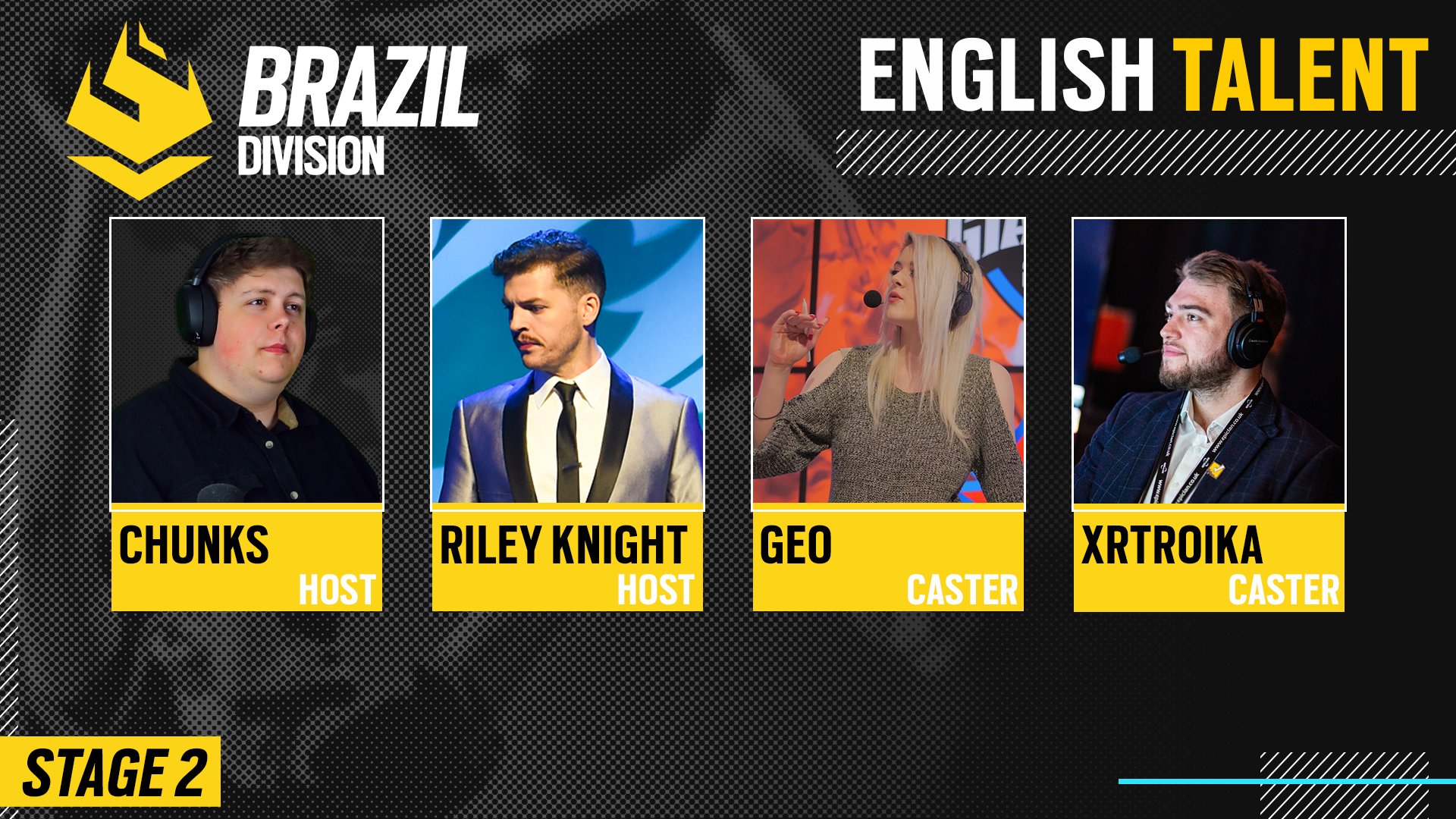 The English-language casters will be using the feed from the Brazilian observers of Maria "Duda" Eduarda Avella and Daniel "Palamidas" Palamidese.
Additionally, they will still be casting from home while the local Brazilian casters are based in the São Paulo studio.
---
Check out all the games as they continue for the next few weeks and be sure to keep an eye out on the ongoing SiegeGG Caster Predictions that will continue for Stage 2.