Today the NA League kicks off with four Bo1 (Best-of-One) games as SSG, DZ, XSET, DG, bc, and Mirage all come in with new players:
To get a rundown on the teams, schedule, and changes from stage one check out our article here and carry on reading for a live feed of all the highlights, commentary, and stats from the game!
TSM FTX vs Disrupt Gaming
Pre-Game:
13:06 -- Both Jesse and CaliberJacob pick TSM over Disrupt
13:08 -- Chalet gets picked as all three prior maps they've played in head-to-head, Villa, Kafe, and Consulate get banned out.
13:11 --
---
First Half:
13:20 -- Hard-breach made much tougher as Maverick/Thatcher gets banned. KiXSTAr states Chalet will probably still be attacker favored. Disrupt starts on the attack first.
TSM FTX -- Thatcher / Valkyrie
Disrupt Gaming -- Maverick / Goyo
13:21 (1-0) -- Following a technical timeout, J9O sixth-picks from Flores to Jackal for Round 1. Beaulo and Dpfire both get double-kills but Chala wins the round with a 1v3.
13:33 (3-0) -- Pauses take place prior to Round 1, 2, and 4, slowing down an already slow offensive half for Disrupt.
13:42 -- (3-0) The new spectator UI now shows what dead players are watching, giving a new aspect to analyze for fans, coaches, and casters alike:
13:50 (4-1) -- Dpfire gets an opening double-kill to eventually lead Chala into a 1v4, which he turns into a 1v1, only to die to Iconic:
13:55 (4-2) -- Chala left in a 1v2 which he almost wins again, but Dpfire takes the clutch to give his team round #2.
---
Second Half:
13:59 (5-2) -- "What an efficient execute from TSM" -KiXSTAr.
After winning their defensive half already, TSM is on a very straight run to a win here.
The round is followed by a tech pause as Merc's PC is looked at.
14:13 (6-3) -- TSM brings out Flores and Zero for two rounds straight, while DG brings Mira, who isn't banned following her nerf.
Beaulo plants as it hits 2v2 in the post-plant hold, however Merc kills Shuttle in a 1v1 to win the round.
14:20 (7-3) -- Retro on Clash dies early, however Achieved gets a triple kill while entering the site to take the round.
Interro: Ultimately not the beginning matchup you want for this Disrupt team as their identity has been getting younger and more agile as of late and they run into the team that finished the best out of all non-LATAM teams at SI.

TSM is obviously still red-hot after their SI performance. DG, well, you still have plenty of play days to make up for the lost time.
---
Post-Game:
14:25 -- Post-game, Jesse gave the following analysis of Dpfire's performance:
14:29 -- The stats for the game. Find the full match page here.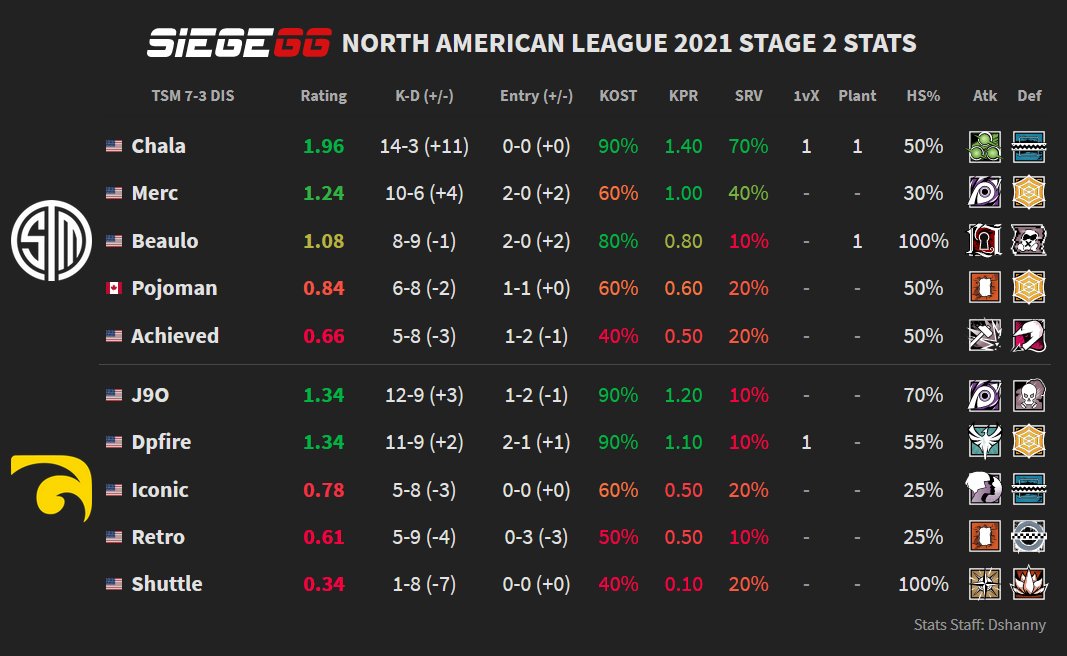 ---
DarkZero Esports vs Mirage
Pre-Game:
14:41 -- Jesse, Velly, and CaliberJacob all picked Mirage over DZ in their predictions.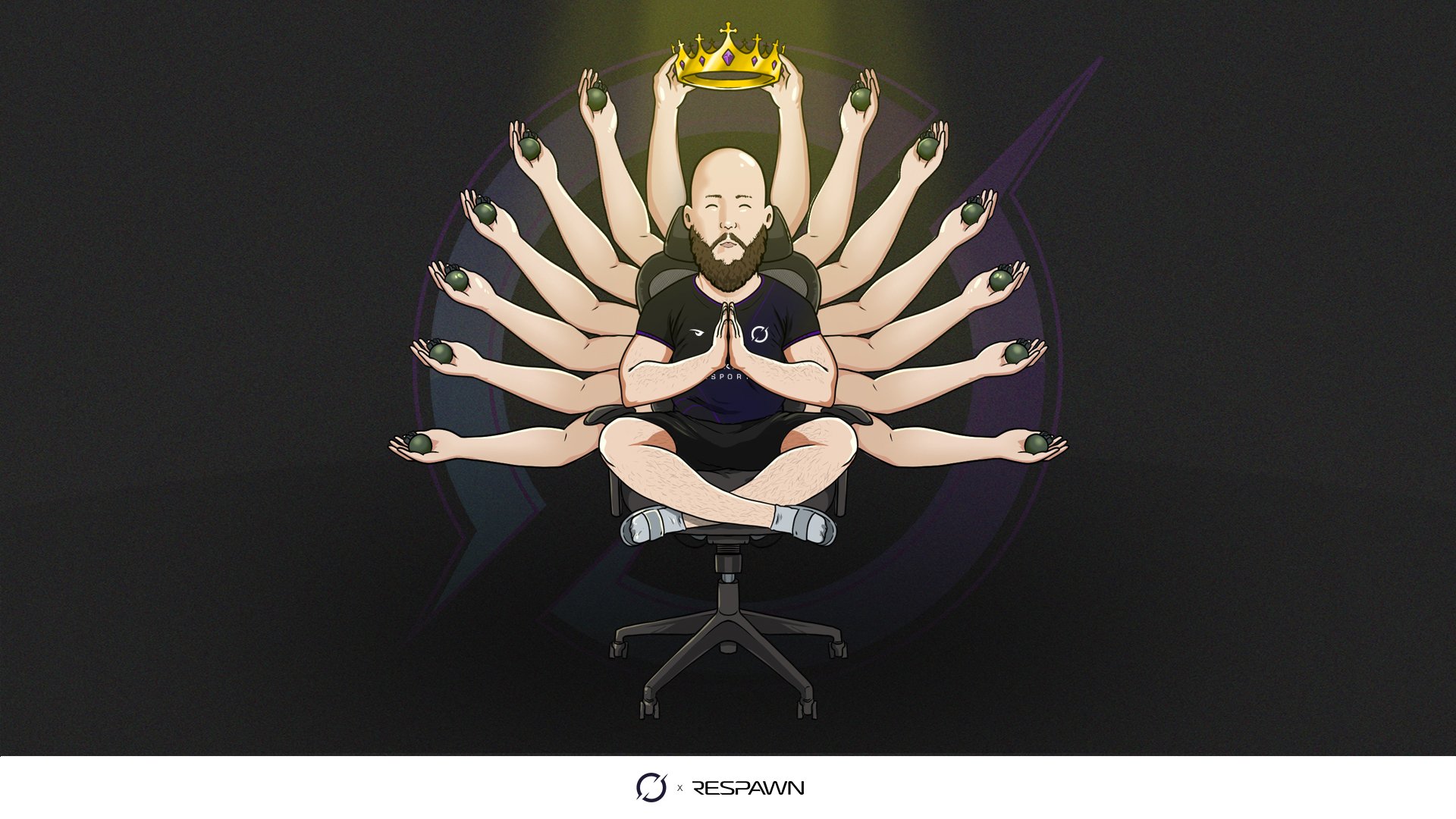 14:42 -- DZ leads head-to-head 5-2 against Mirage including 3-0 in the NAL. These two teams haven't faced off on Consulate previously, however.
14:54 -- Pre-game analysis from the casters:
KiX: I think that both teams are going to be unsteady. I think Hotancold was the key to Mirage's success in the last stage frankly. His performance was just too impressive to pass up. And I think that DarkZero has been struggling for a long time and I have no idea how these new players will influence their play.

Interro: I think that if you look at DarkZero performance during the Six Invitational it makes sense why they would push for a change but my concern is that over the last year and a half DZ has made an absurdly high number of roster changes.

KiX: Yeah, they have. They seem to always be trying to find the right piece to the puzzle and it almost always never makes things better and so I'm not really excited for them. I'm looking forward to seeing how it goes, but I do not have a lot of faith.
---
First-Half:
15:00 -- DarkZero starts on the attack first.
DarkZero Esports -- Thatcher / Valkyrie
Mirage -- Nomad / Maestro
15:02 (1-0) -- Panbazou makes his pro debut by getting an opening pick onto QrTz in his NAL debut. BC plants, attackers back off behind Garage wall. Hyper ends the round by killing Benji.
15:13 (2-1) -- After Quartz gets his first opening kill, Hyper gets a triple of his own after a BC plant on the garage once again. A vertical hold ends the round.
15:17 (2-2) -- NotLoading secures the first quadruple kill of the NAL Season to tie up the scoreline as Quartz secures number five.
15:25 (4-2) -- The first half ends with two last offensive wins by DZ as Mirage makes a number of clear mistakes and multiple unsuccessful runouts with this being the latter:
---
Second-Half:
15:28 (5-2) -- After an offensive half win by DZ, they also take their first defensive round flawlessly on the garage objective. Mirage then takes a tactical timeout.
KiXSTAr: On their defense Mirage was struggling with their utility/roam/potential to punish the players entrying on their basement defense.

So what went wrong here? Well, number one, Mirage is also making mistakes on the attack just as they did on defense. This round they didn't clear out above which allowed those roamers from DZ to apply vertical pressure onto the garage panel. You really cannot get away with a push like that in tier-one play. I'm sorry you can't...
15:38 (6-3) -- Hyper wins a post-plant 1v2 to take the game to match-point following a suicide from Quartz.
15:42 (6-4) -- After a flawless loss while attacking garage in their first attempt, Mirage took their second attempt in a post-plant situation due to a triple kill from Benji to keep the game going.
15:47 (6-5) -- Quartz and Benji helps Mirage come back following a Hyper double-kill onto CEO windows. The duo rushes the site and starts planting and DZ can't get back to deny it in time. DZ calls their timeout at this point.
Interro: It doesn't matter who's on the roster this team for whatever reason seems to have significant issues closing out matches. We saw it at SI/NAL/Majors. They will build up a lead that looks insurmountable and yet DZ still somehow has issues closing out the games. ...at some point, you can't blame it on maps.
15:52 (6-6) -- Mirage pulls off the comeback to overtime as Dream gets the plant off upstairs on the split-site as DZ ran out of C4s to deny it. Once again the two remaining DZ players ran back in a post-plant into the attackers of Benji and Dream.
16:02 (8-6) -- DZ finally ends the comeback with two somewhat clear rounds in a row as round 14 put NotLoading into an unwinnable 1v5 situation to salvage the game.
---
Post-Game:
16:11 -- Post-game rundown from the analysts:
CaliberJacob: Good stuff from Mirage. Quartz definitely helped to carry. I'm not really worried about Mirage after that one, Velly.

...BC was playing support, we kinda already knew that he had the IGL role. Hyper was always going to be a first entry player. Now [njr] has been shifted to flex... and then Panbazou who comes in to fill that second entry role that we estimated that njr would be on and suddenly this is seeming to be a much more well-oiled machine after just those two switches.

Jesse: ...overall I do think it's a good role for him, I'm excited to see Ecl9pse on Sledge. And Panba as well looking really good on that entry role enabling Hyper to do way better than he did in stage one which is huge.
16:28 -- The stats for the game. The match page can be found here.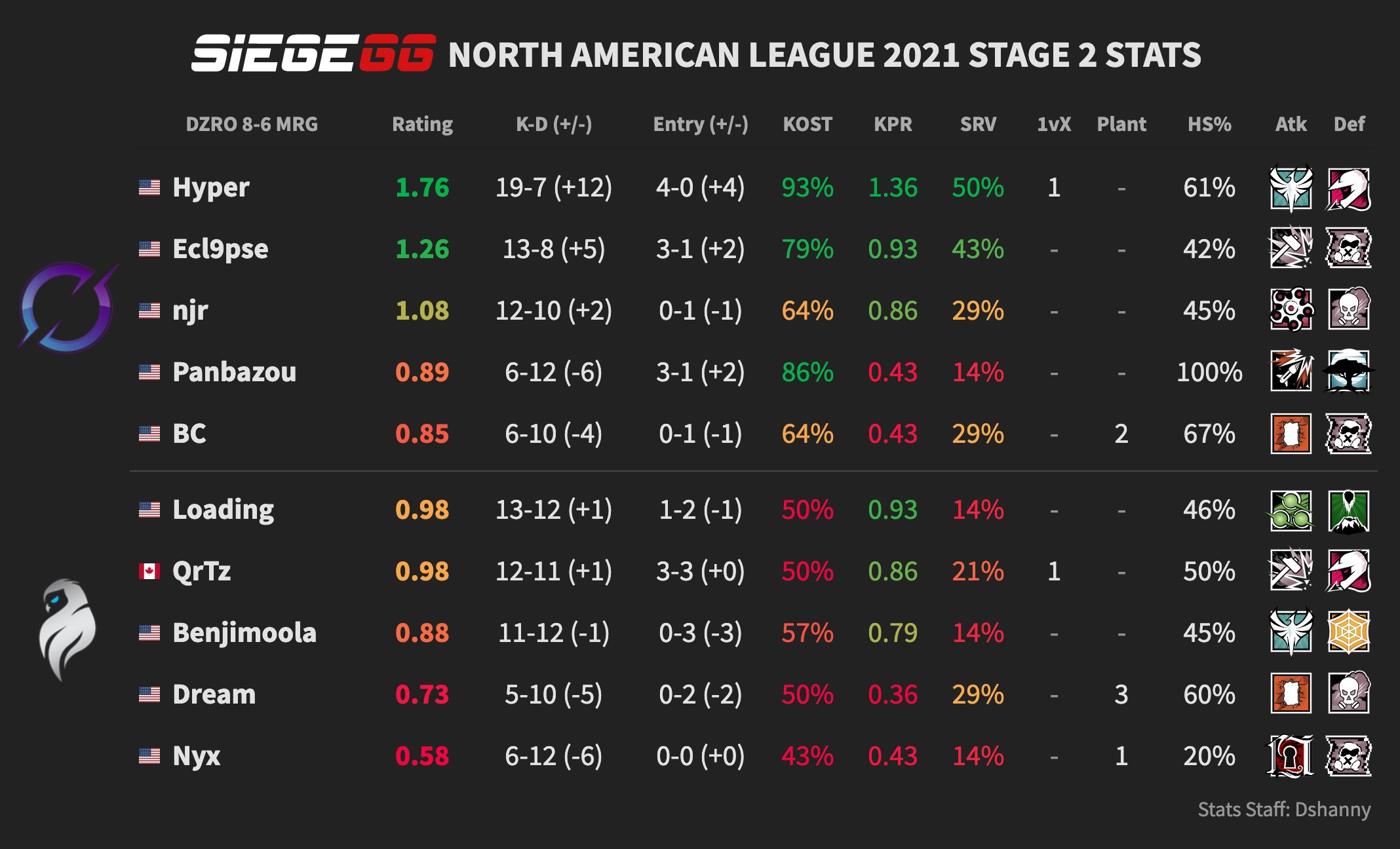 ---
Spacestation Gaming vs Susquehanna Soniqs
Pre-Game:
16:30-- Jesse and Velly pick Soniqs while Jacob picks SSG in the first time the analyst desk has disagreed on their prematch predictions.
16:33 -- Consulate gets picked making this the first time this map has been played between these two teams.
16:35 --
---
First-Half:
16:40 -- SSG starts on the attack first.
Spacestation Gaming -- Thermite / Mute
Susquehanna Soniqs -- Nomad / Mira
16:42 (0-0) -- BLU on bringing in Hotancold during an early tech pause:
BLU: SSG is a much more complicated team when it comes to their inner workings than some of the others. Very structured. Very much going down a checklist of how things work on an inter-round basis so considering that a lot of that will have to be restructured at its core with Hotancold coming in I'll be honest there's a very good possibility that these first couple of games could be a little rough for SSG if that doesn't immediately click.

I do think over time we should see a very very strong core package coming out of all five of these players when they've had enough time to really bring that all together across their full map pool.
16:49 (0-2) -- After already taking round one, Soniqs then added to this as Kanzen achieved a quadruple kill on Valkyrie to win round two:
16:58 (1-3) -- At the beginning of round four Fultz sat with 4/6 of his team's kills while Gryxr sat at 4-0 and Kanzen at 5-2. As Soniqs reverted back to their primary bombsite of Garage, SSG won decisively to get on the board after a dreadful first few rounds.
17:02 (2-3) -- Rampy wins a 1v1 to take another round as they claw back into the game.
Stoax: I didn't even know they had competitive whack-a-mole, yet here we are.
---
Second-Half:
17:12 (4-3) -- After coming back to tie the half, SSG then took their first lead while defending Garage. As pointed out by BLU, Zero has seemingly been used more this playday than ever before.
17:17 (5-3) -- This lead was increased as Bosco and Fultz pulled off a 2v2 retake only for supr to get a postmortem kill onto Fultz via Gridlock's Trax Stingers. Bosco still managed to disable to win the round.
17:27 (6-4) -- After losing six rounds running, Soniqs finally won their fourth as they opened up Garage, planted, and held the defuser from way back outside. SSG couldn't get any picks in the 2v2, both dying to an aggressive Kanzen.
17:21 (6-3) -- ThinkingNade puts the game to match point as, despite Soniqs managing to surprise SSG with a plant on the Lobby site in a 4v4 situation, Soniqs was completely unable to hold the defuser as they all got picked up with Nade getting the final kill before the disable. Soniqs then called their time-out.
17:31 (7-4) -- Spacestation won their first game with Hotancold as they went to defend the split objective. After initially going down in men, an early kill on the IQ of Rexen allowed Bosco's Pulse to fully deny a plant as the rest of the defenders cleaned up the attackers in the following chaos.
---
Post-Game:
17:33 -- The post-game analysts:
Stoax: You really have to give this one up to supr and Jobro and really the whole Soniqs roster trying to figure out how to come up against SSG. Not only is it a new roster but it's a completely different look. The playstyle from SSG was quite different from what we're used to seeing so it's hard to game-plan around those parameters and given the circumstances they did extremely well. I'm excited to see what they have in store for us for the rest of Stage 2.

CaliberJacob: SSG is back baby! That was quick. Their resiliency and the way they worked together on the role changes worked pretty damn impeccably.

Jesse: Hotancold: I called him the hottest pickup of the year, definitely not looking like it right in this game but it's his first game on a new team, I'm not really that worried about it.

CaliberJacob: ...which Hotancold were we gonna see today? The DZ Support Hotancold or the Mirage Sledge Hotancold. Turns out it was the Sledge one. He had roaming operators selected on defense. Even if he didn't top-frag he didn't have to as he was playing into those roles really well.

...it was a really good start and for it to come against the #2 team from the last stage is just the icing on the cake I think.
17:37 -- The stats for the game. The match page can be found here.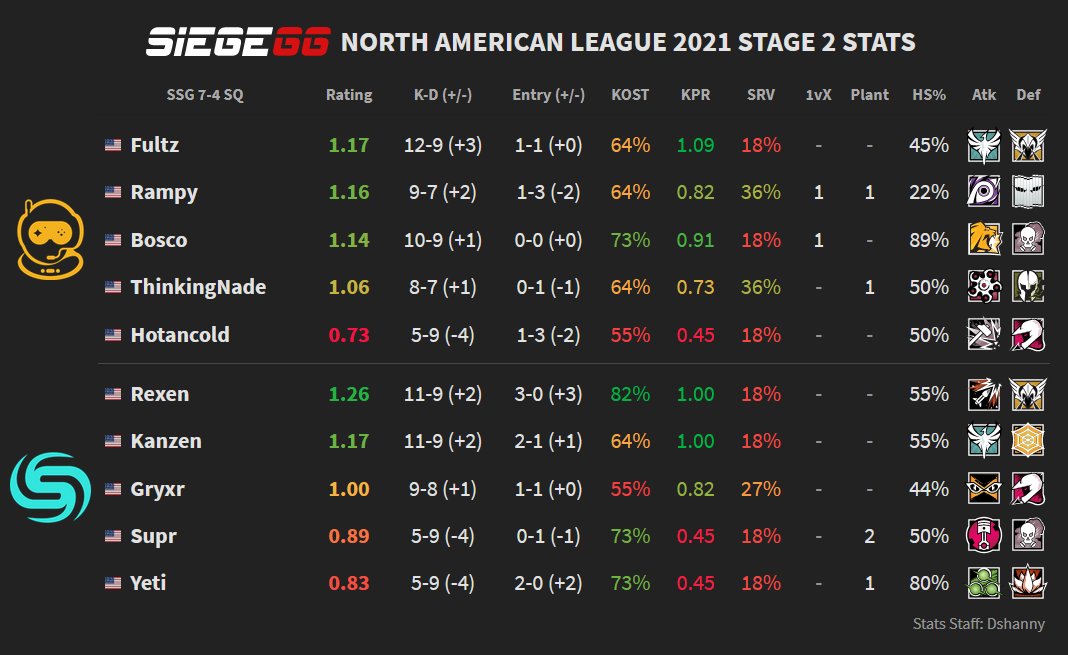 17:40 --
---
Oxygen Esports vs beastcoast
Pre-Game:
17:56 -- Jesse, CaliberJacob, and Velly all picked Oxygen to win following their stage one win and strong SI21 performance.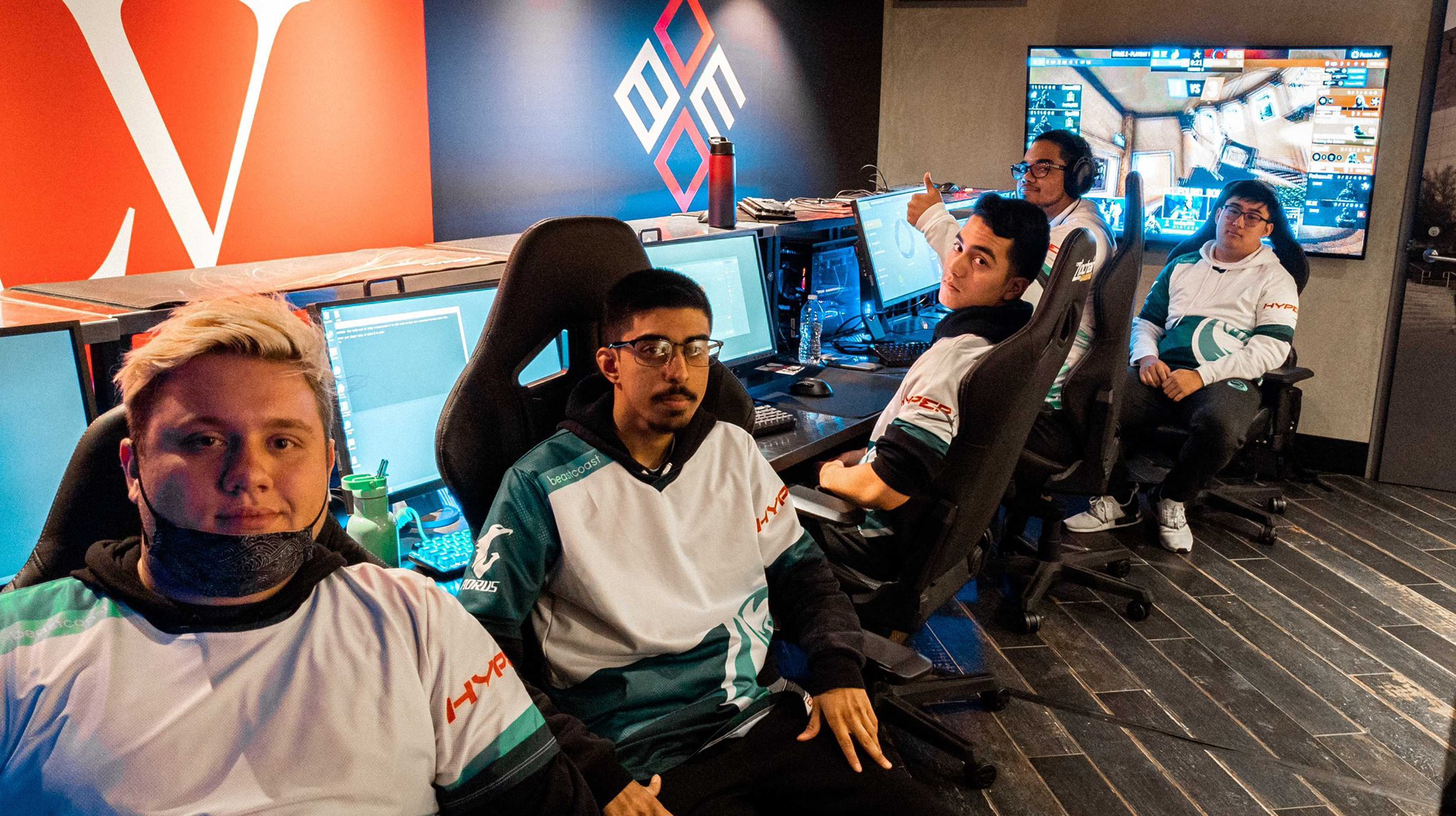 17:57 -- Coastline was not a favorite map for either team, however, Oxygen has had some notable success here recently.
18:00 -- Some of the pre-game analysis:
Stoax: I think the biggest thing to talk about is the map we are going to. Coastline is a map we haven't seen a matchup between these two teams but we have seen it in recent history. I think the big one being beastcoast actually winning their singular overtime win up against Disrupt 8-7 on this map.

For Oxygen they ended up winning 7-2 against the Giants as well as taking this off of DarkZero as well. I honestly think this is Oxygen's game to lose. I think the ball is in beastcoast's court, especially in how b1o is going to do as an IGL.
---
First-Half:
18:05 -- Oxygen starts on the attack.
Oxygen Esports -- Lion / Valkyrie
beastcoast -- Iana / Mira
18:11 (1-1) -- Oxygen takes round one with a Kyno triple kill, however, a complete blow-out wasn't in the cards as AnthonyMGS got a double kill in a 3v2 to end the attack's push onto the Penthouse objective tying it up
18:19 (2-2) -- Following both a kill and a down from a single C4 from Sippin, another C4 kill from Phozzo and a Toxic Canister kill from anthonyMGS, beastcoast took round two flawlessly to once again tie it up as b1ologics won't let his old roster get too far ahead of him.
18:26 (3-2) -- After a runout double kill from Sippin and almost another double-kill upstairs from b1o, Yoggah manages to protect the planter with zero seconds remaining against anthonyMGS.
---
Second Half:
18:33 (4-3) -- While OxG did take the first half, beastcoast almost secured their second flawless round of the map before LaXInG stepped up, bringing the 2v5 down to a 1v2 only to get cut off by Phozzo as he went to deny the plant.
18:35 (5-3) -- beastcoast managed to successfully get the plant down on the Kitchen Enterance doorway in a 5v5 situation at the 2:33 mark. Despite this, they couldn't hold it as LaXInG got a triple kill on Smoke before his toxic babes kept the last two attackers away allowing VertcL to defuse.
Stoax: Oxygen end up re-fragging their way to victory and just retake the entire map including the outside ...loved the attempt from beastcoast there, it really did seem like they had the control necessary to just frag their way out but Oxygen just that much better inside of those moments.
18:45 (6-6) -- After a strong bar defense to reach map point, Oxygen just couldn't close it out. bc secured a flawless Penthouse attack on the back of a Rooty double kill before anthonyMGS pulled off another sneaky Service Enterance plant and b1o secured his own double kill to take the reigning NAL 2021 leader to overtime.
19:03 (6-7) -- A key plant denial from the Smoke coupled with a triple kill on a swing from Phozzo using the ALDA put beastcoast on match point first as they gained their very first lead of the game.
19:09 (7-7) -- Anthony managed to once again get the plant down, however, in a 2v4 situation their chances were still dire. Oxygen simply killed Sippin and Kyno disabled while the other four covered him.
19:12 (8-7) -- And so in the final round after impressive plays from both teams, VertcL simply ended it as he wandered into the site and killed everyone he could find. A quadruple kill in the best individual play we've seen this stage gives Oxygen a clutch 8-7 win to begin their NA League defense.
---
Post-Game:
19:14 -- The post-game analysis:
Stoax: There is not a single poor thing I have to say about beastcoast inside of this matchup. I am extremely impressed with their starting point as of right now. Obviously, a new IGL coming in means new management, and everyone knows how that goes, there's a lot of things that change. As of right now for bc this is looking klike the greatest starting point they could've honestly asked for...

CaliberJacob: That was one of bc's best games by far. The fact that they could go toe to toe with the stage one winner after that SI performance, take nothing away from the way bc played this aside from round 15.

OxG they understand how to frag, where to do it where it's most pivotal. LaXInG can you stop being nasty with the SMG! This was a fantastic showing from everybody in the lobby today.

Jesse: This looks like a totally new beastcoast that we have never seen before. I really do have high hopes for the rest of this roster. Look at Phozzo. Phozzo in stage one was the worst rated player in the league and went -30 but now shows up and top frags the server?! This is far the best he has ever played.

The team in general really struggled with the opening picks last stage, that was their biggest weakness. This time they come out and win the majority of opening engagements. b1o as well on Ash?! It's just night and day.
19:17 -- The stats for the game. The match page can be found here.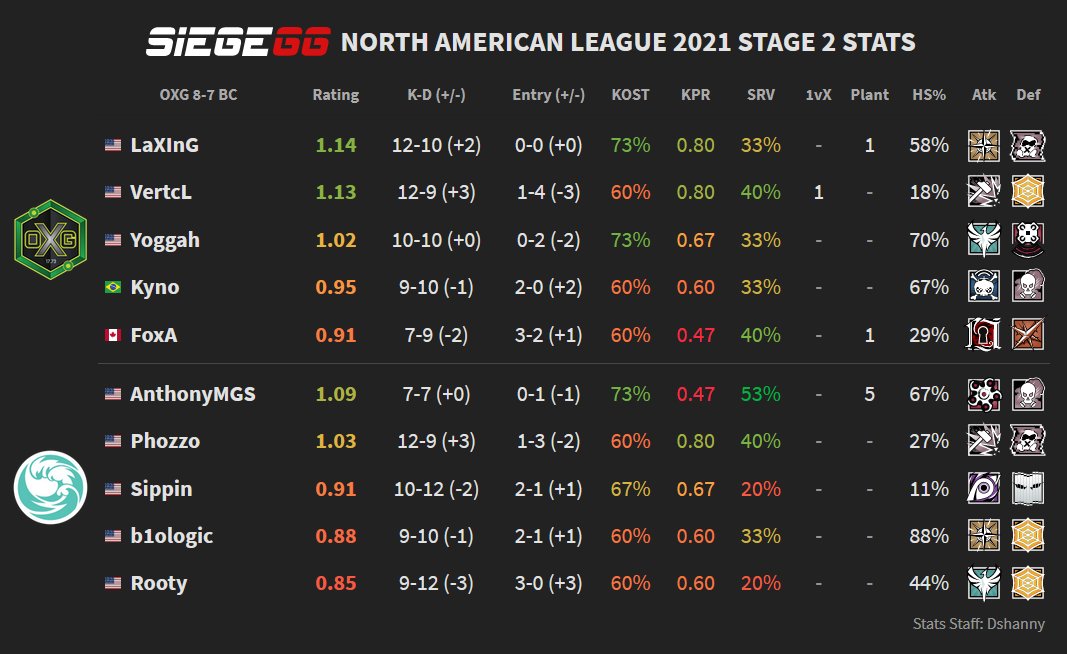 ---
Check back here later on during the playday for further updates on the ongoing NAL matches.