Group A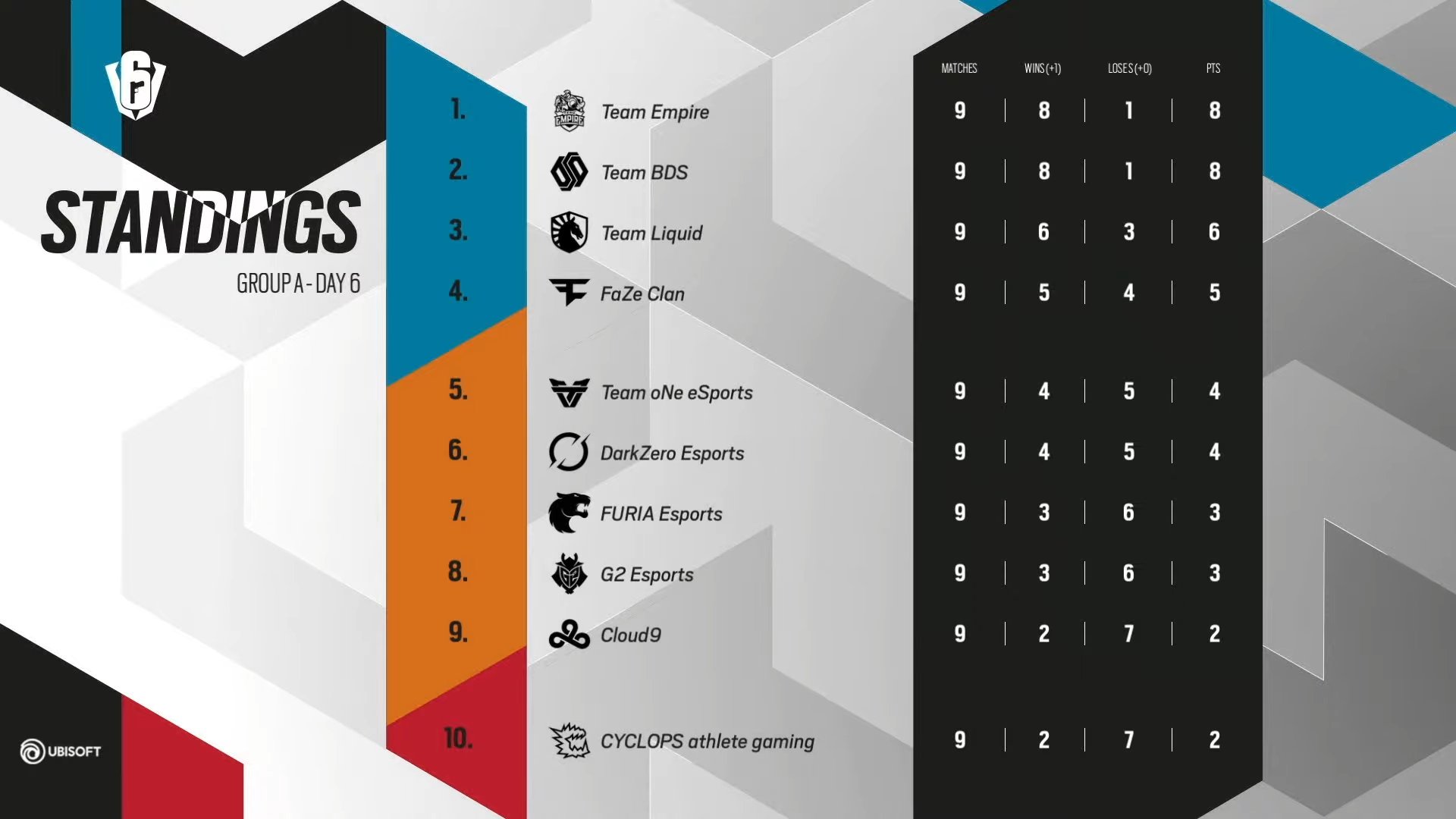 Group A had two clear dominant forces, as Team Empire and Team BDS topped the group with eight wins and just one loss each. Furthermore, both losses came in overtime, as Empire failed to get the win against DarkZero (8-6) while Team BDS fell short against the Russians themselves.
Overall, the European League sides in Group A -- Empire, BDS and G2 Esports -- played 21 games against international opposition, finishing with a very impressive record of 16 wins and five losses. However, four of these were suffered by G2 alone, who lost to all four LATAM teams in the group.
Team Empire's unexpected strength saved the European League's blushes, though BDS met expectations despite Stéphane "Shaiiko" Lebleu having an abnormally low rating (for his standards) at 0.87.
Despite CAG's early elimination, the Japanese team left with a memorable final day, as they lost 8-7 against both Team BDS and Team Empire. They also beat Team Liquid and Team oNe by 7-3 margins, but their defeat against C9 eventually knocked them out of the tournament.
The Koreans probably had the most interesting stat in the group. Despite finishing in ninth place -- which would have sent them home before Virtus.pro and Wildcard withdrew from the tournament -- Cloud9 finished as the team with the most opening kills in the group at 65.
This is even more impressive considering the fact that the team played 102 rounds. Nevertheless, the Koreans only converted 34 rounds into wins, a shocking statistic.
This cost them a few games, especially against DarkZero Esports, where they got 10 entry kills out of 15 possible, and against Team Liquid (eight entry kills out of 11). The team has been losing rounds that should be converted and despite finishing with a 2-7 record, the Koreans could have finished in a more comfortable position.
In terms of results and rounds, 26% of the games in Group A were decided in overtime. The most popular result in the group was the 7-3, as 11 games ended with this scoreline. These were the results seen in Group A:
8-7: 9 times
8-6: 3 times
7-5: 6 times
7-4: 8 times
7-3: 11 times
7-2: 5 times
7-1: 3 times
7-0: 0 times
In terms of maps, the most played was Oregon, with 10 appearances, with Kafe as the second highest with eight appearances. Compared to Group B, there were many differences, such as Villa only being played three times in Group A as compared to six times for Group B.
However, the main contrast can be found on Chalet, as the newly reworked map was not played at all in Group B after 28 games. Meanwhile, in Group A, it was seen in six matches.
Although teams in Group B may be saving their Chalet strats for their playoff run, the truth is that TSM, Oxygen, and Spacestation Gaming have already played on Chalet in the North American League, so Group A teams might already have a slight idea on how they will play on the new map.
This brings us to the final interesting characteristic of this map, as this was the only one with a minority defensive win rate at 42%. Despite Kitchen/Dining having a 65% defensive split, the other sites were at 42% or below (Bar/Gaming at 26%).
Group B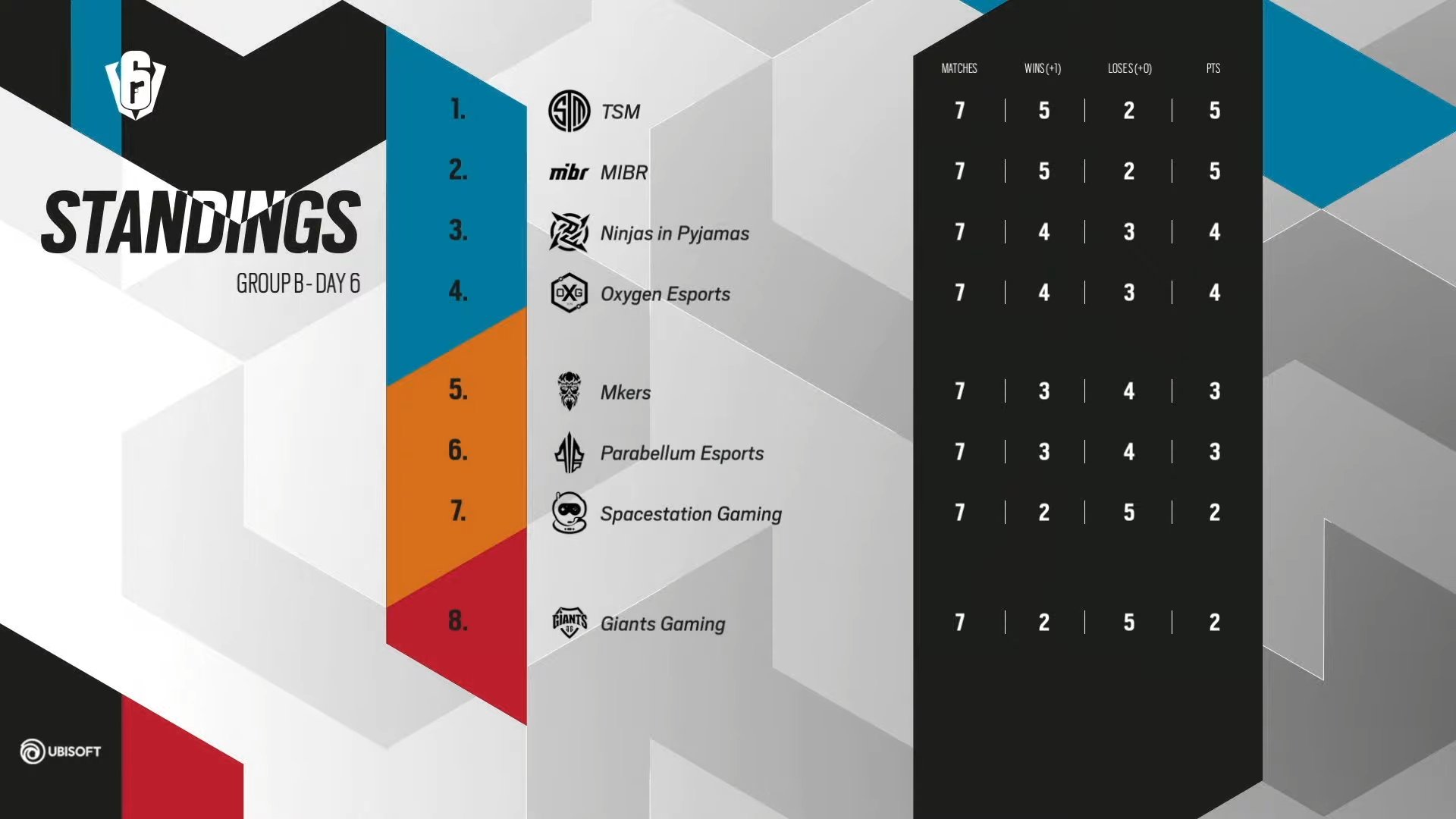 After Virtus.pro and Wildcard Gaming withdrew due to the pandemic, Group B went from 10 to eight teams in a matter of days. This meant that the eighth placed team would go home, as only seven rosters would make it to the next round.
With Troy "Canadian" Jaroslawski returning, expectations for SSG were high despite their run in Stage 1 of the North American League. But the team fell to opposition big and small, from Ninjas in Pyjamas and TSM to Parabellum and MKERS.
Besides that, though, SSG clinched a spot in the Lower Bracket after an overtime win against MIBR and a flawless game against Giants Gaming.
Nevertheless, the biggest surprise in Group B were the performances by the Challenger League sides of Parabellum and MKERS. Their participation in the event is historical in many ways, not only because MKERS is the first Tier 3 team to qualify, but also because both teams are the first rosters from Canada and Italy to make it to the tournament.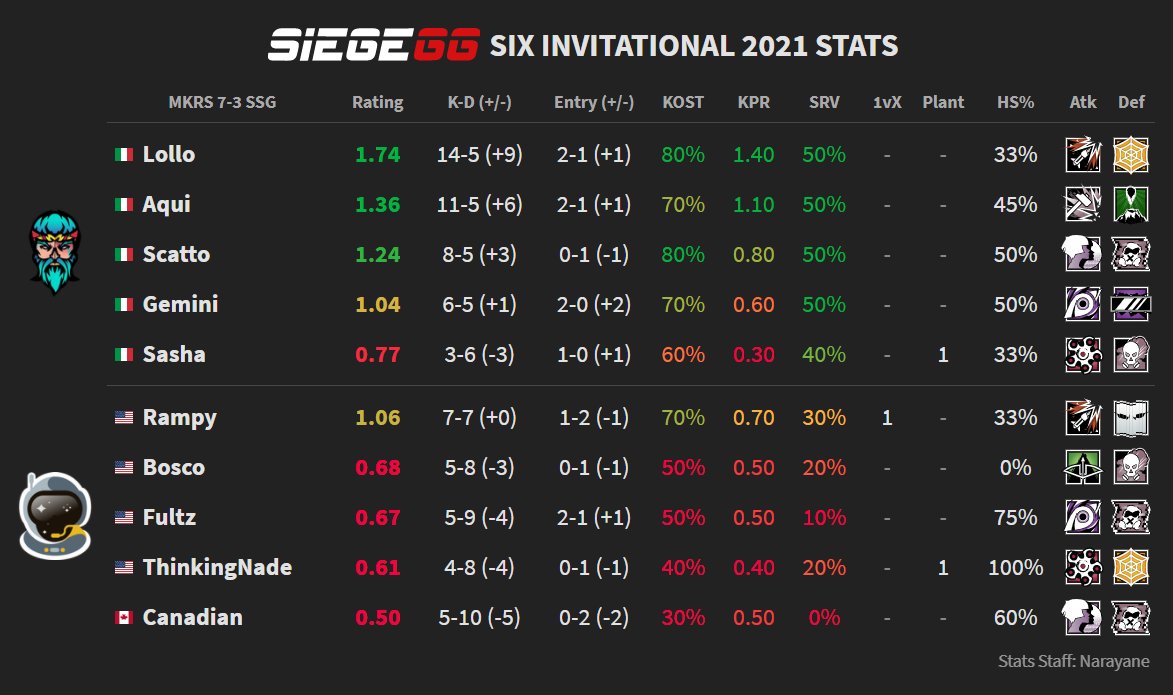 Few would have expected them to beat six of the best teams in the world. But that's what they did.
MKERS defeated three of the four North American representatives, with Oxygen Esports the only side to win against the Italians (a 7-0 win, no less). Meanwhile, Parabellum had a marvellous second day, as they won against the Six Invitational 2020 finalists of NiP and SSG and rounded out the day with a 7-4 win against Giants.
The results seen in these games have been impressive to say the least. Just like in Group A, we saw a high number of overtime games at 18% of the games.
On the opposite side, Group B saw three flawless matches, with all of these being wins for the North American teams (SSG against Giants and OXG against Parabellum and MKERS).
These were the results seen in Group B:
8-7: 5 times
8-6: 0 times
7-5: 3 times
7-4: 9 times
7-3: 4 times
7-2: 4 times
7-1: 0 times
7-0: 3 times
In terms of maps, as stated before, Chalet was not seen in Group B. Villa was the map that we saw the most, with six appearances, while Coastline, Oregon, and Clubhouse were tied with 5 each. Consulate (4) and Kafe (3) were the two lesser played maps in Group B.
---
Catch the playoff stage of the Six Invitational, starting tomorrow at 11 AM CEST (UTC+2), with Team Liquid vs MIBR and BDS Esport vs Ninjas in Pyjamas as the two opening games.