When viewers think of LATAM, they usually remember Liquid's win in Atlantic City back in Season 7, Ninjas in Pyjamas' second place at the 2020 Six Invitational, or even PENTA's loss against Black Dragons in Sao Paulo. Despite those memorable moments, though, LATAM has not been able to translate them to a great quantity of international trophies.
However, everything on the international stage when it comes to LATAM Siege has been dominated by the Brazilians. Mexican and South American rosters have never played outside the continent and their only appearances have been seen whether in national events or in online qualifiers where Brazilian sides usually did not find going too tough.
In this article we will focus on the South American region. The Campeonato Sudamericano boasts some of the biggest Hispanic organizations in 9z Team, Malvinas Gaming, Coscu Army, Notorious Gaming, Furious Gaming, and Infamous Gaming.
This stage, two South American rosters head to the Elite Six Cup: 9z Team and Malvinas Gaming.
9z Team
Roster: Pechito, AtlaS, denike, zeta, PePe, RICK (Coach).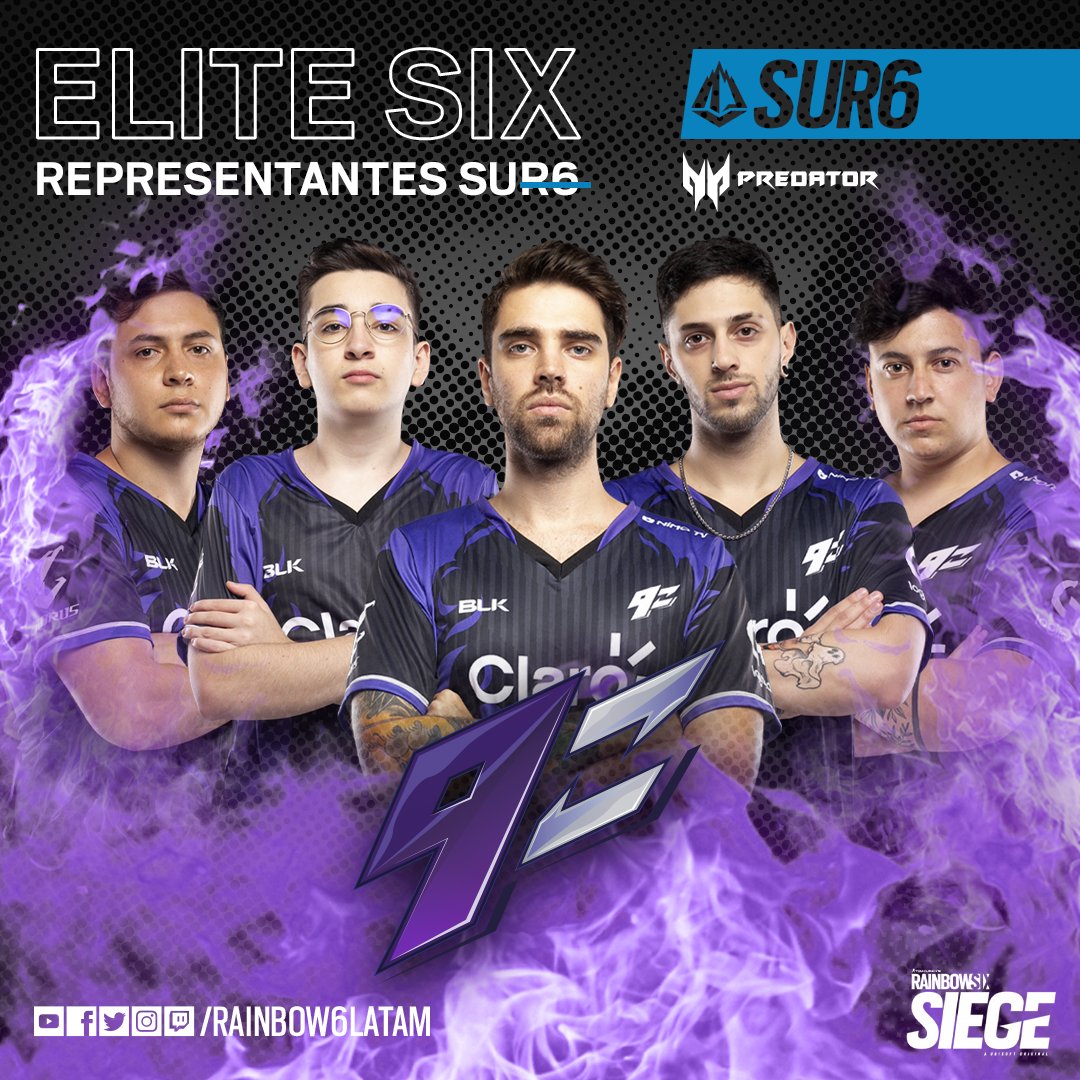 The boys in purple finished in first place as they bulldozed through their opposition, finishing Stage 1 with a perfect record (7-0-0-0). The 9z Team additions proved to be successful, as Diego "PePe" Villalba and Federico "Pechito" Miller really changed the dynamic of the roster, with the team already having scored as many points in Stage 1 this year as it did in both stages last year.
Pechito is likely the reason why this squad has improved so much. Known as The wonderkid, this Argentinian is one of the best players in the region. He usually plays as a hard-breacher on attack and an anchor on defence, but his kill numbers are astonishing, as he leads his team in the charts.
In conclusion, a combination that involves gun skill, game sense and communication, skills very much needed in a meta where the support player is in danger of extinction. Moreover, these fragging numbers make up for PePe's low entry numbers despite constantly playing Ash and Jäger.
However, despite Pechito being the face of this roster, his last LATAM experience was not one to remember. Being Coscu's hope to succeed in the last SI LATAM Qualifiers, the Argentinian player finished with a rating of 0.68, a KOST of 48% and a K/D of -20, which were some of the lowest numbers in the competition. Now, Pechito has a new chance to demonstrate what he is capable of.
Meanwhile, AtlaS, denike, and zeta have been impressing the viewers in their own ways. A very solid and confident line-up that has the potential to cause problems to the Brazilian representatives.
To know more about the team, SiegeGG spoke to one of its players, Bautista "AtlaS" Bayugar:
I would like to start talking about the Sudamericano. No one could beat you, however both Malvinas and Furious were close. What are your thoughts on both rosters and what do you think Furious needs to be in the fight?
I think that both rosters are good and have top players. I think that Furious needs to be a bit more aggressive, they have a very methodological play-style but sometimes they lose rounds for not being aggressive.
Let's speak now about your roster. Could you tell us a bit more about Pechito?
He is a beast. He is an amazing player and a great IGL. Outside the game, he is just a little kid that wants us to have a great time. It is impossible to not have fun with him.
Your roster has finished with some of the highest ratings in the competition, however PePe has had a difficult beginning to the competition. How pivotal has been PePe in your success?
We, as a roster, were very solid. I think that PePe plays in one of the most difficult roles in Siege, and he is the best at it. He is an instrumental player in our roster.
What are your thoughts on the Brazilian teams?
Brazilian rosters are still far ahead from us, but we want to show them the power of our region and that we deserve the same respect.
To finish, what are your thoughts on the South American region and the evolution of the teams compared to Mexico and Brazil?
The region has evolved and it is heading in the right direction. We have already proven that we have the same level as Mexico. Brazil is the example to follow, they have strong organizations and being able to play against them is just beautiful.
Malvinas Gaming
Roster: Ragn4r, Meight, Patan, Soco, TomHagen, Asterix (Coach).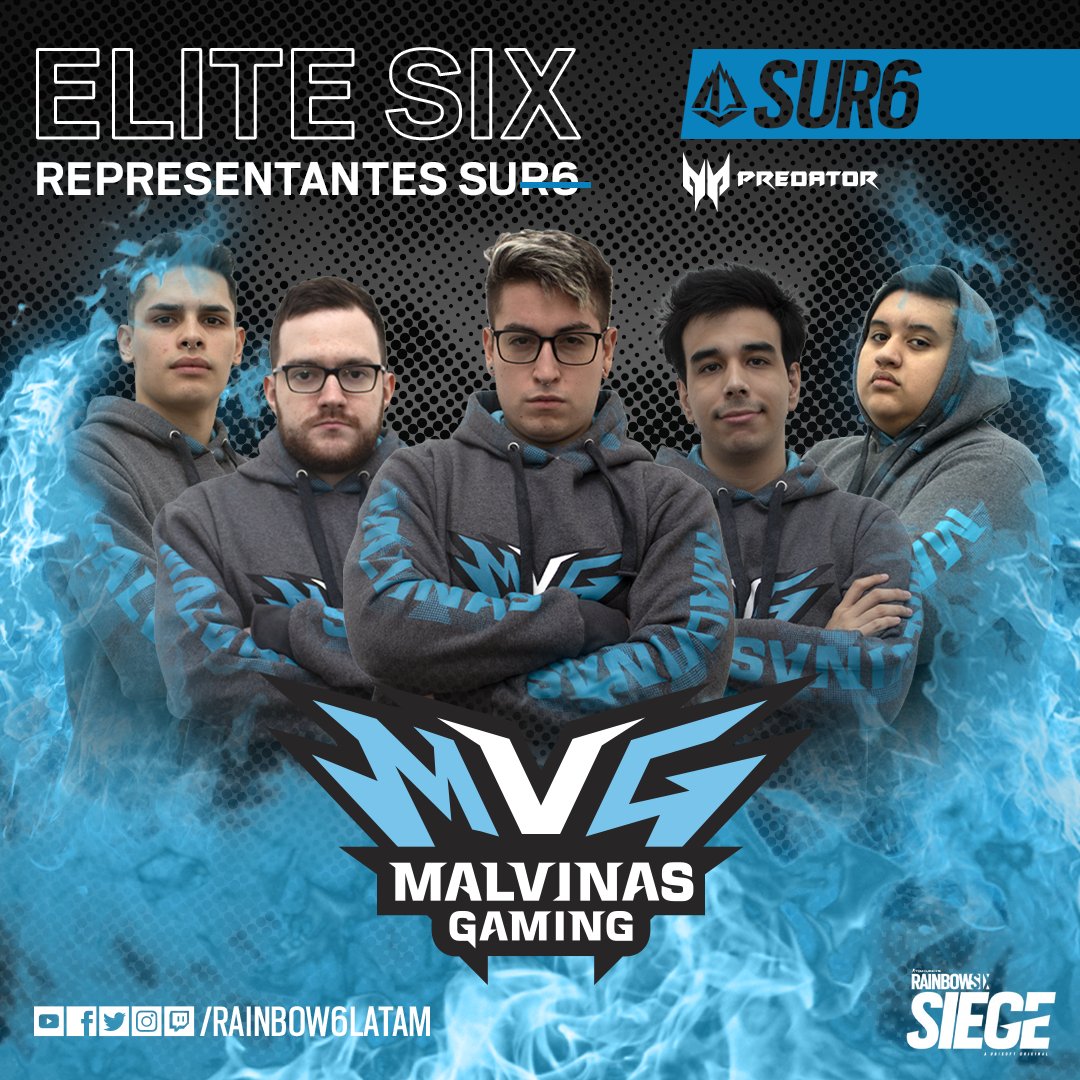 Malvinas has boasted one of the most consistent rosters, having only made one change within the last year. Progress for the team has been steady; all their efforts were rewarded at the end of the previous season as they were crowned champions of the South American sub-region after beating Coscu Army by 3-2.
This was reaffirmed a month later as they progressed into the top four in the SI Qualifiers, being the only SA roster to do so, as Coscu Army finished in last place.
Now, the only full-Argentinian squad in the tournament is on its way to a second LATAM event. Back then, Maldivas defeated Estral and Timbers, so they could once again prove to be an underdog against the Mexican sides.
If we have a look at the stats, Malvina's player of Leandro "Meight" Duarte has the best rating in the league (1.39). He has proved himself as an incredible Ash main, and his numbers in terms of frags beggar belief. The Argentinian player scored 83 kills in 7 matches, and has produced 24 open kills. With 1.17 kills per round, his fire-power is pivotal in Malvinas' results.
The roster is completed with the likes of Soco, TomHagen, Ragn4r, and Patan. All of them competed in the LATAM SI Qualifier and so already have some experience against Brazilian sides, which will come in valuable in the Elite Six. Tomás "TomHagen" Otañi is the exception to the rule; however, his impressive numbers make up for his lack of experience, as he has the highest KOST (82%) in the Sudamericano.
To know more about the team, SiegeGG spoke to one of its players, Leandro "Meight" Duarte:
After losing to 9z, Malvinas finished in second place. What makes you two the best teams in the region?
Experience, consistency and our dedication is what separates us from the rest of the teams in the region.
You left a great image the last time you guys represented the region. Do you think you can repeat and even improve the result against the best teams in LATAM?
Malvinas always works on producing the best results. We are focused and ready to face any team in the region.
What are your thoughts on the South American region and what do you think is missing to get closer to Brazil?
It is big, and you can see it in how the viewership is backing the region. I think that this is important, creating a big community is key in order to catch up on Brazil.
You were the highest-rated player in Stage 1. How important is that for your team, especially your numbers as a fragger and entry?
I am very happy with my performances. I think that the entire team is important and we help each other if someone has a bad game. That is why I love this team, we are trust ourselves, our teammates.
Against what organizations would you like to play? What is Malvina's main objective in this first edition of the Elite Six Cup?
If I had to choose, I would like to face Liquid and NiP, although I want to face each one of the teams because we want to show that our region is capable of playing against any team. This is our objective, and 9z's objective as well.
---
The South American teams will be playing in the Elite Six Cup, which begins on Tuesday. Keep an eye out here at SiegeGG for full results, highlights, roundups and statistics for every game of the event!