In a continuation of the 2020 Korean Open, the Spring 2021 version of the ₩60,000,000 (US$50,000) Korean national tournament got underway about a month ago, featuring four APAC North teams in attendance, with the monumental organisations of T1, Cloud9, and DWG KIA.
Here's a rundown of the games from the week prior and here's what to expect from the sixth and final week, comprising the end of the playoffs, ahead.
Day 13
Results:
SGA 7-4 DWG KIA
Talon 7-2 T1
Faust 7-2 Team Viper
Cloud9 7-2 StarRise
While playoff spots had been confirmed and DWG KIA had ensured that it would not finish below third place, they were undoubtedly keen to push into the top two, which would see them secure a playoffs bye into the semi-finals.
SGA eSports were their first obstacle on Saturday, but DWG KIA ended up stumbling rightaway on Clubhouse. Starting off on attack, Nero secured a triple-kill to get the early lead for SGA, which soon became 3-0.
While DWG KIA pulled it back for a 3-3 defensive half, they were certainly on the back foot. SGA retook the lead on their defense, but conceded it right after thanks to a 1v1 clutch from Woogiman. However, SGA shored up their defenses and locked DWG KIA out completely after, winning three more rounds to take the map 7-4.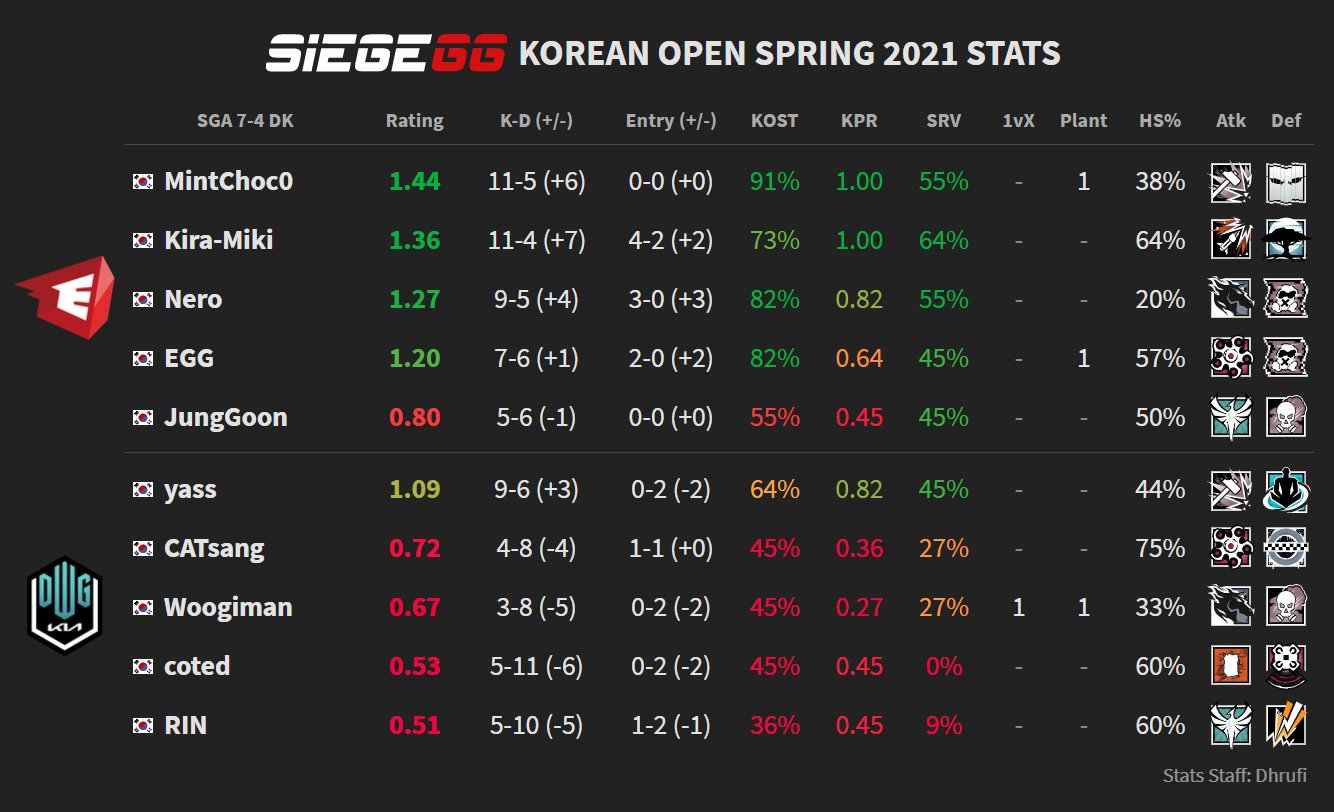 Day 14
Results:
Talon Esports 7-5 SGA eSports
Team Viper 7-2 T1
Cloud9 7-2 Faust
DWG KIA 7-4 StarRise
The next day, with the league table all but confirmed, the first match of the day, between Talon Esports and SGA eSports proved to be the most exciting.
While through to the playoffs, both Talon and SGA were hoping to crack the top two and receive a bye through to the semi-finals. Playing on Consulate, the APAC North side of Talon drew first blood, but SGA surged ahead to a 3-1 lead.
Talon scrambled back to recover to a 3-3 at the half, but the two teams kept trading rounds on Talon's defense, leaving things balanced at 5-5. However, multi-kills from Soldier, AzzyyyS, and Tomorrow meant that Talon would hang on and confirm its place in the Top 2 with a 7-5 win.
Playoffs Day 1
Results:
SGA eSports 2-0 (7-5, 7-4) T1
DWG KIA 2-0 (7-3, 7-3) Faust
Monday also saw the two playoff quarter-finals play out, with SGA eSports and DWG KIA moving on as expected.
In the first quarter-final, the venerable T1 organisation found itself as an underdog against the non-APAC North SGA eSports. Conceding a 2-4 attack half on Oregon, T1 then tried to mount a comeback on their defense, but three rounds full of multi-kills for JungGoon meant SGA would take the eventual win 7-5.
Moving onto Consulate, T1 would get off to a more encouraging start, but SGA would keep them honest to a 3-3 first half. Swapping to attack, T1 took a 4-3 lead, but SGA had no quarter to give and lined up four rounds in a row to sink T1 with a 7-4 scoreline.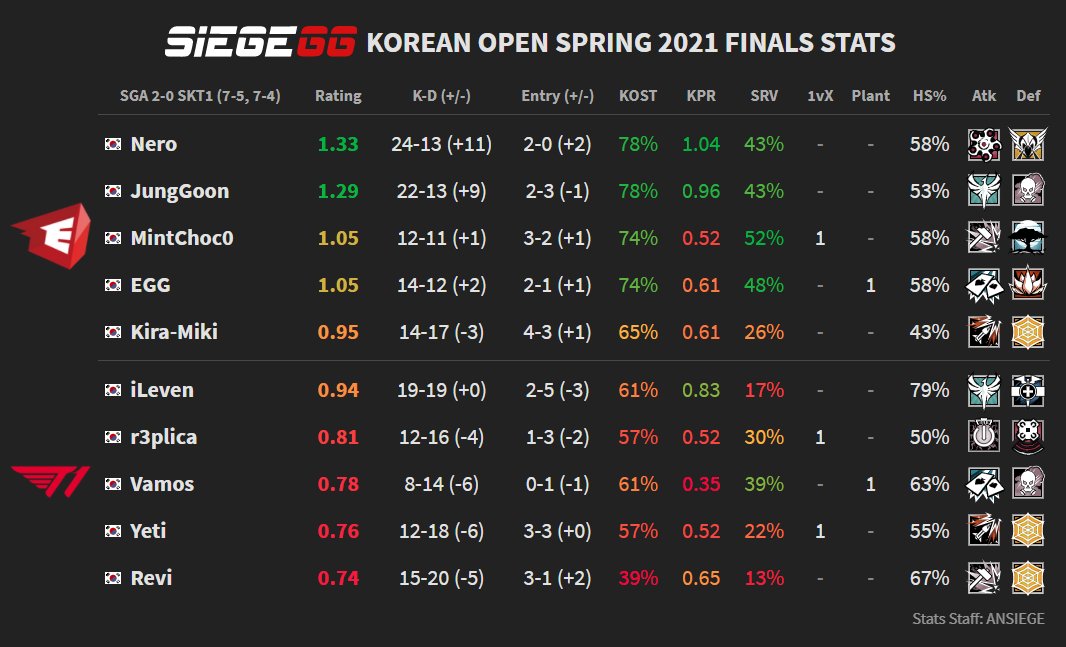 Next was DWG KIA up against a Faust that was somewhat out of its element against a team of this caliber.
Starting off on the less-favourable attack on Villa, DWG KIA could only go evens in the first half with Faust, finishing at 3-3. However, as the roles switched, so did a switch in the DWG camp. All but one of the next four rounds had a DWG KIA member secure a multi-kill as the APAC North side cruised to a 7-3 map win.
Not much changed on Oregon by way of the scoreline, but Faust certainly kept things honest, winning a 1v1 clutch in Round 2 and then forcing a 1v2 clutch from Woogiman in Round 6. While 5-1 down, Faust fought back to a 5-3, but DWG KIA collected themselves on the attack, planting the defuser twice to win the map 7-3 as well.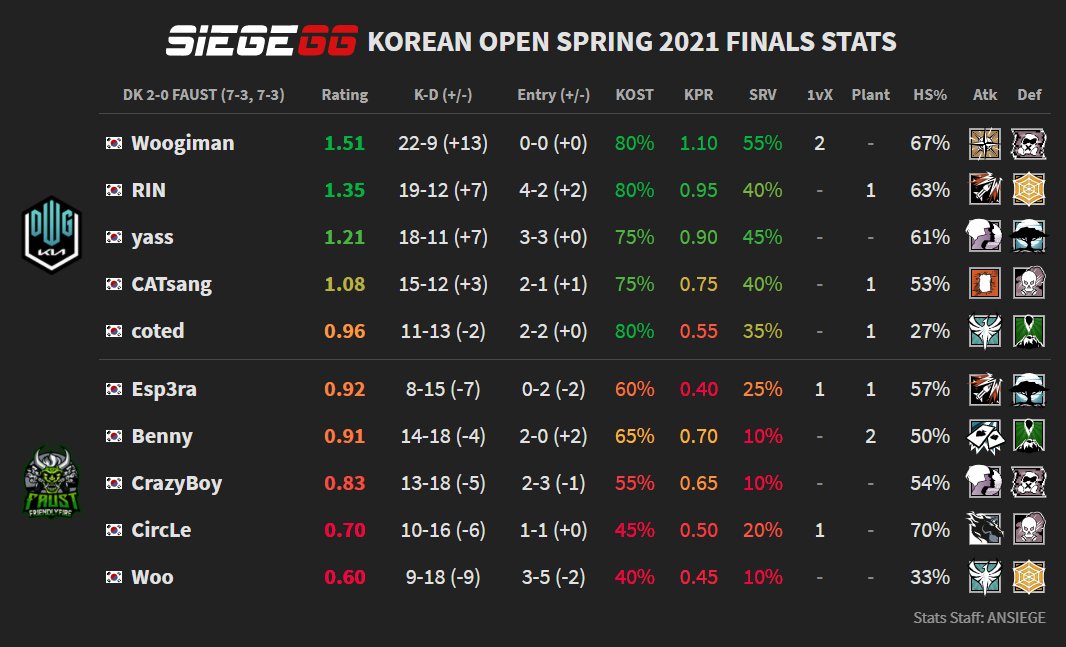 Now, SGA eSports is set to face Cloud9, yet undefeated in Korean Open playoffs throughout 2020, while DWG KIA faces the easier opposition of Talon Esports. The former match saw Cloud9 win 7-3 and 7-5, while the latter saw Talon win 7-5 once and lose 4-7 the other time.
This Week
This weekend, the Korean Open 2021 Spring comes to an end. The final two days of the playoffs are set to be played out, with Cloud9, DWG KIA, Talon Esports, and SGA eSports in a single-elimination bracket.
The Best-of-Three semi-finals will be played between Cloud9 and SGA, as well as Talon and DWG KIA, while the Grand Final will be a Best-of-Five.
In addition, the bottom two of StarRise and Team Viper will head to the Korean Open Relegations to be played at a later date.