In a continuation of the 2020 Korean Open, the Spring 2021 version of the ₩60,000,000 (US$50,000) Korean national tournament got underway about a month ago, featuring four APAC North teams in attendance, with the monumental organisations of T1, Cloud9, and DWG KIA.
Here's a rundown of the games from the week prior and here's what to expect from the third week ahead.
Day 10
Results:
T1 7-5 Faust
Talon Esports 7-5 Cloud9
DWG KIA 7-2 Team Viper
SGA eSports 7-5 StarRise
Losses for Cloud9 seem to be like London buses, it seems. You wait three months for one and then two come along at once.
Cloud9 headed into this game after a close overtime loss to rivals DWG KIA last week, playing on Clubhouse and starting on defense. While both AzzyyyS and Soldier started with double-kills and were helped with a LabyRinth defuser plant, double-kills from EnvyTaylor and Harp3rXD ensured that Cloud9 took a first-round victory after a 1v1 clutch from the former.
The two teams kept neck-and-neck, finishing with a 3-3 first half, and while Cloud9 took the first round on attack after the role swap, Tomorrow came up big with a double-kill and quad-kill to finally break the deadlock. Only one more round went to Cloud9, as Talon responded with another two rounds in a row, with a Tomorrow 1v1 clutch securing the 7-5 win for his team.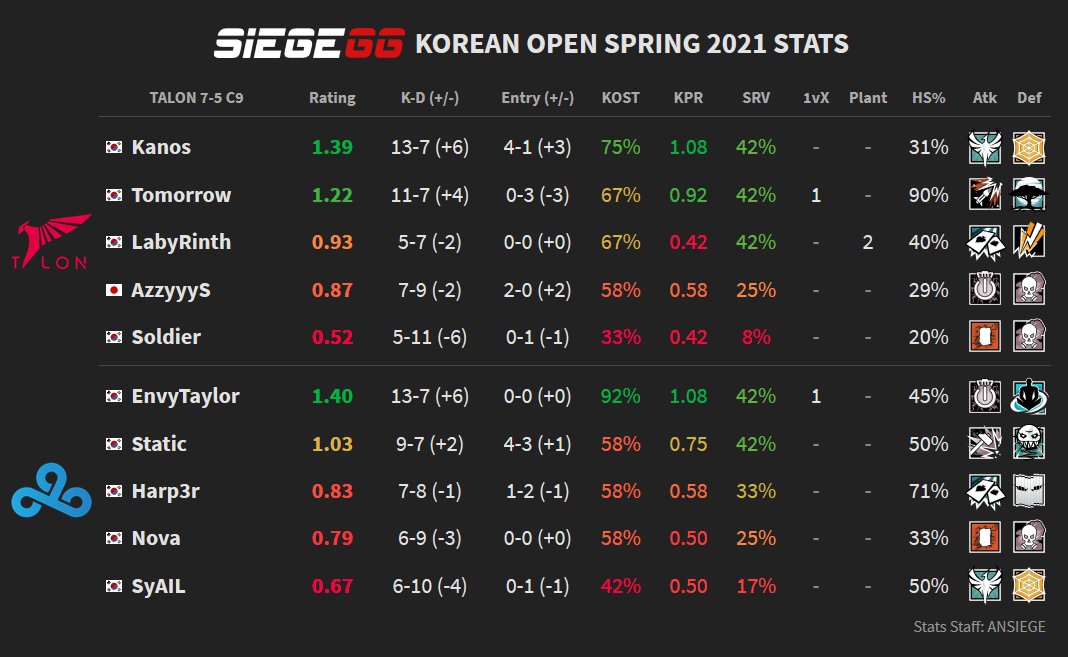 Day 11
Results:
DWG KIA 7-4 Talon Esports
SGA eSports 7-3 Faust
Cloud9 7-1 T1
Team Viper 8-6 StarRise
The 11th day of competition then had another top-billing clash between two APAC North sides and it did not disappoint. DWG KIA, hot off their victory against GUTS Gaming in APAC North and against Cloud9 in the past week of the Korean Open, were looking particularly lethal.
Playing on what seems to be the APAC-favourite of Chalet, Talon took the early lead with a successful defuser plant, and then swept to a 3-0 lead. While DWG KIA tried pulling things back, they could only muster a 2-4 deficit at the half.
However, as per the pattern so far, attack is where DWG KIA shone. Talon Esports would not win a single round more, with every single member of their opponents securing at least one multi-kill in the ensuing rounds, highlighted by yass securing a quad-kill in Round 10. The performance would mean that DWG KIA would take all five requisite rounds on their defense, completing an easy 7-4 win.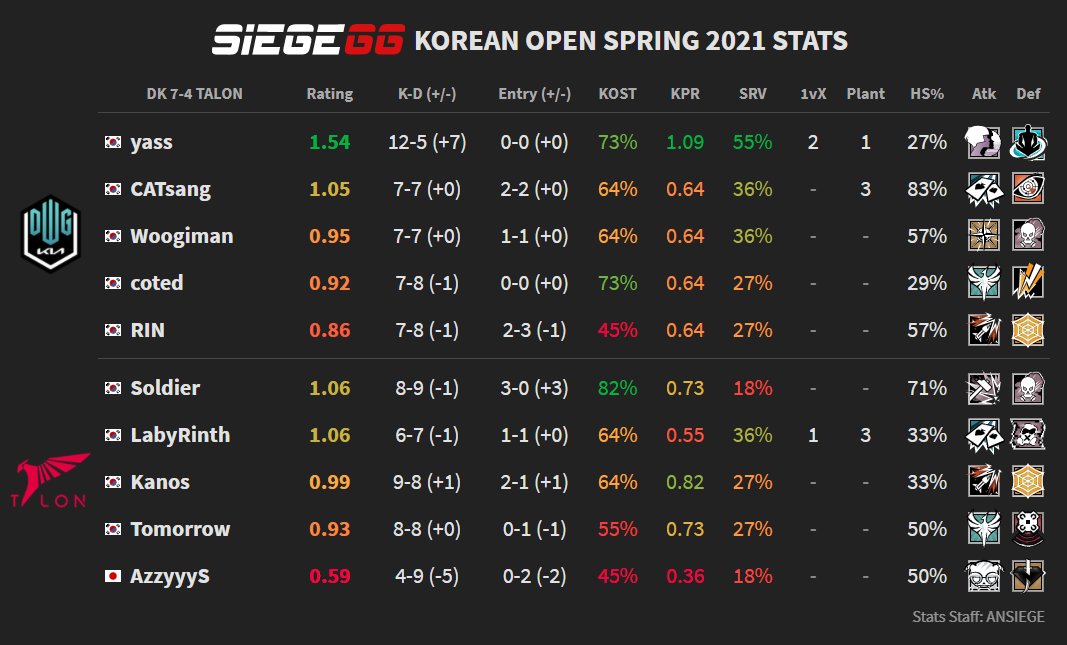 Day 12
Results:
Faust 7-1 StarRise
DWG KIA 7-2 T1
Cloud9 7-3 SGA eSports
Talon Esports 7-1 Team Viper
Day 12 was somewhat of a let-off compared to the action-packed two days prior, with only one game having a double-digit number of rounds.
That match, between Cloud9 and SGA eSports saw the action on a Korean-rarity, Coastline. Cloud9 kicked things off on attack, with an EnvyTaylor triple-kill and a Nova defuser plant and 1v1 clutch.
While SGA would fight back, it would only be the bare minimum acceptable on defense on Coastline, finishing the first half at a 2-4 deficit thanks to a scintillating 1v3, post-plant clutch from EroSA.
His team could only muster a single round on their own attack, however, as Cloud9 swiftly fought forward to put three rounds on the board and take the map 7-3.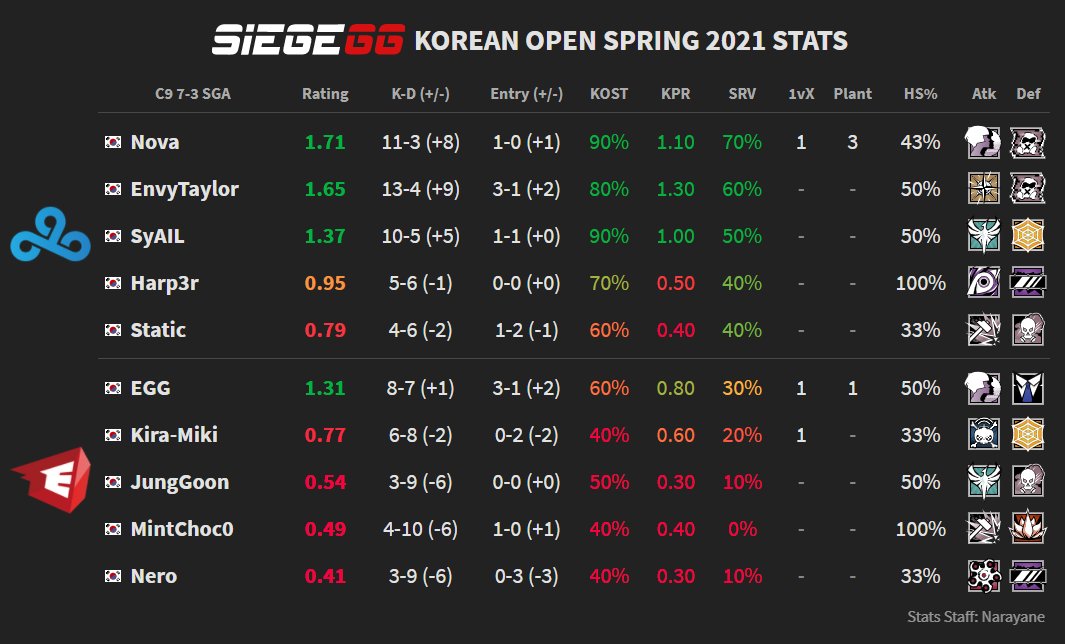 This Week
This weekend, the regular season of the Korean Open 2021 Spring comes to an end, with only two play days scheduled as compared to the regular three. With all three of DWG KIA, Cloud9, and Talon Esports level on points at the top of the table, it is unclear how things will shake out.
| Place | Team | Win-Loss | Rounds Won-Rounds Lost | Round Differential | Points |
| --- | --- | --- | --- | --- | --- |
| 1. | Cloud9 | 10-2 | 82-44 | +38 | 10 |
| 2. | Talon Esports | 10-2 | 80-46 | +34 | 10 |
| 3. | DWG KIA | 10-2 | 77-44 | +33 | 10 |
| 4. | SGA eSports | 7-5 | 70-54 | +16 | 7 |
| 5. | T1 | 6-6 | 61-65 | -4 | 6 |
| 6. | Faust | 3-9 | 48-71 | -23 | 3 |
| 7. | StarRise | 1-11 | 38-81 | -43 | 1 |
| 8. | Team Viper | 1-11 | 32-83 | -51 | 1 |
Each of the three will not play each other, although both Talon and DWG KIA will play the same opponent of SGA eSports on alternate days. SGA are themselves just two points behind the leading trio and are strong enough to influence the order of the top three.
The top six teams will be heading to the playoffs, while the bottom two will head to the Korean Open Relegations.
Even with two games left to play, the top five, including the aformentioned four and T1, are safely through to the playoffs.
Meanwhile, Faust are not mathematically out of the relegation zone. However, with two points over both StarRise and Team Viper, as well as a +20 relative Round Differential to StarRise, their playoffs spot is also all but confirmed, as is relegation for StarRise and Viper.