In a continuation of the 2020 Korean Open, the Spring 2021 version of the ₩60,000,000 (US$50,000) Korean national tournament got underway about a month ago, featuring four APAC North teams in attendance, with the monumental organisations of T1, Cloud9, and DWG KIA.
Here's a rundown of the games from the week prior and here's what to expect from the third week ahead.
Day 7
Results:
Talon Esports 7-4 SGA eSports
T1 7-4 Team Viper
DWG KIA 7-1 StarRise
Cloud9 7-5 Faust
The game to watch on the seventh day was, surprisingly, Faust taking on league-leaders and 2020 APAC North champions Cloud9.
Playing on Kafe, the high-octane game started with a 1v1 by CircLe to get an early lead for Faust, but the far more experienced Cloud9 hit back, taking a 4-2 lead despite being on attack in the first half.
However, Faust fought back, leveling the scoreline despite the bans of Ace and Thatcher. The two teams traded rounds to make it 5-5, but Cloud9 finally decided to put an end to things, with Harp3rXD clutching out a 1v1 on-course to a quad-kill in the 12th and final round.
Day 8
Results:
Cloud 7-1 Team Viper
DWG KIA 7-5 Faust
Talon Esports 7-4 StarRise
T1 8-7 SGA eSports
The next day, the highly-aniticipated clash between the titanic organisation of T1 and the in-form SGA eSports came to a head and it did not disappoint.
A repeat of the opening day match, which SGA had won 7-4 on Chalet, T1 loaded into Villa as the underdog; a position reinforced when SGA took four unanswered rounds on defense. To its credit, T1 fought back well enough to force a 4-2 half in light of the Thatcher and Nomad bans.
T1 then drew level as soon as it could, then took the lead at 5-4. Traded rounds meant the match was suddenly poised in its favour, at 6-5, but double-kills from Kira-Miki and Erosa (EGG) meant SGA would hang on for a while more.
In overtime, T1 would once again secure match point, breaking out a flawless round, no less, but MintChoc0 would help his team to a near-flawless defense of its own with a triple-kill in Round 14. T1 would complete its revenge over SGA, though, with iLeven and r3plicA contributing two-kills each to overturn a 3v4-deficit in the final 10 seconds and take the game 8-7.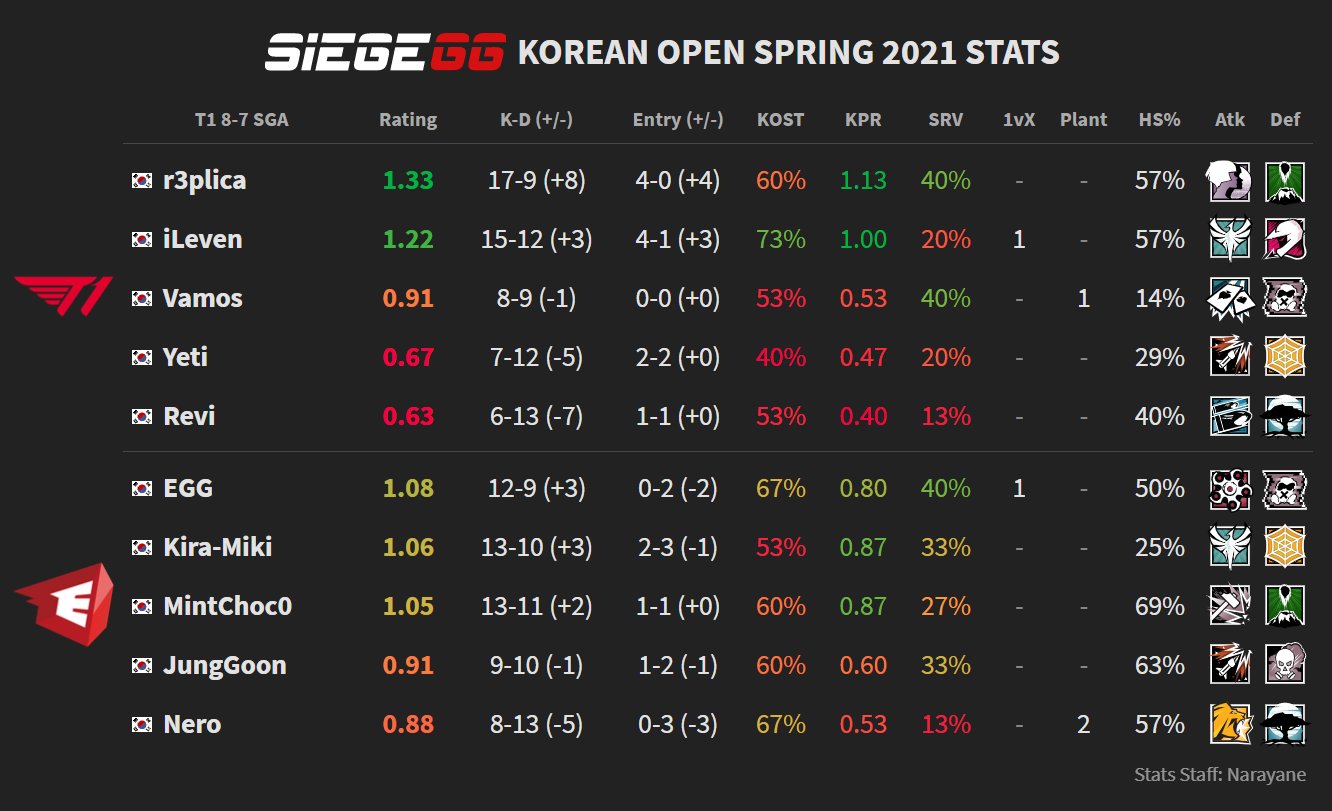 Day 9
Results:
T1 7-3 StarRise
SGA eSports 7-2 Team Viper
Talon Esports 7-3 Faust
DWG KIA 8-6 Cloud9
The ninth day brought along yet another highly-anticipated match in the form of DWG KIA, a rivalry that stretched back to August of 2020, but one that had only seen two matches with the updated DWG KIA roster. Cloud9 had won both matches so far; 7-1 the first time on Clubhouse in Week 1 of this Korean Open, and then 7-4 on Villa in Week 2 of the APAC North Division.
This time, however, DWG KIA brought Cloud9 back to Villa and decided to take the fight to their far more experienced opponents. It was, however, a wounded Cloud9, playing with assistant coach and former player Hyeon "OCN" Park in place of Chanyong "Static" Han, who had taken Sunday and Monday off to recover from an eye infection.
DWG KIA started off strongly, taking full advantage of OCN's rustiness at the pro level and racing to a 5-1 lead on defense. Both Thatcher and Maverick being banned did not make it easier for the attackers, which DWG soon found out for themselves as Cloud9 took five rounds on the trot to get to match point at 6-5. Stunned, DWG KIA managed to stabilise themselves, forcing overtime and keeping their best chance to beat Cloud9 alive.
Despite playing with OCN, Cloud9 gave their closest rivals a strong fight, but double-kills from yass and former Cloud9 player CATsang in Round 13 and then a triple-kill from fresh-face RIN meant that DWG KIA would record a historic win over Cloud9.
The loss for Cloud9 marked the end of a few streaks for them; it was only the second time Cloud9 had lost to this team (including its time as GC Busan Spear), the first time it had lost to DWG KIA as an organisation, and was Cloud9's first loss in all competitions since the 3rd of January this year in the Korean Open 2020 Winter (the aforementioned loss to GC Busan Spear).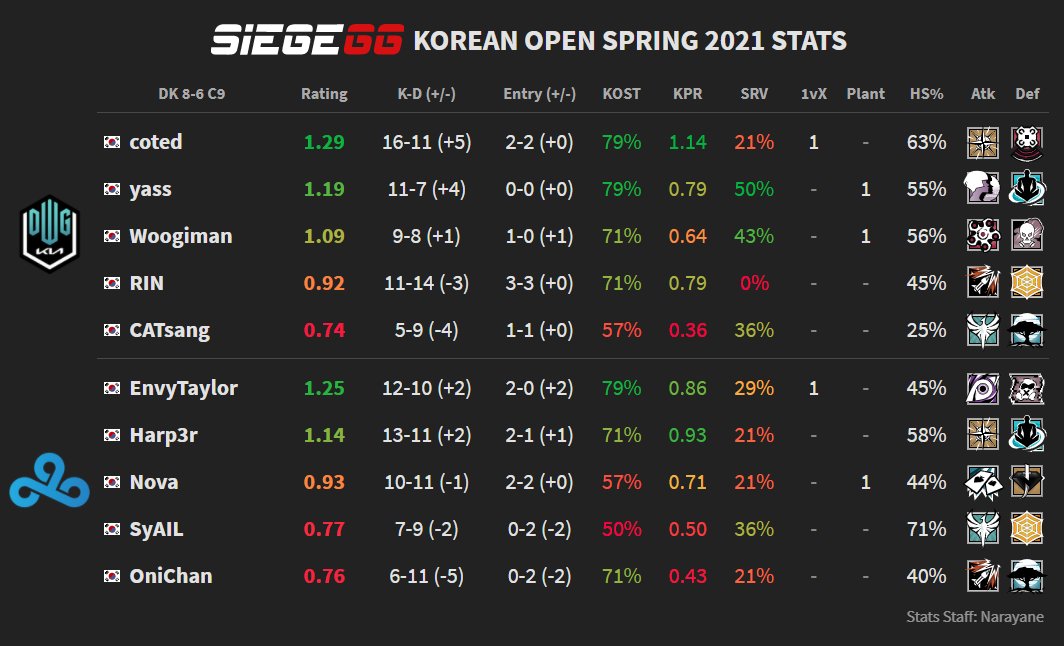 This Week
This weekend, strap in for more Korean action, in what seems to be three days of titanic games. Starting off, Cloud9 will take on fellow APAC North team Talon Esports on Saturday, then T1 on Sunday, and the top-shelf action will continue with yet another monstrous match between T1 and DWG KIA on Monday.