The last week saw the EUL on Thursday and Monday, APAC last Thursday and Friday, and BR6 on Saturday and Sunday, as all the new lineups debuted and each region got used to their new formats.
With this being the return of weekly Siege for the first time in four months, let's what these teams had to show us during Week 1.
New FaZe Roster Takes Down MIBR and Liquid
After a ridiculous roster shuffle in the LATAM region, the dust settled with FaZe, MIBR, Liquid, and NiP looking to be back on top.
Their debuts this weekend were, therefore, a good chance to see which one of them leads the region as they each prepare for the upcoming Six Invitational, following NiP's win at the August Major, Liquid's win at the November Major, the current FaZe roster's BR6 title win, and the new MIBR team's win during the online season of the BR6.
While all four teams had key games this weekend, it was, however, FaZe Clan that undeniably impressed.
The new FaZe roster is effectively last year's BR6-winning squad from MIBR, except under a new organization, with Astro carried over from the 2020 FaZe in the place of Mexico-bound MKing. This made their opening match against MIBR -- who had since picked up the entirety of the Team oNe roster -- one to watch.
While cameram4n and company had won the BR6 title, oNe had bested them in four out of seven maps, with their only loss happening on LAN, meaning that this was likely to be a close game despite Astro's inclusion in place of MKing.
On Clubhouse, Astro's Ash stood out with a 2.0 K/D ratio and four opening kills alone, compared to MIBR's two combined, as Astro took Cyb3r's role while Cyb3r moved to replace MKing.
This new arrangement worked out very well for them, as they looked in control throughout, taking their defensive half 4-2, before pushing straight to map point. Six kills from LuKid allowed MIBR to regain two rounds, but a 1v1 win by soulz1 over reduct won FaZe the game 7-4.
The following day, FaZe played in what was effectively a rematch of the BR6 2021 Finals, where the FaZe core roster had beaten Team Liquid in a somewhat embarrassing 3-0 (7-5, 7-4, 7-3) scoreline.
Since then, Liquid had made the sole change of dropping mav, following abuse allegations, making it a tough game for them.
Despite this, Liquid took the game by its neck, going up 6-3 and coming within a hair of a win, before FaZe pulled it back with three round wins in a row, primarily thanks to BULLET1.
Things then looked dire once again, as a 1v3 clutch by Nesk on the defensive half of the offensive-sided game put them on match point, but Liquid could not seal the deal, as FaZe won a Church/Arsenal defense and attack to take the game 8-7.
FaZe has now beaten two out of their main three competitors in Brazil, with only NiP -- who lost against Liquid on Saturday -- remaining. After a very disappointing 2020, FaZe now looks to be back on track and a fierce early contender come May.
#UKMassive Plays for EUL Lead
Europe meanwhile, kicked off a few days prior to the BR6, but has now seen two play days take place.
Last Thursday saw a number of upsets as the new Team Vitality and TrainHard Esport rosters both lost, Virtus.pro won the Russian derby, and the veteran lineups of G2 Esports and Rogue were taken down by Team Secret and Cowana Gaming respectively.
By the end of the play day, the standings saw a four-way tie, with three points for all of Secret, BDS, Na'Vi, and Cowana, with the latter two facing off on Monday.
These two teams had met two times during the UKIN Season 2 Finals just two weeks ago, where Na'Vi had taken the title with a 4-1 map win record against Cowana, but both teams were playing with their coach subbed in.
Playing on Consulate -- which Cowana lost 0-7 during the UKIN Finals -- the game started out with a confident Cowana win thanks to a triple kill by Sloth. Unfortunately for them, Na'Vi were achieving multi-kills of their own, too, with quadruple kills by both Doki and Nathan, while also getting the plant down in three separate rounds.
With a 4-2 offensive half, Na'Vi swept to map point at 6-2, thanks to a 1v2 quad-kill from Nathan, before another 1vX by GorgoNa on time kept Cowana in the game for another round. GorgoNa added to this with a triple kill on Round 10 before Na'Vi ended it at 7-4 to once again beat their British rivals.
This win gave Cowana three more points, putting them in joint-first place with BDS, who themselves dispatched Team Vitality and Team Empire. Cowana, meanwhile, sits with four other teams in third place, one of whom is G2 Esports, their next opponent.
CTZN Approaches a 3.0 K/D
After the retirement of Pengu in the off-season, G2 opted to sign the Cowana player of Kayak who has since slipped into his role exactly as the primary planter and Ace/Smoke main.
The team has, however, had a change in roles. CTZN has taken over the primary fragger role, which he previously shared with Kanto. This has led to two ridiculously successful games for him, despite G2 losing against Secret on the opening play day.
This Secret game ended 7-5, thanks to a last-minute clutch by SlebbeN on Zero, but the game was likely only this close thanks to a standout performance by CTZN, with 15 kills. He then just about beat that statline on Monday against Virtus.pro, with 16 more kills. In total, this adds to a 31-11 record against two formidable teams, numbers rarely seen at any level of play.
While not beaten, CTZN's numbers are rivaled by a player who just happens to be his ex-teammate of Doki from Natus Vincere.
Like in G2, the new entries into Na'Vi have led to some role changes, with Secretly taking Kendrew's spot, and Blurr's move into a flex role allowing Doki to keep his Melusi/Sledge picks he had previously excelled at during the SI Qualifiers.
On these operators, Doki achieved the exact same KPR (Kills Per Round) as CTZN had against the teams of TrainHard and Cowana, including a 1v1 win over Chaoxys, seen in the highlight video earlier. While his K/D doesn't match that of CTZN's, his OK-OD is unmatched across any of the main regions.
Finally of note, we have the Best Player of Year 4, and one of the very top players during Year 5, in Shaiiko, who just like Doki and CTZN also boasts a K/D over 2.0.
With no changes to the team, BDS has seemingly kept the same roles, leading Shaiiko to frag out just as hard against their initial opponents of Vitality and Empire, though with a number of early deaths during the Vitality game.
It is unlikely these players will be able to keep these exact figures as they progress through the season, but it is clearly very impressive and match-winning, which CTZN, in particular, will hope to continue on and into the Six Invitational.
OCE Struggles to Find First Win on Ping
Leaving Europe, APAC also kicked off last week, with an initial APAC South play day on Thursday. This league has merged the top four teams in OCE (Oceania) and SEA (Southeast Asia) together to create a counterpart to Korea and Japan's APAC North Division.
However, while it does bring additional investment and attention down under, play day one made very clear the issues this causes.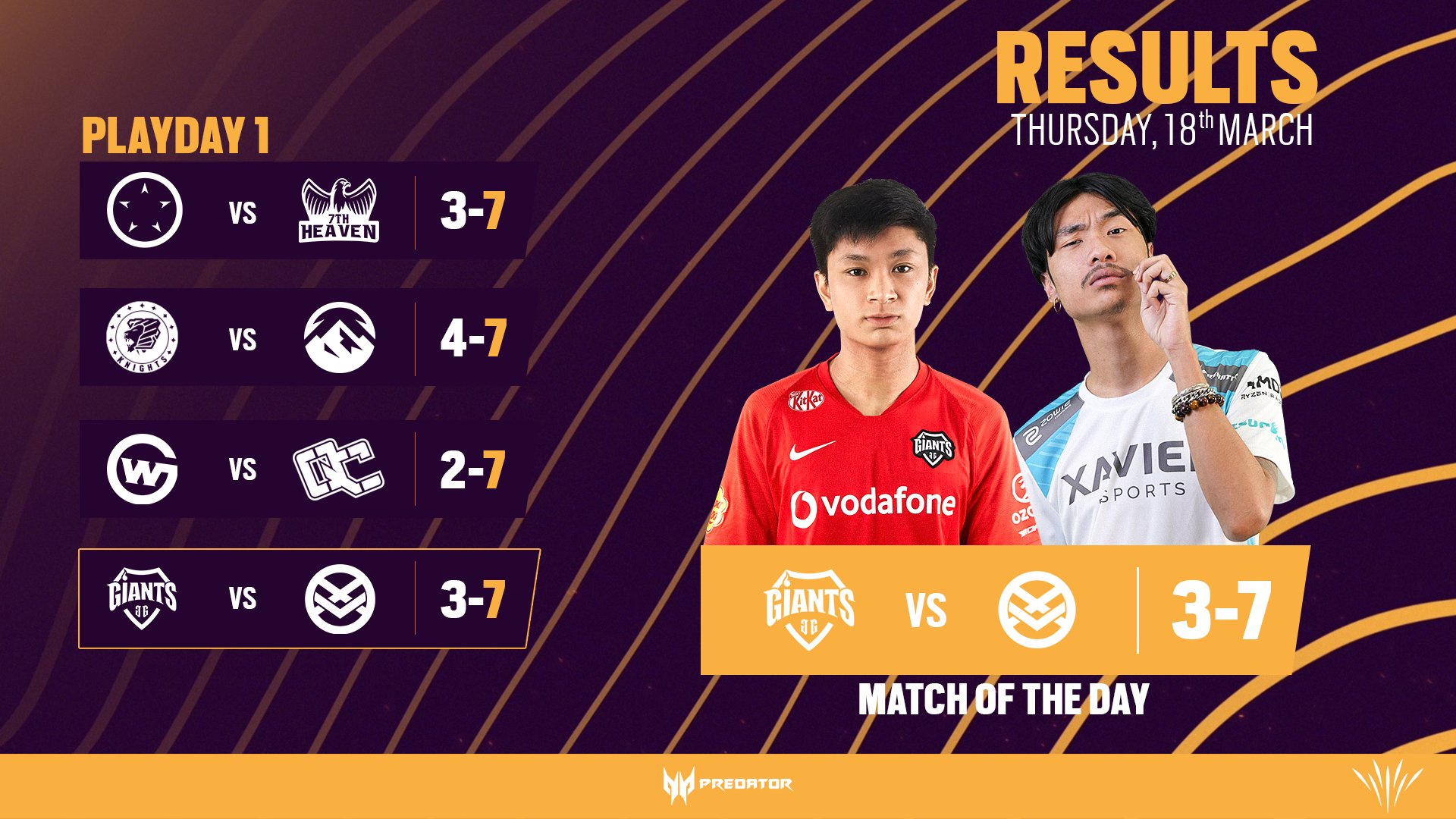 While the two sub-regions of OCE and SEA are both somewhat even and top-heavy, two major upsets happened in the space of an hour, as the two Oceanic Major grand-finalists of Wildcard Gaming and ORDER lost to the two worst SEA teams in 2020 in fairly one-sided results, with the remaining games being SEA vs SEA and OCE vs OCE.
These results were not what many expected, especially not from the SI-qualified Wildcard roster, but are likely due to the severe ping difference which favours the SEA teams.
While in SEA vs SEA and OCE vs OCE games they simply use the players' local server, the cross sub-regional games saw multiple players from ORDER and Wildcard average over 100ms ping (latency) as they play on SEA servers.
The debilitating effects of high ping were clear to see in 2020, with APAC North's Fnatic only narrowly avoiding relegations just a few months after knocking G2, Empire, and FaZe out of the Six Invitational after being forced to stay in Australia due to the pandemic.
Unfortunately for APAC South, there's pretty much no solution to this problem, especially under COVID regulations. As explained by Giants' coach of GiG, Ubisoft had initially planned to tackle this by forcing the SEA teams to play with a VPN on to artificially increase their ping to make it equally poor for all, which is less of a fix and more of a bandaid on top of a severed limb.
Doesn't really make much sense since we will have to play Australian teams on over 100 ping and were being forced to use a VPN to make the ping more even between the two teams but that's their reason so whatever.
While it's only been one play day, should it continue like this without VPNs in use, it is hard to imagine the Oceanic teams making the top four at all due to no fault of their own.
This week, we'll see a full lineup of SEA vs OCE games with the following matchups, which will be sure to further highlight the issues:
7:30 UTC -- Elevate vs 7th Heaven
9:00 UTC -- Qconfirm vs Knights
10:30 UTC -- ORDER vs Giants
12:00 UTC -- Xavier vs Wildcard
Korean Siege Goes from Strength to Strength With Opening Wins
Korea, meanwhile, had a good first-day showing in APAC North.
DWG KIA was the first team to wow, playing in the Division's curtain-raiser against Fnatic. The odds had certainly been against the Koreans, with DWG having dropped two players, two coaches, and signed four new players and a coach to replace them.
Fnatic, meanwhile, had shifted its Australian players to Perth to minimise the ping, imported the Frenchman of Alphama, and situtated him in Taiwan to allow him to play (and with far better ping than the Australians). However, it also lost MentalistC indefinitely due to visa issues.
Playing on Oregon, Fnatic took a 4-2 lead, but DWG KIA struck back with three defensive wins of their own to take the lead. While Fnatic then secured at least a point after forcing overtime, the win was still elusive as the newly-promoted Koreans secured a massive first-day win.
Cloud9, meanwhile, were next in action on Clubhouse against GUTS Gaming. This time, the Koreans lead 5-1 at the half after starting on defense, and were on match point at 6-3. However, two further rounds dropped meant that Cloud9 were at risk of dropping points, but the APAC North 2020 Champions recovered well enough and stuck the landing at 7-5.
---
This following week will see each of these leagues continue with an added NAL playday tomorrow evening. Here are the games to watch out for:
Cloud9 vs DWG KIA -- Wednesday at 12:00 UTC

Korea's top two teams meet

DarkZero vs Mirage -- Wednesday at 23:30 UTC

A rematch between DZ and "mini-DZ"

Giants vs ORDER -- Thursday at 10:30 UTC

A chance for redemption for Giants after a heavy loss against Xavier

FaZe vs Black Dragons -- Sunday at 17:00 UTC

Yoona, ion, and live face their old team of FaZe Clan

Cowana vs G2 -- Monday at 20:45 pm UTC

Third and Fourth places meet and Kayak plays his old roster
Check back here at SiegeGG for full stats, highlights, and news coverage of the games, and be sure to make your match predictions on the newly launched Predictions page.