In a continuation of the 2020 Korean Open, the Spring 2021 version of the ₩60,000,000 (US$50,000) Korean national tournament got underway about a week ago, featuring four APAC North teams in attendance, with the monumental organisations of T1, Cloud9, and DWG KIA.
Here's a rundown of the games from the week prior and here's what to expect from the second week ahead.
Day 1
Results:
Cloud9 7-3 Team Viper
DWG KIA 7-1 Faust
Talon Esports 7-0 StarRise
SGA eSports 7-4 T1
The game to watch on the first day was, of course, the final game. After just having entered Rainbow Six, T1 was set to debut its roster in its first-ever competitive match against SGA eSports.
Featuring the newly-reworked Chalet, SGA eSports came to the snowy map with much more up their sleeves than T1. The game started with absolute dominance from them, with Kira-Miki, JungGoon, and then Kira-Miki again getting triple kills in the each of the first three rounds. Alongside those standout performances were defuser plants in every round, a rarity prior to this season.
T1 finally found their footings on the fifth round, with Yeti having to clutch a 1v1 to get his team on the scoreboard. However, Nero responded with a triple kill in the sixth round and SGA pulled off another defuser plant to make the first half 5-1.
Despite the mountain facing them, iLeven would ace to try and wrestle things back for T1. Two more round wins then followed, including a 1v1 clutch by Vamos, but SGA were not to be deterred as they completed a comfortable victory over T1.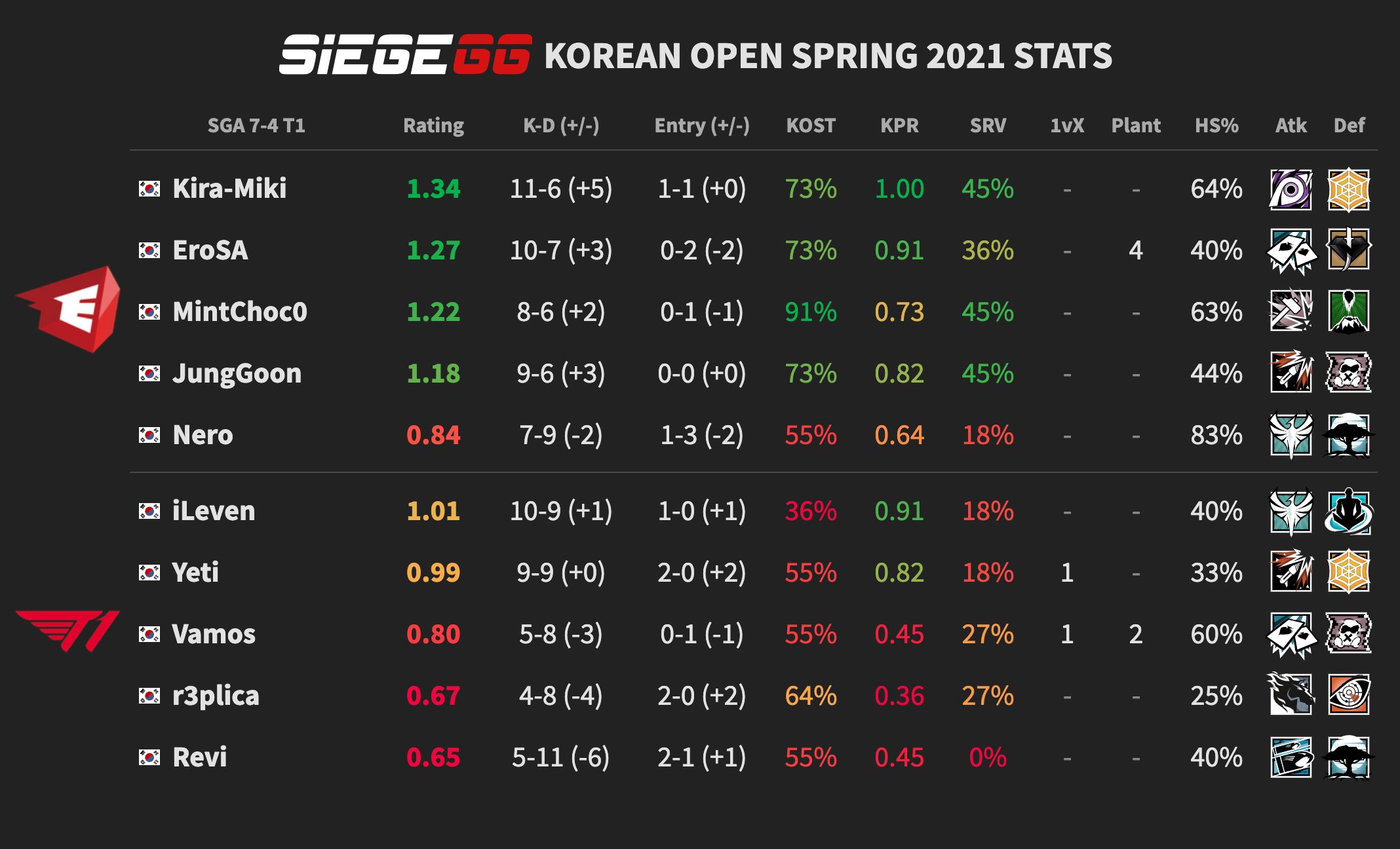 Day 2
Results:
T1 7-2 StarRise
Talon Esports 7-2 Faust
SGA eSports 7-2 Team Viper
Cloud9 7-1 DWG KIA
The next day, the games continued with full vigour, and the final match of the day was once again the most anticipated.
In a preview of a forthcoming APAC North clash, the newly-signed, newly-reorganised, and newly-promoted DWG KIA roster took on APAC North 2020 champions Cloud9.
The game went largely as expected, with Cloud9 cruising to a 5-1 lead on the attack on Clubhouse. Perhaps unprepared, or unwilling to showcase too much ahead of a first-day clash against Fnatic on the coming Friday, DWG KIA looked outclassed.
Cloud9 completed the win after the role swap with ease, taking the final two defensive rounds and closing out the map 7-1.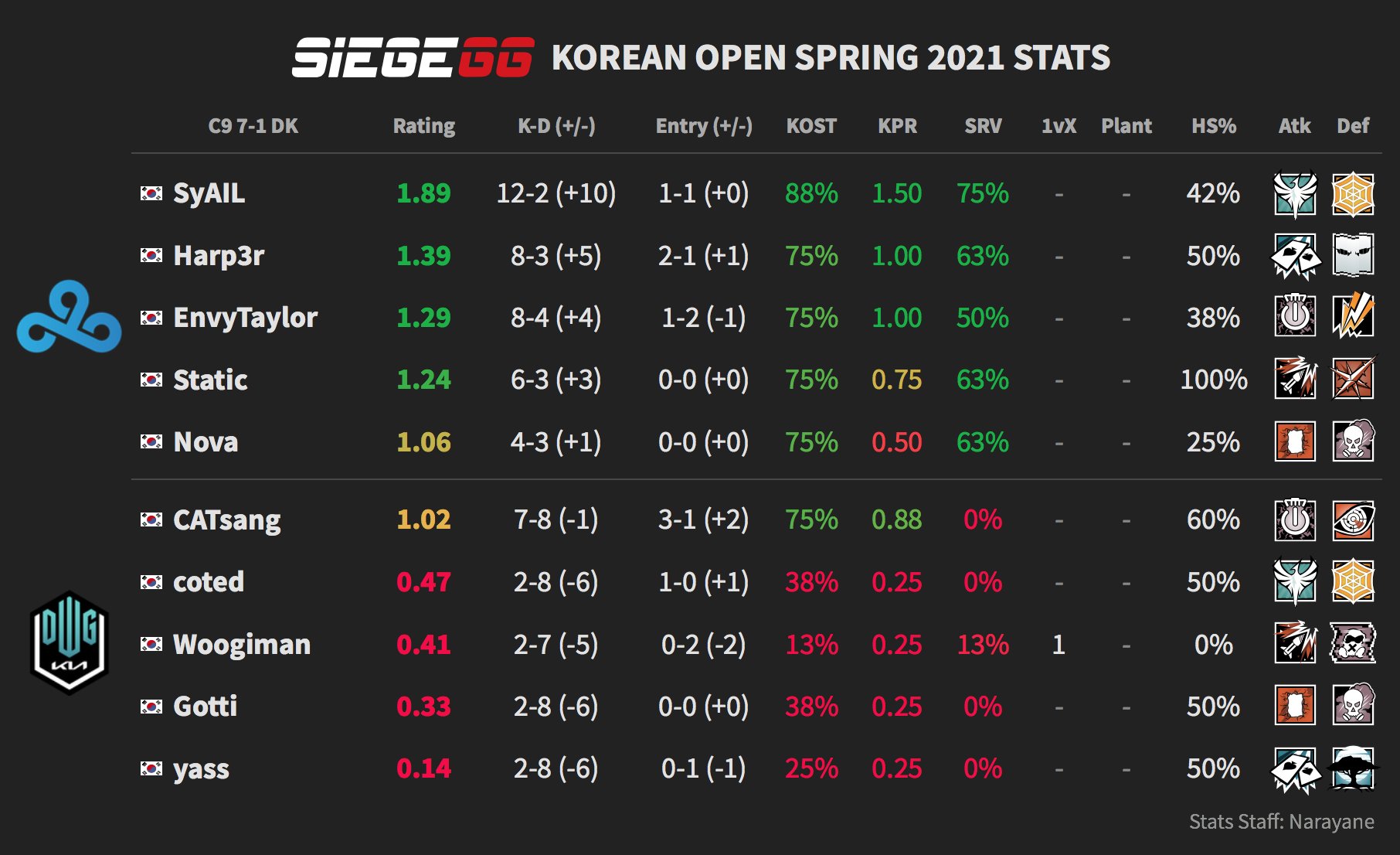 Day 3
Results:
SGA eSports 7-2 StarRise
Cloud9 8-6 Talon Esports
DWG KIA 7-3 Team Viper
T1 7-2 Faust
The final day of play in the first week once again saw Cloud9 be part of the standout match, but as somewhat of a surprise this time.
Facing APAC North opposition again, Cloud9 got off to a strong enough start on Clubhouse, taking an early 3-1 lead on attack. Talon Esports, to their disappointment, could not fight back to level the scorelines on their defensive half, going into their attack while trailing 2-4.
However, it seemed like the Mira and Valkyrie bans had worked well for the attackers as Talon managed to equalise the scorline at 5-5. Despite losing the 11th round, the underdogs rallied to secure the next round and force overtime but Cloud9 had no interest in dropping points.
The APAC champions had SyAIL pull off a scintillating quadruple-kill in the first overtime round, before a Static double-kill and a Harp3r defuser plant sealed the deal in 8-6 fashion.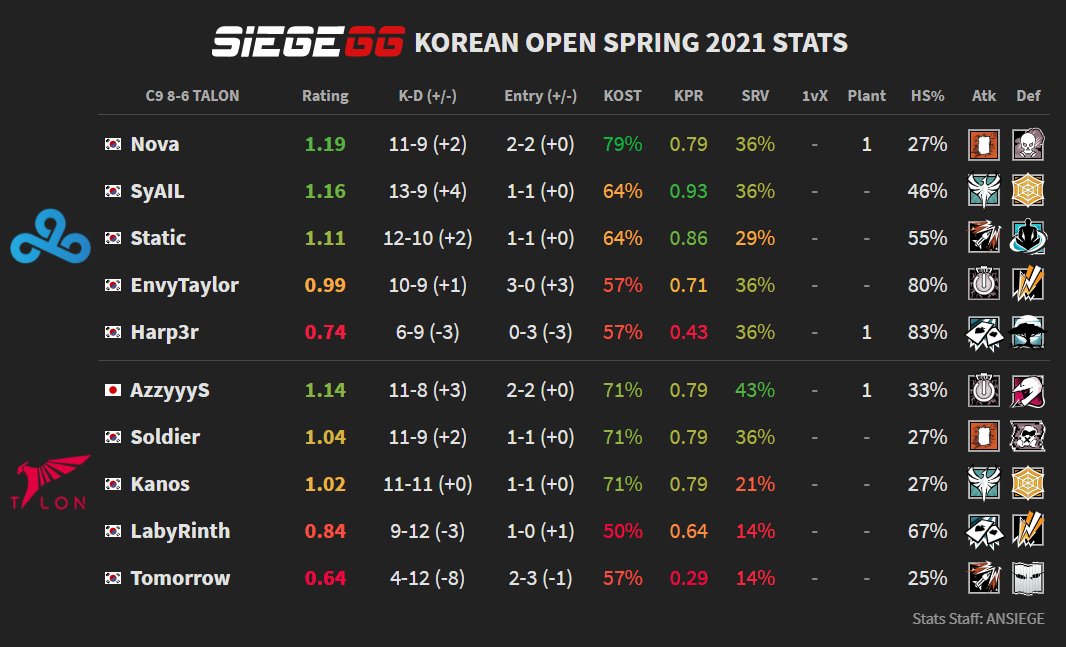 This Week
This week, strap in for more Korean action, with DWG KIA taking on fellow APAC North side Talon Esports and then Cloud9 going head-to-head with T1. T1 will also be facing DWG KIA, continuing its League of Legends rivalry within Rainbow Six, and then Talon Esports, with all four matches set to provide an early look at the four teams' pecking order relative to each other.