While the other three regions have each undergone massive restructures in the rosters, formats, or new teams, the European League has stayed relatively stable with the league seeing no massive changes to the format and just one unexpected new team.
With the games kicking off later tonight, here's a look at the new lineups, schedule and teams to watch in EUL for 2021:
Jump to:
EU League Changes
The European League starts tonight followed by playdays each Monday before a super-weekend on April 24-25th. The format is the same as last Season as worldwide teams play in a BO1 round-robin with no draws.
This is very similar to last year's format with just a more spread-out schedule. The decreased number of games has also led to a smaller talent pool with Geo CASTERS INFO
This season also sees a new content series being produced by the talent above talking about the EU teams and games in further depth:
The Teams
The 10 teams competing include eight we saw during the 2020 Season with Cowana joining to replace Chaos and TrainHard replacing Tempra:
G2 Esports -- Kantoraketti, UUNO, CTZN, Virtue, Kayak, and Shas (coach)
BDS Esport -- Shaiiko, Renshiro, RaFaLe, Elemzje, BriD, an eaglemees (analyst)
Virtus.pro -- wTg, Rask, p4sh4, m1loN, karzheka, Andreezy (analyst)
Natus Vincere -- Saves, Doki, Blurr, Secretly, Nathan, jahk, and DraZ (two coaches)
Team Empire -- ShepparD, JoyStiCK, Scyther, Dan, Always, RayzerGM (coach), and Zheka (analyst)
Team Secret -- Drvn, Prano, Hife, SlebbeN, Gomfi, and Titan (coach)
Team Vitality -- BiBoo, risze, P4, Shiinka, Kaktus, Lyloun, and Helbee (two coaches)
Rogue -- AceeZ, Korey, Ripz, LeonGids, cryn, meepeY, Rcuth, and Bernie (three coaches)
Cowana Gaming -- Anarchic, Grizzly, GorgoNa, Sloth, Kendrew, Mrofficer88 (coach), and davil (analyst)
TrainHard eSport -- Chaoxys, Dirza, Spark, BlaZ, NoerA, spokeN (coach), and MrBox (analyst)
Cowana comes in directly after winning last year's Challenger League tournament and being promoted into the main league. They've since lost Kayak to G2 with Na'Vi's Kendrew joining becoming the most experienced player on the lineup.
TrainHard, meanwhile, comes in after Tempra dropped their promising French roster and then failed to sign a replacement. With the org and roster gone, Ubisoft opted to give the license to TrainHard who picked previous players from Tempra, PENTA, Vitality, and DIVIZON to form their new lineup.
The biggest individual roster change by far comes in G2 as the aforementioned British player of Kayak replaced the most successful player of all time in Pengu. This is both a massive opportunity for Kayak and somewhat of a turning point for G2 as none of its famous SI18 roster remains.
Pengu's ex-teammates of Goga and Fabian along with Hungry all got dropped on Vitality to create a new all-French roster. Joining them comes two more of the ex-Tempra players and BlaZ from PENTA. This has created somewhat of a backlash due to them waiting so late to make a decision with Goga announcing he's taking a possibly permanent break from competitive R6 and Fabian stating he'll be looking for a team in May.
Secret and Na'Vi both made two changes each with Secret swapping SHA77E and pacbull for the duo of SlebbeN and Gomfi who now follows each other to their fourth org in a row after returning from North America. Na'Vi meanwhile dropped their oldest and newest members of Kendrew and Joe in favour of Nathan and Secretly leaving Saves as the only remaining player from the Season 10 Finals lineup.
Finally, Rogue's player of karzheka replaced Shockwave in V.p and was replaced himself in Rogue by the ex-Chaos/G2/Mock-it player of Cryn making Rogue a four-fifths German lineup.
With G2 entering this year as the reigning EU League champions, and both Empire and BDS having very strong years, they'll all be hoping to use the next three months to prepare for the Six Invitational, the first international event in 15 months.
Lower down the tables, after surviving relegations last year Rogue will be hoping their new player and two new coaches put them back on track to the top once again.
Challenger League Contenders
This year the Challenger League format has changed to add in four more open qualifier rosters to increase the team numbers to 16. This both decreases the reliance on the national leagues and gives teams a second chance at making it into the league. This is especially important considering both CL grand-finalists last year were a part of the UKIN League with Cowana only competing thanks to the Open qualifiers.
While in six months time a lot of new teams could become new contenders, right now some of the teams to watch are:
Mkers -- Aqui, Gemini, Scatto, Sasha, and Lollo
After missing out on the 2020 Challenger League Season, Mkers underwent severe roster changes leading them just three months later to take down Tempra, Chaos, and Rogue to qualify for the upcoming Six Invitational. With that record under their belt, they are sure to be the standout favorites to qualify for and win this year's CL Season.
Chaos Esports Club -- VITO, REDGROOVE, pacbull, Hxsti and JTc
After being relegated last season, the org has listed the above lineup for the Nordic Championship tournament, however, has yet to officially announce the team. Four of these players have Pro League level experience from Chaos, Chaos, Secret, and Rogue respectively while JTc played last season on Granit, last year's Nordic representative.
MnM Gaming -- dats, Fonkers, Jonka, Yuzus, and TBC
While Nathan has left the 2020 Challenger League runners-up for Na'Vi, the remaining four players clearly can compete regionally with a loss to Rogue being the only reason they're not in EU League this season. With a guaranteed CL spot already secured, they're likely to get a good fifth to round out their lineup to go one position better this year.
GAMMA GAMING -- Leonski, Deapek, Avaiche, Panix, and ASTRO
With Challenger League finishes last year of third and fourth, this roster will certainly be a top contender for CL this year as well. At the very least, with them easily batting aside their sub-regional counterparts for two years straight now meaning they should have a somewhat easy path to the league.
The Challenger League itself won't kick off till Stage 3 in September where the 18 teams will ne split into four groups of four. From here they will compete in a round-robin group stage with the top two in each group joining a double-elimination playoff bracket.
The Challenger League Finals will take place on LAN in December alongside the EU Finals as was initially planned to be the case last year.
National Leagues
Over the next few months, national leagues are taking place across Europe, most of which offer Challenger League spots to the victors:
6 French League: Season 3
Likely to kick off in a few months time, this tournament stars BDS, Vitality, and TrainHard from the EUL as well as RAMS (the ex-PENTA roster) from last year's Challenger League.
Prior to this, the 6 Open Cup 2021 also invites these three EUL rosters along with five qualifier teams to a single-elimination €20k tournament from April 9-11th. With RAMS likely competing in both, this is a great opportunity to see them in action as France's Challenger League favourites.
UK Ireland Nationals: Season 2
The second UKIN Season came to its close last weekend as Na'Vi claimed the title over Cowana 3-1 in the final. The match did, however, did include a number of substitutes with both teams playing with their coach in exchange for their newest pickups.
The top six teams will qualify straight to Season 3 to be joined by the winners of the Division 2 tournament taking place from April to June.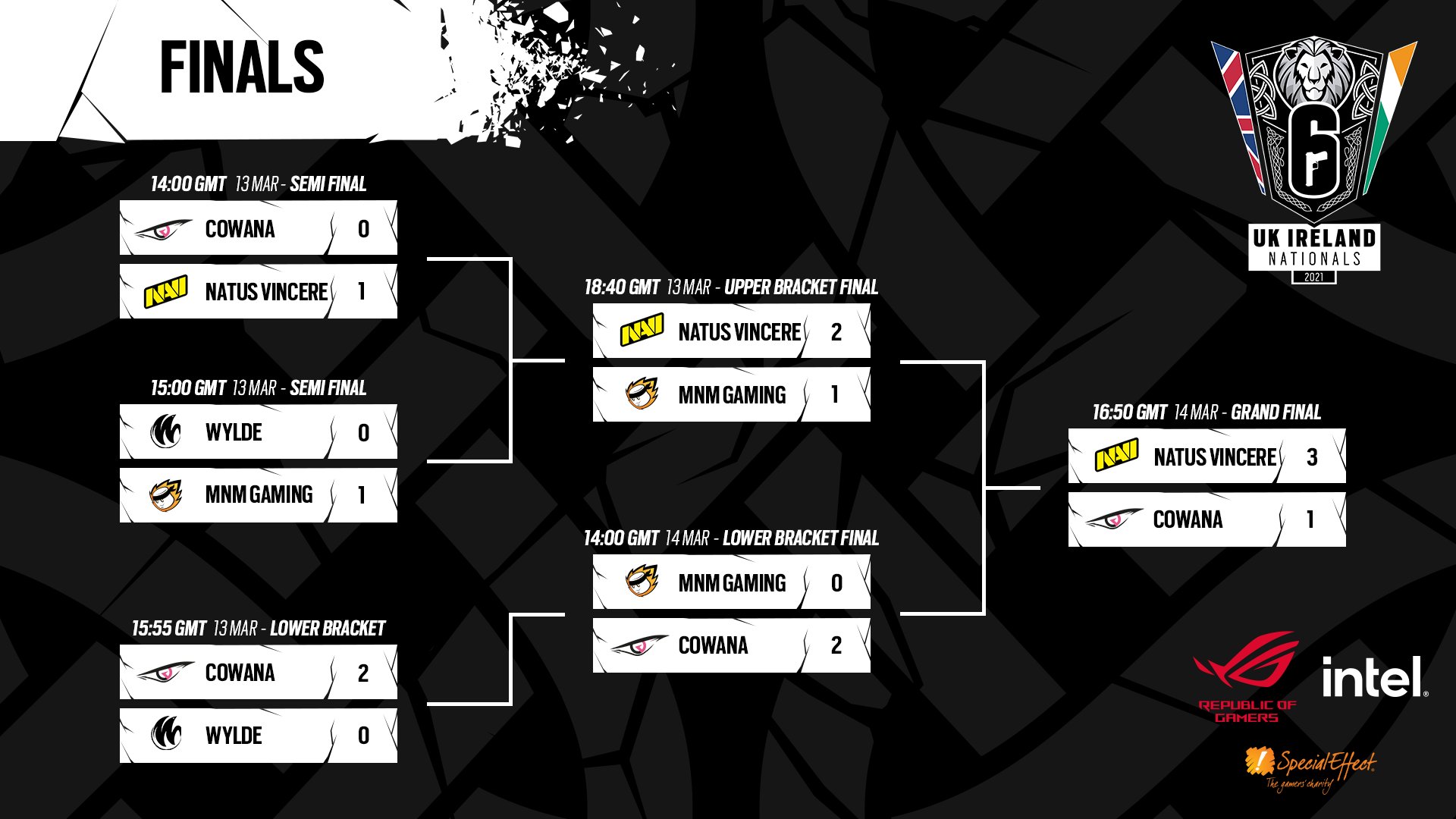 Russian Major League: Season 6
On Sunday a three-month-long Russian national tournament will kick-off which includes both Team Empire and Virtus.pro. Last season Empire won the title back off V.p who themselves had taken it of Empire the season prior making this quite a back and forth between these teams which will likely continue this year.
The most notable other competitor is the ex-Winstrike roster which currently remains orgless after a quarter-final exit last CL Season.
GSA League 2021
No dates for the 2021 Season of the German, Swiss, and Austrian national tournament have been confirmed yet, however, currently ongoing is the relegation playoffs to determine which teams will compete against the likes of G2, Rogue, and Secret in the main league.
With two spots remaining it seems likely that PENTA's new Turkish roster will be able to qualify forward despite a very rocky season of the Ascension League. The playoffs continue from next Tuesday to Thursday.
Nordic Championship 2021
Set to start on Wednesday, the league will run all the way to June before a LAN Finals in August. As well as Chaos who has a guaranteed Challenger League spot already, the league includes three non-Nordic rosters -- a Hungarian, Czech, and mixed European team -- as well as the returning orgs of Ambush, Granit, and KOVA.
PG Nationals Spring 2021
Just as in the GSA League, the next PG National season's dates have not yet been revealed yet as the promotional tournament is currently ongoing. Three French and one mixed-European roster compete for two spots in the Italian national league which already includes one mixed and one French lineup.
While Mkers will be the standout favourites to sweep the tournament, they were also the favourites this time last year when they were upset by MACKO who now returns with Challenger League experience and back-to-back PGN titles.
Spain Nationals: Season 3
The Spanish season is underway with five of 14 playdays already complete, however, the league will see a two-month mid-season break from March to May in the coming weeks. During this "break" a 12 team Mid-Season Cup will take place which includes all eight league teams as well as four qualified rosters.
With Heretics, Giants, and x6tence all left from the scene over the last few seasons while Movistar Riders struggle down in seventh, this is shaping up to be a very different season than normal with a set of fresh names qualifying for the Challenger League.
Benelux League: Season 6
Six teams have been confirmed for the league which kicks off in three weeks time to be joined by two relegation lineups to be determined this evening. With GAMMA winning everything in the sub-region over the last two years, however, it seems almost certain that they'll be taking the Challenger League spot for themselves as they have to requalify following a third-place finish last year.
Polish Masters 2021
No details for this season have been confirmed yet other than its start date in May. The last few months have however seen the 2021 Polish Winter Cup take place in which NOX Esports won the tournament almost flawlessly losing just 1 out of the 14 maps played.
This team is largely the same lineup that competed as Poland's representatives during last season's Challenger League making them by far the favourite to get the spot this year as well.