After attending both the Season 10 Finals and the 2020 Six Invitational, as well as taking both the August and November Oceanic Major titles, Wildcard Gaming will be unable to attend the upcoming Six Invitational in Paris due to the ongoing travel restrictions implemented by the Australian government in light of the COVID-19 pandemic.
The all-Australian team of Wildcard qualified for this event in 10th place, just ahead of V.p and Team Empire, as one of only four Asia-Pacific teams competing. However, due to the strong restrictions brought in by the Australian government to prevent the spread of the COVID virus into the country, overseas travel for the team has been barred.
Earlier this month, we revealed the Group pool for the Six Invitational 2021. Today unfortunately, we regret to announce that Wildcard Gaming can no longer compete in this year's Six Invitational.

Despite our joint efforts with the team as well as the local authorities to find solutions, Wildcard Gaming has not been given the greenlight to travel by their government.
Due to the event kicking off in a matter of weeks, Wildcard will not be replaced by anyone, with the event going ahead with just 19 teams. Wildcard will instead receive the $30,000 in prize money that corresponds to a 17-20th place finish.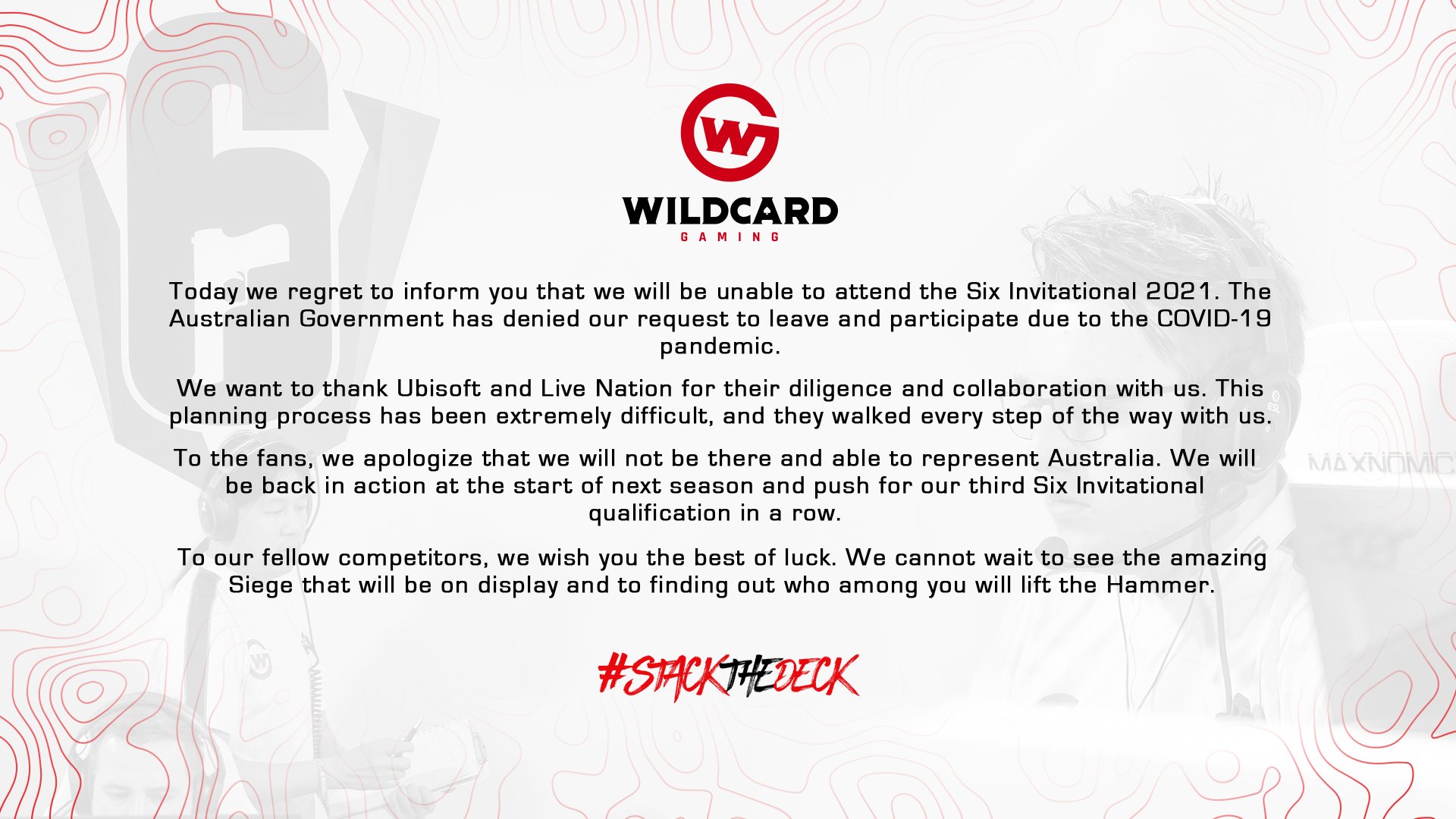 This follows the announcement from the European and APAC League caster of Jessica "Jess" Bolden that she will be unable to attend the event due to the same travel restrictions, with James "Devmarta" Stewart also likely impacted.
Ubisoft and their partners spent days relentlessly attempting to find a way to have me fly from Australia to France for the Six Invitational, but as many of you are aware my country has some of the strictest COVID restrictions in the world and there was nothing that could be done to get me there in time.
This means that the Oceanic region's lone representative at the event will likely be the G2 player of Jake "Virtue" Grannan, as his former team of Fnatic failed to qualify for the Invitational for the first time in their history.
As such, just a single team from Group B will be knocked out during the group stage of the Six Invitational 2021, with eight out of nine teams between TSM, Giants, NiP, SSG, V.p, OxG, MIBR, Altiora, and Mkers making it through to the playoffs.
For Wildcard, the team and organisation will likely be very frustrated by this news, as it will be at least another three months until the Wildcard players will be able to face international opposition. They have also missed out on their chance to prove themselves on the biggest stage in Rainbow Six, after being effectively snubbed for the R6Share programme for the 2020 season.
In a Twitlonger about the news, Wildcard Gaming captain Kyle "Diesel" Renton had this to say:
I would be lying if I said I wasn't devastated to see how our revitalised roster stacked up this time around at an International event, it would have been Gio, Vincere and Pat's first International event...

...our request of an exemption to the current ban on all overseas travel was denied, but even if we were to attend, there was a MASSIVE risk of being unable to return home back to Australia for months on end in some unfortunate cases, which was an incredible stress on all of us and our families.

But I think it's important in times like these to take a step back and put things into perspective. A lot of people have felt the incomparable effects of COVID this last year, things I couldn't even imagine of as I've been incredibly lucky to be doing what I'm doing at my age and living in such an amazing country like Australia. We truly are blessed and it's so easy to take the small things in life for granted in this day and age.
The APAC region itself has had a long history with last minute roster issues with Mag being unable to attend the Season 8 Finals due to illness and Merieux being hospitalized minutes before their opening Raleigh Major game.
As well as this, the region's first international event, the Season 10 Pro League Finals, saw three players unable to attend due to visa issues. This is, however, the first time a whole team has been unable to compete in any major event since the Santos Dexterity players failed to get visas for the 2017 Xbox Invitational and were replaced by Supremacy.
---
Check back here as we approach the Six Invitational for future details on the tournament and for any more breaking news around the event.