Update (21 Nov):
After some deliberation, Ubisoft has issued a six-month ban to Cyclops Athlete Gaming coach XQQ and has fined the team US$5,000.
The statement reads as follows:
During Playday 10 of the Asia-Pacific North Division on October 22, 2020, unusual conduct was noticed from players on the Cyclops Athlete Gaming team during their match against QConfirm. Various actions made by their players brought into question the seriousness with which they were playing this league game. Following the conclusion of the match, XQQ's statement on Twitter suggested that the team intentionally threw the match because they did not have anything to gain from winning.

This situation revealed a flaw in the APAC North Division point system whereby Cyclops Athlete Gaming required a match loss against QConfirm in order to secure a higher position in the Stage standings. A revision of the Rainbow Six APAC League North Division system is in process for Season 2021 to ensure a situation like this can no longer happen.

Nevertheless, the investigation conducted with the help of our partner in the region showed that Cyclops Athlete Gaming acted in a non-competitive manner that strictly goes against the Global Rulebook. The team itself has confirmed that they have read and understood the rulebook and no attempt was made to contact Tournament Administration before the action had taken place on Playday 10.

The competitive ruling is as follows:

Ruling

As per the official Global Rulebook - Annex B - Penalty Index: Match throwing may be the action of purposely avoid competing at one's best ability outside of the cases of match fixing. Examples of match throwing include, but are not limited to, losing purposely to obtain a lower seed or rank or purposely losing to dodge an opponent in a competition bracket. Overall, the intention behind forbidding match throwing is to provide a consistent minimum level of competitiveness and entertainment throughout the Rainbow Six Circuit.

Decision

Whilst we understand that Cyclops acted in order to gain the best position in the Stage, their decision to throw the match against QConfirm is strictly and explicitly against the intention of the rule as stated in the rulebook: "To provide a consistent minimum level of competitiveness and entertainment".

Consequently, it has been decided to issue a 6-month-long suspension against XQQ for being responsible for the team's decision making, effective immediately and until 20/05/2021, and to issue a competitive fine of USD $5,000 against Cyclops Athlete Gaming.
Original Article:
Having coached Cyclops Athlete Gaming (CAG) for nearly two years, Hibiki "XQQ" Motoyama has now left the Japanese champions following the conclusion of the 2020 APAC North season.
His departure comes in the wake of a grey-area admission from him that his team had purposely lost its final-day game against Qconfirm in order to secure a better seed for the APAC North Six November Major. The confirmed loss not only gave the team a confirmed top-two seeding for the Major, but also gave the team a direct semi-finals berth (over a potential quarter-finals berth) and better chances at qualification for the Six Invitational 2021.
Now, XQQ moves on to coach JUPITER in Valorant, possibly marking an end to his Rainbow Six competitive career.
XQQ stated, however, that his departure had been lined up for a while and that the APAC North incident had nothing to do with his decision.
The unique situation came about thanks to the APAC North Division's use of the Buccholz scoring system in conjunction with a Swiss tournament system. As such, teams did not score points only based on games won, but also based upon who they beat. For example, a win against league leaders Giants Gaming would net a team more points than a win over bottom-placed SCARZ.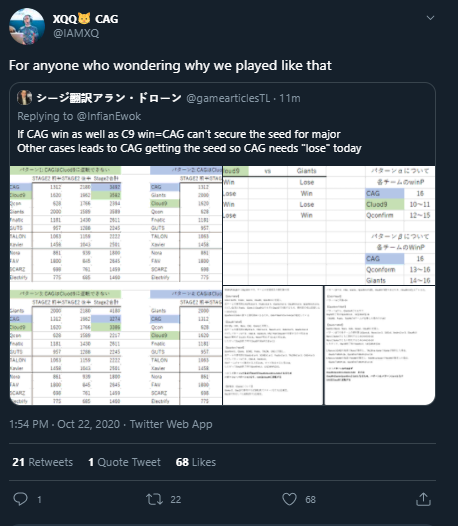 As such, the situation was that CAG stood to lose a potential second place finish in Stage 2 of the APAC North Division, which could have excluded the team from being able to skip the quarter-finals stage of the November Major.
As such, in order to secure a better placement with all other results out of the picture, the safest decision for CAG was to lose against Qconfirm.
While a commonplace activity in other esports and even physical sports that involve such systems, the issue arose after XQQ had admitted on Twitter that his team had purposely thrown the game.
According to Ubisoft competitive rules, such an offence involves a minimum of a US$2,000 fine and a six-month suspension from the competition, with a maximum of a US$5,000 fine and a 12-month suspension. However, many professional figures in the community lent support to CAG's decision, stating that a team should not have had to lose in order to gain a legal advantage.
Ubisoft has currently not released a statement or ruling on the incident.
During his time with CAG, XQQ had helped the team to great success. The team had made it to the Six Major Raleigh after a strong APAC campaign, had finished top of the Pro League in Season 10 and 11, and had been crowned as Japanese champions twice.
His departure ahead of the Six Major November puts CAG in a slightly tough position when it comes to preparation for their potential opponents and it is unclear if CAG will be looking for a new head coach immediately.