The Regular Phases in both the Brasileirão and Mexicano are over, and this just means one thing: the LATAM "mini-majors" are back. After a year full of problems, these new tournaments have been Ubisoft's answer to fight back against COVID-19.
Despite these tournaments offering some big fights, we will not see a Mexican team playing against a Brazilian roster, which was one of the purposes of the new system and the introduction of the Copa Élite Six, which was going to be held in Brazil.
Nevertheless, the mini-majors are a great new format to survive the problems introduced by the pandemic. Let's have a look at all the teams and their regions:
Brasileirão
Just like in Stage 1, Team oNe finished in first place thanks to a draw in the last game-week coming from their immediate opposition. In that occasion, it was Liquid who lost the leadership after drawing against FaZe Clan; now, it was NiP's turn as they lost two crucial points against INTZ. This means that Team oNe will be facing MIBR in the first game, instead of playing against Team Liquid, who will be NiP's opposition.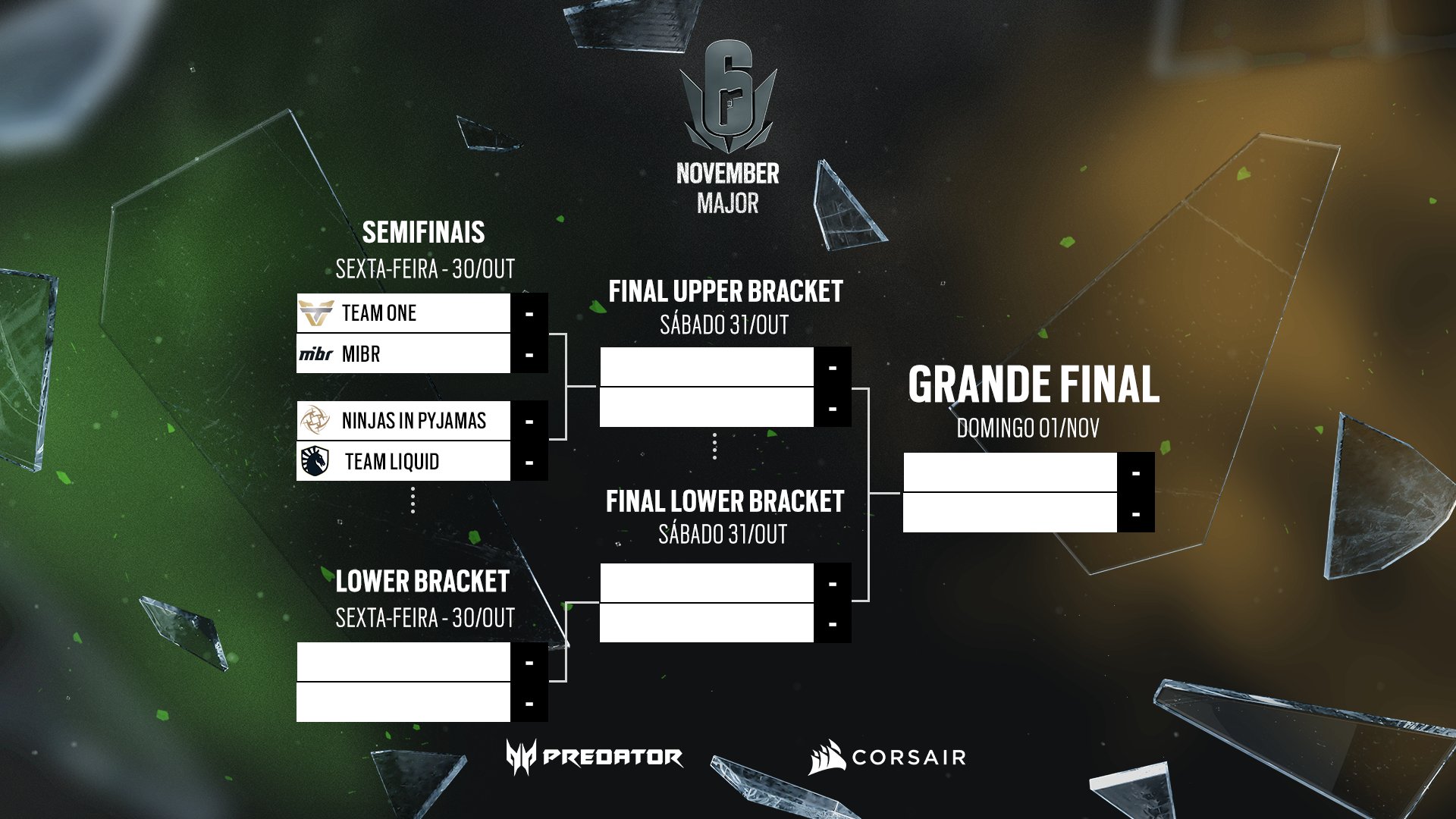 The November mini-major will be very similar to the one played in August, as the only difference is that MIBR qualified instead of FaZe Clan. After mav's departure, the latter has only earned eight points which made them end up in fifth place just behind MIBR. Despite this bad result, their good performance during the Stage 1, which gave them 390 SI Points.
However, if we look at the top, we clearly see three main candidates to win the title, and these are Team oNe (35 points), Ninjas in Pyjamas (34), and Team Liquid (32). Despite finishing in second place, NiP are the favorites to win the tournament as they have ended the Regular Phase as the only unbeaten team with 10 wins and eight draws.
This means that Ninjas in Pyjamas last loss came against FaZe Clan on the 14th of April, 2020, back when ESL was still in control of the LATAM region. It is also important to remember that NiP are the current Six Invitational finalists and that they only dropped one map in the previous mini-major. As such, this roster -- led by muzi, who finished as the best rated player of the August Major with a 1.4 rating and the third best of the Brasileirao with 1.19 -- is considered to be the current best Brazilian team in the scene.
Nevertheless, let's not forget that Team oNe are the Regular Phase champions. This team also surprised in Stage 1, as they also ended in first place after a Liquid draw in the last game-week. Considered to be a very stable roster, Team oNe's start to Stage 2 wasn't the greatest, as they only earned five points from a possible 12, and lost heavily against NiP (7-3, 7-1). Their draw against Santos was the final straw for them, it seems, though.
Then, the team's mindset suddenly changed and they won four consecutive games by 2-0 margins against some of the toughest teams in the league -- INTZ, Team Liquid, MIBR and Black Dragons. Despite losing the last game against FURIA, who were playing to avoid relegations, NiP's unexpected draw against INTZ crowned Team oNe as the Regular Phase champions.
The hard breacher of this team, Faallz, was once again the best player in Team oNe's roster -- with a rating of 1.14, an entry stat of +14, and 15 plants under his name. FelipoX and Rappz usually played with Zofia and Ash, ending with the second-best and best ratings of the team, 1.1 and 1.09. In fourth place we find LuKid, who is the second player with more clutches under his name at six. In last place we find reduct, with a 0.92.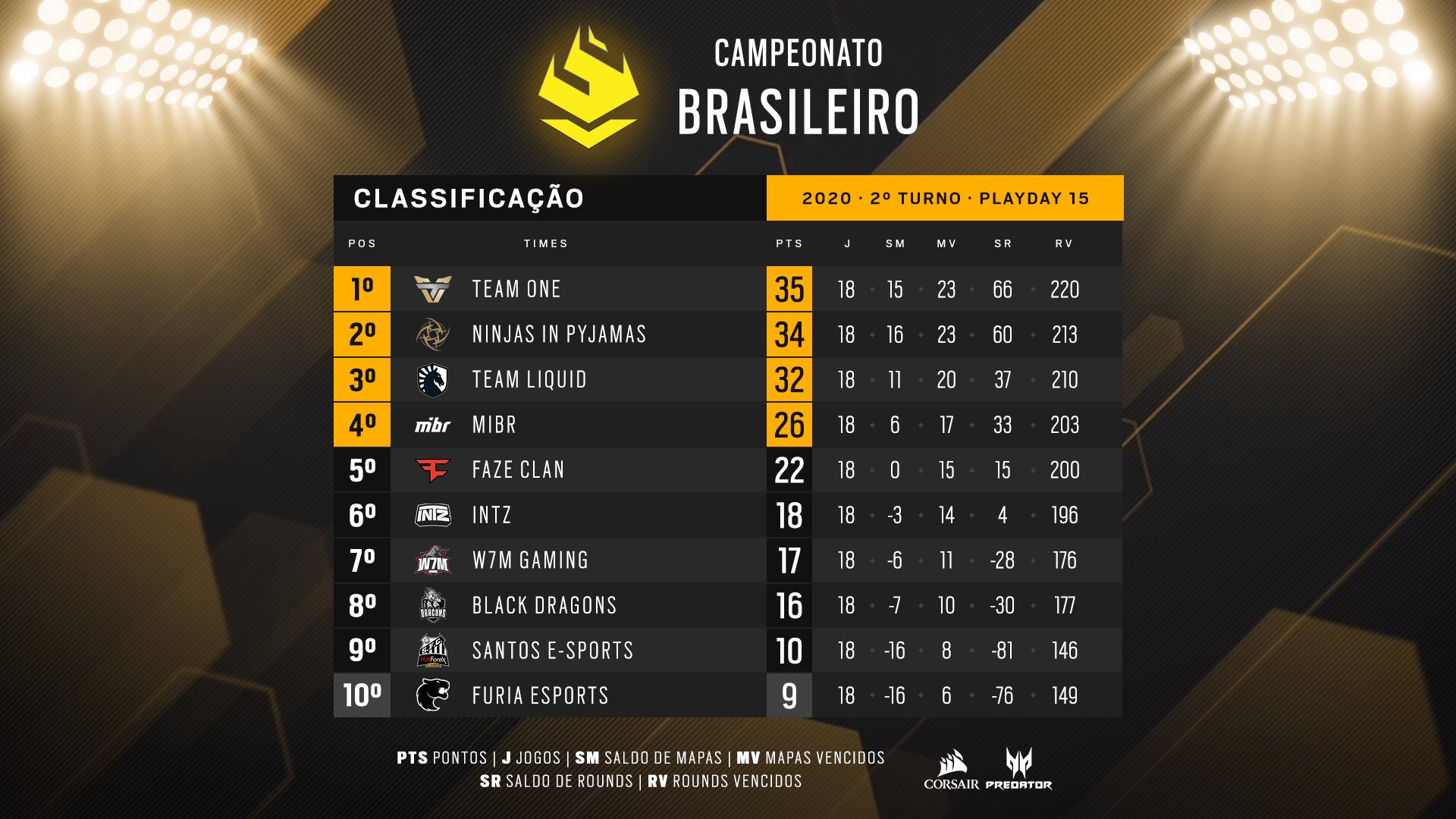 The fans now expect them to do better than in the previous Major, as they ended in fourth place despite their great results during the Regular Phase. They have a second chance now, as they will face MIBR in the first game of the tournament.
In third place we find Team Liquid. Their end to the league has not been the greatest. Despite showing off some great Siege against some of the medium-low opposition, the truth is that Team Liquid lost all their games against top-four teams. The first one was a very close loss against NiP (6-6, 5-7) back in September.
On the other hand, their two matches against Team oNe and MIBR were all played in Week 4, and both ended in heavy 2-0 losses that included a 7-0 against Team oNe in Consulate and a 7-1 against MIBR in Oregon. In fact, Team Liquid's only win against a current Top 4 team came in Stage 1, a 2-0 against MiBR, a team that ended in fifth place back then.
Despite these results, we can not simply forget about Team Liquid's power in the LATAM scene, both historically and recently. Internationally, they are the best team in the country, as they are the only Brazilian team to have won an international tournament. They are also the current winners of the Brasileirão, and they look forward to win it again in December.
The roster also counts with Paluh, who ended as the best rated player of the Regular Phase (1.21). With one of the best KOST percentages (74%) and the best entry numbers in the league (+18), Paluh will try to make Liquid great again. Surely their performance also depends on s3xyCake getting better numbers, as he ended as the worst rated player from the top-four teams, despite finishing with 15 plants.
Then we have MIBR, who really took advantage of FaZe Clan's drop. The team started the Stage 2 with a solid win against FaZe Clan (7-1, 7-4), which was followed by another 2-0 win against Santos and a 1-1 draw against NiP, after beating the Six Invitational finalists by 7-0 in Oregon.
Although Week 8 was very negative as they conceded two 2-0 losses, their 2-0 win against Liquid was crucial and gave them the chance to depend on themselves in Week 10. After winning 2-0 against W7M just before FaZe's game against Liquid, though, MIBR locked the desired fourth place.
If we think about the Six Invitational and how this mini-major is going to affect the standings, Ninjas in Pyjamas are already confirmed in the Top 16 in the Global Standings, while Team Liquid and Team oNe are very likely to follow them. Then we have FaZe Clan, who won't be playing, but their 570 points may be enough to make it, while MIBR with 455 points will be looking to at least win a game to end at least over the 500 points mark.
Mexicano
We spoke about Estral recently. To know more about the Mexican line up and what the team could mean for the Mexican region, click here.
Mexico is still a very unknown region for some, but the truth is that there is a line up that could break in the international scene pretty soon. We are talking about Estral, a team whose main line up is yet to lose a game at the Campeonato Mexicano since its start back in June.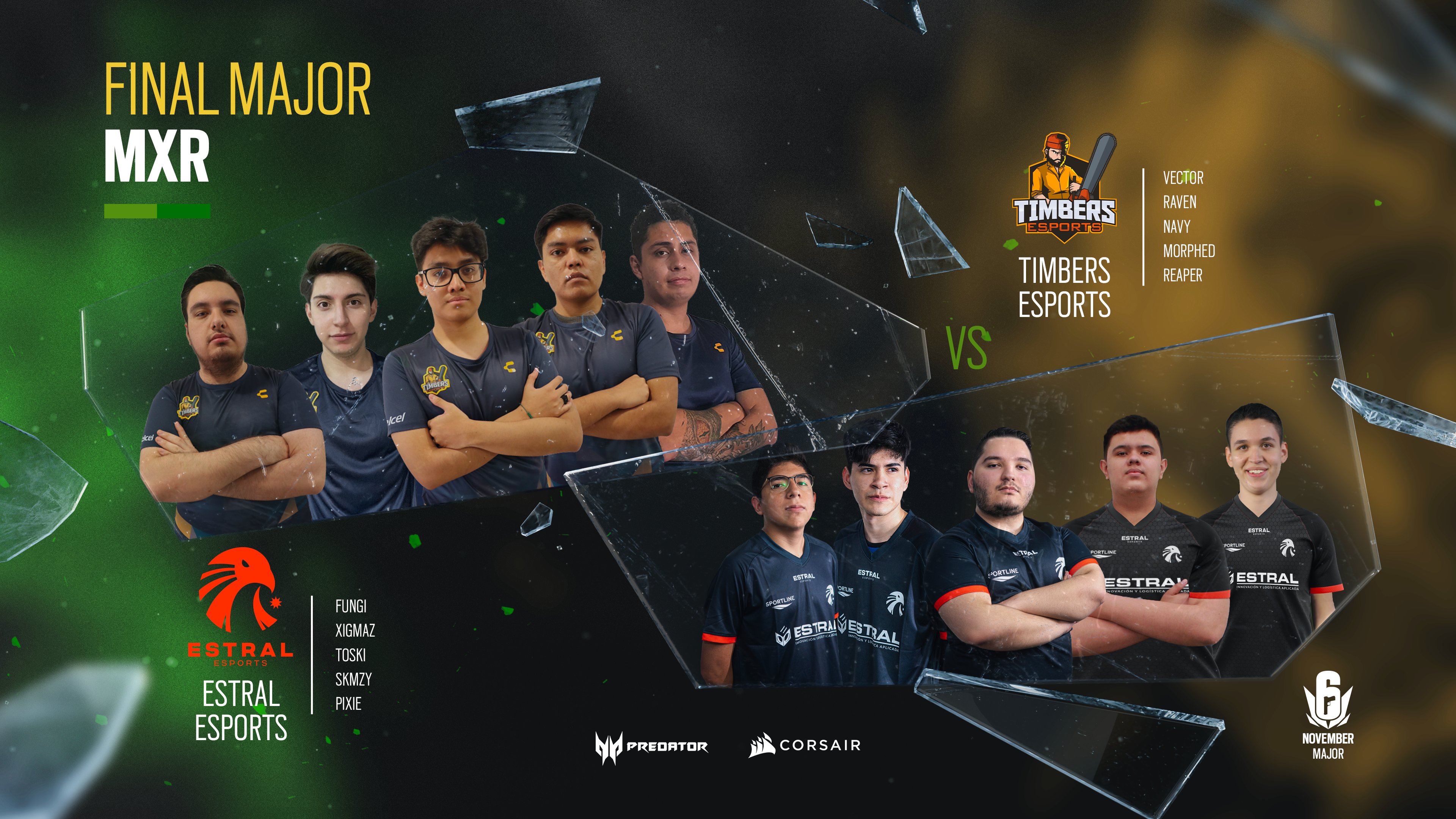 Estral's squad has been improving since the very beginning and, after a very solid Stage 1 and winning the "mini-major" against Timbers Esports (3-1), the Mexican team demolished their opponents in Stage 2 as they won all of them by 2-0 scorelines. Infinity Academy was the only exception, as Estral had to play with their coach and their analyst, and the game ended in a 2-0 loss without their IGL Toski and SkMzY. This means that their main line up is still to be beaten.
Just like in the first mini-major, Estral's opponent will be Timbers Esports. After a tough start to Stage 2, where they lost 2-0 against Estral and tied against both Chivas and Atheris, Timbers got three consecutive wins that restored their second place. Their only loss during Stage 2 was against Toski's team.
As such, Estral are the clear favourites. The Mexican team ended 10 points above second place, which could be even more if they played the last match of the season with their first lineup. Their unbeaten status, their stats -- four players in the Top 5, with their support Fungi the only one out -- and them being the only Mexican team with options to make it to the next Six Invitational put this roster in the best spot possible.
Estral Esports' squad is built upon XigmaZ, P1XIE, SkMzY, Fungi, and Toski. XigmaZ is the fragger of the team, as he is the player with the most kills (113 in 12 maps), the best K-D (+53) and the best rating (1.44). He is closely followed by P1XIE, who has the highest KOST in the league (79%). SkMzY and Toski are the next, with ratings of 1.24 and 1.20 respectively. Then we find Fungi as the team's support; despite his numbers regarding kills (a -9 KD and 0.49 KPR) the Thermite main is one of the key players in the roster.
If Estral wins the mini-major they would get 225 SI Points, which would make a total of 450. This could be enough to see them in the next Invitational, which would be historical as they would be the first Mexican team to play in an international tournament.
---
Keep an eye out here at SiegeGG for more coverage about the Six November Major, in Latin America and beyond.