Formerly known as the Pilot Programme for its first two phases, the now-rebranded R6 SHARE programme has announced its third phase with 42 new operator uniforms, skins, and charms.
Aimed to share the revenue gained by selling the operator uniforms, skins, and charms with organisations, the R6 SHARE will feature a three-tiered system based on organisations' involvement and commitment to the scene. Furthermore, the programme is set to run until March 1st 2024.
In a "qualitative" and "in-depth" selection process done with the aid of a third-party, each of the organisations in the main leagues for each region, i.e. United States, Europe, Brazil, and APAC North have made it in, alongside Elevate and Pittsburgh Knights from Oceania.
These 42 organisations will be assessed every three months and compared against other organisations in their tier using the following criteria: performance of in-game items, match viewership, player support, and Rainbow Six-related communications.
Organisations will be promoted and demoted to different tiers annually based on their contributions to the Rainbow Six ecosystem, with each tier given different levels of support from Ubisoft according to the tiers. The organisations will also be given different amounts of additional shared revenue on top of the 30% baseline to the organisations and 30% to the players and staff, depending on the tier.
What's more, for every regional league set sold, 30% of the revenue will be split four-ways between the Performance Pool and each of the three tiers. Each Six Major from the November Major will see an additional operator bundle produced, with 30% of the net revenue from these items going to the corresponding Six Major prize pool.
The 42 teams are distributed across the three tiers as follows.
Tier 1 (10 Organisations)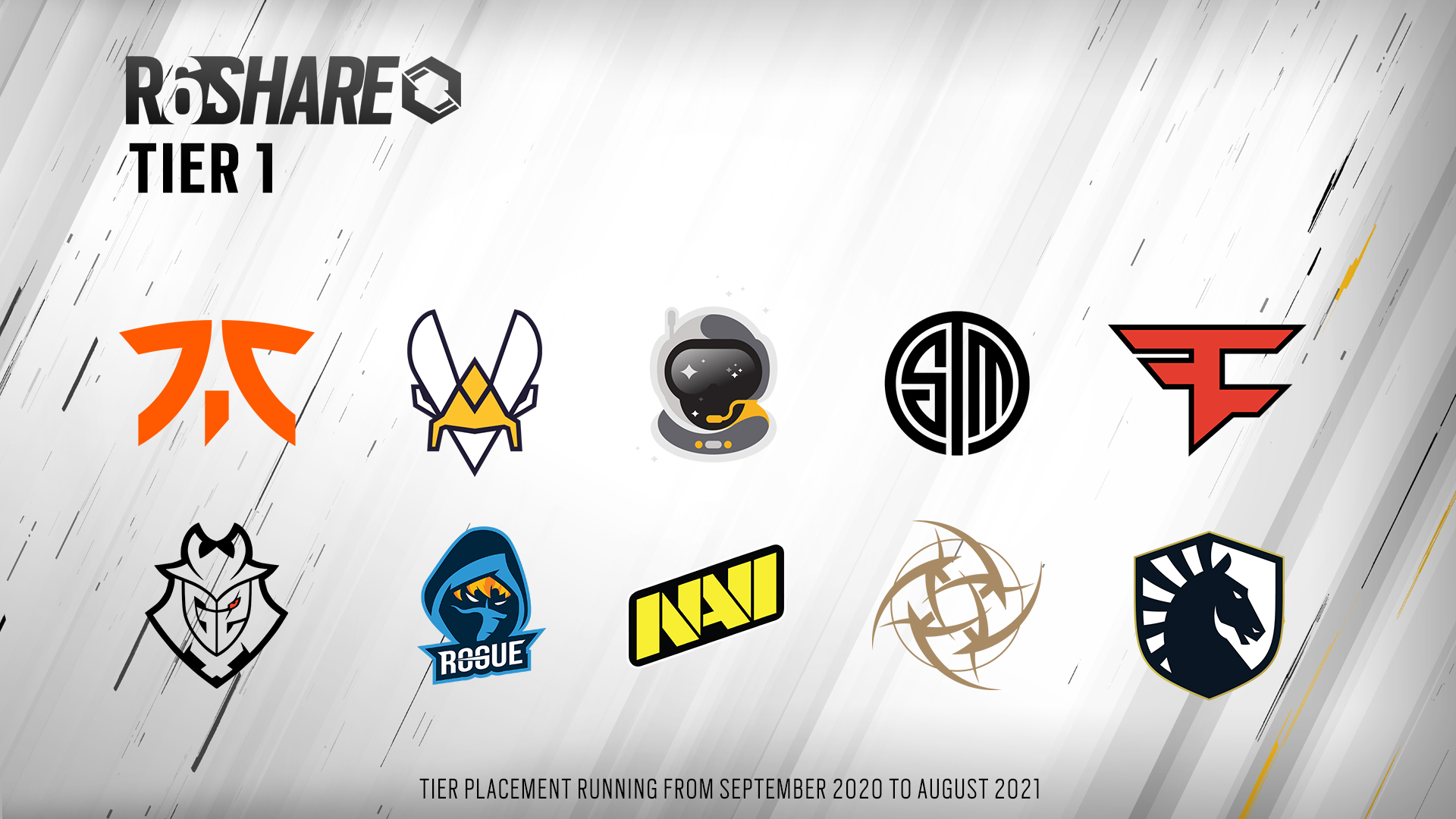 The Tier 1 organisations will be receiving an operator headgear, uniform, corresponding weapon skin, and charm. A bundle of all four will go for 1680 R6 Credits, with each individual item costing 600, 720, 300, and 480 R6 Credits, respectively.
Each Tier 1 item and bundle will launch on September 22nd, 6 PM UTC.
Fnatic - G36C, Iana
Spacestation Gaming - Scorpion Evo, Ela
TSM - M762, Zofia
FaZe Clan - TCSG-12, Goyo
Ninjas in Pyjamas - 556XI, Thermite
Team Liquid - L85A1, Sledge
G2 Esports - 415-C, Jäger
Natus Vincere - P10 Roni, Mozzie
Team Vitality - MPX, Valkyrie
Rogue - DP-28, Tachanka (Note: DP-28 skin will only release with Tachanka rework, bundle will be discounted at first)
Tier 2 (15 Organisations)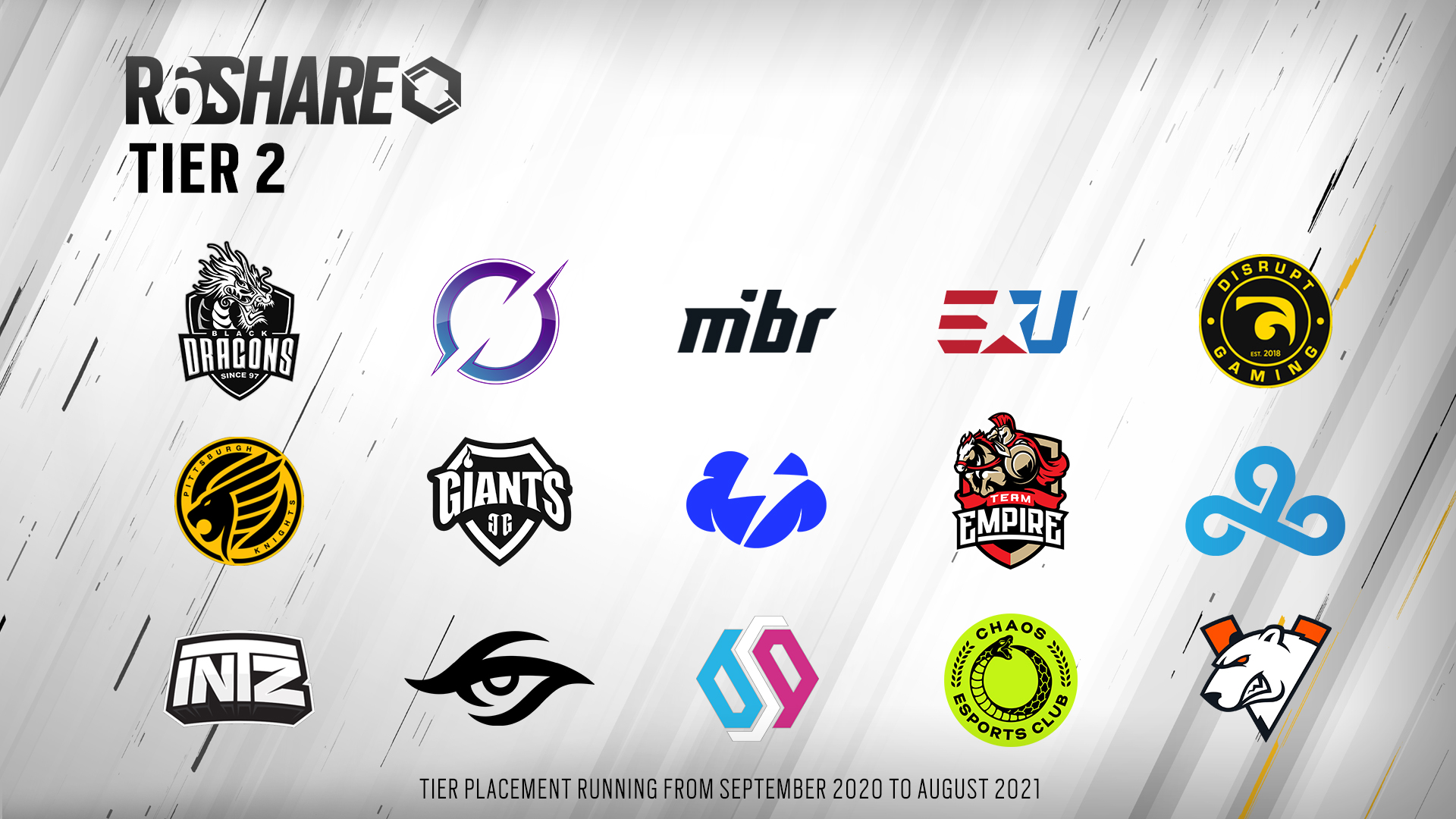 The Tier 2 organisations will be receiving a branded weapon skin and a charm.
Disrupt Gaming
Tempo Storm
eUnited
DarkZero
Black Dragons
MIBR
INTZ e-Sports
Team Secret
Chaos Esports Club
Virtus.pro
Team Empire
BDS Esport
Cloud9
Giants Gaming
Pittsburgh Knights
Tier 3 (17 Organisations)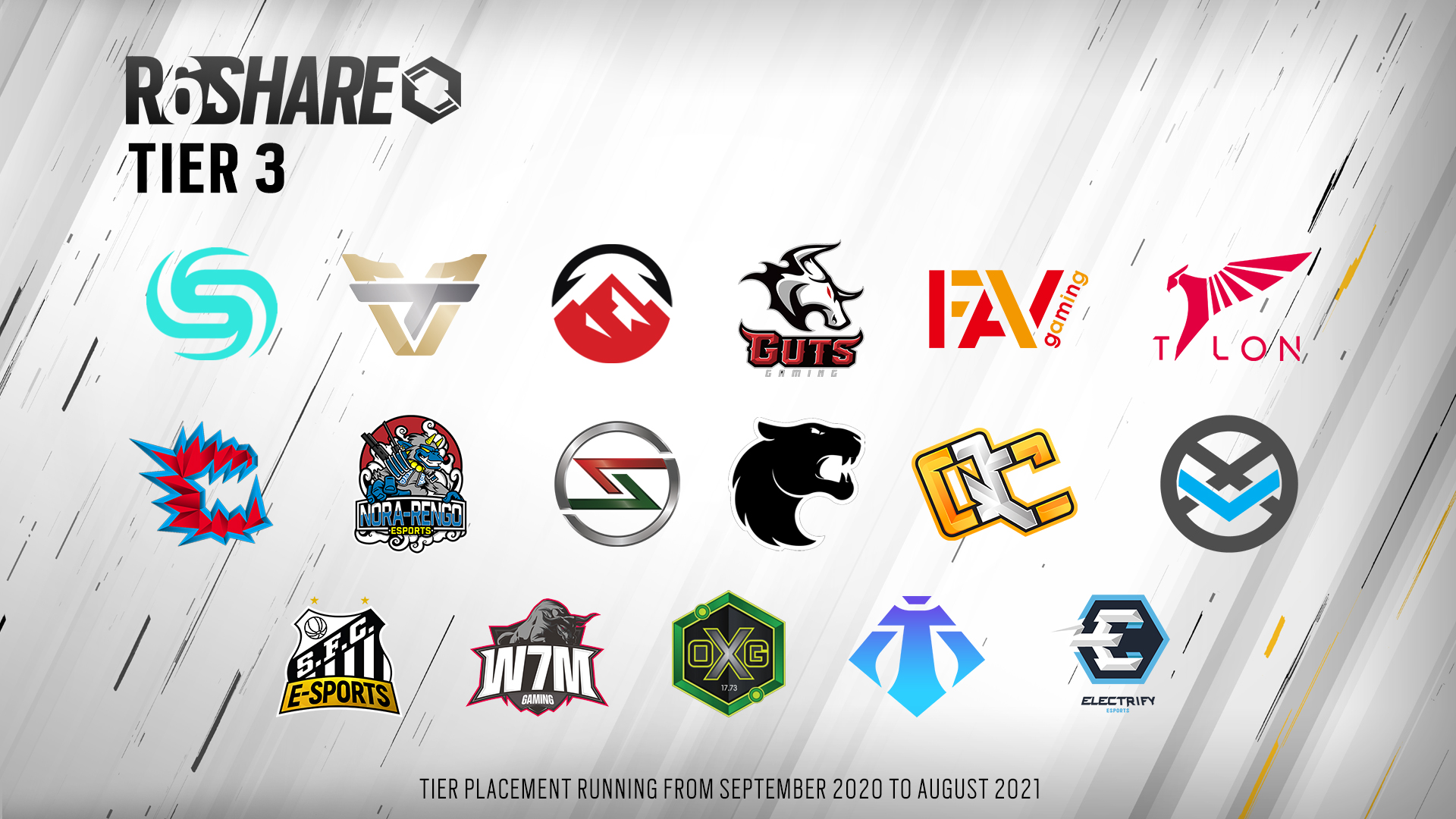 The Tier 3 organisations, meanwhile, will just be receiving a branded weapon skin.
Susquehanna Soniqs
Team oNe
Elevate
GUTS Gaming
FAV Gaming
Talon Esports
SCARZ
FURIA
Cyclops Athlete Gaming
Nora-Rengo
Qconfirm
Xavier Esports
Santos
W7M
Oxygen Esports
Tempra Esports
Electrify Esports
Information about the costs and releases for the Tier 2 and 3 organisation items is yet to come.
---
For more regarding Rainbow Six esports and the R6 SHARE program, check back here at SiegeGG and follow us on Twitter.