Major Circuit, regional, and national tournaments will all take place over the next few months as teams all around the region aim to earn some silverware. At the same time, the top teams will prepare for November Major, December European Finals, and January's Six Invitational qualifiers.
Jump to:
European League
Stage two will see the same format, talent and schedule as stage one kicking off on September 21st. The only changes come with the teams taking part:
Rogue -- AceeZ, Korey, Ripz, karzheka, LeonGids, Rousty (coach), and Rcuth (coach)
BDS Esport -- Shaiiko, Renshiro, RaFaLe, Elemzje, BriD, and eaglemees (analyst)
G2 Esports -- Pengu, Kantoraketti, UUNO, CTZN, Virtue, Shas (coach) and Sua (coach)
Virtus.pro -- wTg, Rask, Shockwave, p4sh4, m1loN, Toda (coach), and Andreezy (analyst)
Natus Vincere -- Kendrew, Saves, Doki, Blurr, Joe, jahk (coach), and DraZ (coach)
Team Vitality -- Fabian, BiBoo, Risze, Goga, Hungry, Lyloun (coach) and Helbee (coach)
Tempra Esports -- Chaoxys, P4, Dirza, Shiinka, Voy, and MrBox (analyst)
Team Empire -- ShepparD, JoyStiCK, Scyther, Dan, Always, and RayzerGM (coach)
Team Secret -- Drvn, Prano, Hife, SHA77E, Pacbull, Lazzo (coach), Omerta (coach), and Titan (analyst)
Chaos Esports Club -- Renuilz, VITO, cryn, Next1, Secretly, Hyperino (coach), and Fresh (analyst)
Natus Vincere, Chaos Esports, and Team Secret made the biggest changes, with all three lineups swapping out two players. Chaos brought on two of their previous players of Rickard "Secretly" Olofsson and Arif "Next1" Keskin to the team in the hopes of escaping the relegation zone they find themselves sitting in after they secured just five points during Stage 1.
Na'Vi, meanwhile, picked up the two British national players of Joe "Joe" Crowther and Byron "Blurr" Murray -- another former player -- as they hope to jump from fifth into a Major qualifying position during Stage 2. Finally, Secret released the brothers of KS and Exp0 to bring in the ex-Chaos player of Ville "SHA77E" Palola and the ex-DIVIZON and CR4ZY player of Peter "pacbull" Bull.
Na'Vi's manager of Yaroslav "N1ghtEnd" Klochko had this to say about the changes:
We don't have that many opportunities to qualify for the Six Invitational this year. The team doesn't want to miss the World Championship and decided to take certain risks: in the off-season we have agreed that Saves, Kendrew, and Doki have sufficient experience, they share the club's philosophy and values and are ready to share them with the new players.

Thus, when selecting players for vacant positions, we primarily gave our preference to young talents who have little experience in performing at a serious level but are very eager for major victories.

One of these newcomers is Blurr. We have nothing but positive experience from working with him in the last season of the Pro League. I am happy to welcome Byron among the Born to Win, however, this time on a permanent basis!

Joe came to our attention back when we were not even thinking about the reshuffle. The coaches and I kept noting his daring and at times naive playstyle. But most importantly, he acts confidently without overthinking. Not all the players who have extensive experience of playing at a high level have such features.
Team Secret, on the other hand, released two videos to introduce their new players, with SHA77E's here and pacbull's below:
---
Regional Major
The top four teams during the EU League season will compete in a Regional Major tournament from November 6-8th, with the prize pool split as follows:
1st place at the Six Major: $62,500 and 510 SI Points
2nd place at the Six Major: $31,250 and 390 SI Points
3rd place at the Six Major: $18,750 and 330 SI Points
4th place at the Six Major: $12,500 and 275 SI Points
The Stage 1 results mean these teams above go into the tournament with the following Six Invitational points, with BDS and Rogue both likely having secured their spots at the 2021 event already:
510 Points -- BDS Esport
390 Points -- G2 Esports
330 Points -- Virtus.pro
275 Points -- Rogue
225 Points -- Natus Vincere
180 Points -- Team Vitality
140 Points -- Tempra Esports
115 Points -- Team Empire
Finally, the prize pool for the stage itself was also announced, with the teams competing for a total of €50,000, with the victor taking home €15,000 down to €2,000 for eighth place.
Challenger League
The best second-tier teams across nine national leagues will compete in this season's Challenger League, alongside the two top teams from last season, and one team from the open qualifier:
PENTA -- ENEMY, RevaN, BlaZ, Kaktus, Alive, and BiOs (coach)

LowLandLions -- Leonski, Avaiche, Deapek, Sternab (coach), and Phenomene (analyst)

Winstrike Team -- SmashByAsh, Akimov, flaers0, eXoduSS, rush, and VIKING (coach)

Sector One -- MXKX, SE7EN, BaasheD, Duco, ProphetKing (coach), Ghostie (coach), and Okidokie98 (analyst)

MACKO Esports -- j3n4, SirBoss, Keenan, Alation, T3b, Ade, RRock, and Px7 (their three coaches)

Team Heretics -- Kuriboh, baroz, sakke, JuK4, and Noel (coach)

BeKind -- Legendz, Riverz, Zydenn, Wallkero, Arth, Pink-Angel (coach), and AlphaX (analyst)

DIVIZON -- Kapkan, TBD, TBD, TBD, and TBD

MnM Gaming -- dats, Fonkers, Jonka, Nathan, Yuzus, and Sparxo (coach)

Izako Boars -- Ryba, Royal, Foster, AueR, and Mekses

Granit Gaming -- Eastwood, Oscr, Badger, M4DMAN, and JTc

Open Qualifier -- TBD on September 23rd
While we have never seen most of these teams face each other before, the likely favourites for this season are last season's leaders of LowLandLions and PENTA, alongside both MnM and Heretics as all of them have beaten European League teams a number of times.
Both MnM and Heretics have, however, been rocked by changes over the last few weeks, with MnM losing one of their star players of Blurr to Na'Vi (picking up Josh "Yuzus" Pritchard to replace him) while Heretics kicked their newest player of David "p0Lo" Gómez Urrea, with his replacement currently unconfirmed.
This also followed the disbanding of one of the league favourites, DIVIZON, after the competitive ban of Benedikt "Shermi" Rostok following a match-fixing attempt he insists was just a joke, the exit of pacbull to Secret, and the reported exit of a third player to another EUL contender.
Sector One and Winstrike Team, meanwhile, were two of the first teams to qualify for this season and have made a number of roster changes since.
Both Dmitry "Always" Mitrahovich and "m1loN" were poached from the Winstrike lineup by European League teams, forcing them to now find a replacement in Alexander "rush" Rusiev. Meanwhile, Sector One kicked Marco "MXKX" Varas, only to bring him back to replace their team captain of Rehan "WishMaster" Ahmed.
Next up we have MACKO Esports (the ex-Samsung Morning Stars roster) and BeKind, with the former roster having surprised many by defeating the six-time Italian champions of Mkers only to kick their two ex-Mkers roster members of Davide "Fratelli" Federico and Michael "Hunter" Arfanotti for Simone "Alation" Gelsi -- another ex-Mkers player -- and Edoardo "T3b" Treglia.
BeKind, meanwhile, join the tournament having been the top applicable 6 French League lineup despite winning just one of their seven games, which has put their ability to compete at this level in question -- something they'll be eager to prove isn't an issue.
The final two teams to have qualified are the Nordic and Polish representatives of Granit Gaming and Izako Boars. Unlike all of the previous cases, neither of these teams have made changes to their starting lineup since qualifying possibly putting them in a surprisingly good position going forward. Granit has already taken Chaos EC to three maps during the Nordic Finals, while Izako includes the ex-CL player of Bartek "AueR" Hajma and the most consistent Polish player of Maksymilian "Mekses" Borkowski.
These 11 teams will be joined by one remaining lineup from the Closed Qualifiers and then divided into two groups of six teams each. Similar to the top-flight league, each group will play each other once in a round-robin, Best-of-One map format, with the top four teams (top two in each group) advancing on to the Challenger League Playoffs. Here, these four will fight it out to become one of the two teams headed to the Relegations Playoffs at the Regional Finals in December.
The games will presumably be cast on the main rainbow6 Twitch account among others by national casters such as the UKIN talent, however this has yet to be confirmed of yet.
National Scenes
While a number of national tournaments came to an end recently in the leadup to the Challenger League season here's what action is happening over the next three months in each national scene starting in Europe.
UKIN (The United Kingdom & Ireland)
Coming up will be the UKIN Second Division, which unveiled its qualification system during the UKIN Finals ahead of its kick-off on November fifth. The winners of a number of lower-tier tournaments will fill up four spots to be joined by four open qualifier teams and the two relegated teams from the just-completed main league.
The tournaments in question are the NSE and The NUEL University tournaments, which kicked off their Winter terms as Universities begin their year, the epic.LAN event which is an online tournament running from the eighth to 11th of October and the BELONG Arena tournaments which has a currently unconfirmed date. The open qualifier, meanwhile, will be run on the 17th and 18th of October.
These 10 teams will compete across five weeks with two playdays per week. The top four qualifies for the playoffs with the top two in these automatically being promoted to the UKIN 2021 league. The Esports Marketing Manager at Ubisoft UK had this comment to say about the new format:
We are really looking forward to the new program kicking off and giving aspiring professional esports teams a chance to qualifying for the UK Ireland Nationals. I wish all the teams good luck!
Spain
Following the conclusion of the Spain Nationals season, a 2020 Drone Cup season was announced with further details revealed last week. The tournament invites the top eight teams in the nation, including the five remaining teams from last season's Spain Nationals.
They will be joined by the finalists of four open qualifiers which kick off on October 8th to form a 16 team tournament to fight for the €14,000 prize pool. The top placed team which isn't already competing in the Spain Nationals will be automatically promoted to season three of the tournament meaning this effectively acts as a national B-league.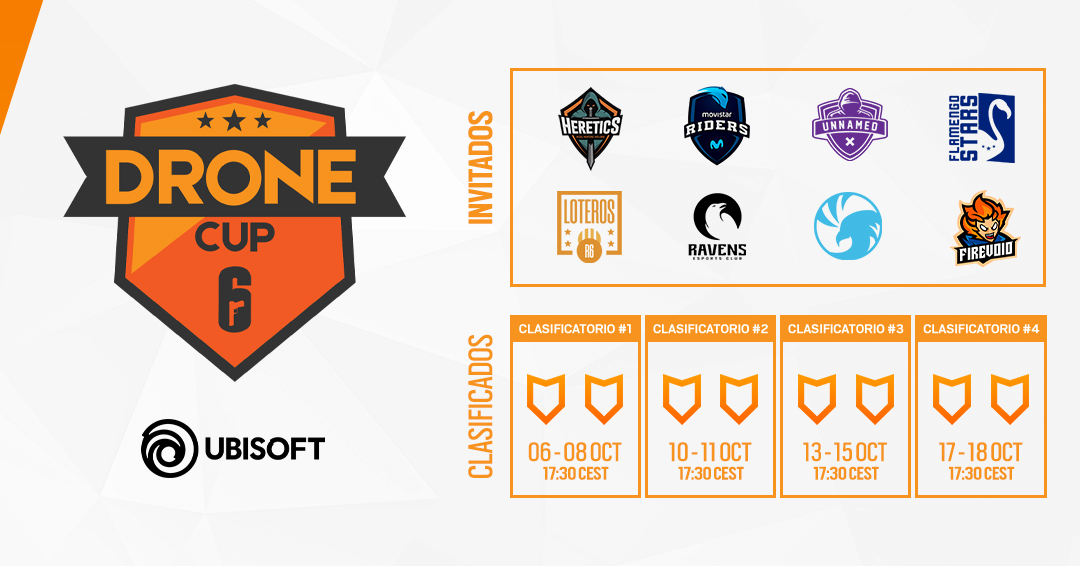 France
The ongoing 6 French League season will continue up until October 22nd, the date of the final play day. Following this, there will be a presumably online final including the top four teams -- likely to be BDS, Vitality, Tempra, and PENTA -- where the €30,000 prize pool will be doled out. With the reigning 6 French League champions of Rogue competing in the GSA League instead, all four teams will be eager to gain the title, with BDS the clear favourites to do so.
Benelux (Belgium, the Netherlands & Luxembourg)
The next few months will see a number of Benelux tournaments take place, with the JBL Cup recently finishing last weekend. Coming up on October 28th will now be the Benelux Cup which will invite four Benelux League teams and the JBL Cup victor alongside three qualified teams, to compete in two initial double-elimination groups before a single-elimination Finals in November. The top four teams will share a total of €8,000, with another €2,000 on offer in the fair play pool. Full details can be found here.
GSA (Germany, Switzerland & Austria)
As well as the GSA League itself, the €2,000 Ascension League also recently ended, which acts as a secondary league to the GSA. With this done the GSA Playoffs will take place soon between Turtle eSports and mYinsanity from the GSA League and WhiteTigerZ -- a Turkish majority roster -- and WeSports from the AL.
As well as this, the Ascension League itself also has a secondary league, "Division 2", with the relegations to get into the first division coming up with a currently unconfirmed date. These relegations will include eight teams -- four from each division -- including the Aquila roster best known for its second-place finish at the Six Lounge Series #6 Finals over two years ago and the Playing Ducks organisation, which used to hold a Pro League roster for four seasons and will soon compete in the CL Closed Qualifiers this week.
The top four out of these eight will qualify for the 2021 Ascension League first division.
Finally, also ran are a number of King of the Hill cups which effectively acts as an entry-level tier four tournament. You can read more about them here.
Italy
The PG Nationals Promotion Tournament kicked off on September 5 and saw the lineups of "PORCHETTA E BIRRA REVENGE" and "Centrale del Latte di Roma" qualify for the double-elimination relegation tournament against Notorious Legion and Outplayed. The winner of these matches taking place from Thursday to Sunday will qualify for the Winter 2020 PGN season.
Nordic (Denmark, Sweden, Finland, Norway and Iceland)
With the conclusion of the Nordic Championship season, there are no currently confirmed tournaments for the region at this point.
Poland
Once again, following the conclusion of the Polish Masters, there's no currently confirmed upcoming tournaments in the region.
MENA (the Middle East & North Africa)
While not a part of the European region currently, this sub-region has seen a lot of activity with the MENA Nationals currently ongoing. This tournament is currently halfway through with NASR Esports currently the standout roster so far.
Following the next three play days, the top four teams will progress to the single-elimination grand-finals on October 16th where they will fight for a $36,000 prize pool, making this the largest sub-regional tournament in this regard currently ongoing in this wider region.
Russia
Finally, we have Russia which kicked off the fifth season of the Russian Major League this week following qualifiers earlier this month. Virtus.pro, Team Empire, and Winstrike Team will all be competing as the three Russian lineups all aim to take the title of national champions and win the biggest share of the $13,600 prize pool.
Like previous seasons, the tournament sees a double round-robin Best-of-One map format, with the top four teams progressing onwards to the double-elimination Finals in November.
---
Keep track of these tournaments here at SiegeGG with news and stats coverage over the next month.