Thanks to COVID-19, the Six Major set to be held in the United States can't go on. But, in its place, there will be a set of regional so-called "mini-majors", set to crown regional champions at a smaller scale.
APAC North will be the first subregion to play its mini-major, coming just two weeks after the first stage of the regular competition ended on the 4th of August. Concurrently running will be the APAC South Division's South Asia and Oceanic mini-majors, with their first games on the 6th of August.
All three majors will culminate with grand finals on the 9th of August, so here is all you need to know about the next two coming up -- the Oceanic and South Asian Six August 2020 Majors.
Jump To:
Schedule and Format
In Oceania, the top three from the Six Masters 2020 Finals will be taking part in a single-elimination tournament, with the top seed -- Wildcard Gaming -- getting a bye straight into the grand final. The sole semi-final will be a Best-of-Three (Bo3), while the grand final will be a Best-of-Five (Bo5).
Over in South Asia, the top-four from the first stage of the South Asian Nationals will be taking part in a similar single-elimination tournament. The two Bo3 semi-finals will be then followed up by a Bo5 grand final, much like their Oceanic contemporaries.
The first day of play for the Oceanic and South Asian regions will be on the 6th of August, with games starting at 6 PM AEST (UTC+10) for the former and at 5 PM IST (UTC+5:30) for the latter. South Asia will then conclude its tournament on the very next day at 5 PM IST as well, while Oceanic fans will have to wait until 5 PM AEST on the 8th of August.
Prize Pool and Six Invitational Points
The prize purse of US$30,000 (A$41,900) for Oceania and the US$15,000 (₹1,125,700) will be split as follows, with Six Invitational (SI) points also awarded:
Oceania
1st place: US$15,000 (A$20,900) + 330 SI Points
2nd place: US$9,000 (A$12,600)
3rd place: US$6,000 (A$8,400)
South Asia
1st place: US$7,500 (₹563,000) + 275 SI Points
2nd place: US$3,750 (₹281,000)
3rd place: US$2,250 (₹169,000)
4th place: US $1,500 (₹113,000)
The Six Invitational Points will go towards qualification for the currently-tentative Six Invitatational 2021, with the winners of the Oceanic tournament getting 330 and the South Asian getting 275.
Teams
Oceania
Over in Oceania, there are only three teams in attendance, chosen from the top-three of the Six Masters 2020 Finals.
Wilcard Gaming
Ethan, Pat, Gio, Diesel, EmoRin, syliX (coach) and Fluxx (coach)
Headed into this tournament as the top-seed and the definite favourite to take the win, Australia's second-most successful team will be keen on making its mark following the departure of Fnatic to APAC North. A near-lossless Six Masters regular season was followed up by a playoffs run that saw the team avoid dropping even a single map and its players will be disappointed with anything less this time again.
Ōkami
JackDaddy, Cutie, Mangoz, ItBeStyle, JKR, and Centus (coach)
Coming in as the second seed, Ōkami has been going from strength to strength. The team had finished third in the Six Masters 2020 regular season, but had surprised many with a comfortable 2-0 win over a then-favoured Team SiNister. While having lost to Wildcard Gaming twice, Ōkami showed great improvement the second time around, and will be hoping that third time is the charm at this mini-major.
Pittsburgh Knights
Dino, Stryder, Hayward, Juicy, Jsh, and Pikniq (coach)
Coming in as a slight surprise, Pittsburgh Knights was not a team that was 'supposed to' be here. Having finished an incredible 12 points behind Team SiNister in the regular Six Masters 2020 season, the Knights had managed a rather comfortable 2-1 upset over them in the playoffs. With flashes of strength against even the favourites of Wildcard Gaming, the Knights will be hoping to surprise their intial opponents of Ōkami in this second attempt.
South Asia
MercenarieZ
DOC7ER, Hasib, Mii7, NINJAFREAK, Taha, M4KER, and FATAR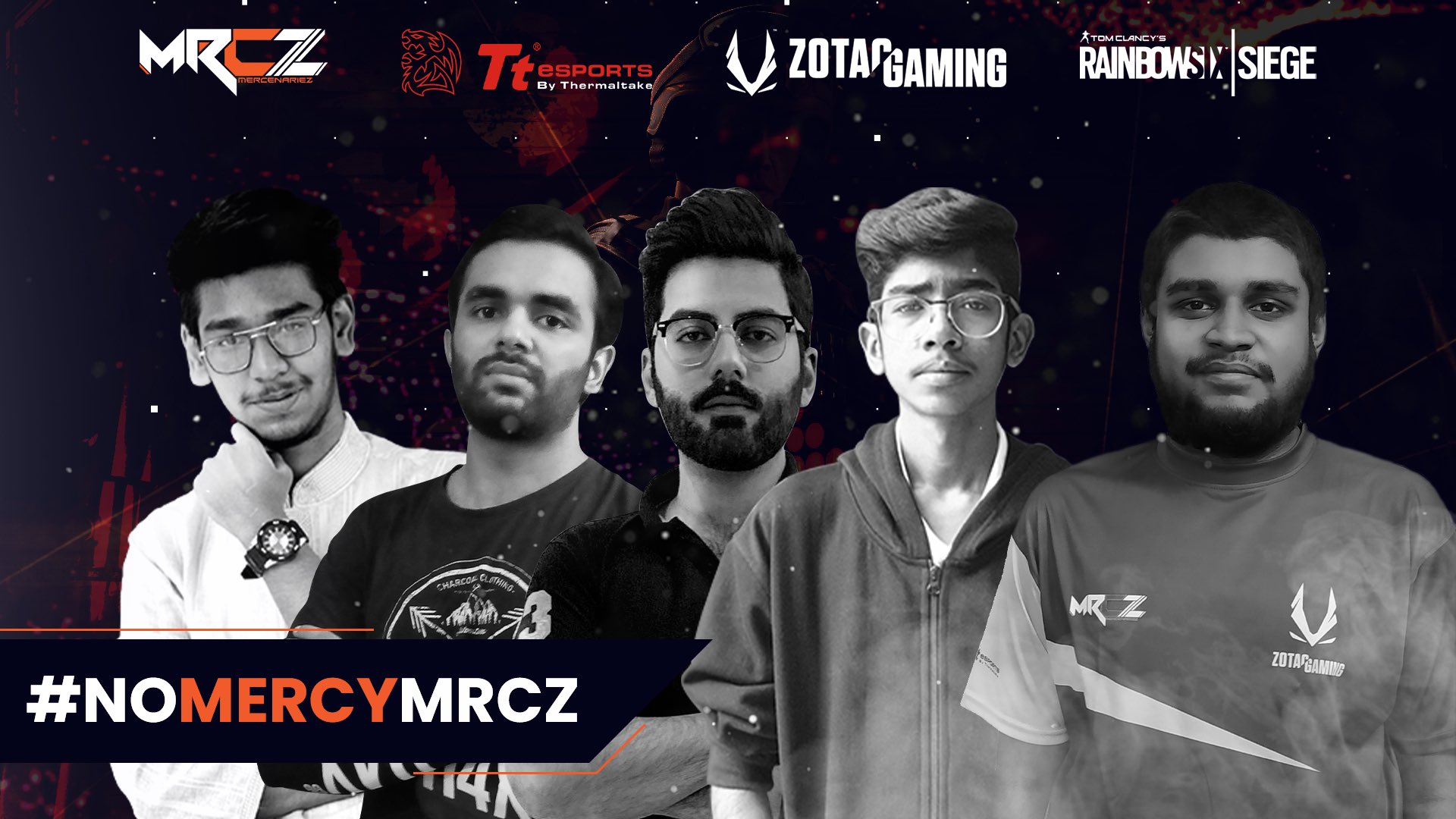 The winners of the first stage of the South Asian Nationals, MercenarieZ had only come together just before its qualifiers. The team had made it to the grand final of the South Asian Nationals without dropping a map, but had needed a stunning reverse-sweep comeback to beat Union Gaming on the backs of multiple clutches and a map advantage. Somewhat surprised to have got so far, the team will be hoping to carry on its form in this mini-major.
Union Gaming
Beat, EX7, Jittery, Poseidon, Sparko, Daggerfist, and Exterr
Union Gaming, the giants of South Asia, would have been certainly unhappy with the South Asian Nationals loss. The team had won most of the local tournaments held before the Nationals and had been a mere two rounds away on two maps from beating MercenarieZ in the grand final. Certainly still one of the favourites, Union will be hoping to beat KIRA E-Sports a second time after having lost 0-2 the first time and reaffirm its status as the best in South Asia.
KIRA E-Sports
AviM, DAFT, R4ttl3r, amarhbk, Atharv, and Khajiit
Third-seeded KIRA E-Sports come into this mini-major with little known about them, given that their games had all been played offline. However, a 2-0 victory against the eventual finalists of Union Gaming and then a 1-2 loss against them in the lower bracket speaks to this KIRA roster being not too far behind the favourites.
MonkaS
Cruzi, Firefly, Ishan, Lusty_Boi, and QB
Even less is known about MonkaS in terms of their play style, as only the grand final of the South Asian Nationals had been streamed. However, this roster did push proceedings to maximum regular time across its 0-2 loss to eventual champions MercenarieZ, but was destroyed 0-7, 1-7 against Union Gaming. More work is to be done for this team, but it is clear that there is the potential for an upset here.
Broadcast and Talent
The broadcast will be done from the brand-new Paris studio, designed for the APAC North Division and European League, with all three APAC mini-majors set to be cast from that venue. The talent, too, will be consistent with the APAC North event, with the following hosts, casters, and analysts:
Ghassan "Milosh" Finge
Will "CaptainFluke" Donaldson
Derry "Dezachu" Holt
Stijn "Hap" Hapers
Geo "Geo" Collins
---
Make sure to tune in for the games, starting tomorrow on the 6th of August at 6 PM AEST (UTC+10), as APAC sets out in search for its Asian, South Asian, and Oceanic champions. Also check back here for more coverage and follows us on Twitter for instant updates.