This week saw the European League continue with two more games for each team, while the decider and winner's matchup of the US Division took place. For a deeper look into this week's games be sure to check out the following articles:
Jump to:
European League
Day 5
Play day five kicked off with a very close game between Chaos and Empire on Coastline, punctuated by a total of three clutches to bring the game to all 12 rounds and an eventual draw. The first of these came as a 1v2 by Scyther to put Empire on the board on round three, before a 1v1 by Renuilz led to a tied first half at 3-3.
From here, Empire took their first lead of the game, winning three out of their first four attacks to push onto match point before a technical 1v3 by Cryn stopped the bleeding and a triple kill by Renuilz on Mozzie secured the single point from the game. While he secured no clutches or particularly large multi-kills himself, VITO was by far the most influential player in the game, securing 18 kills to nine deaths and keeping his team in many rounds by himself.
After this game, the following four were all very one-sided. The closest came two games later between Rogue and BDS as last season's European champions met the currently undefeated French side that had dropped just eight rounds in the four prior games. Despite these recent results and both a Thatcher and Maverick ban, BDS quickly fell behind on the defence on Oregon, needing a 1v1 by RaFaLe to earn its first round.
While most rounds were close, Rogue pushed things all the way to 6-1 before BDS began to show its teeth thanks in part to two double kills by Renshiro on Zofia on rounds eight and nine. These allowed Shaiiko to mop up the kills on Ash to hit three rounds won before Rogue ended the possible comeback as LeonGids traded out his teammate of ripz in a 1v1 to take the map, 7-3.
Following this, G2 took down the new Vitality lineup in an extremely decisive 7-1 victory. The lone round Vitality won was defence on the primary Aviator/Games Room site, one of the most defender-sided sites in the map pool, but a 1v1 victory by Pengu over his old teammate of Goga in the following round killed any momentum shift. As well as being a show of force for G2, this result also pushed the team into the top four and into a Major qualifying spot.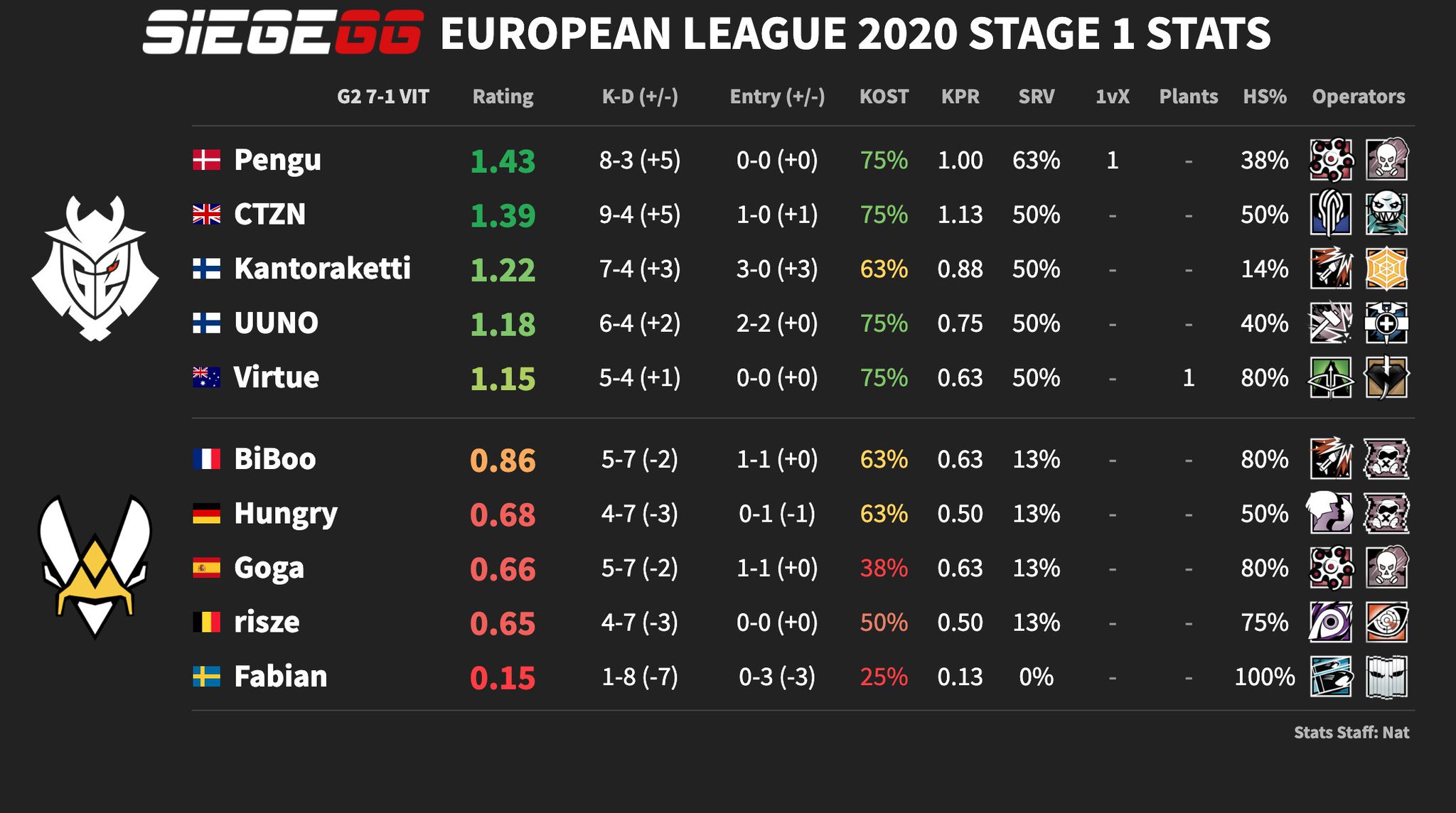 The remaining two games were similar blowouts, as Virtus.pro beat Team Secret 7-2 and Na'Vi beat Tempra Esports 7-1, with Rask being the standout player across these games with nine kills to just two deaths.
Day 6
After four very one-sided games on Monday, the EUL saw three 12-round maps two days later, kicking off with BDS vs Virtus.pro. While BDS came in as the obvious favourites, Rask simply couldn't be stopped in the first half as his kill count broke into double figures. BDS only remained tied with VP thanks to a post plant 1v1 trade by Elemzje, in which he and Amision killed each other, giving the round to the attackers.
BDS took the lead as the Frenchmen moved to defence while VP took ages to start their executes, leading Shaiiko to achieve a triple kill in round eight before adding to this two rounds later as he won a 1v2 on time. VP did manage to get another round win as they planted with just five seconds remaining, but Shaiiko ended the map on round 12 with the sixth triple-kill of the map to win the game, 7-5.
The next close game saw a back and forth between G2 and Tempra. While G2 did create a two-round lead on two occasions, there was little to nothing between the teams most of the time with us seeing not a single clutch or a huge multi-kill. Instead, a number of triple kills in the first half turned into a number of rounds in which the winning side had every player get onto the scoreboard, as no matter what each side tried to do, they just moved closer to an inevitable draw.
Eventually, two plants by Shiinka on rounds 11 and 12 led Tempra to secure their one point out of the map, keeping them in a fighting spot for fourth place.
Finally, despite being down in ninth place and yet to find their first win of the season, Chaos took Na'Vi all the way to round 12 as their newest player of Cryn achieved 13 kills to eight deaths. This count included a 1v2 on the very first round as part of a quadruple kill to kick off a strong first half, before Kendrew started fragging just as strongly for Na'Vi to bring them back into the game. Eventually, Kendrew ended with two more kills than Cryn with the same number of deaths as his quadruple kill on the final round to draw the game pushed his kill count ahead.
Elsewhere, Rogue and Vitality both found victories of their own beating Secret and Empire in 7-2 and 7-3 scorelines respectively to form the following standings:
Despite this week's loss, BDS is still by far the most dominant team in the league due to their three opening 7-1 scorelines, but with Rogue just two points behind them, they could still very easily lose their lead across the three remaining playdays. Below them in the third G2 also sits in a great position with two of their three remaining games coming against ninth and tenth place Chaos and Secret, but it is unlikely they'll be able to close the gap to the two leaders.
Finally, with Tempra still yet to play BDS and Rogue, the battle for fourth will likely be decided in the final two playdays as Na'Vi and Virtus.pro meet.
---
North American League: US Division
To look more in detail about the North American games check out this week's Second Entry article.
Day 5
After Oxygen shocked many with a win over SSG to push them into this decider game, Disrupt was eager to take the opportunity to knock the reigning World champions down further into the losers group for the second half of the stage. Despite coming into the league as a massive underdog they very almost achieved this following extremely close maps two and three after a somewhat predictable contest on Theme Park in map one.
With Thatcher and Maverick banned, this map looked to be very defender sided as SSG won five of their defensive round wins with njr only getting on the board due to a triple kill while attacking the Bunk/Day Care bomb objective. As sides swapped it looked very promising that they could come all the way back, however, two weak Day Care holds themselves led to their fall as both times they went to the site they suffered early off-site deaths, a successful plant by Canadian and so an easy hold by SSG leading to a 7-4 loss.
With SSG's pick of Clubhouse next -- a map they haven't lost in 352 days -- it looked to be a finished series, however, Disrupt done what a dozen other major teams had failed to do and take them down here in a round 15 competition largely thanks to a remarkable 21 frags from njr to just eight deaths including an ace in round two.
This took us to map three of Oregon in which neither side could shake the other. After another split half, SSG took the lead on their defence with three round wins in a row on Dorms, Meeting and Laundry to reach series point before DG pulled off a comeback to take the game to overtime as Read secured eight kills in three rounds.
After such a close game, overtime was somewhat disappointing as SSG won two fairly clear offensive rounds losing just one player across both of them to take the map 8-7 and series 2-1.
Following this, Team SoloMid met the Soniqs which looked to be another close game, however, TSM didn't allow the game to get as far as SSG did taking the contest in two maps. Map one ended in the third 8-7 of the night which, after a lot of to and fro from the teams came down to a post plant 1v2 clutch from Beaulo on the very last round to take the map of Consulate for the favourites.
Consulate was, however, TSM's map pick meaning Theme Park should theoretically go better for Soniqs, however, this wasn't to be. Despite another Maverick and Thatcher ban on the map, the Soniqs did manage to claw two offensive round wins with a 1v1 victory by Beaulo over supr keeping it from being three. This strong first half wasn't to be repeated in the second as after two more round wins -- including a 1v1 by supr over Beaulo to even the head-to-head -- TSm took three round wins in a row on their attack thanks largely to two triple kills from Merc and a third from Beaulo.
This gave TSM the map and series 2-0 meaning they join SSG in the winner's GSL group for the second half of the stage.
Day 6
With this Wednesday saw the kick off of the second set of GSL-format groups starting with the winner's group. Here we saw Oxygen, the winner of Group A, meet TSM, the runner-up in Group B, with the winner guaranteeing a top-three position and a spot in the Six Major regional finals.
After the prior playday's close games, this game delivered once again as we went to all three maps yet again following another overtime game in map one. Here, after an attacker sided Clubhouse reached 6-6 in the regular phase, Oxygen managed to break the mould and win two rounds in a row thanks largely to three kills by LaXInG in round 13 in the space of 13 seconds followed by another triple kill to kick off and virtually end round 14 by VertcL on Kaid.
As we regularly see, with OxG winning TSM's map pick, TSM then came back with a win of their own on Oregon in a more decisive fashion. Despite a 1v2 clutch needed from Achieved in round two, TSM definitely seemed on top of their defences on the map with Oxygen winning just a 1v1 on round five to get on the scoreboard this half. With the sides then swapping, a strong initial few rounds were responded straight back by two more from TSM to end the contest in a 7-3 scoreline to take the game to map three.
Oxygen followed this up with a very similar showing of their own on Theme Park which, despite both a Thermite and Maverick ban, saw OxG get five out of six of their offensive halves. Following the side switch, TSM did bounce back with a few rounds of their own before LaXInG ended the map in a 7-3 scoreline of their own to win the map and series, 2-1.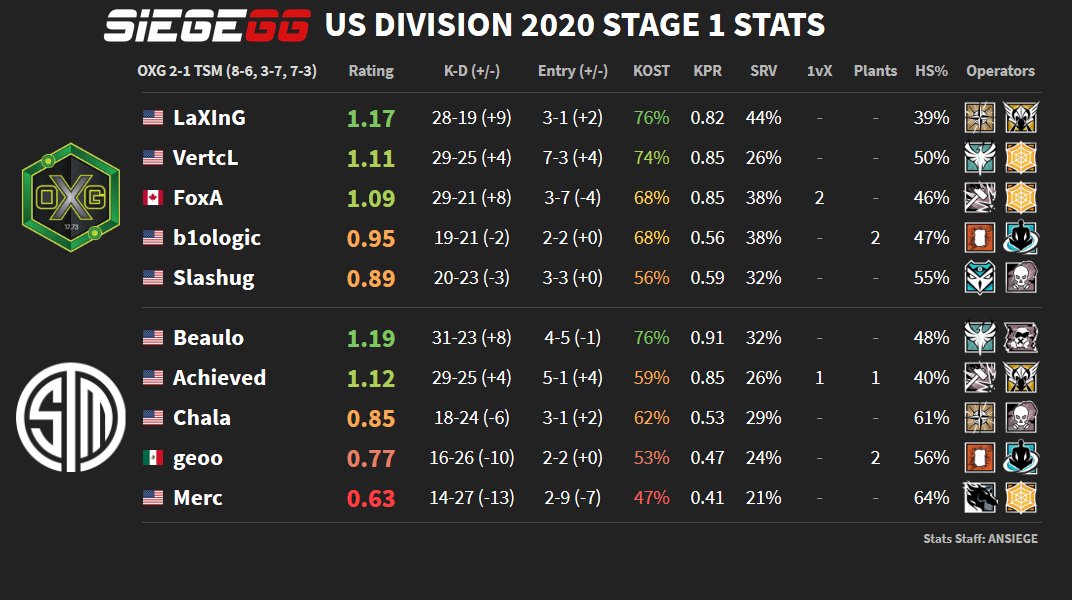 Next up was the game between Tempo Storm and Disrupt Gaming, two teams that had had a lot of questions asked of them at the start of the season. However, Disrupt were certainly favoured in the matchup, having won one match (against eUnited) to Tempo Storm's none. The game kicked off on Kafe, Tempo Storm's map pick, and it initially seemed that the defender-sided nature of the map was showing itself after Disrupt led 4-2 at the half. However, after three attacking wins for Disrupt to one defensive win for Tempo Storm, it was clear that Disrupt was simply the better team on Kafe.
Much to surprise of many, however, the momentum swung back hard the other way. Now on Disrupt Gaming's map pick of Theme Park, Tempo Storm raced to a 4-0 lead on defense that soon ended 5-1 at the half. Aside from that lone attacking round win though, Disrupt would get nothing as Tempo Storm showed far better preparation on the map to take it 7-1. The third map of Oregon was thus on display, with both teams trading round for round to end with a 3-3 first half. However, three straight defensive wins put Disrupt on series point, with the win only delayed a single round more, as Tempo Storm fell 7-4.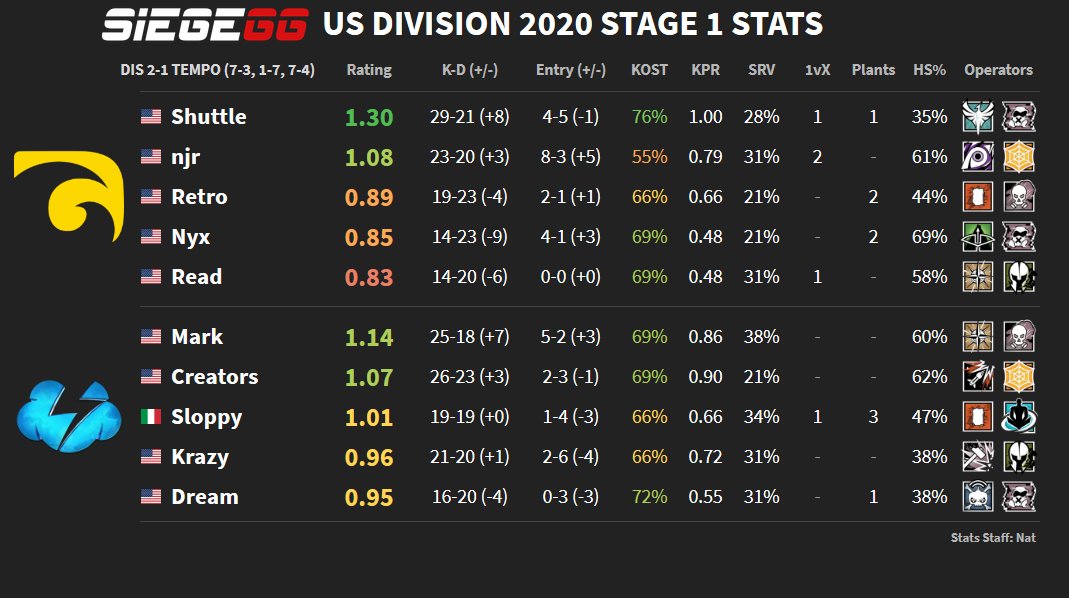 North American League: CA Division
This week had the loser's matchup take place between the two teams which fell in the last two weeks, Nordik and LiViD.
This game was somewhat of a blowout as besides for a few multi-kills from LiViD taking some rounds in their favour, the team looked much less coordinated than their opponents with them losing the vast majority of their direct gunfights. After a very weak game against Mirage two weeks ago, the standout player of this matchup was LakQii with almost a four kill-death ratio on Jager with his team's Ash main of StorMz just behind him.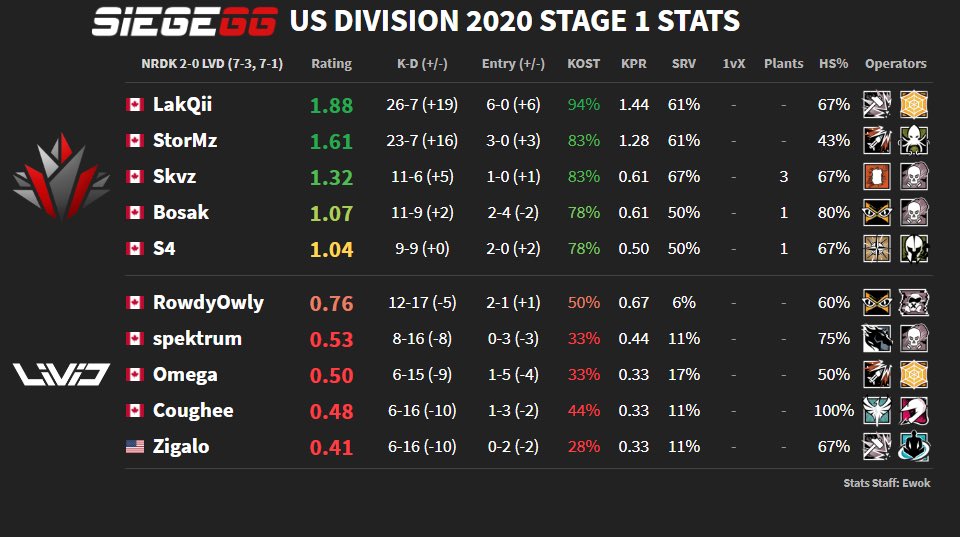 With this, LiViD ends the first Stage in the last place. Next Friday the other two teams of Mirage and Altiora will meet with the winner, attending the North American Playoffs alongside the fourth, fifth and sixth top US Division teams.
---
North American League: Challenger League
This week saw the decider games take place in both groups in both sub-regions, all of which was recorded, cast and posted onto YouTube.
Today saw the Polar Ace lineup which initially beat Rent Free before forfeiting the game due to lack of MOSS files play against PogChamp which has three ex-Pro League players:
The game went...
Elsewhere, these were the results for all of the other games:
US Division:
Joe esports 7-1, 7-4 The Favelas
CA Division:
Axios 7-4, 7-4 PDHM Gaming
Oceanus Gaming 7-3, 7-4 Windstorm
This, therefore, means we have the Challenger League grand-finals, third-place matchups and seventh place matchups to take place in each sub-region to take place over the next two weeks.
US Division:
Grand-Final -- RentFree vs The Last Dance
3rd Place Matchup -- PogChamp vs Joe esports
7th Place Matchup -- Spiker GG vs beastcoast
CA Division:
Grand-Final -- Team Oblivion vs Honor Esports
3rd Place Matchup -- Oceanus Gaming vs Axios
7th Place Matchup -- AcaRa Gaming vs Valors
---
Keep an eye out here at SiegeGG for further updates of each region as they continue for the next two weeks.