If you knew absolutely nothing about North American Rainbow Six Siege and you went to catch the expert's predictions for the previous week's matches, you can be excused for missing them.
Only one pair of analysts picked Tempo Storm and eUnited to defeat Team SoloMid (TSM) and Spacestation Gaming (SSG), respectively. A pair picked Disrupt Gaming to upset Oxygen Esports, and another picked the Susquehanna Soniqs to defeat DarkZero Esports.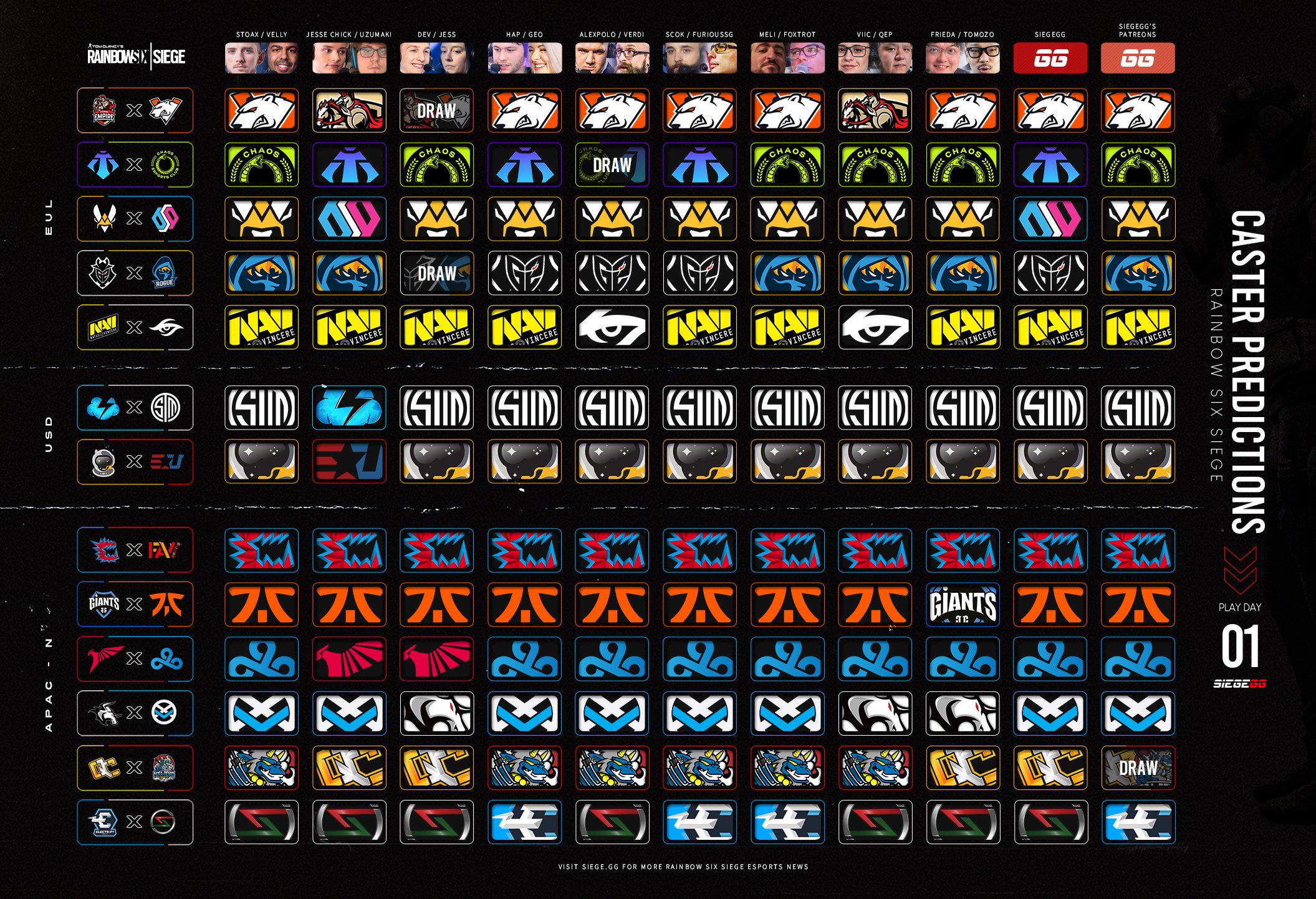 Virtually no one predicted that in every single match of Play Day 1 and 2, every single underdog would outperform their expectations. Disrupt was a mere round from taking a victory over Oxygen, the Soniqs made DarkZero work for their victory, Tempo Storm was incredibly close to peeling a map off of mighty TSM twice, and eUnited made Spacestation win clutches to win comfortably. Let's dig a little deeper into a wild week.
Stat of the week: Bosco's 3 1vX clutches
How close the rounds were in the Spacestation-eUnited match were was quickly lost in the excitement of the match immediately after Spacestation's debut against eUnited (Tempo Storm vs. TSM) and the second playday's sheer insanity. Make no mistake, despite the higher disparity in round count, this was not an easy victory for Spacestation.
Of the 22 rounds played between these two teams, five featured 1vX clutches. Several other players, including DarkZero's Paul "Hyper" Kontopanagiotis and Tempo Storm's Manuel "Sloppy" Malfer had two 1vX clutches apiece, but no one had as many as Spacestation's Dylan "Bosco" Bosco had.
Bosco ended up with a staggering three 1vX clutches in just 22 rounds. He played at least five less rounds than any other player during the first week of competition.
The key to clutching rounds? According to Bosco, it's staying calm and collected. "Nothing different than usual," he said when asked about what goes through his mind when attempting to clutch rounds. "Just play my game and work the picks and look for any opportunity to win the round."
"The round isn't over until you're dead."
When asked about the emotional boost his team gets during a clutch, Bosco was candid. "(It's) Always a great feeling when you win a big round and everyone is yelling and hyping each other up," he said. "It's extremely difficult to reproduce that raw emotion where everyone explodes in the moment, so we definitely enjoy and maybe a little too much at times (on stage especially). That type of energy is important though, and very helpful in keeping the mental fortitude up throughout the series."
Bosco currently leads the USD of the NAL in 1vXs clutched with three, followed closely by Hyper, Sloppy who each have two.
Clip of the week
Despite all the insanity from the Disrupt-Oxygen match and all the great 1vX plays and great shots, nothing felt quite as visceral an example of what Rainbow Six Siege can feel like at the top levels than Matthew "Achieved" Solomon's C4 toss onto Tempo Storm's Giuliano "Krazy" Solon.
Krazy goes for the Games room wall and...Achieved just cornholes him. Unlucky for Krazy, and a nice toss from Achieved. Another special shoutout to the production staff for capturing this moment, it felt extremely cinematic.
Storylines of the week
Do we have to talk about this some more? I suppose we have no choice but to at least mention it.
Unless you have been on a vision quest in the Appalachian Mountains for the past few days, you know that Zachary "Nyx" Thomas used banned skins in Disrupt's match against Oxygen. Disrupt had rounds nullified and had to play them over two separate times because Nyx had skins on in two separate maps.
After the match, in a Twitlonger, Nyx addressed the issue, explaining that a cloud save had messed with a new PC he had received from Disrupt, and that he had been scrimming on his old PC with skins off before the match. It's a plausible explanation.
That did nothing to placate Twitch chat and the Twitter timeline. Both erupted into a vortex of harmless jokes poking fun at the situation and legitimate rage at one man's mistakes, the lines between joke and anger blurring faster every second.
Disrupt spent months taking trash talk from the competitive community on the chin with little response. They were the butt of quite a few jokes on subreddits and Twitter timelines dedicated to Rainbow Six. Come match day, in a match virtually no one expected them to win against Oxygen, they came within two rounds of a victory, and impressed many along the way. It's a bummer that we have to talk about skins, and not Disrupt's excellent play.
"I don't know what flipped us on," said Nick "njr Rapier. "I definitely felt like we were down on Kafe emotionally, but I don't know. I don't feel like we did anything special. I feel like we just got out of our heads and focused up."
Anything that's said about this at the skins point has already been said. For Nyx and Disrupt it can be transformed into a positive, "think where we'd be if we hadn't had these issues" isn't an inherently negative thought.
The storyline moving forward is Disrupt themselves, and what they choose to do. They can choose to take Nyx's slip-up negatively and let themselves slide, or they can transform it into a positive. It's hard but not impossible to come back from a mental mistake like that, but Disrupt have shown they have the potential to be a solid team in this league. If they can keep their chins up through the mental fatigue and memes that will come from this moment, they'll be just fine.
Three small thoughts
In the weeks to come we'll find out the mettle of the top tier of NA. It's pretty clear that the bottom half of the NAL's standings have stepped up their game. Again, virtually no one expected any of the matches this week to be as close as they are, and yet here we are. One of the most improved teams is the Tempo Storm roster.
David "Iconic" Ifidon is going to be a star in this league. After he clutched this 1v2 against Hyper (who currently leads the USD in Rating, K/D +/-, and KOST) and Alex "Skys" Magor of DarkZero, I had seen enough. I'm calling my shot like Babe Ruth, Iconic is going to be one of the best of the new generation.
Outside of the skins issue the Disrupt-Oxygen match was one of the most entertaining matches I've seen. It had some friendly trash talk, including Davide "FoxA" Bucci killing Alexander "Retro" Lloyd and typing "God i bet u miss teaming with me" in all chat, somewhat targeted Ash bans from Oxygen, and all these former teammates playing each other. The game easily held the most emotional significance of the week, and all the interweaving storylines made it entertaining.
Tweets of the week
— Disrupt Gaming (@DisruptGaming) June 25, 2020
I'm rooting for the Soniqs today pic.twitter.com/82OC4vWVQ7

— jacob 🌸 (@SuzakuR6) June 25, 2020
Me dripping in the server with my banned camos while the rest of my team is on defaults pic.twitter.com/MgIdvyWab0

— $ u p r 2 t u r n t (@suprSeth) June 25, 2020
---
Catch the next set of games starting at 6 PM EDT on the official Twitch and YouTube channels today, and follows us on Twitter for more coverage of the US Division and other leagues.