SiegeGG was only launched in November 2017, starting as a band of volunteers all over the world with one goal in mind -- to provide premier-level esports coverage to the game we all know and love. Our first event covered was the Six Invitational 2018, and as we have grown, we have expanded our staff and taken on more ambitious projects, though none have been as ambitious as this one.
Since there was neither a collective or consistent repository of statistics before we were established, nor did we have the capability to address that gap, those games lacked a statistical picture -- until now. With our expansion and tireless work of statistics staff and developers, SiegeGG is proud to present as complete a look at the historical data as possible for the ESL Pro League for Year 1 and Year 2, with ratings back-calculated using our updated formula.
This companion piece will serve to dive into the storylines, stats, and successes of each period in the history of our game, with the focus now on Year 2 -- the PENTA Dynasty. Alternatively, if you want to revisit the Wild West of the first year, read our article about that here.
Jump To:
Season 4
Year 2 would be all about the rise of a team that, to this day, has expectations placed upon it that are far larger than any other -- PENTA Sports. After its victory in Season 1, PENTA saw itself outclassed and outpaced in Europe and beyond and went through many roster changes before finally settling on the first successful six-man roster in the game, keeping only Niclas "Pengu" Mouritzen from its title-winning roster in Season 1.
Joining him on the team would be now-Team Vitality players Daniel "Goga" Mazorra Romero and Fabian "Fabian" Hällsten, the retired Joonas "jNSzki" Savolainen, now-Team Secret player Niklas "KS" Massierer, and now-ToZeDrop player Vincent "Falko" Baucino.
That season would also see the top-flight debut of Juhani "Kantoraketti" Toivonen on GiFu eSports, while APAC pro Harri "Quantic" Hong would make his European Pro League debut on Barrage eSports -- the team that would infamously be trounced 10-0 by GiFu.
Season 4 would also be the season where the Season 3 Playing Ducks roster would see a bitter split, with Dimitri "Panix" de Longeaux, Julian "ENEMY" Blin, and Bryan "Elemzje" Tebessi leaving to form the first Team Vitality lineup on PC. With Matthew "meepeY" Sharples and Alex "z1ronic" Dalgaard-Hansen left alone, the two scrambled to put a team together under the Playing Ducks roster but made it work and returned to the Pro League through a qualifier and later beating Vitality 2-0.
Also debuting that season would be the Eastern-European trio of now-Rogue player Eugene "karzheka" Petrishin, and now-Virtus.pro players Alexander "KaMa" Chernyshov and Artyom "Shockwave" Simakov. That team, however, would be relegated to the Challenger League at the end of the season after going winless.
Playing in a GSL-style group stage for the online Pro League, the story was all about GiFu and PENTA, with the former winning both its game in a 2-0 fashion and the latter dropping a very close map to Team Vitality. The playoffs would then see PENTA take a rapid 2-1 win, while the Spaniards on gBots would make it to the Finals ahead of Playing Ducks.
The statistics would be a lot more balanced than PENTA's history would suggest, however. Falko would be the league MVP, securing a 1.31 rating, while Kantoraketti would already set the tone for his prowess, having the second-highest rating after a +18 K-D split and +4 Entry split. Álvaro "baroz" Valero, too, would be one of the best players in the league, finishing with a monstrous +27 K-D split and a 1.22 rating.
Over in North America, things were set to shift somewhat significantly as well. Defending Pro League champions and world champions Continuum had made a change, swapping out George "KingGeorge" Kassa for Spencer "Slashug" Oliver, but were still expected to be top of the league.
Elevate, meanwhile, had made the transition over to the PC after winning the Six Invitational. While none doubted their tactical acumen, there were still questions regarding how the players would find the change in control scheme. Adam "FightiR" Vallejo had been dropped and Emilio "Geoometrics" Leynez Cuevas had been signed in his place, creating an exciting new roster to look out for.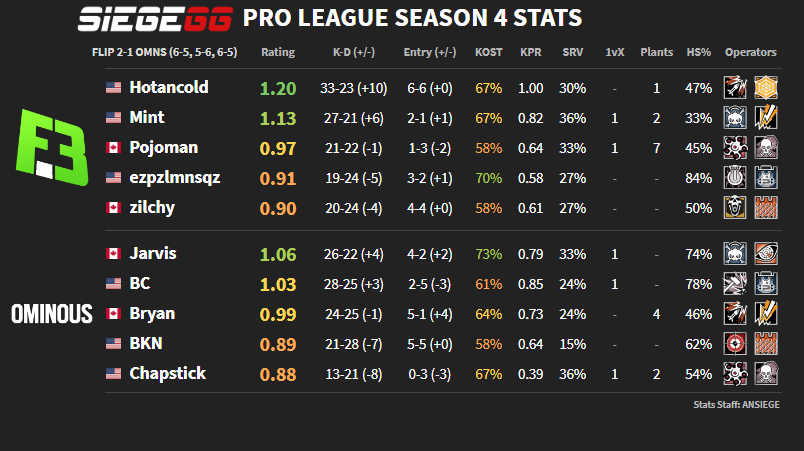 Aside from the two Six Invitational champions, also present was the eRa Eternity roster -- later Vertical Gaming -- who had picked effectively swapped Slashug for KingGeorge with Continuum. Also coming together and qualifying for the Pro League was the later-beloved Ominous roster, with the current DarkZero coaches Brandon "BC" Carr and Jordan "BKN" Soojian then playing and treating fans to an exhilarating 33-round (the then-maximum number of rounds) game against Flipsid3 Tactics.
While most teams had been enjoying gearing up for Season 4, Justin "Lycan" Woods had no such luxury. His Onslaught Esports roster would end up looking extremely disorganised and shaky, through little fault of his own.
Constant, inconsistent communication from ESL regarding the three-fifth majority roster rules led to Ron "fpsZED" Zimmer joining and leaving five times in total, Joey "Xclusive" Buzzeo having to play a full season despite having retired, and Zachary "Sov" Sites, Ryan "P3NG" Knierim, and Luke "NineLine" Carroll effectively having to play musical chairs. As a result, Onslaught had a disastrous season, leading to their relegation to the Challenger League.
As far as the statistics went, Troy "Canadian" Jaroslawski still played well, getting a 1.14 rating despite his team sliding to relegations, but the stars of the league were certainly the Vertical Gaming players. Tyler "Ecl9pse" McMullin topped the charts, finishing with a 1.26 rating thanks to his +22 K-D -- shared with Elevate's Alex "Skys" Magor -- while Flipsid3 Tactics' Owen "Pojoman" Mitura achieved an incredible 17 defuser plants, 10 higher than the next best player of Ecl9pse.
Latin America, meanwhile, was finally being inducted into the Pro League in Season 4. Internationally, very little was known about the region, save for Santos Dexterity, who had wowed audiences by taking down Euronics Gaming at the Six Invitational 2017.
The stars of the inaugural Latin American Pro League season would instead be the future Ninjas in Pyjamas and Team Liquid squads, then V3 Masters and Black Dragons, respectively. According to current FURIA coach, Marlon "Twister" Mello, the season was "wild" and "one of the seasons with the most history". Santos Dexterity and Keyd Stars had been the favourite to qualify, but drama kicked off when Santos lost to V3 in overtime on the decider map.
This meant that a week later, when Keyd lost to Black Dragons, some accused the former of trying to avoid facing the much-feared Santos in the playoffs, having already lost to them in the Invitational 2017 qualifier. Santos Dexterity, though, would miss out on the playoffs anyway, stumbling against paiN Gaming while Keyd themselves nearly dropped their game against the newcomers of NoX Gaming.
With Leo "ziGueira" Duarte having left paiN for Black Dragons, he was keen to ensure his new team made it through against his former one in the playoffs, and he eventually helped Black Dragons through in a bitter Best-of-Five, with André "nesk" Oliveira getting his famous Valkyrie ace. In the other semi-finals game, though, it seemed that Keyd would have no problems taking the game as they swept to a 2-0 lead, but V3 pulled things back map by map, and secured a Finals spot.
Some called it karma for Keyd Stars, for their allegedly purposeful loss to Black Dragons, but V3 Masters were no pushovers, as they would demonstrate at the Finals. Statistics-wise, though, Guilherme "gohaN" Alf leading the charts with a 1.32 rating and Nesk second by a mere 0.03 points. Nesk led the K-D split just ahead of João "Kamikaze" Gomes, with other Black Dragons and V3 Masters players filling up the rest of the metrics.
At the Finals, though, North America would be left embarrassed. Elevate, Vertical Gaming, and Flipsid3 Tactics would all exit in the quarter-finals without winning a map. The former two would at least each push their opponents of PENTA Sports and V3 Masters to overtime on a map, though, but it would be a disappointing outing for the region nonetheless.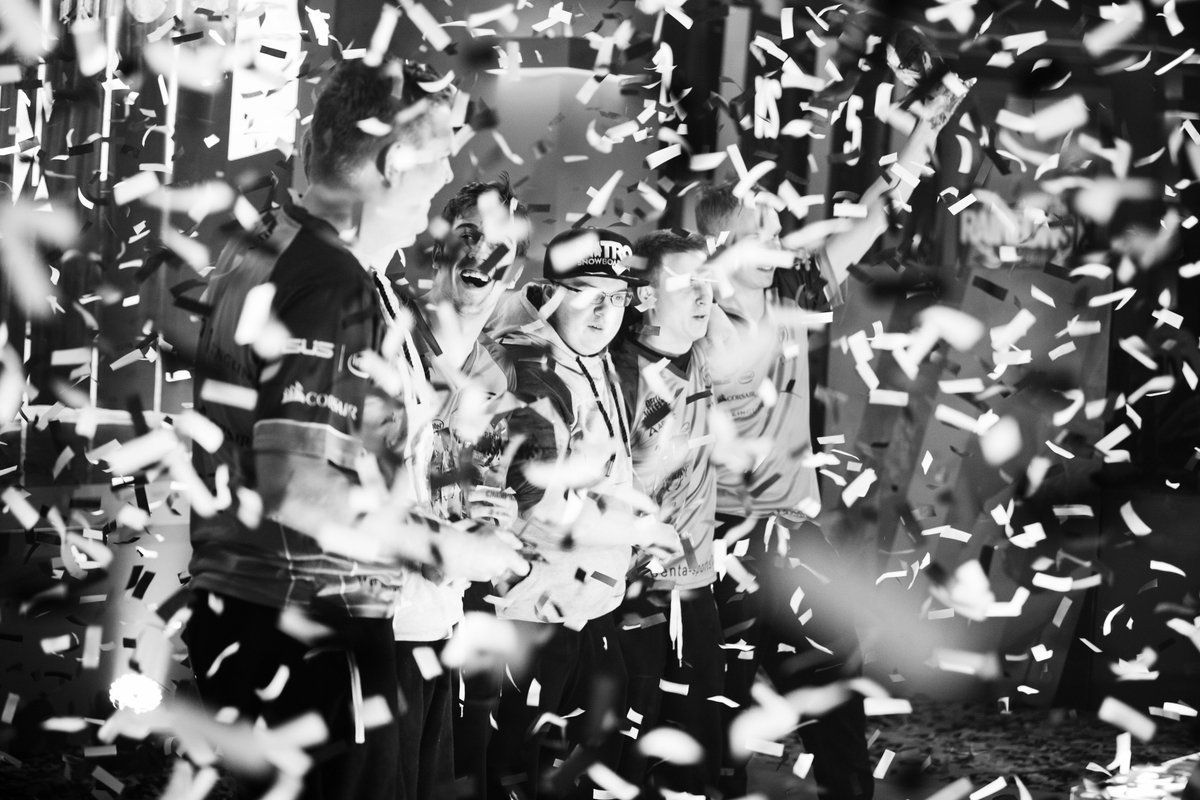 Latin America, on the other hand, was having a great time. Despite Latin American fans not having rated V3 Masters, the team beat the Invitational semi-finalists of Vertical Gaming 2-0 and then went on to take the first map off the eventual champions of PENTA Sports. The other side of the bracket, meanwhile, saw Black Dragons take down GiFu eSports before going on to defeat another European side in gBots.
In the final, though, given that Black Dragons had to play with Diogo "D1OGO1" Vieira instead of the then-underaged José "Bullet1" Victor, the incredibly clinical play style of PENTA Sports meant that the Brazilians could only get one round across both maps played. While a crushing defeat, the fact that they had got to the semi-finals and grand final ahead of all the North American and two of the European teams meant that the region was not to be trifled with.
While the simple scorelines may belie the PENTA dominance, the statistics do not. While KS finished the Finals with a 1.57 rating, it was only across four maps as Falko had played the other three. Pengu, however, was the unquestionable MVP with his 1.37 rating, owing to his +20 K-D split and 78% KOST.
Goga, too, would establish himself as one of the best objective player with his eight defuser plants, securing an EVP merit, while Black Dragons' EVP of Nesk would in fact finish with a superb 1.40 rating and an incredible +16 Entry split. V3 Masters, for their part, would see the now-Ninjas in Pyjamas player Kamikaze also secure an EVP merit with a 1.24 rating.
Season 5
Continuing on with the same format, Season 5 would also spring no surprises in terms of the European power structure at the top. Fresh off their title victory in the previous season, PENTA Sports were eager to continue and become the first successful defending champions. Their six-man roster experiment had ended, however, with Falko dropped to allow KS to become a permanent member. Former Ominous player BKN had also joined the team as a coach, lending some additional strategic firepower.
GiFu eSports, for their part, were eager to put their surprise defeat to Black Dragons behind them and start afresh, though they did very nearly lose their opening game to newly promoted French squad unKnights. A tough battle against Millenium also then followed after their signing with ENCE eSports, but the Finns once again made it to the playoffs.
There, they met yet another French squad in Supremacy, though victory was marginally easier this time around. Thus qualified for the Pro League Finals again, they would meet their first non-French opposition in PENTA Sports, who had beaten both Supremacy and Playing Ducks in the groups -- with some difficulty -- before trouncing Millenium in the playoffs semi-finals.
ENCE then beat PENTA to secure the first seed out of Europe, while Millenium won the French derby against Supremacy -- now playing on PC after having made it to the semi-finals of the Six Invitational 2017 on the Xbox.
With half the Pro League field French, their fans may have been disappointed to not see at least one dislodge PENTA or ENCE from the top-two, but a third-seeded qualification from Millenium was not the worst outcome. In fact, Millenium had played fairly well overall, as reflected in the statistics that saw Olivier "Renshiro" Vandroux have the highest K-D split in the league, leading to the second-highest rating of 1.18.
Of course, the best player in the league was none other than Pengu, with a 1.23 rating and a joint-best 71% KOST. Kantoraketti and his teammate of Ville "SHA77E" Palola were not far behind with their 1.15 ratings and near-identical Entry splits, though, with ENCE, PENTA, and Millenium players largely at the top of the metrics.
Over in North America, Continuum's struggles would continue. Despite surviving relegation in Season 4, Canadian would opt to replace Slashug and Yung with BC and Sam "Jarvis" Jarvis. Jarvis, in particular, would be a revelation for the team despite an inability to make it to the Pro League Finals in Season 5 as well. According to Canadian, Jarvis would be the key in improving his team's communication to a level that would lay the groundwork for a return to the Finals next season.
With BC and Jarvis joining Continuum, BKN headed over to PENTA Sports as a coach, Kevin "Chapstick" Do joining Elevate, and eXcellence Gaming (formerly Most Wanted) signing Bryan "Bryan" Agema, the Ominous roster did not last beyond Season 4. Nevertheless, the players had already given a strong statement of intent, demonstrating that they were excellent signings for all that had nabbed them.
After having finished joint-fifth in Season 4, not many people had expected eXcellence Gaming to absolutely transform their fortunes, but with Bryan and Geoometrics on the team, it seemed that little would stand in its way. Its players opened their season with a 2-0 victory against this new-look Continuum, and although they needed overtime to win, their Flipsid3 Tactics take-down immediately made them a team to be feared.
Elevate was next on the chopping block against eXcellence, capitulating in a combined 3-10 loss in the semi-finals of the playoffs, and Vertical Gaming ended up being the only team to take a map off the eventual North American champions in a 1-2 loss. Elevate, on the other hand, was able to squeak by Flipsid3 Tactics in a tight game that saw overtime on two of the three maps to join both eXcellence and Vertical Gaming.
The statistics, as expected were largely dominated by the three Finals-qualifying teams, with the now-retired Sam "MahMan" Pak head-and-shoulders above the rest with his league-topping 1.37 rating, owing largely to his +28 K-D split. Tied with MahMan for top in the K-D split metric was Gabriel "LaXInG" Mirelez, who also secured the second-highest rating at 1.23, while KingGeorge, Bryan, and Canadian all followed close behind.
For their part, the Continuum players were, on paper, playing well enough. Canadian, BC, and Nathan "nvK" Valenti had all performed strongly, but a close loss to Flipsid3 after losing to the maurauding eXcellence meant that the GSL format ensured the team was stuck in joint-fifth.
Latin America, meanwhile, was still in relative infancy as an overall competitive scene and lots of changes had happened. The three rosters of Keyd Stars, BRK e-Sports, and SemXorah had all disbanded and their players had all drifted to other teams. Affecting the change greatly was also the fact that the Latin American Pro League now also had a minimum age of 18, like the other regions, up from 16 in Season 4.
The changes were not limited to the players, with the organisations joining in the musical chairs as well. Having lost its original team, BRK had decided to sign the Season 4 Black Dragons roster, prompting Black Dragons to sign the V3 Masters roster. Team FONTT also entered the scene, picking up the Santos Dexterity roster after the group stages elapsed.
For the star-studded Keyd Stars, Rafael "mav" Loureiro Freitas and João "HSnamuringa" Deam both headed to Team FONTT to replace Adenauer "Silence" Alvarenga and Dimas "Panico" Junior. Wagner "wag" Alfaro and João "yoona" Gabriel Nerici, meanwhile, headed to paiN Gaming to replace Paulo "psk1" Augusto and the underaged Gabriel "pino" Fernandes. Much like pino, Bullet1 also had to wait to return to the Pro League, with Keyd's Julio "Julio" Giacomelli replacing him on BRK (formerly Black Dragons).
Team FONTT began to truly pick up steam this season, pointing itself down the road that would see it dominate the Brazilian scene for almost every season since. In an almost-identical fashion to eXcellence, FONTT could not be stopped, as it won its group with two 2-0 victories, crushed its first playoff opponent without breaking a sweat, and then faced some slight trouble in the grand final.
Black Dragons, on the other hand, gave BRK e-Sports a strong fight, but eventually capitulated on the third map due to a lack of preparation against the second-placed team from the Season 4 Finals.
The statistics, as expected, were full of the Team FONTT players, with Leonardo "Astro" Luis having established himself as one of the best players in the world. Playing Twitch and Jaeger, no player could seem to stop him on his way to a 1.42 end-of-season rating, with his own teammate of HSnamuringa 0.19 rating points behind in second. His K-D split also left viewers in disbelief, having secured a +41 -- a full 20 ahead of the second-placed Muringa and 26 ahead of third-placed Nesk.
Nesk himself was still an inrcredibly strong performer, however, finishing +13 on entry, and witrh ziG having secured 15 defuser plants, it was clear that BRK had made it to the Finals on merit. However, with Team FONTT firing on all cylinders -- and locking out the top-five in KOST -- it was clear to see why they were the Latin American champions instead.
Headed to Cologne, the Finals would be an absolute treat to watch. Elevate would kick things off strongly, pulling off a nail-biter of an upset over ENCE eSports after winning both of its maps on overtime in the 2-1 victory. Vertical Gaming -- now with Rogue -- would then fall to the Brazilians of BRK, while their fellow North Americans of eXcellence would be absolutely schooled by the defending world champions of PENTA Sports.
Team FONTT and Millenium, however, would provide the most entertaining quarter-finals game. Millenium would initially sweep to a 4-0 lead on Oregon to get to match point as it seemed that the French had figured out Astro's weakness. However, after realising that he had put his headphones on incorrectly, Astro led the charge as Team FONTT took six straight rounds to win the map, before moving on to Consulate and cruising to a 4-0 lead. The party was not over, however, as Millenium began to stage a comeback of its own, tying things up at 4-4, but it was Team FONTT that ended up prevailing in overtime.
Team FONTT would continue to provide top-tier entertainment in the semi-finals as well, making PENTA work like never before. A bitter 6-4 Border was followed up by an equally bitter 6-4 Oregon, the latter of which required Pengu to play the game of his life and finish with a then-record breaking 20 kills. Muringa, as the caster Ghassan "Milosh" Finge had asked, had not been ready for him.
Facing Elevate in the grand final after the North Americans had stunned BRK 2-0, PENTA would end their fairytale run on their way to a successful title defense. The statistics would, as expected, be almost-entirely dominated by the PENTA players. Fabian would take the MVP merit with his 1.30 rating, owing to a dominant +18 K-D split and 78% KOST, while Pengu would be close behind in second as an EVP with a 1.28 rating. Elevate's LaXInG would also take an EVP merit with his strong performance, while jNSzki would fill the third EVP slot with a 1.21 rating.
Season 6
Season 6 of the Pro League in Europe will, unfortunately, always be mired in controversy. After their Challenger League campaigns, two teams had entered relegations -- myRevenge, who would beat Team Vitality to secure promotion -- and beGenius ESC, who would send gBots down and cause them to disband.
The myRevenge roster would then be signed by Mysterious Monkeys, eventually becoming the Team Secret roster today, but would go on to have a torrid time in the Pro League. With two 0-2 losses to ENCE and Supremacy, the roster would only win a total of three rounds across both matches, but would survive relegation against dizLown Esport.
In Group B, though, PENTA Sports would start off their campaign with a hard-fought win against beGenius, but alarm bells would begin to ring for them. Central to the reason behind those warnings would be now-Team BDS player Stéphane "Shaiiko" Lebleu. Collecting information and evidence, the defending world champions lodged a protest with ESL, and, two weeks later, beGenius would be disqualified from the Pro League.
Alongside the team's disqualification, Shaiiko would also be banned from competition for two years, though the ban would eventually lift six months early in April 2019. The ban came as a result of Shaiiko's use of the anticheat software MOSS finding that the player had used a macro in the game against PENTA, though accusations of using a VPN, manipulating ping, and using Team Viewer had also been made. While Shaiiko and his team categorically denied the accusations, leading to some French fans attacking Pengu and PENTA, ESL disqualified the team, banned Shaiiko, and overturned beGenius' win against Millenium.
Once again, though, PENTA and ENCE would qualify to the Pro League Finals, and it seemed that little was about to stop the team of mixed-Europeans from taking a third title in a row. The statistics, however, reveal that the whole season was in fact much closer than it seems in hindsight.
SHA77E dominated the league that season, finishing with a 1.56 rating and +33 K-D split, and jNSzki would net himself a 1.46 rating with a +21 K-D split, +7 Entry split, and 85% KOST. However, the French squad of Supremacy would not have its players too far behind, with Bastien "BiBoo" Dulac and Elemzje having the third and fourth-best ratings, alongside strong K-D splits and KOST percentages.
In North America, Season 6 was the tale of redemption and surprise. After two seasons of struggle, Continuum would once again begin to rise and shoot straight back to the top of the North American region. Bringing Yung back in place of Jarvis, it seemed that everything was finally clicking again for the defending Six Invitational champions.
Starting off with a dominating 2-0 win against Flipsid3 Tactics, Continuum would further lay down the lay after dismantling 1nfamy 10-1 to make it to the playoffs. There, they would secure qualification by taking down Most Wanted (formerly BitterSweet Gaming) and finally return to the Pro League Finals stage. Joining them, however, would not be the Rogue roster, for the first time since the start of the Pro League.
Instead, taking their place would be 1nfamy, making their way first to the playoffs by defeating eRa Eternity (formerly eXcellence Gaming) twice in the group stages. The first of the two games was especially a nail-biter, with the second and third maps both pushed to maximum overtime. However, 1nfamy's most impressive performance was in the playoff semi-finals, where the favourite of Rogue were swept aside in a 2-0 despite having won their group against Most Wanted and Elevate.
When 1nfamy lost to Continuum in the seeding match by an almost identical margin as the group stage game, some fans criticised the format for allowing 1nfamy to effectively catch Rogue on a bad day. However, it seemed that Continuum was simply the stronger team, as soon after, it was signed by Evil Geniuses in a moment that would mark the start of the entries of the very many top-tier organisations we see today.
Statistics-wise, though, it absolutely was Ecl9pse's season. Finishing the season with the league-highest 1.57 rating, he also topped the K-D split, Clutches, and Entry split metrics -- with the first three categories having no other player even come close. Continuum's nvK was impressive as well, finishing second in rating and K-D split, but was behind by 0.21 points and 10 kills, respectively.
However, with every single Continuum player in the top-five of one or more metrics, it was clear that this was their season. None of the 1nfamy players, on the other hand, were even close in any metric except Clutches.
Over in Latin America, things were settling into a more familiar rhythm at the top. Now of age, Bullet1 returned to BRK e-Sports in place of Julio, who was himself off to Black Dragons. There, he was joined by wag from paiN Gaming, with the two of them replacing Nino "ninexT" Pavolini and Thiago "Thyy" Nicézio.
Once again, Team FONTT reigned dominant in its group, but not without difficulty. The newly-promoted Encore e-Sports not only smashed FONTT 5-0 on the second map but also took them to maximum overtime on the third map. NoX Gaming, on the other hand, proved less of a challenge as FONTT made it to the playoffs successfully.
Black Dragons, meanwhile, was having its best season yet. Both paiN Gaming and BRK were swept aside in swift 2-0 victories, with Encore also brushed away in the playoff semi-finals to set up a date with Team FONTT after they had beaten their bitter rivals of BRK 2-1. This time, though, FONTT did not finish at the top of the Latin American region. Black Dragons took the win in a 2-1 during the seeding match, not only becoming LATAM champions but also securing the invite to the Six Invitational 2018.
Unlike in Season 5, the statistics would not be dominated by the Team FONTT players alone, with Kamikaze topping the ratings metric with 1.33, and Nesk falling in right behind him at 1.31 despite BRK missing out on the Finals. Nesk also led the K-D split metric, with Black Dragons' wag securing a strong 85% KOST. It was, however, a very competitive season in Latin America by way of individual statistics, though it was dominated by the players from the top-three of FONTT, BRK, and Black Dragons.
And, heading to a Finals on their homeground, both Team FONTT and Black Dragons were eager to bring home an inaugural title for their region.
Season 6 was, in addition, the first season to include the Asia-Pacific region. With little prior, formal competitive structure, no one really knew what to expect, but fans in the region were extremely excited to finally see their local teams get consistent opportunities on the international level.
Of the teams that had made it to the regional APAC Finals -- the top two each from Southeast Asia, Japan, Korea, and Australia-New Zealand -- only two were recognisable to the international audiences. The first was the Team CryptiK roster, which had qualified to the Six Invitational 2017 at the start of the year as Team Envy. Mindfreak was the other, also having qualified to the Invitational, but had done so on the Xbox and had since switched over to the PC and had undergone a few roster changes.
As such, the two teams were favourites to qualify, but with the rest of the APAC region having quietly developed, audiences saw both fail to make it.
Mindfreak, for its part, did progress past the quarter-finals after a long and unpolished three maps against NORA-Rengo, but fell to the eventual second-placed mantisFPS, who demolished the Australians 10-1. Team CryptiK, on the other hand, would have certainly rued its chances in a long and bitter fight with eiNs that gave viewers the most entertaining and closest game of the tournament. Despite winning the first map, CryptiK lost in maximum overtime on the second and third maps, eliminating them from contention.
The Japanese of eiNs would then go on to take the top seed out of APAC, brushing aside mantisFPS, with the two obtaining the honour of becoming the first two teams to qualify to a Pro League Finals from the region.
Statistics-wise, though, NORA-Rengo's Yugeun "h3dy" Kwon netted the top rating at 1.36, though only across his one game, while Corvidae's Ethan "RizRaz" Wombwell would be close behind with 1.30. The eiNs players would be no pushovers, however, with Shuto "Aroer1na" Nasukawa having a 1.26 rating and Shinji "ShiN" Funai close behind with a 1.23 stemming from his impressive +23 K-D split. Takuma "SuzuC" Nakajima, too would help eiNs' cause, having had seven successful defuser plants.
Headed to the Pro League Finals, audiences around the world were watching with bated breath. While APAC did not have as strong a domestic scene as Latin America did, teams were still wary of a similar run from them as the Brazilians had in Season 4. Others were more interested in seeing if Black Dragons or Team FONTT could win top merit on home turf, or if PENTA Sports would continue its inexorable march towards a third title.
That event, however, would be all about two teams -- ENCE eSports and Black Dragons.
Both APAC teams were quickly dispatched after only being able to win one round on both maps played, with mantisFPS losing to PENTA Sports and eiNs losing to Team FONTT. The defending champions, though, would be stopped right in their tracks in the semi-finals by the home favourites of Black Dragons in a stunning 5-3, 5-2 upset.
On the other side of the bracket, the new Evil Geniuses (EG) roster was flying high after signing with the organisation. Canadian was back and he was ready, but ENCE refused to bow down. The Finns had come to Sao Paulo and were absolutely ready to fly, with each player playing at his maximum potential. While EG would take a map, ENCE would take the win before going onto shock the Brazilian fans with a 10-3 clobbering of FONTT and set up a date with Black Dragons.
There, once again, the Brazilian fans would taste disappointment. Between Kantoraketti killing everything and Jouni "Bounssi" Salo clutching everything, Black Dragons already had a tall task, but with the rest of ENCE piling on, the Brazilians' resistance eroded and the Finns won a Pro League title after six consecutive tries.
As far as the statistics went, though, Team FONTT's gohaN led the way with a 1.38 rating, netting him an EVP merit by virtue of a +5 Entry split and 76% KOST. Kantoraketti was, however, by far and away the event MVP with his whopping +26 K-D split that got him a 1.27 rating. Bounssi, with his performance, also secured an EVP merit alongside the top Black Dragons player of Julio, helped along by his 1.63-rated performance against 1nfamy in the quarter-finals.
ENCE, after six appearances at a Pro League Finals -- and unbeknownst to them the last -- were finally known as the champions.
Finally, to close out the year and crown a world champion, it was time for a far bigger and better Six Invitational.
With sixteen teams in attendance for the first time ever, this was well and truly a world championship. Controversy still surrounded the lead-up to the event, however, with Team Vitality fans being accused of purchasing bots to vote during the online community poll to decide the final team in attendance. Nevertheless, fans were extremely excited to see if PENTA Sports would work better with SHA77E in for KS, the entry of Team Liquid, FaZe Clan, and Counter Logic Gaming into the scene, and Evil Geniuses' attempt at defending the caber.
The main story of the group stage involved the Australians of Mindfreak, who had made it to Montreal after two hard-fought games against Team CryptiK in the APAC qualifier. After losing to Rogue in the opening group-stage match, Mindfreak had dropped the first map against Room Factory. However, the response was swift and furious, with two 5-0 map victories against the Russians to take the series. This, then, was inexplicably followed up by the then-biggest upset in the scene as Mindfreak took down Team Liquid.
While Mindfreak was swept aside in the quarter-finals by Black Dragons, PENTA Sports would exact revenge for their Season 6 Finals loss in a 2-0 victory after taking down ENCE by a 2-0 margin, too. The quarter-finals also saw Evil Geniuses triumph over FaZe Clan in a game that left Astro in tears on stage, before the defending champions took down Rogue in a very tight semi-final to set up a rematch from their group stage game.
What followed, simply put, was the finest comeback victory to date. Evil Geniuses started off strong, winning the first map 5-2 and then wresting the second by a 6-5 margin to put themselves within one point of defending their crown. However, with strategies that team captain Fabian later revealed had been developed as the team walked to their seats, PENTA would pull back Kafe 5-3, Bank 5-2, and then have Pengu pull off a 1v2 on overtime series point to dethrone Evil Geniuses and bring home the caber.
Pengu, thus, would see himself crowned the MVP of the tournament, finishing with a 1.25 rating primarily stemming from a +41 K-D split. His peer of Canadian would earn himself an EVP merit for his efforts, even though he had a much lower 1.06 rating even though he finished with a +14 Entry split. SHA77E would get an EVP merit as well, as his Mira plays at that event earned him the unofficial title of "best Mira player" as well, while Black Dragons' Gustavo "Psycho" Rigal would have a very impressive 1.33 rating to be classed an EVP as well.
He would not be the only Brazilian to win an EVP merit, though, as Team Liquid's HSnamuringa and Nesk would both perform extremely well despite elimination in the groups and end their campaigns with 1.30 and 1.44 ratings respectively, with the ratings chart actually dominated by the Brazilians.
Up Next
While you wait for the third part of this companion series, detailing the second year of Rainbow Six competition, check out the Competition Pages that we have launched, and leave comments about what was your favourite moment from Year 2.
Next, we will be taking a look at Brazil's first Pro League title, PENTA's transformation into G2 Esports, and their crushing dominance across every LAN competition attended in Year 3. Stay tuned for more and follow us on Twitter for everything competitive Siege.