Missed the action on Day Three of the Six Invitational 2020? Fret not, check out a complete list of scorelines here and read on for a brief summary of all the action seen on the third day of the fourth Six Invitational below as eight teams fought for the final four spots in the playoffs.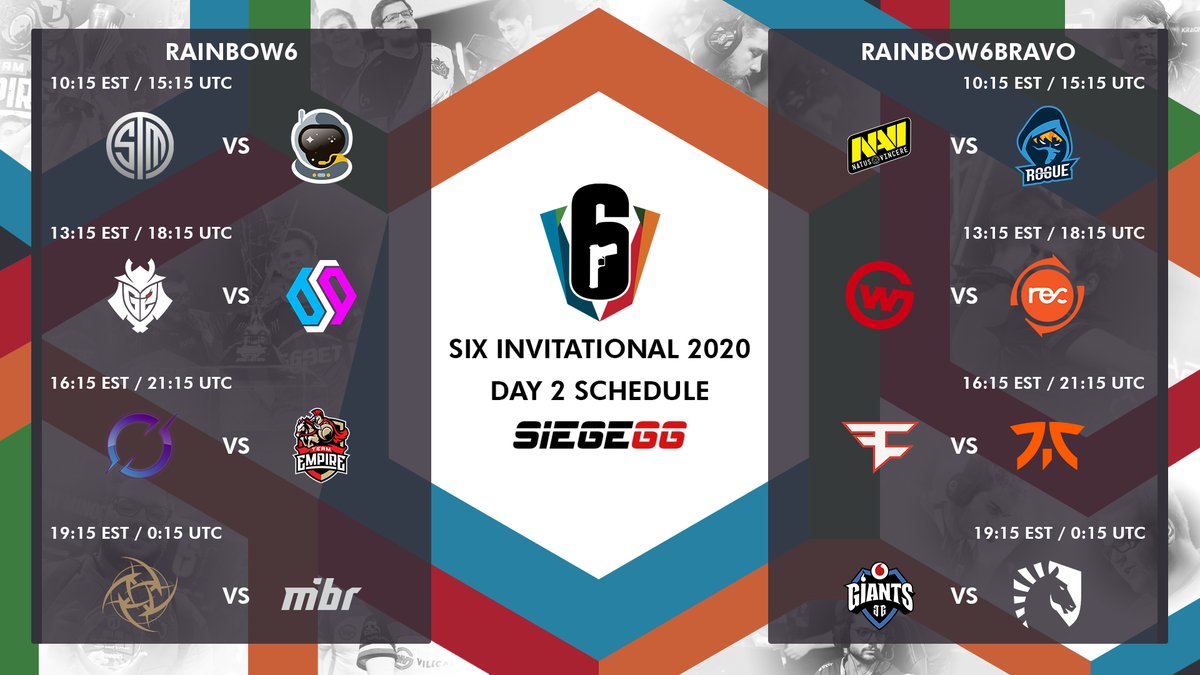 Team SoloMid vs Natus Vincere
Coastline (8-6), Consulate (7-5) and Villa
The day began with the first NA vs EU of the decider matches as Na'Vi took an early lead on their own map pick of Coastline before the two teams started trading rounds back and forth to a 4-2 half. As the teams then swapped sides, TSM pounced back despite a number of multi-kills from Na'Vi. Round seven saw a triple kill by Pie while round eight saw another triple by CTZN however, in both remarkable late-game plays by Achieved allowed them to salvage the round to tie up the scores.
From here, the teams went back to trading rounds to overtime where TSM took control. Round 13 went flawlessly to TSM with five headshots before round 14 saw Na'Vi fail to put up any kind of fight on their Kitchen/Service hold which left Saves in an unwinnable 1v4 situation:
With Na'Vi losing on their own map things didn't look good for the British majority roster as they went onto Consulate. Despite this, the first two rounds saw TSM achieve just two kills (both from Beaulo) before they woke up on round three. From here, triple kills from Beaulo, Merc and neLo closed out a round each before TSM ended their defensive half with a retake victory to even it up at 3-3. The score quickly moved to 4-4 before TSM ran away with it with just three deaths in the next two rounds and a flawless round 12 to end the map 7-5 and take the series 2-0!
This means TSM became the fifth team to qualify for the playoffs as they knocked out the reigning Pro League champions!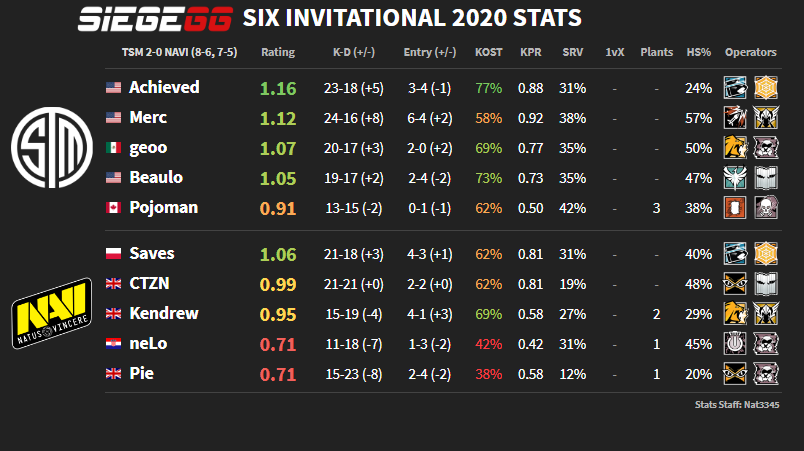 BDS Esport vs Team Reciprocity
Bank (8-7), Clubhouse (5-7) and Border (7-4)
Net up we had the second EU vs NA game of the day which came down to the wire on map one of Bank. BDS started on defence and avoided the CEO objective completely as they took both the opening rounds on the Lockers and Open Area site before VertcL and Nyx stepped up to bring Reciprocity into the game. Eventually, despite an attempted 1v5 clutch by RaFaLe, Rec managed to end the half on a 3-3 split moving onto their own defensive half which was plagued by miss-droning by Na'Vi which let LaXInG, in particular, run wild.
Rec took the next two rounds which were responded in kind by two from BDS thanks to a quadruple kill by Elemzje and a triple from Shaiiko before a 1v2 by VertcL led us to overtime. Here, both sides took their advantageous defensive side rounds leaving us in round 12 with Reciprocity on a CEO defence in which an early double kill by Shaiiko on FoxA and Nyx allowed the bomb to go down before he then cleaned up the retake to end the map, 8-7.
Next up we had BDS's map pick of Clubhouse as they aimed to send Reciprocity packing.early. Despite this, the team looked lost here as, other than their round two victories, BDS secured just seven kills in the first half as Rec took a commanding 5-1 lead. As the teams swapped sides, BDS added one more round before a flawless attack onto the CCTV site put Rec onto map point. Despite a weak comeback attempt by BDS, Rec eventually finished them off on round 12 on a 7-5 scoreline as LaXInG achieved a combined 13 kills to six deaths.
And so we went onto map three of Border which BDS took by the throat and never really let go. Rec managed to take the Workshop objective twice, however elsewhere on the map we saw multiple 4v1 situations and an ace came out from Shaiiko to end the half 4-2. BDS then added to this to put themselves onto series point thanks to a 1v3 victory by rxwd before Elemzje pulled off a technically 1v5 victory thanks to his Yokai drone to win the match
This pushed BDS into the quarter-finals as Group D's second seed and the second and last European team to make it through.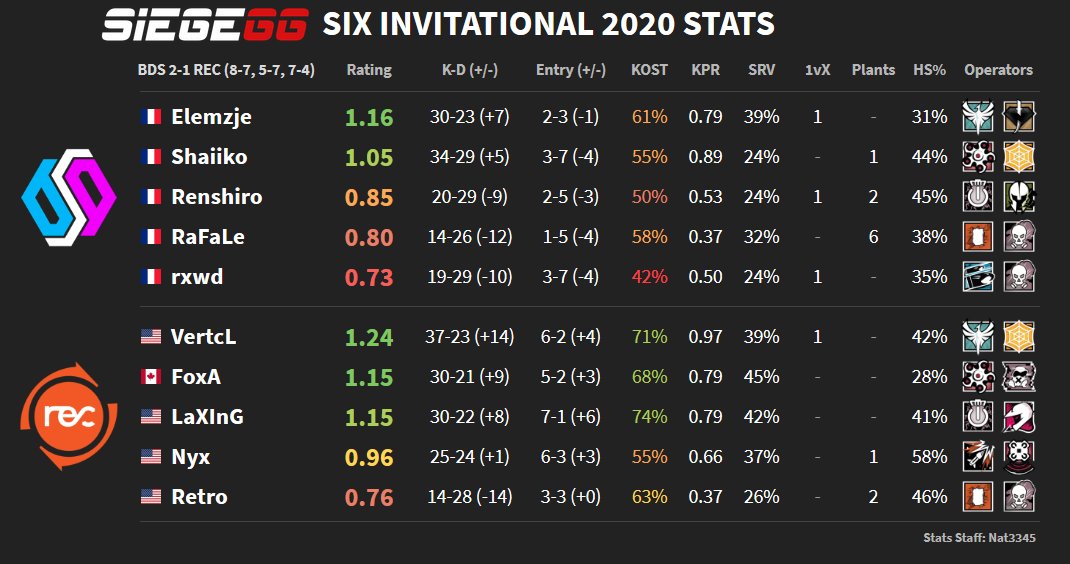 Fnatic vs Team Empire
Kafe Dostoyevsky (7-3), Clubhouse (7-5) and Consulate
Next up we had the event's favourites of Empire face APAC's last hope of Fnatic in one of the greatest upsets in R6 history. The day prior Fnatic had already knocked out one of LATAM's favoured teams in FaZe Clan in a shock victory to most of the community, however, Empire was seen as a hill too high to climb for Fnatic, especially considering their 2-0 loss in their first meeting on Friday.
The contest began on Fnatic's pick of Kafe which saw Empire take the first three rounds with little opposition with triple kills by dan and Scyther and a 1v3 by karzheka before Fnatic switched on and began to dominate Team Empire in a way no other team has ever done so before. Seven rounds in a row were won by Fnatic to take the map which didn't rely on standout fragging from individuals or last second clutches but consistent team play that put them ahead of Empire in each and every round. In total Empire achieved 14 kills in the next seven rounds compared to Fnatic's 35 with the map eventually being finished off thanks to a 1v1 victory by Magnet over ShepparD:
That was, however, Fnatic's map pick and with a break to reset the Russian cyborgs aren't ones to get titled as we moved to Clubhouse. Despite this, Fnatic continued their run with three round wins and four deaths to total ten in a row before Empire finally got on the scoreboard again. Rounds four and five were won by Empire as it looked like they were getting back in their winning mindset, however, Fnatic kept their lead intact throughout with a 1v1 victory by Tex over Dan killing Empire's growing momentum before MentlalistC on Goyo drove it home with a triple kill to end the series 2-0 and knock out the reigning Major champions in the group stages!
This now means Fnatic has pulled off three of the biggest upsets in R6 history with victories over Empire here, EG in Season 8 and Liquid at the 2018 Six Invitational group stages as they truly do thrive being an underdog. This loss is Empire's forth at a cross-regional event after losses to G2 at DreamHack Winter and the SI19 grand-final and their loss on Saturday against DarkZero, however, with the ten rounds in a row won by Fnatic and a remarkable 2KD-ratio secured by Magnet, this is clearly their worst loss to date.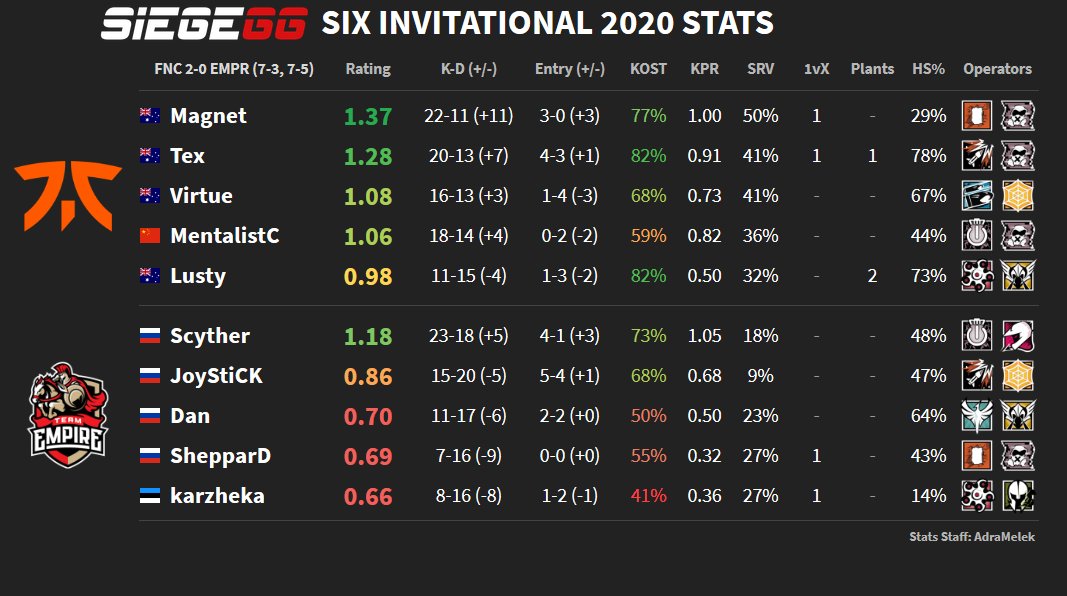 MIBR vs Team Liquid
Clubhouse (7-3), Coastline (7-2) and Kafe Dostoyevsky
Finally, we had the all-LATAM matchup between two teams who recently peaked at the very last international event, the OGA Pit Minor.
Liquid began MIBR's map pick with a number of very strong rounds as Nesk secured triple kills on rounds one, three and four, however, when Nesk wasn't fragging out MIBR were showing themselves to largely be the more organised team. Novys' secured a 1v2 victory over psk1 and Nesk on round five to finally shut him down and start a run for his team which Liquid couldn't stop. MIBR won a second-round running to end the half 3-3 and just cleaned up on the second half with four round wins running. Across the first five of MIBR's six round wins in a row, Nesk secured just a single kill and while he eventually woke up on round 12 with a triple kill, the ex-Liquid player of Bullet1 shut down their hopes with a 1v1 victory over Muringa to take the map.
Next up was Liquid's pick of Coastline in which MIBR continued their momentum onwards to from six round wins running in map one to a total of 12 in a row as they completed a clean sweep of their offensive half. As the team's switched sides Liquid did manage to win two rounds in a row thanks to a 4k by Paluh and a triple by Nesk, however, they were clearly outmatched as Bullet1 also ended map two, this time with a defuse, to win the game 2-0 and send the LATAM favourites home.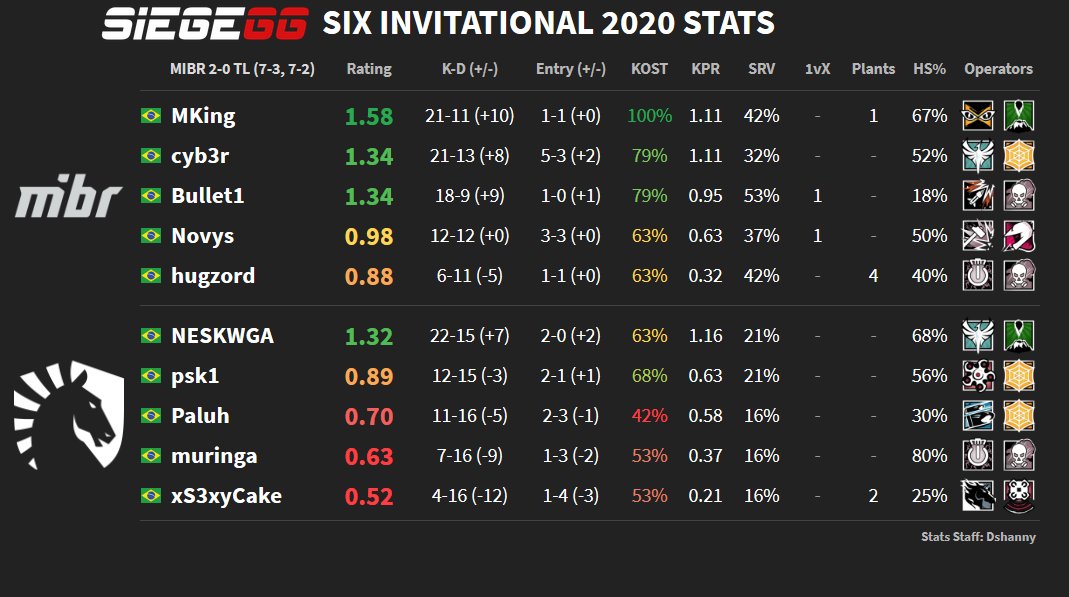 Quarter-Finals
And so with all eight teams now confirmed for the playoffs they were then drawn randomly into the brackets to form the following matchups for Tuesday: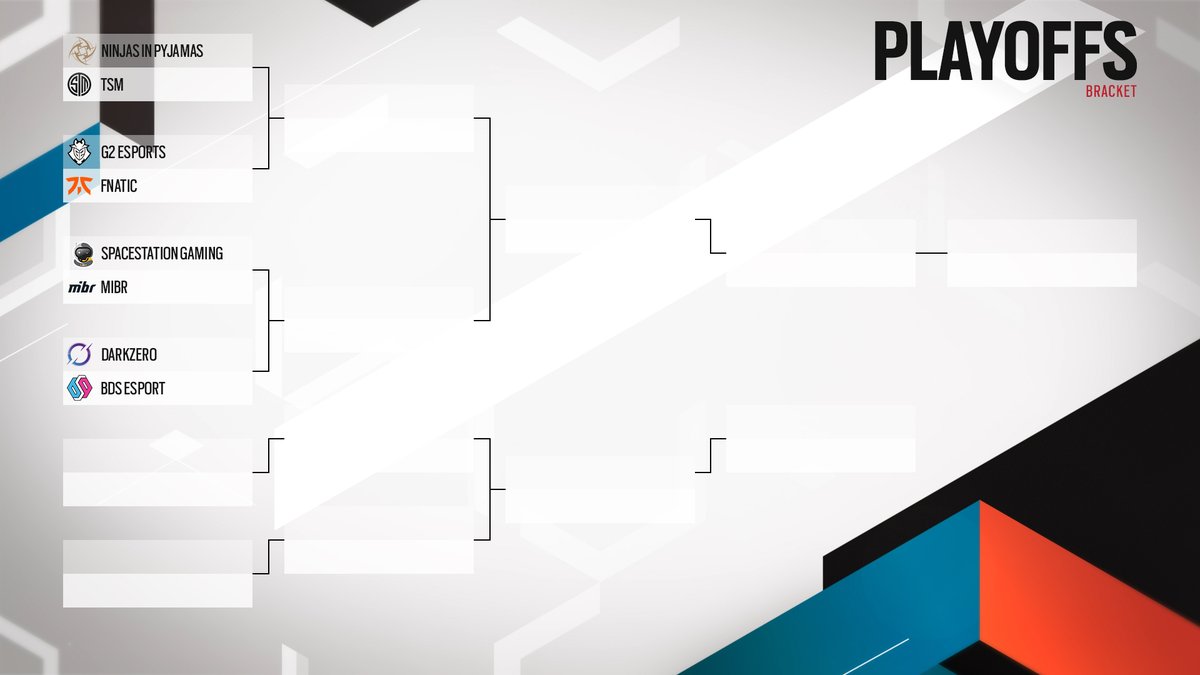 With Team Empire out, many will now be looking towards the North American first seeds of SSG and DZ as the new event favourites, however, with teams such as Fnatic, G2 and TSM still in contention, anything could still happen.
---
Catch all of day three's Six Invitational action on the Rainbow6 and Rainbow6Bravo Twitch channels from 10 AM EDT onwards, with more exciting matches to come as teams fight for the last spots in the playoffs.