Missed the action on Day One of the Six Invitational 2020? Fret not, check out a complete list of scorelines here and read on for a brief summary of all the action seen on the opening day of the fourth Six Invitational below as 16 teams pushed to make a positive start on their title campaign.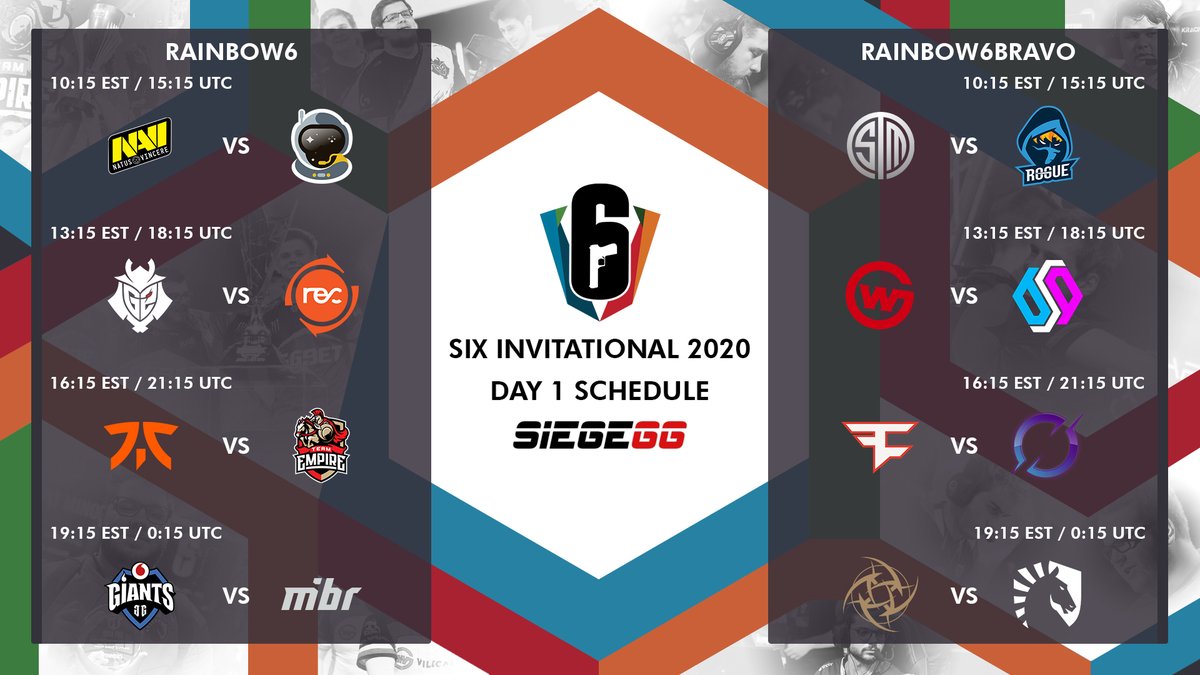 Three Out of Four Wins for NA
While every single scoreline for NA teams went to a close third map, most of the North American challengers defeated their initial opponents to guarantee at least a single quarter-finalist from the home region.
The region's two favourites of SSG and TSM kicked off the day as Group B, arguably the toughest of them all, kicked off the day with SSG versus the reigning Pro League champions of Natus Vincere. As signalled by Rampy kicking off the very first round of the event with an ace, Spacestation were the better team on Clubhouse as they run away with the map on the defence after an even offensive half. To many people's surprise, however, Na'Vi fought back well as they secured their own map of Consulate in a tighter result before the SSG favoured map of Border saw them finally fall in a 2-1 (7-3, 5-7, 7-4) scoreline.
Simultaneously to this game we also saw the new Rogue roster face Team SoloMid which, while it also went to a three-map series, was a very different game. Rogue began the match by smashing their opponents on Kafe, a map known to be a favourite of both the old Rogue roster and TSM themselves, however, that seemed to be all Rogue had in the matchup as AceeZ went cold and they switched off to win just three rounds across the next two maps combined: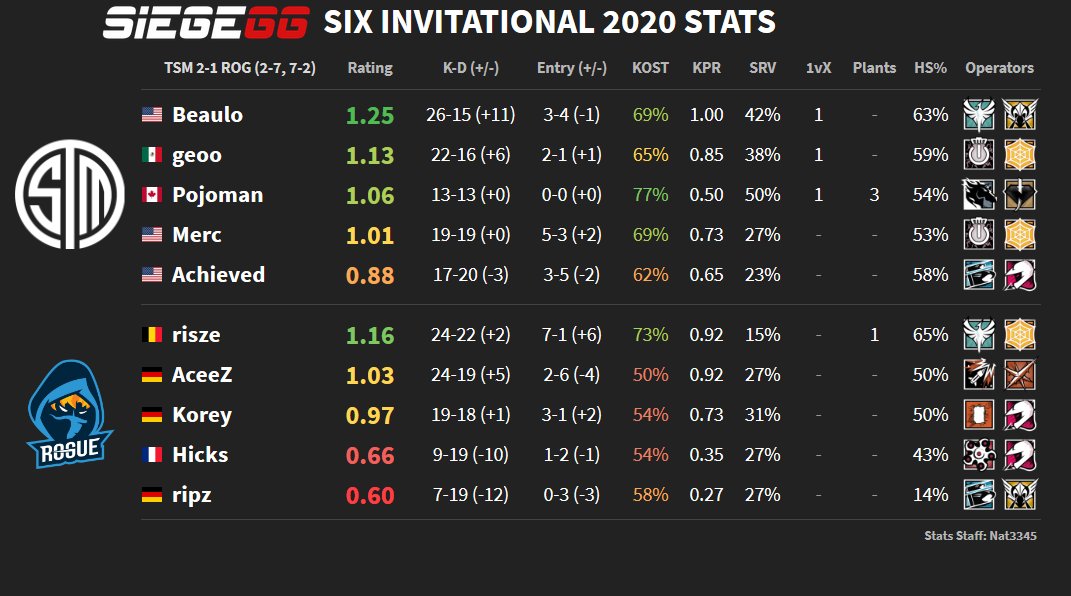 While TSM and SSG were the local favourites, probably the most interesting match for NA came between Team Reciprocity and G2 Esports as the somewhat weak-looking World Champions were eager to keep their all-time undefeated record against North American teams intact.
While G2 started off strong on Consulate as they took the map with little heartache, 7-4, Rec responded on their own map of Clubhouse by completely trouncing their opponents 7-0 in what was G2's third-ever map loss on LAN in which they failed to get a single round (after Mock-it at the Paris Major and Liquid at DreamHack Montreal 2019). At this point we went into map three which was already a better scoreline than the last time these two teams met at the last Invitational (7-2, 7-2), however, once again Team Reciprocity fell short this time by just a couple of rounds as a strong defensive half by G2 ended the map 7-5 in their favour. This does, however, mean that, despite losing, Reciprocity actually won more rounds in the game than G2 at 16-14 which bodes well for a possible rematch.
Finally, DarkZero rounded out NA's lineup as they faced FaZe Clan in what was, while a close game, one in which DZ looked like the better team throughout. Map one of Bank went all the way down to the wire meaning that, as the map was FaZe's map pick they also got to decide to start on defence in overtime meaning they broke the 7-7 deadlock by successfully defending an Open Area/Kitchen defence as DZ failed their rush strategy.
With FaZe taking their own map pick in such a close fashion, DZ then had much fewer issues on the remaining two maps. First, they had their own pick of Coastline which, while starting off as a close contest ended with DZ winning four out of five of their offensive rounds to take the map before FaZe seemed to have gave up on map three with DZ taking it 7-3. With this DZ won their rematch from the Raleigh Major in which FaZe took the game 7-5, 7-5 to become the third NA victory of the day!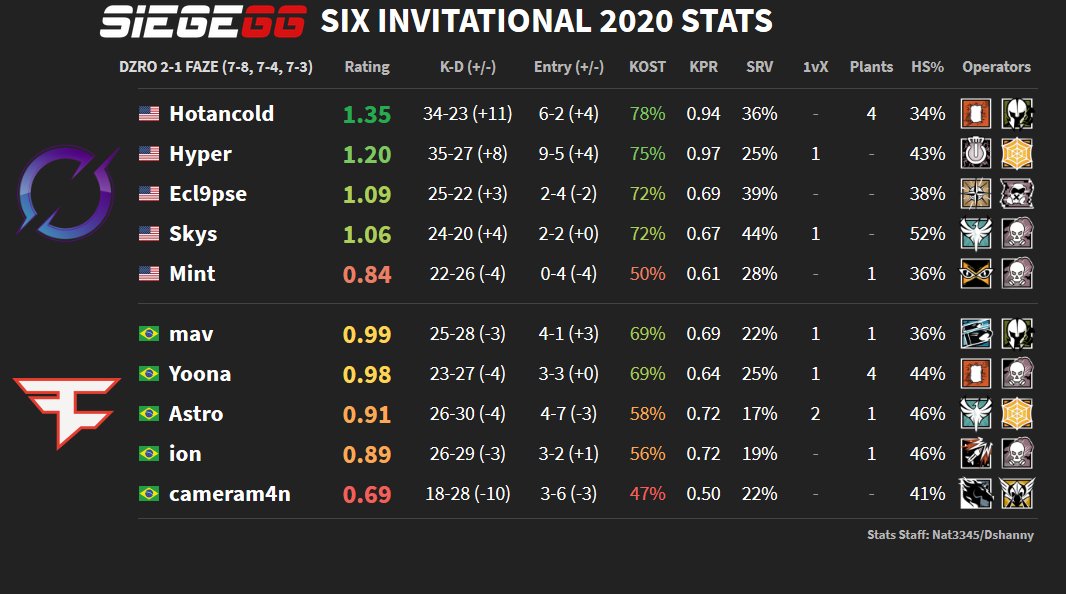 A Very Bad Day for APAC
APAC came into this event as both the region with the least number of teams (three) and with their last Major seeing all their teams finish at the bottom of their groups. Now, with Fnatic entering with two new players and both Wildcard and Giants debuting at their first Invitational, they were very keen to turn that result upside down with little luck so far.
Wildcard began the tournament for the region with the most one-sided game we've seen at a Major since the opening game of last year's Invitational as BDS lost no sweat in taking them down in a 7-1, 7-2 scoreline on Clubhouse and Bank with Elemzje leading BDS statistically: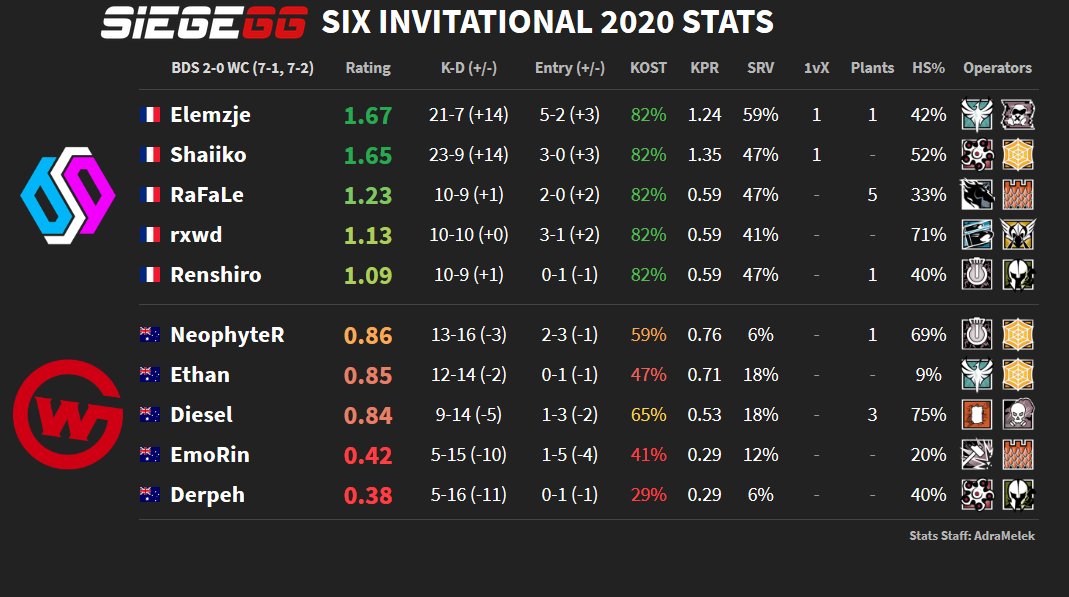 Next up we had what looked to be another walkover matchup between Fnatic and Team Empire, however, as Dizzle said in their interview, Fnatic thrives while being the underdog as they shown here despite still losing 2-0. A number of multi-kills and 1vXs from Fnatic's new Chinese pickup of MentalistC pushed them back on map one against the force of Empire as they went ahead on their defensive half to almost everyone's surprise. As the sides switched Empire, however, caught back up with them with the map going all the way to round 15 where Scyther on Echo denied the plant to give them Fnatic's map.
With this map lost, Fnatic then stood little chance on Empire's pick as they were shredded 7-2, however, this close result shows some real promise for Fnatic as they enter day two.
The final APAC game of the day saw Giants Gaming try to prove their social media team right as they faced the first of at least two Latin American teams. This map went very similar to the previous one as it began on Coastline with MIBR getting an early lead in their first half thanks to a number of multikills before the Giants pushed it to overtime and eventually 7-7. Here, MIBR picked doff the SEA team one by one as they pushed into Pool Room taking the round flawlessly and moving onto Giant's map pick of Clubhouse. While this should have meant Giants were favoured to push it onto map three, they had little to show falling 7-2 here making this the third 2-0 loss of the day for the region.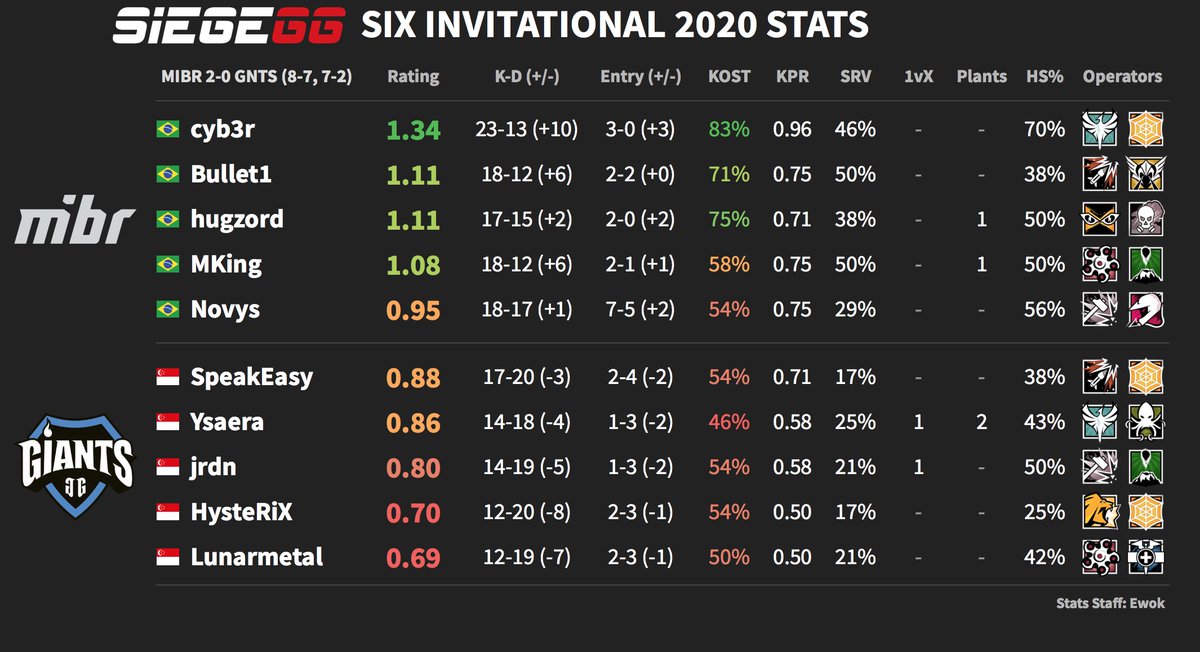 The Favourites Struggling
The favourites coming into this event according to the SiegeGG Predictions were Team Liquid, Team SoloMid, Team Empire, Spacestation Gaming and Rogue of which Rogue and Liquid have already lost a game (as we saw NiP take down Liquid in the final game of the day), SSG and TSM both lost a map and Empire were taken to a round 15 contest by one of the underdogs of the event. This bodes really well for the event as the competition remains completely open going into day two with no one team dominating play.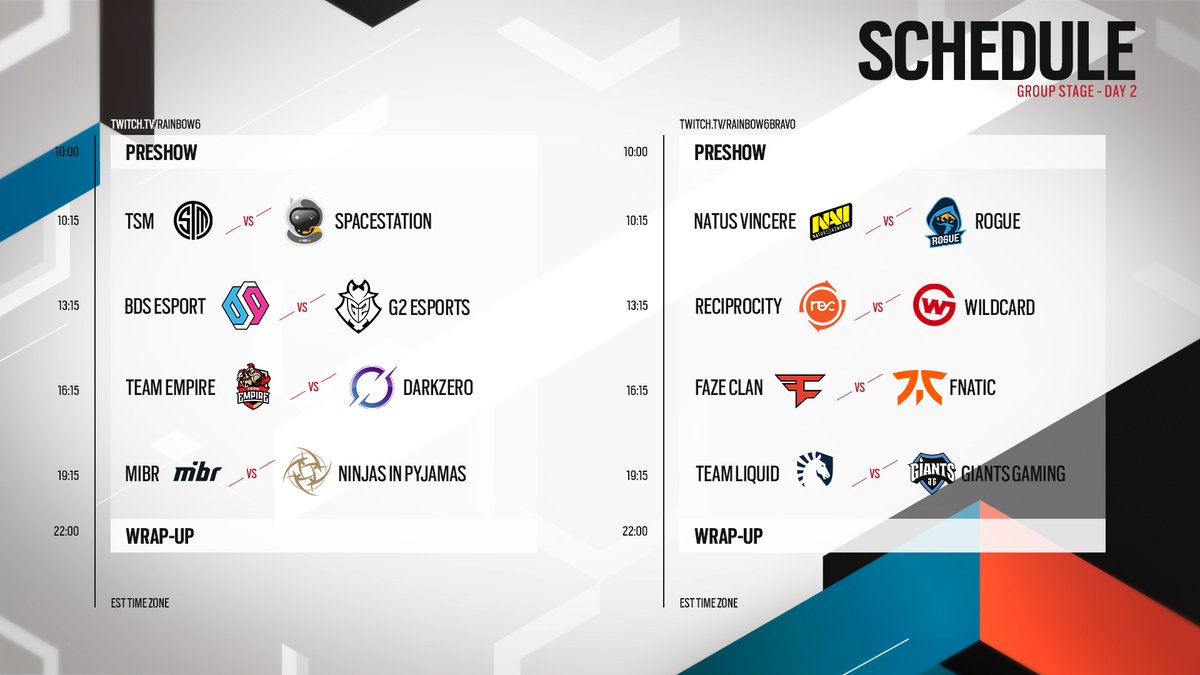 Most of today's play will be either single region games such as SSG vs TSM and G2 vs BDS or rematches of previous major events such as Empire vs DarkZero and Fnatic vs FaZe with the only fresh games coming as the two APAC teams of Giants and Wildcard face stiff opposition in Liquid and Reciprocity. This is sure to create some huge storylines as the day progresses and as the biggest names in R6 fight to make it to the playoffs.
---
Catch all of day two's Six Major Raleigh action on the Rainbow6 and Rainbow6Bravo Twitch channels from 10 AM EDT onwards, with more exciting matches to come as teams fight for survival, with APAC being the region greatest at risk.