Four teams, three games, and one winner. Such was the equation at the Six Invitational 2020 APAC Qualifier LAN, where each subregion in APAC -- ANZ (Australia and New Zealand), Japan, Korea, and Southeast Asia (SEA) -- had one team representing them in an effort to become the third APAC team headed to Montreal. Playing in a single-elimination, Best-of-Three format, there were no room for errors.
Maps: Bank (7-4), Kafe Dostoyevsky (7-4), Clubhouse (Not Played)
Fnatic: Magnet, Virtue, Lusty, MentalistC, Tex, Dizzle (coach)
Cloud9: SweetBlack, Nova, EnvyTaylor, h3dy, OCN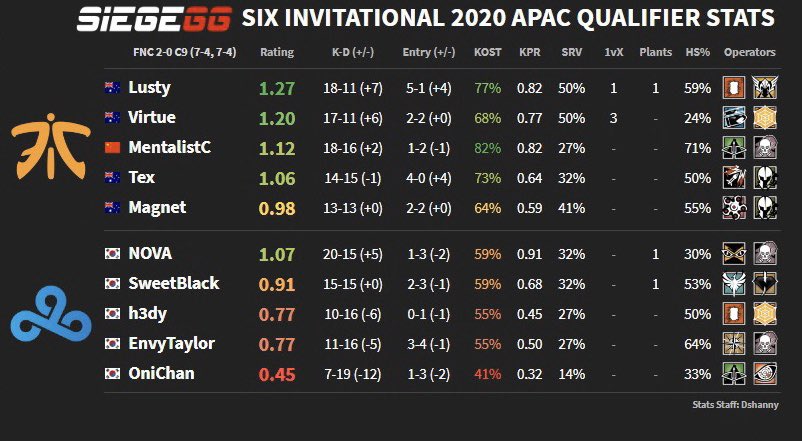 Cloud9 had come into this match in dire straits. The team had failed to win a single game at the APAC level since a year ago, and had only qualified for this LAN by the barest of margins over TRIPPY. Fnatic, meanwhile, seemed to be on a resurgent path with its new roster, having effectively bulldozed through the online qualifier.
Map One: Bank
As expected, Fnatic drew first blood with an attack that perhaps was a little too close for comfort, but Cloud9 was eager to make it clear that there would not be an easy game. Two rounds for Cloud9 followed amidst some poor decisions from the Fnatic players, giving the South Koreans an early, yet unexpected lead. Fnatic struck back hard, however, piling on three rounds in rounds that perhaps should have been more comfortable for the Australians, but were wins nonetheless.
Swapping sides, Cloud9 secured the first round on attack much like Fnatic had, going back-and-forth over the course of the next two rounds to stay within touching distance of the Australian squad. The ANZ Pro League champions would find their mojo and pull away, however, retaking the site in a post-plant scenario before freezing Cloud9 out to take the map 7-4.
Map Two: Kafe Dostoyevsky
Once again, Fnatic kicked things off with an attacking win, eliminating all the Cloud9 defenders and once again the South Koreans began to come back. Defensive wins on the third and second floor meant that Cloud9 was once again in the lead, and a sequence of traded rounds afterward meant that the half would end 3-3. With Kafe arguably a defender-sided map, it was not exactly good news for the Koreans, but with teams having been more proficient on attack before, they were still very much in the fight.
Fnatic's players, however, were very much disinterested in giving Cloud9 any further quarter. Two strong defensive rounds saw the Australians finally open up a definitive lead, and while the Koreans did manage to hit back with an attack win of their own, it was clear that they were out of their element. With Jason "Lusty" Chen at the helm, and Jake "Virtue" Grannan not far behind, Fnatic won two more defensive rounds to close things out and get one step away from the Invitational ticket.
Maps: Kafe Dostoyevsky (4-7), Bank (7-4), Clubhouse (7-2)
Xavier: WARBARK, Nay..Pew, redsun00, BabyPiG, Kirisaku

CAG: Anitun, gatorada, SuzuC, Ayagator, BlackRay, XQQ (coach)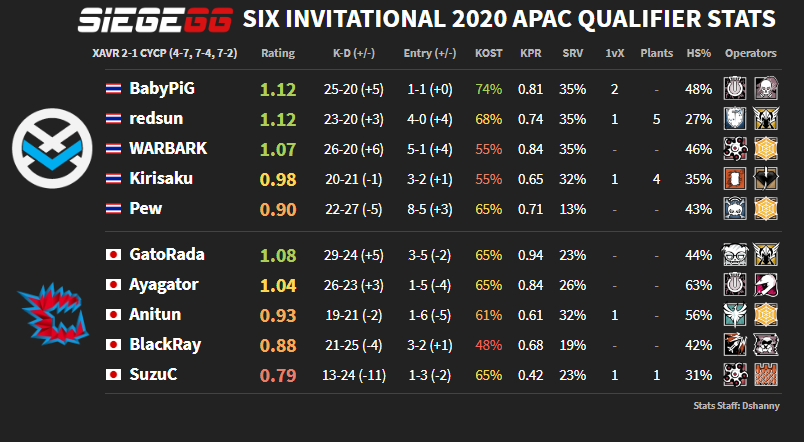 Coming into the game as the wildcard of the tournament, Xavier Esports was always expected to put up a good fight -- but was definitely not expected to win. When polled, out of the casters for these qualifiers, only Kim "AquaHeartNJH" Do Kun had predicted Xavier Esports to win against the Japanese champions and Six Major Raleigh participants.
Map One: Kafe Dostoyevsky
Cyclops Athlete Gaming (CAG) was the team to win the first round in the second semi-final on Xavier Esports' map pick of Kafe, perhaps foreshadowing what was to come. While Xavier did strike back much like Cloud9 had by winning two rounds, CAG would throw a wrench cleanly in the middle of four attacking round wins that gave Xavier a 4-2 lead at the half. With Kafe percevied to favour the defense, it seemed that the Thai had the win in the bag.
Despite notions of what should have happened, CAG was thoroughly rejuvenated on attack. Xavier Esports, on the other hand, was having the worst luck. Whiffed shots, miliseconds poor timing, and plain panic all began to beset the Thai squad. Suddenly it seemed that the Japanese themselves had picked the map, not the Thai, as they piled on round after round to make it a staggering five in a row and take the map 7-4 without breaking their rhythm. Down, but not out, Xavier Esports headed to Bank where it was looking to be a CAG lockout.
Map Two: Bank
Cyclops Athlete Gaming wasted little time in turning those five rounds in a row into six right away, clearing out the defense in the first round on Bank. Xavier Esports began trading rounds back and forth with the Japanese squad, however, determined to make amends for having let the 4-2 advantage on Kafe slip. Neither team could shake the other off, though, and just as it seemed that one was slipping, the other would slip as well.
Switching side was when Xavier finally managed to carve out an advantage. Despite having looked far too aggressive and over-zealous on defense, a switch seemed to have been flipped on attack. Two highly successful attacks onto the basement meant that the Thai only needed two more rounds to push things to the decider map, and while they would be interrupted by CAG, they would fairly comfortably finish the job to take the map 7-4.
Map Three: Clubhouse
Moving onto Clubhouse, a Xavier Esports staple, it was unclear how things would go for the Southeast Asians against the Japanese squad. This time, though, they would be the ones to strike first onto the Gym and Bedroom bomb site -- a somewhat unorthodox primary bomb site. CAG would be the ones to take the lead from an early deficit, taking two in a row, but that was all they would get from the rest of the map.
Round after round went to Xavier Esports as the Thai team capitalised on each mistake CAG was making, taking three in a row -- including a repeated defense of the basement despite a clear lack in understanding of the Xavier attack. With a 4-2 lead, the Southeast Asians never looked like losing as they closed out the upset in the three rounds they needed and move on to face Fnatic in the grand final.
Maps: Clubhouse (7-3), Consulate (8-7), Bank (Not Played)
Fnatic: Magnet, Virtue, Lusty, MentalistC, Tex, Dizzle (coach)
Xavier: WARBARK, Nay..Pew, redsun00, BabyPiG, Kirisaku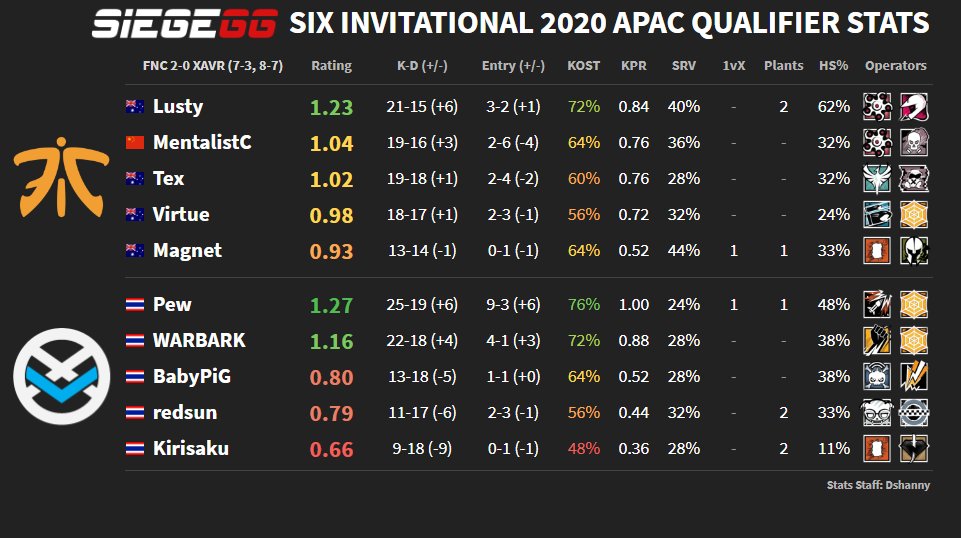 With Fnatic having had a harder time than expected against Cloud9, yet having the obvious talent to punch the ticket to Montreal, things suddenly did not look as clear cut as they had prior to the start of the day. However, Fnatic still had the firm advantage with how sloppy Xavier Esports had been in the game against CAG and boasted vast amounts of experience that the Thai lacked.
Map One: Clubhouse
Allowing Xavier Esports to pick Clubhouse right after the Thai team's crushing victory over CAG was a seemingly risky move from Fnatic, but it paid off in spades. While Xavier Esports won the first round, Fnatic never let their opponents get comfortable, pegging them back immediately. The SEA squd did manage to secure another defensive round, bleeding out the time as Lusty was left in a 1v4, but the ANZ team had little problem stringing together three attacking rounds in a row that left Xavier floundering.
Up 4-2 at the side swap, Fnatic continued to pile on the hurt for Xavier, winning two defenses in a row. The Thai team refused to bow down despite facing four match points, and took one back, but that was all that was left for Xavier on the map as Fnatic closed things out 7-3.
Map Two: Consulate
Having come into this tournament with the goal of not losing a single map and not allowing any map to get to overtime, it initially seemed that Fnatic was well on course to meeting the targets. Xavier Esports had once again taken the first round on defense, but Fnatic ran amok on attack to cruise to a 3-1 lead that quickly became 4-2 as the teams traded rounds just before the side swap.
Things looked almost too easy for the Australians at that point as they won their first defensive round as well, but that was when Xavier Esports chose to come alive. Already having a good day so far, Sumate "Nay..Pew" Srimabut and Peeranut "WARBARK" Thiraboot would come alive. Pairing Nay..Pew's skills on Ash with WARBARK's incredible proficiency with Finka, the two took the Fnatic roster to the cleaners round after round, leaving their far more esteemed opponents shellshocked at the sudden aggression. Flawless rounds, 7-second cleanouts, and inexplicable entries were to follow as Xavier tied things up 5-5 before Fnatic was able to arrest the slide after a tactical timeout.
Fnatic's players would, unfortunately, fail to meet their pre-game targets of avoiding overtime. Facing series point, Xavier Esports refused to be cowed and turned up with just as much aggression as they had before and took the 12th round to keep themselves in the game. The Thai squad would even get the first round of overtime to threaten a third map, but Fnatic would hold the line to pull two rounds out of the bag, first attacking onto the basement and then defending it successfully to grab the ticket to Montreal and close things out 2-0.
---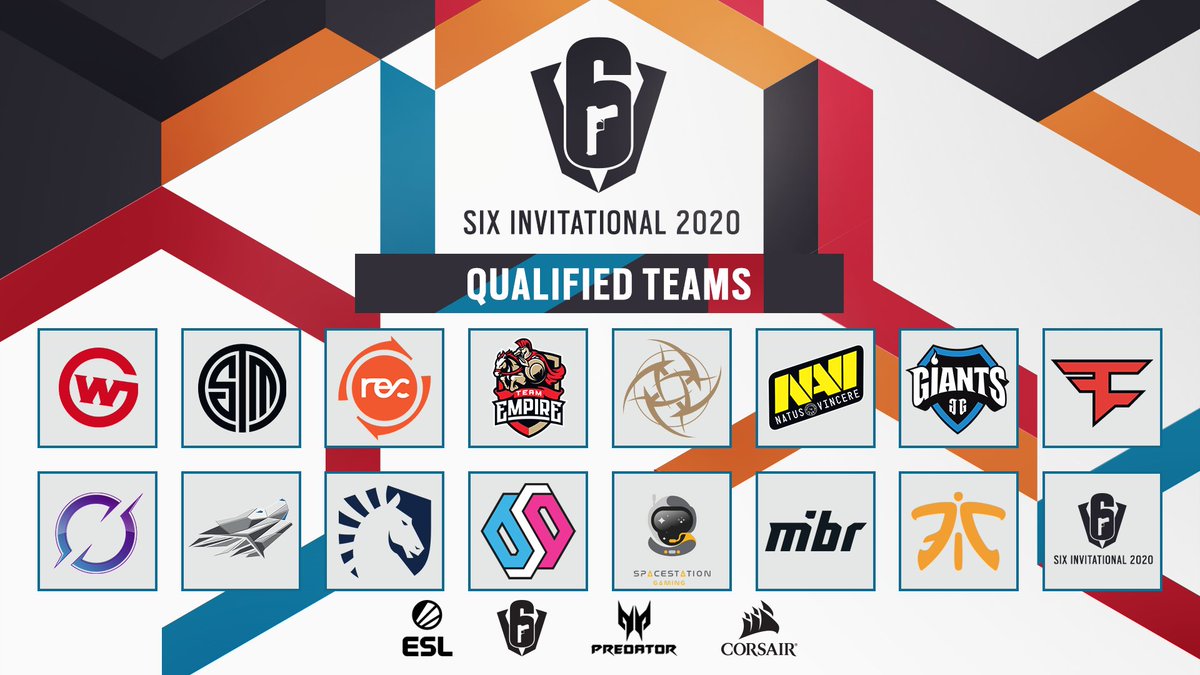 With the Six Invitational 2020 APAC Qualifier LAN now over, and the NA, EU, and LATAM qualifiers also settled, all that remains is for the Ubisoft invitee to be chosen to complete the list of teams headed to the premier Siege tournament. Tune in for the Six Invitational 2020 from the 7th to the 16th of August to see Fnatic join ranks with fellow Australian team Wildcard Gaming, and the team that vanquished them at the Season 10 APAC Finals, Aerowolf.