After two online seasons in 2018, the One Game Agency PIT tournament returns with a LAN final and a lot to play for as the winners of a number of online qualifiers meet in Split, Croatia to fight for one of the few remaining Invitational spots left remaining.
---
Jump to:
---
Teams
Three teams from a European qualifier, two each from the LATAM and NA qualifiers, and a lone invited APAC team will come together this weekend to take each other on in what could possibly be one of the most exciting Minors in recent history. Many chase past glory, like G2 Esports, Team Liquid and NORA-Rengo, while others like Spacestation Gaming and Team BDS look towards making the next step up into a higher echelon of respect.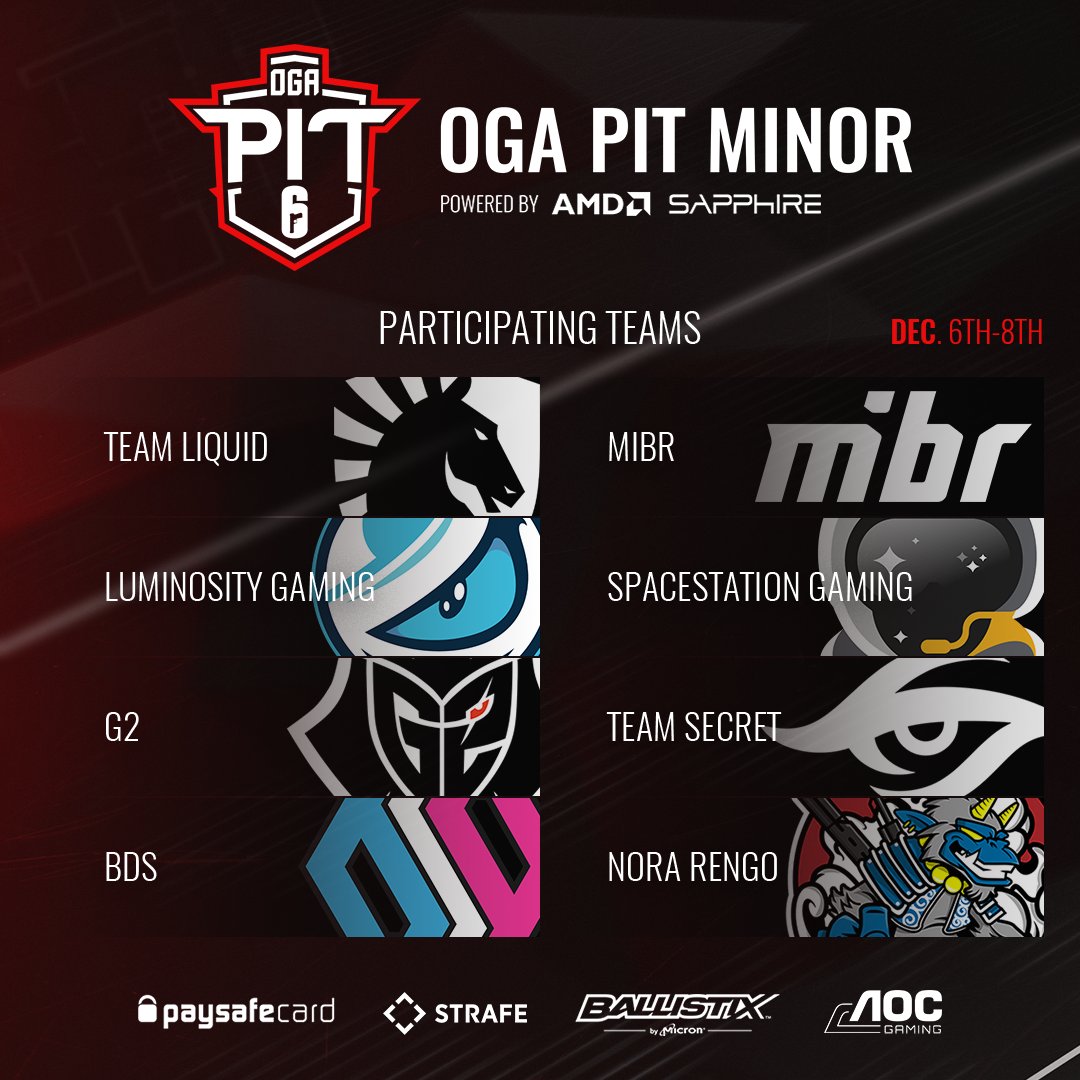 G2 Esports
Pengu, Fabian, Kantoraketti, UUNO, Cryn, Shas[O]Udas (coach), and Sua (coach)
All eyes will be on the new entry to the team in Pascal "Cryn" Alouane who joins replacing Daniel "Goga" Mazorra Romero who many consider to be the best support player in R6 history. This change comes as a response to them being unable to qualify for either of the last two Pro League seasons and their very early exit in the group stages of DreamHack Montreal after defeats to Team Liquid and Team BDS. Now, with both BDS and Liquid in attendance at this event, and qualification opportunities for the next Invitational closing, the pressure will be on G2 to perform and prove they still have what it takes to be a title winning team.
Team Secret
meepeY, LeonGids, Elemzje, Fonkers, Ferral, and Helbee (coach)
As both the only non-Pro League team in attendance and the only two-times Minor champion, Team Secret will be aiming to rectify a bad Challenger League run that ended in third place, below forZe and BDS, looking for success here to become the second British roster to qualify for the Six Invitational 2020. With victories at the Allied Minor and DreamHack Valencia 2018 as well as top-four finishes at both the 2018 and 2019 Six Majors, Secret is very clearly a world-class team on LAN despite always being the underdog prone to springing a surprise -- something the players will be keen to repeat here.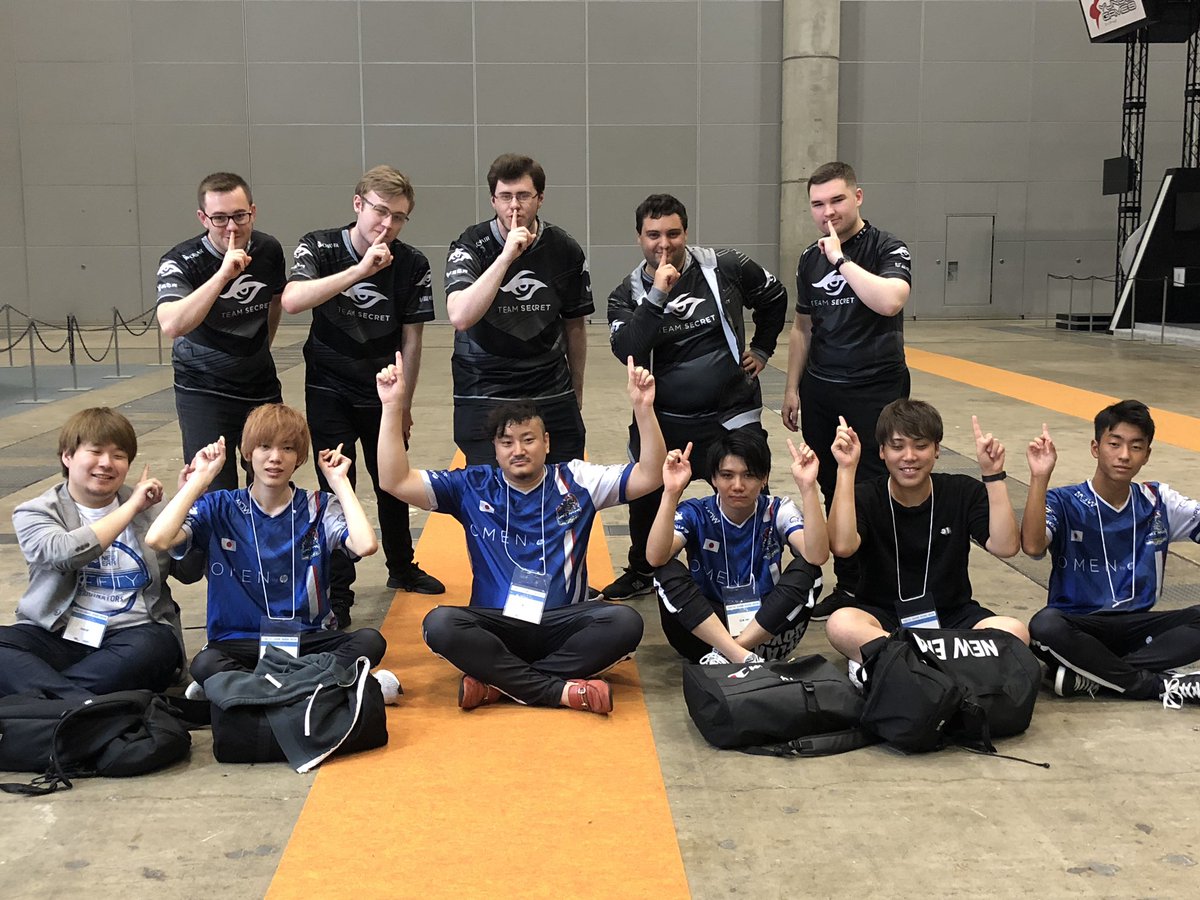 BDS Esports
Shaiiko, rxwd, Renshiro, Panix, RaFaLe, and fiskeR (coach)
Despite not initially qualifying for this event, BDS managed to defeat their fellow Challenger League victors of forZe to earn third place in the European qualifier and thus take the final place that the Asia-Pacific region couldn't fill. Now that they have qualified, they'll be aiming to go just a bit better than their last Minor where they defeated Rogue, G2, Liquid. and Evil Geniuses before losing to the eventual champions in their very first LAN as a team. Since then, they have won the Challenger League and have beaten ENCE to qualify for Season 11 of the Pro League, meaning one of the quickest growing teams in R6 has just one thing left to finish off a perfect 2019 -- to win this Minor and qualify for the biggest event of 2020.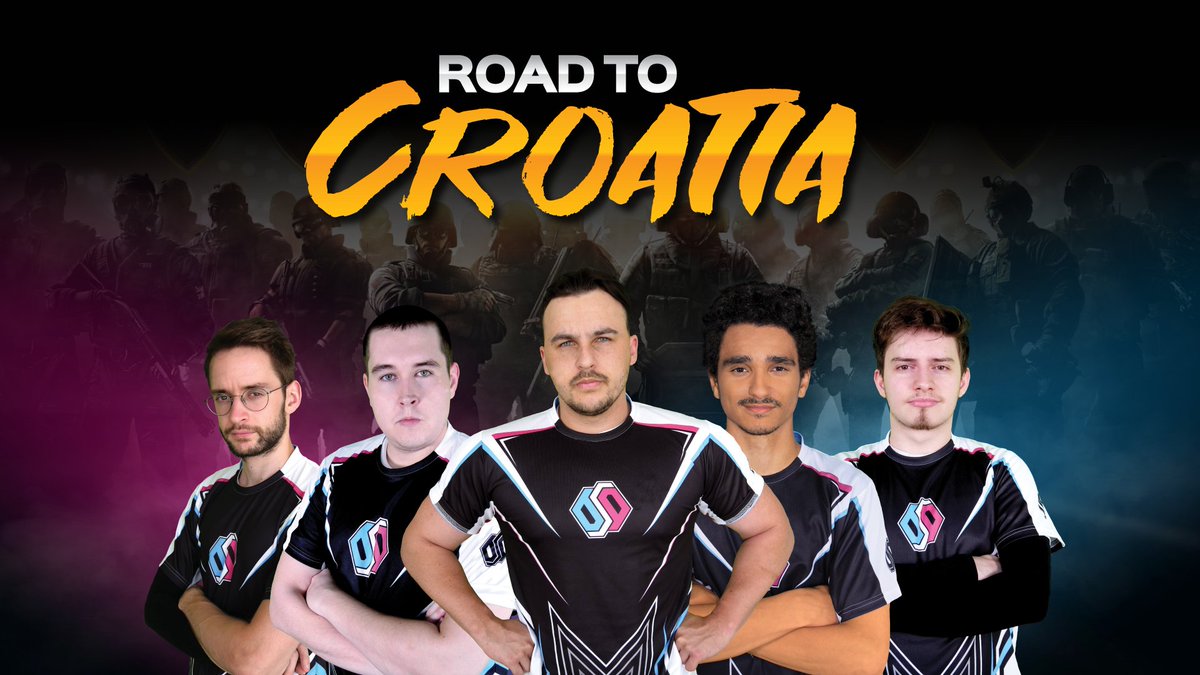 Team Liquid
xS3xyCake, nesk, psk1, Paluh, HSnamuringa, Silence (coach), and Sensi (coach)
The only team at the event not to make a roster change in the last six months comes into this event with a very prominent recent LAN record despite them being unable to perform online. On LAN in 2019, Liquid's players narrowly lost to Team Empire at the 2019 Six Invitational, were crowned the Brazilian champions at the BR6 Finals, and finished third and second in their two Minor appearances where they took three maps off of Spacestation Gaming, beat Luminosity Gaming 2-0, beat G2 2-1, and lost to just one team in attendance -- Team Secret -- by a score of 2-7, 4-7. Now, they hope to win LATAM's second-ever international tournament to ensure they attend the Invitational after failing to qualify to the Raleigh Major earlier in the year.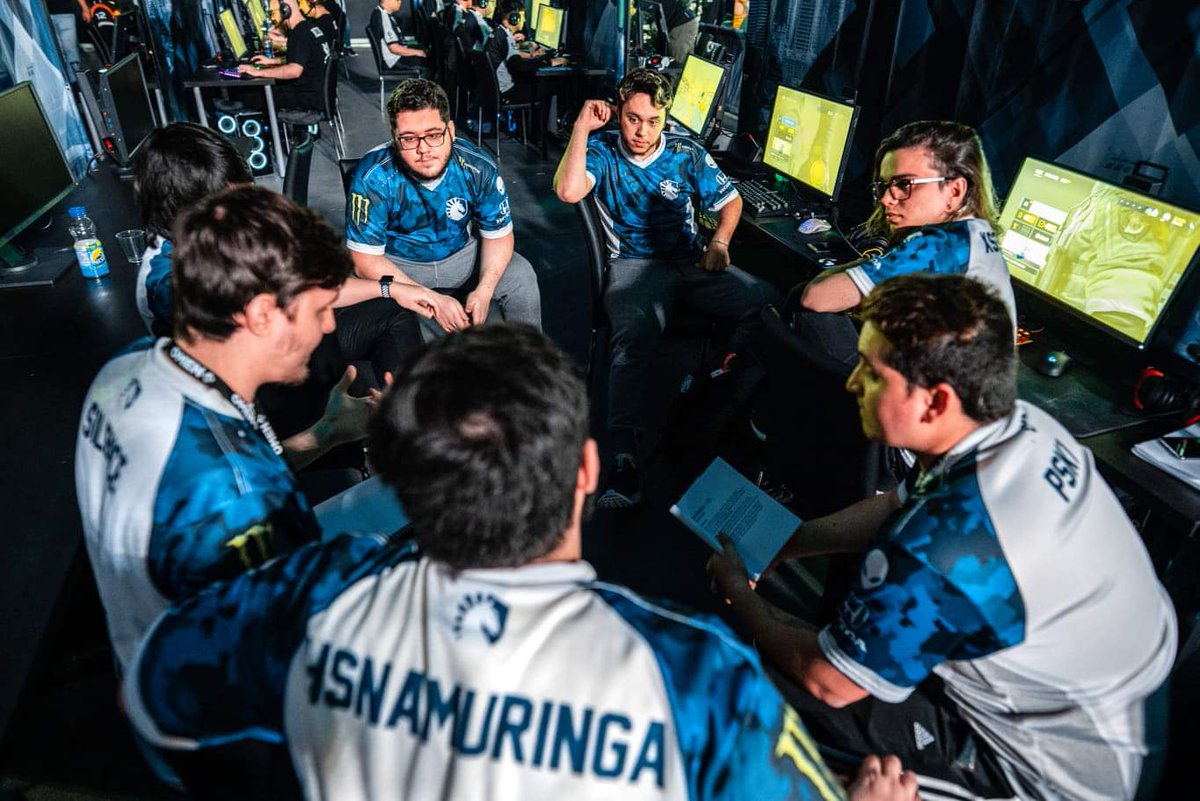 MIBR
Cyb3r, Novys, Bullet1, MKing, hugzord, and Guille (coach)
In a reverse of Liquid's situation, MIBR has always excelled online and been unable to perform at LAN with just two international wins in five appearances (one of which was against NORA-Rengo playing with kizoku as a substitute). To make matters worse, their online record also dived in performance recently, with the team falling from second in LATAM during Season 9 to seventh in the region for Season 10. Just last month they had narrowly managed to defeat YeaH Gaming (7-2, 5-7, 7-4) in their Pro League relegation game to qualify for Season 11 of the league. Despite all this, the team has been practising at a bootcamp in Serbia for this event for the last month, and will be sure to bring their best as they face the new-look G2 roster in their quarter-final.
Spacestation Gaming
ThinkingNade, Rampy, Bosco, Fultz, Canadian, and Lycan (coach)
After defeating the favourites of Evil Geniuses to qualify for this event, Spacestation Gaming now travels here after a very middling year where the team arguably failed to live up to initial expectations. After losing to the eventual champions in overtime at the USN 2018 Finals, SSG has spent the last twelve months finishing in fifth place for what has now been six events in a row -- Seasons 9 and 10 of the NA Pro League, the Allied Minor, DreamHack Montreal, and both Majors. They now come to the OGA Finals after replacing their analyst of Daeda with EkuL, hoping not to be first-rounded by NORA-Rengo and failing to make it into the top four of the event.
Luminosity Gaming
Doodle, Hyena, Rexen, Factor, Slashug, and ViiRuS (coach)
Slashug's debut on the LG roster after leaving Rogue following almost three years on the team will be a great show to see as he brings experience and guidance to the breakout NA stars of 2019 after they finished their first Pro League season in fourth place ahead of SSG and Team SoloMid. Luminosity previously took a map off of BDS and lost to Liquid at DreamHack Montreal, and defeated the favourites of Evil Geniuses in the OGA qualifiers to get this far, showing they do have promise despite being the most inexperienced team at the LAN event.
NORA-Rengo
Merieux, Papilia, YoshiNNGO, ReyCyil, Maavie, and kizoku (coach)
Since Wokka left last March, NORA-Rengo hasn't won any international games, lost first seed to Cyclops Athlete Gaming in Season 10, and failed to qualify for the Pro League Finals in Season 10 after losing to Aerowolf. With Maavie having been thrown into the fire against a rampant Aerowolf in his first-ever Pro League game, the Japanese will be hoping that the team synergy has been built up to a sufficient enough degree to get past SSG and perhaps even further.
Event
These eight teams have now been seeded into a mixed double and single-elimination bracket tournament in which the winners of the initial quarter-finals are then given a lifeline in the form of a lower bracket: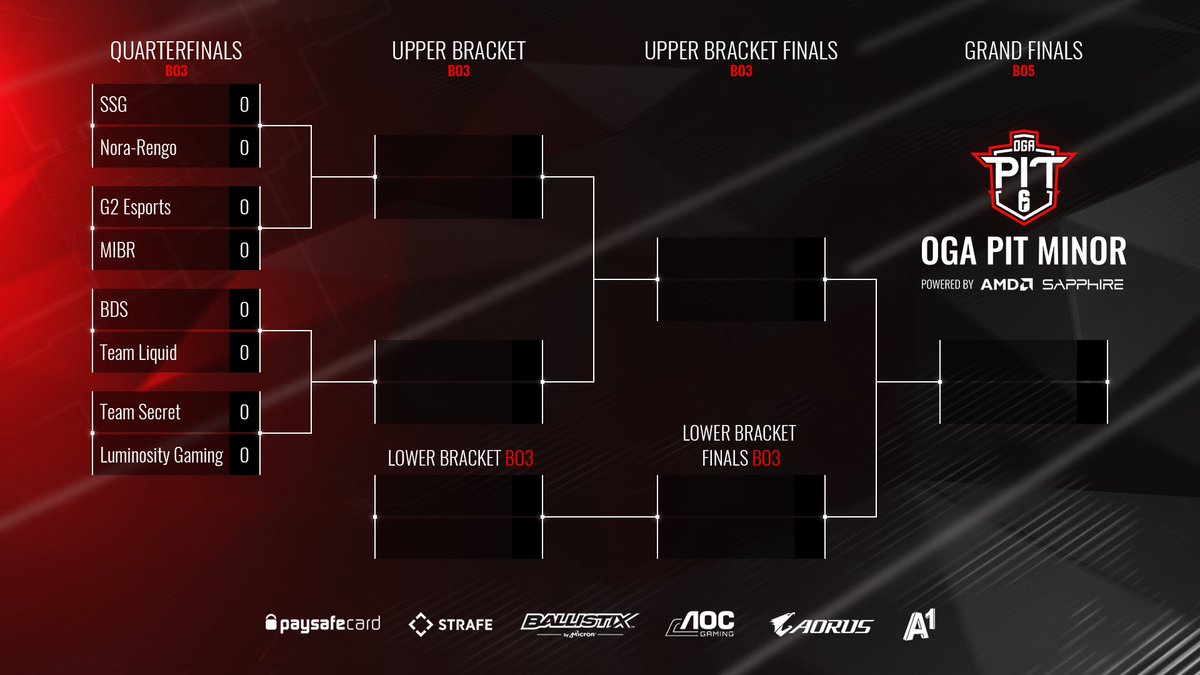 This format allows there to be a double-elimination element in a tournament, something that many had been asking for for years, while having best-of-three map matches up until the best-of-five grand-final, all while fitting proceedings into a three-day schedule.
While this means this Minor has an improved format compared to previous events, it has the huge drawback of being a closed event, with possible attendees needing to get an invitation from OGA to attend the LAN at the Radisson Blu Resort in Split, Croatia, where OGA is headquartered.
As well as the Six Invitational 2020 spot, the event's $75,000 prize pool will be distributed as follows:
1st - $30,000

2nd - $15,000

3rd - $8,000

4th - $6,000

5-8th - $4,000
Broadcast
The games take place from this Friday to Sunday on the ogarainbow6pit Twitch account, starting at 9 AM CET (UTC+1) for the first two days and 11 AM CET (UTC+1) on Sunday, though no precise schedule has been released yet.
Concerning talent, OGA will feature a bevy of British casters, as the Premiership names of Harry "Demo" Dempster, Will "CaptainFluke" Donaldson, Tim "AceOfPyrite" Leaver, and Derry "Dezachu" Holt will be joined by the Benelux caster of Stijn "Hap" Hapers and the CCS, Challenger League, and regular OGA caster of James "Sternab" Parkinson.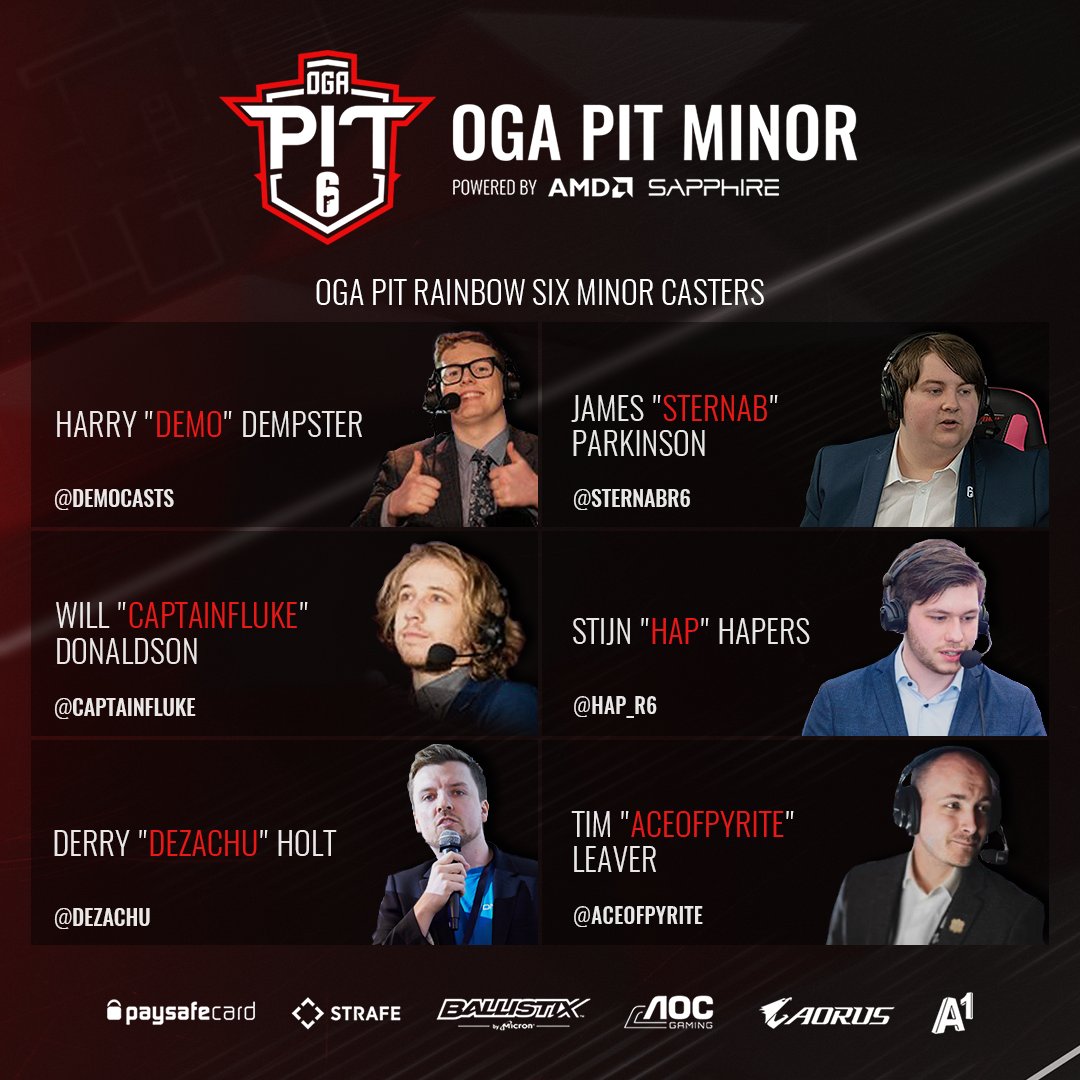 Previous Events
This is the eighth R6 Minor event to date, with these being the previous victors:
DreamHack Austin 2018 -

Millenium

Joghurtzz, Renshiro, Liven, Hicks, risze, and Crapelle (coach)
DreamHack Valencia 2018 -

i don't know

meepeY, Lacky, LeonGids, sTiZze, Elemzje, and Helbee (coach)
DreamHack Montreal 2018 -

Cloud9

Goddess, FoxA, Retro, LaXInG, MarkTheShark, Robn (coach), and ViiRuS (coach)
DreamHack Winter 2018 -

G2 Esports

Pengu, jNSzki, Goga, Fabian, Kantoraketti, Shas[O]Udas (coach), and Ferral (analyst)
Allied Minor 2019 -

Team Secret

meepeY, LeonGids, Elemzje, Fonkers, Ferral, and Helbee (coach)
DreamHack Valencia 2019 -

Rogue

Ecl9pse, Slashug, Easilyy, Shuttle, VertcL, Ranger (coach), and Reaper (analyst)
DreamHack Montreal 2019 -

Team SoloMid

Achieved, Merc, Beaulo, Pojoman, Jarvis, and Gotcha (coach)
This means that there are five two-times Minor champions in R6 history in meepeY, LeonGids, Elemzje, Helbee, and Ferral (who's also one of two previous Minor MVPs alongside Beaulo), all of which will be in attendance at this event playing for Team Secret. As well as this, there'll be another seven ex-Minor champions in attendance in Renshiro, Pengu, Fabian, Kantoraketti, Shas[O]Udas, ViiRuS, and Slashug, and all will be aiming to catch up to the Team Secret with a second victory here.
As for previous OGA Seasons, while they were online, they did include almost every Pro League team possible, with the following teams coming out as victors:
Season 1: Europe -

PENTA Sports

Pengu, jOONAS, Goga, Fabian, Kantoraketti, Shas[O]Udas (coach), and Ferral (analyst)
Season 1: North America -

Evil Geniuses

Canadian, Necrox, nvK, BC, Yung, and BKN (coach)
Season 1: Latin America -

Bootkamp Gaming

Lipezord, Dudds, IntacT, MKing, Paluh, and Dryx (coach)
Season 2: Latin America -

FaZe Clan

Astro, cameram4n, muringa, mav, and yoona
This then also means there are seven previous champions in attendance here as well, namely: Pengu, Fabian, Kantoraketti, Shas[O]Udas, Ferral, MKing, Paluh, and muringa, from the teams of G2, Secret, MIBR, and Liquid.

---
Check back here for updates throughout the Minor here at SiegeGG as all eight teams bring their all to cap off 2019 on a positive note and qualify for the Six Invitational 2020.