As SiegeGG's hub for all roster changes in the transfer window between Season 10 and 11 of the Pro League, this page will be regularly updated with the latest transfer news. Check back here to keep up to date with all upcoming changes in the Asia-Pacific region, and check here for the changes so far in the Latin American region.
Summary of Changes So Far
SEA:
Luminescent - DCH leaves for new Xavier Esports roster (former NEX Esports)
NEX Esports - Pxkie and Funleks leave, Babypig (Scatman), DCH and Beastmxde join, then roster signs with Xavier Esports
Xavier Esports - Original roster swaps Babypig (Scatman) for Pxkie, roster's contracts expire, team signs with Qconfirm, and NEX Esports roster signed
Aerowolf - MentalistC leaves, roster leaves organisation
ANZ:
Mindfreak - BakedBeenz leaves, roster is let go
Fnatic - RizRaz retires, Speca dropped, MentalistC and Tex signed
Oddity Esports - Vinnie leaves, Dgtl and Giovanni join, roster is let go
Rhythm - Roster signed by Kanga Esports
JP:
Cyclops Athlete Gaming - Shokei leaves
KR:
Cloud9 - CATSang and Neilyo leave
Roster Changes
[SEA] Aerowolf Roster Leaves Organisation
The Aerowolf roster has left the organisation after a period of approximately a year and a half with the team. This news follows teases from its players Ysaera and HysteRiX, with rumours of a bigger organisation on the way.
Aerowolf finally achieved international success in Season 10, beating Fnatic for the first time in five attempts to eventually make it to the Pro League Finals where the Singaporeans also defeated Giants Gaming. Season 11 started off successfully for the team as well, with six points collected against old foes Team1122, and the team now sets its sights on the Six Invitational 2020.
[ANZ] Mindfreak Parts Way with Roster
Much like Oddity Esports, Mindfreak has also parted way with its roster just prior to the start of Season 11 of the Pro League. The team will thus be looking for representation for Season 11 and beyond, with the organisation rumoured to be picking up the HomeLess roster instead.
[ANZ] Oddity Esports Parts Ways with Roster
Oddity Esports has parted way with its roster after a year in the Rainbow Six scene following the expiry of the team's contracts. The roster will be known as Onyxian for the timebeing as it searches for an organisation to represent through Season 11 of the Pro League and beyond.
[ANZ] Kanga Esports Signs Rhythm Roster
Just days before the start of Season 11 of the Pro League, one of two remaining teams without an organisation in ANZ has been signed, with Kanga Esports picking up the Rhythm roster.
[KR] December 21st: CATSang and Neilyo Leave Cloud9
After barely qualifying to the APAC Six Invitational 2020 Qualifier LAN by one round over TRIPPY and shocking failures at the past three APAC LANs, Sewoong "CATSang" Heo and substitute Inyeop "Neilyo" Lee have left the team. In the interim, former team captain and the current coach Hyeon "OCN" Park will be stepping into CATSang's place on the playing roster.
Despite being very successful domestically in 2019, Cloud9's fortunes took a sharp dip on the APAC stage after being signed by Cloud9 just prior to the Season 9 APAC Finals. There, they lost 1-7, 2-7 to Aerowolf, were knocked out in a close 0-2 by 0RGL3SS (now Wildcard Gaming) at the Raleigh Qualifier LAN, and then crushed 1-7, 2-7 after winning the first map against NORA-Rengo at the Season 10 APAC Finals.
It is unclear if Cloud9 will be looking for a sixth player, or a permanent fifth member, given OCN's prowess at the game, stretching back to his time as a player. Then, OCN had only been forced to step away due to mandatory military service, but marks a return to the game now after having coached the team in various capacities since that change.
[JP] December 13th: Shokei Leaves Cyclops Athlete Gaming, Ayagator Joins
Longtime Cyclops Athlete Gaming (CAG) player and team captain Shohma "Shokei" Shiotsuka has left the current top Japanese team just a day before the Six Invitational 2020 Closed Qualifier for Japan.
Filling up his spot will be a heretofore relatively unknown Ayagator, and it is likely that he will be playing for CAG in the long term.
Shokei was with CAG since the Six Major Paris 2018 qualifiers, and finally tasted some measure of success in Season 9 where the team qualified for the APAC Finals and then when they managed to secure a ticket to the Six Major Raleigh 2019. After failure to repeat the feat at the Season 10 Finals, Shokei has now left the team.
[ANZ] December 6th: Vinnie Leaves Oddity, Dgtl and Giovanni Join
Just one day before the Six Invitational 2020 Closed Qualifier for ANZ, Oddity Esports has undergone a significant roster shift. Outgoing is Vinnie, while Dgtl and Giovanni are the incoming players. These moves follow the departure of Brandon "Raven" Langiano as coach and his replacement by Sinnix.
Oddity Esports finished in third place in the ANZ Pro League in Season 10, coming within two points of beating eventual Tokoname-qualifying Wildcard Gaming to the APAC Finals (and thus possibly taking Wildcard's place in Japan). However, failure to secure a minimum of two points against FURY on the final play day saw the team miss out.
Dgtl and Giovanni had both been on the exciting Extricity roster that had madeit all the way to the semi-finals of the Six Oceanic Cup 2019, with the then largely under-18 squad beating Pro League team Mindfreak in a 2-0 fashion. However, the team could not repeat the success in the Six Masters 2019, and crashed out without a single point, resulting in a disband.
[ANZ] November 29th: Fnatic Signs MentalistC and Tex
After a Season 10 disappointment where Fnatic lost to Aerowolf in the quarter-finals of the APAC Finals (thus missing out on the global Finals in Tokoname and auto-qualification to the Six Invitational 2020), Fnatic has signed Aerowolf's Patrick "MentalistC" Fan and Team SiNister's Tex "Tex" Thompson, formerly known as Copper.
[ANZ] November 29th: Fnatic's RizRaz Retires, Speca Dropped
After a very disappointing Season 10 of the Pro League, longtime Fnatic member RizRaz has retired, while Speca has been dropped.
Speca's departure does not come as a complete surprise after his inclusion into the main Fnatic roster was -- at least by results -- not the resounding success as was hoped. While Fnatic did finish at the top of the ANZ Pro League, their qualification to the APAC Finals itself was in doubt at one point and the team lost to Aerowolf in the quarter-finals. He did have success with Fnatic, though only domestically, as the team was victorious at the Six Masters 2019.
On the other hand, not many would have expected RizRaz to be have retired, given his long history with the team and Rainbow Six itself. With Mindfreak his team made it to the quarter-finals of the Six Invitational 2018, taking down Room Factory (now Team Empire) and Team Liquid in the process, before being signed by Fnatic.
With Fnatic came long and sustained success; a Season 7 Finals appearance, a joint-ninth finish at the Six Major Paris, a semi-finals finish at the Season 8 Finals after defeating Evil Geniuses, a Six Invitational 2019 quarter-finals finish after a knockout loss to NORA-Rengo, a Season 9 Finals semi-finals finish and wins at the Six Masters 2018 and 2019. The Six Major Raleigh, though, saw them knocked out with no wins, and it seems that the failure to qualify for the Season 10 Finals was the last straw.
Speca has not yet announced his future, though it is possible that he will be signed by a team for Season 11 of the Pro League given his experience. The loss of RizRaz, coupled with dropping Speca, though, could prove to have major ramifications on the Fnatic roster as the team moves forward.
[ANZ] November 17th: BakedBeenz Leaves Mindfreak
Mindfreak coach Oliver "BakedBeenz" has left the team, citing mental health issues leading to a dip in performance. Following his departure, Mindfreak is now down a coach as well as a player, and will be looking for one prior to the ANZ Six Invitational Qualifiers, starting at the end of this month on the 30th of November.
[SEA] November 15th: MentalistC Leaves Aerowolf
After only his second season in the Pro League that culminated in a scintillating Pro League Finals, Patrick "MentalistC" Fan has left his longtime team of Aerowolf. While MentalistC had intimated that he would be retiring from Rainbow Six entirely, due to the immense strain of balancing a Singaporean education with a full-time esports career, he left himself open to the option of going full-time in the game if a suitable situation ever arose where an organisation able to support the Aerowolf roster could sign them, or if MentalistC was able to move oversea to another team.
For now, however, it seems that his time in Rainbow Six is over, though in his Twitlonger describing his struggles, he had left himself open to someday return to the game.
MentalistC had been with the Aerowolf roster through its many forms since it was formed, initially just an underaged substitute while the team first played in community cups, made it to the Six Invitational 2017, and then the Pro League from Season 6 onwards. At the start of this year, however, MentalistC joined the team proper, having turned 18 years-old. Immediately participating in the Six Invitational 2019 APAC Qualifier LAN, he was unable to help propel Aerowolf to Montreal.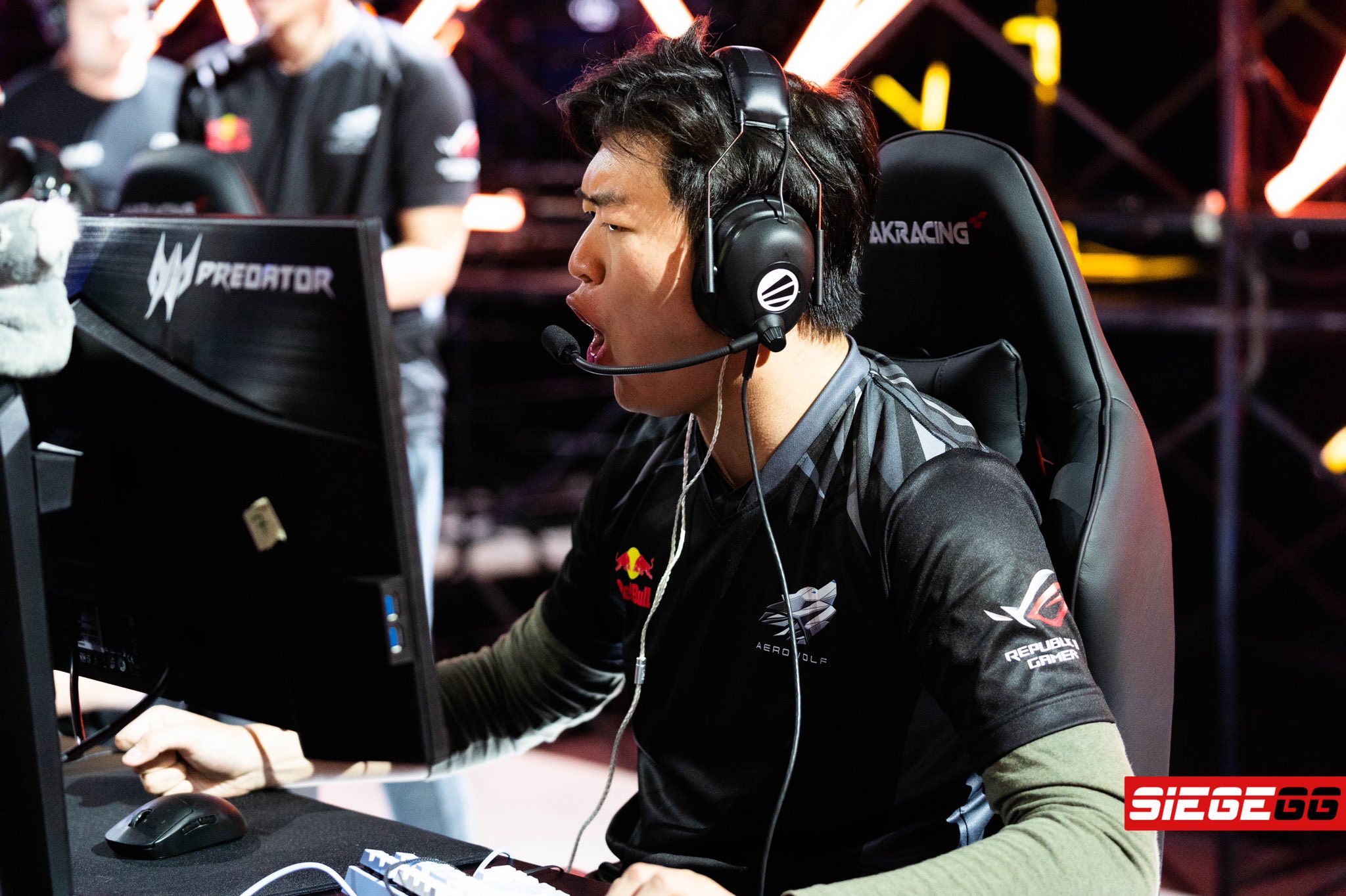 Season 9 saw him and his team also fail to qualify to the Finals in Milan, being two rounds away from beating Fnatic and qualifying, while it was Cyclops Athlete Gaming who would be the barrier at the Six Major Raleigh APAC Qualifier LAN. Season 10, though, was when things finally clicked, as MentalistC and Aerowolf went on a blinder of a revenge tour, taking down Fnatic and NORA-Rengo to qualify for the Season 10 Finals and the Six Invitational 2020. What's more, after defeating Wildcard Gaming to be crowned APAC champions, Aerowolf went on to pull the rug out from under Giants Gaming at the Season 10 Finals in Tokoname, eventually falling to DarkZero to cap off a wildly successful Season 10 for the team.
Replacing him in the now all-Singaporean roster will be the Aerowolf substitute of Jordan "jrdn" Cheng, and all eyes will be on Aerowolf in the first few months of 2020 to see if Aerowolf will be able to replicate or better their success in the Pro League and at the Six Invitational 2020.
[SEA] November 5th: Xavier Esports, Luminescent, and NEX Esports Undergo Roster and Organisation Swaps
In a bevy of changes in the Southeast Asian Pro League, top seeded Xavier Esports and the other two Thai teams of Luminescent and NEX Esports have been part of a significant roster and organisation shuffle.
Starting off, the Xavier Esports roster's contracts have expired, with the team signing with a new organisation, Qconfirm. Together with this change, Atibordee "Scatman" Noichan has changed his name to Babypig and has been replaced by NEX Esports substitute Pakkapon "Pxkie" Pakkapon.
Babypig himself has headed across, joining the NEX Esports roster, which itself has left NEX Esports to join the Xavier Esports organisation. Also joining the NEX roster is Adithep "DCH" Channuan from Luminescent, while Rattammannoon "Funleks" Muangngam has left the team as well and a new entrant, Beastmxde, has joined the new Xavier Esports roster to fill the ranks as the team's second substitute.
As such, this currently leaves Luminescent without a fifth player, though it is possible that Funleks will be joining them in what seems to be a grand merry-go-round amongst the Thai teams.
Interestingly enough, the change of Pxkie for Babypig (Scatman) comes as somewhat of a surprise, given that the Qconfirm roster seemed positive about the integration of Babypig into the roster since the Six Major Raleigh online qualifier. Whatever the case, though, it is very likely that Qconfirm will still be top-two in Southeast Asia come Season 11, but they will face stiff competition -- one in the form of the new Xavier Esports roster, but secondly (and more importantly) from newly crowned APAC champions and globally joint-third team, Aerowolf.
---
And so that's every change within the Asia-Pacific region of the Pro League so far in this transfer period. Check back here for more updates over the coming days.