With the Pro League Finals making their way to APAC for the first time ever, and multiple traditional powerhouse teams making way for fresh faces, the excitement was palpable in the Aichi Sky Expo in Tokoname. Four exciting quarter-final games were to be played on the first day, starting off with DarkZero Esports vs FaZe Clan, and ending with Ninjas in Pyjamas vs Team Reciprocity.
Quarter-Final 1: DarkZero Esports 2-0 FaZe Clan
Maps: Bank (7-5), Consulate (7-4), Coastline (Not Played)
DarkZero: Mint, Hotancold, BC, Hyper, Nyx, BKN (coach)
FaZe: Astro, cameram4n, mav, Yoona, ninexT (stand-in), Twister (coach)
With FaZe Clan playing with Nino "ninexT" Pavolini standing in for their mainstay of Ronaldo "ion" Osawa after the latter had been denied a Japanese visa, most had written off FaZe's chances. What's more, they were going up against DarkZero (DZ), the first seed out of North America. While DZ had yet to live up to their potential at an international LAN, a weakened FaZe was expected to give them a good start.
Starting off on Bank, FaZe Clan were keen to prove observers wrong. A first round win was pulled back by DarkZero, but a second round win to retake the lead started waking people up to the idea that FaZe would not be pushovers. While DarkZero did take the lead 3-2, FaZe were looking good to tie things up on their attacking half, but a terrible misplay while up three to one allowed Hotancold to pull off an inch-perfect clutch. Two more rounds got DZ to match point, and while FaZe would mount a three-round comeback, the fourth would be just out of reach for them, and DZ would take the first map 7-5.
The second map, Consulate, started fairly differently, however, with DarkZero riding the wave of hype to cruise to a 3-0 lead. FaZe Clan finally got on the board on the fourth round, however, and a small back-and-forth saw them somewhat salvage the half even though they were 2-4 down. Once again, FaZe started to engineer somewhat of a comeback, taking two rounds in a row to tie things up, but DZ held strong to respond with three of their own, thus taking the map 7-4 and the series 2-0.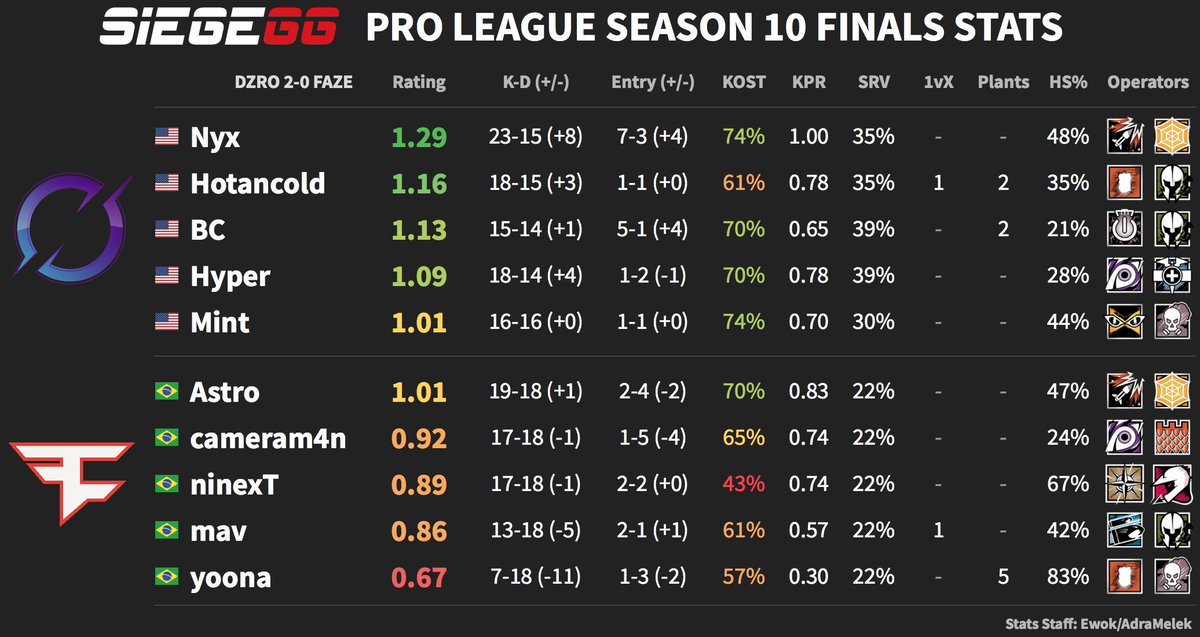 While FaZe Clan's journey ends here, the Brazilians will take heart from the strength they had despite playing with a stand-in. DarkZero, on the other hand, go forth into the semi-finals for the first time in the team's history, where they will face either Giants Gaming or Aerowolf.
Quarter-Final 2: Natus Vincere 2-1 Wildcard Gaming
Maps: Kafe (4-7), Coastline (7-1), Clubhouse (8-7)
Na'Vi: Kendrew, neLo, Pie, Saves, CTZN, GiG (coach)
Wildcard: Ethan, EmoRin, Derpeh, NeophyteR, Diesel, syliX (coach)
Coming into the matchup, even fewer were willing to give the Australians of Wildcard Gaming as much a chance had been given to FaZe. Natus Vincere, after all, were the top seed in Europe, having beaten Team Empire and G2 Esports to make it Tokoname. Wildcard, though were keen to prove a point.
Going onto Na'Vi's map pick of Kafe, a map Wildcard had lost 3-7 to Southeast Asian top seed Xavier Esports at the APAC Finals, things weren't expected to go well. Starting on defence seemed to be the spark Wildcard needed, though, as they cruised to an unfathomable 4-0 lead. Na'Vi looked lost, and while they did secure one round, Wildcard were playing with confidence and took the half 5-1. Switching to attack, the party continued as Wildcard got onto match point, but Na'Vi finally woke up. Four rounds in a row then went to the Europeans who seemed eager to claw back lost ground, but the Australians held out and took the first map 7-5 to everyone's surprise.
Where Kafe had been a Na'Vi stronghold, Coastline had been a Wildcard one. Unfortunately for each team, their opponent had studied each other well. An inordinate amount of aggression was duly punished by Na'Vi as they swept to a 3-0 lead, conceded a round, and then went on a four-round rampage to clean up Wildcard to push things to map three. The map was essentially summed up in the second round, when neLo bulldozed the Wildcard players on his way to an ace from a 1v4 situation.
Initially, it seemed that Wildcard had mentally collapsed. Two dominant rounds went to Na'Vi, and while Wildcard got two of the next three, the Europeans were in control as they took the defensive half 4-2. The role swap seemed to wake Wildcard up, however, as they tied things up in short order. Na'Vi, though, were happy not to shy away from a fight, and a round win for them saw them ensure all twelve rounds would be played in regulation time. That, however, soon became a quest for survival as -- out of the blue -- Wildcard were one round away from sending Na'Vi home. Despite somber faces, the Na'Vi players' spirits were unbroken, and not only did they force overtime, they themselves got to match point. While Wildcard would set hearts racing by pushing things to the 15th round, Na'Vi would get themselves over the line and take the map 8-7.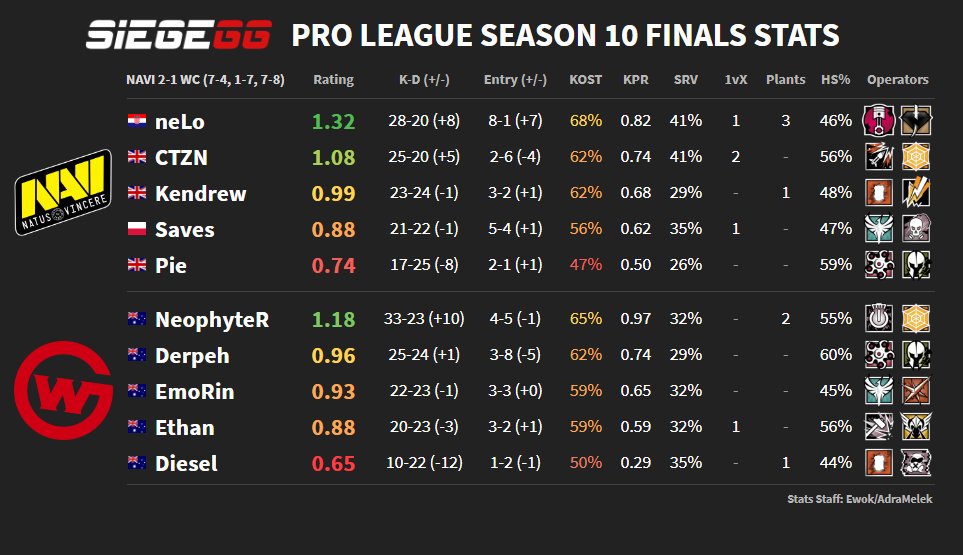 While the result means that Wildcard's first international outing has seen the team eliminated in the first round, it was a much larger success than most would have expected. Na'Vi were pushed hard by their international-debutante opponents, but won nonetheless and moved on to face either Aerowolf or Giants Gaming.
Quarter-Final 3: Aerowolf 2-1 Giants Gaming
Maps: Kafe (6-8), Villa (8-7), Coastline (7-5)
Aerowolf: Lunarmetal, Ysaera, HysteRiX, SpeakEasy, MentalistC, jrdn (substitute)
Giants: Hicks, Alphama, risze, Korey, AceeZ, Crapelle (coach)
Right off the tails of an insane APAC-involved quarter-final was another one. Here, Pro League Finals debutantes Aerowolf, having finished top in APAC, took on what some observers felt to be the true best team in Europe right now, Giants Gaming. The Europeans, though, had yet to satisfactorily prove that they were not just an online team, while the Singaporeans wanted to make their international mark after a two-and-a-half year absence.
Starting off on Kafe, a map that Aerowolf has struggled on since the Pro League was introduced to APAC, things were not expected to go well. With a first-round loss, it certainly seemed like it was going to be the case, but Aerowolf rallied with a staggering four straight rounds. The Giants finally broke the spell, forcing their way through a strong defense, but Aerowolf simply continued on after the role swap, winning their first attack. However, as in the past, Aerowolf failed to make the advantage count, losing four straight rounds. The Giants, now on match point, could not stave off overtime, but closed things out in the 14th round to hand Aerowolf a loss they may have felt was undeserved.
However, with Kafe being Giants' pick, it was then time for Aerowolf's pick of Villa. Here, Aerowolf took the initial lead, winning two rounds before the Giants tied things up with two of their own. So went the pattern, two more for Aerowolf, and two more for the Giants as things hung even at 4-4. The streak of two was then replaced by a streak of one, as back-and-forth went the rounds, and Aerowolf, being the ones on match point this time, were also unable to prevent overtime. Securing defense on the map, though, seemingly did the trick, as they traded rounds with the Giants again, but came out on top after a nail biting last round to push proceedings to Coastline.
Coastline was a map that no team had a clear advantage on, with Aerowolf having done equal amounts well and equal amounts poor, and the Giants, too, not having had a standout record. As was now a pattern with these two incredibly closely-matched teams, the first four rounds went back-and-forth between the two teams, but two additional defensive rounds once again gave the Southeast Asians a 4-2 lead at the half. The Giants, though, were no slouches, and Aerowolf was prone to a spot of choking, and three rounds went the way of the Giants to give them the lead in what seemed like the end for Aerowolf. However, seemingly having learnt the Heimlich maneuver, Aerowolf turned up the heat after a well-timed tactical timeout, going on a three-round rampage to close things out and win their first-ever international match.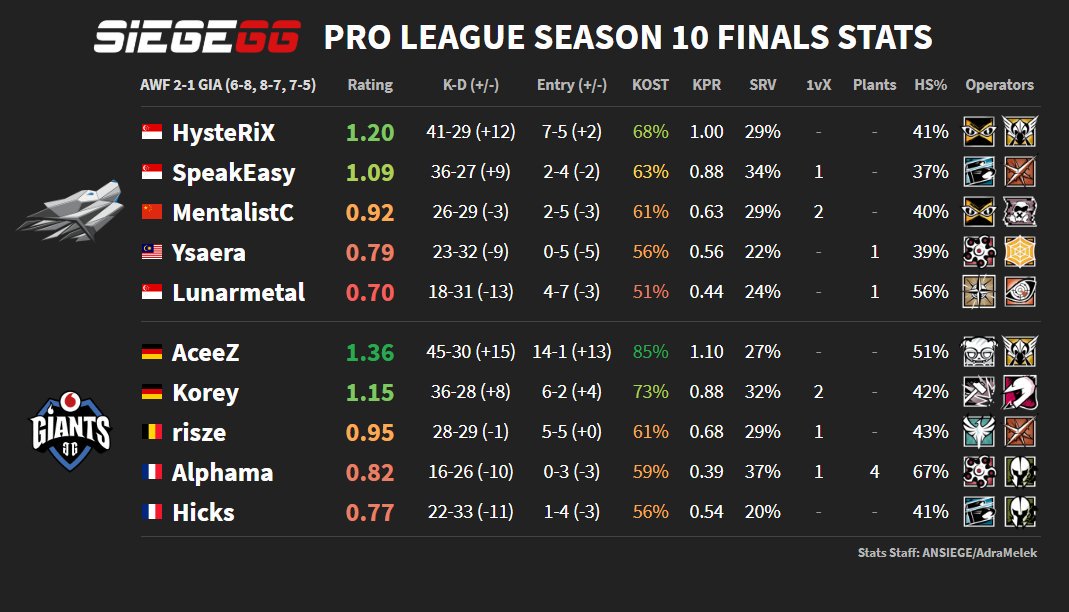 The result meant that the Giants, once again, failed to progress past the quarter-finals of yet another playoffs, while Aerowolf continued on to the next stop on their revenge tour -- DarkZero Esports. Having lost to Fnatic and NORA-Rengo in the past in APAC, and the Giants (2-7) and DarkZero (7-8) at the Allied Minor, the Singaporeans are certainly looking good value to continue on and make it to the grand final.
Quarter-Final 4: Team Reciprocity 2-0 Ninjas in Pyjamas
Maps: Coastline (7-3), Consulate (8-6), Clubhouse (Not Played)
Reciprocity: FoxA, MarktheShark, Skys, LaXInG, Retro, HOP3Z (coach)
NiP: Psycho, muzi, pino, baroz (stand-in), p0Lo (stand-in), Bob (manager)
With the day having become night long ago, viewers may have been forgiven for expecting a swift 2-0, thanks to Ninjas in Pyjamas (NiP) having to play with two stand-ins that had just flown to Japan earlier in the day. Team Reciprocity, on the other hand, boasted the pedigree of Six Invitational 2019 semi-finalists, and many were already talking about the Team Reciprocity vs Na'Vi semi-final as an actuality.
NiP, though, had other ideas. While Team Reciprocity started off on Coastline well enough, winning the initial two rounds, it was the Brazilians who won two of the next three to start posing a credible threat to their Northern neighbours. Reciprocity kept the pressure up, winning two further rounds, and while NiP would interrupt with one of their own, the North Americans would swiftly quell any hopes of a comeback.
Despite being down a map, the Latin Americans were far from out of the game. Now moving onto their own pick of Consulate, they would actually begin trading rounds back-and-forth with Reciprocity who were visibly feeling the effects of an 11-hour wait to play. The North Americans would begin to take the game away from NiP, though, taking three rounds on the trot, but the Brazilians would suddenly find their footing and fire back with three of their own. With things tied at 5-5, Team Reciprocity would get onto match point with a robust defence, but a failure to stave off overtime suddenly meant that a third map was no longer the impossibility it had been treated as before. NiP would finally run out of steam, though, as the Spanish-duo would try their best to help the team along but fail as Reciprocity would take the two overtime rounds played and thus the series, 2-0.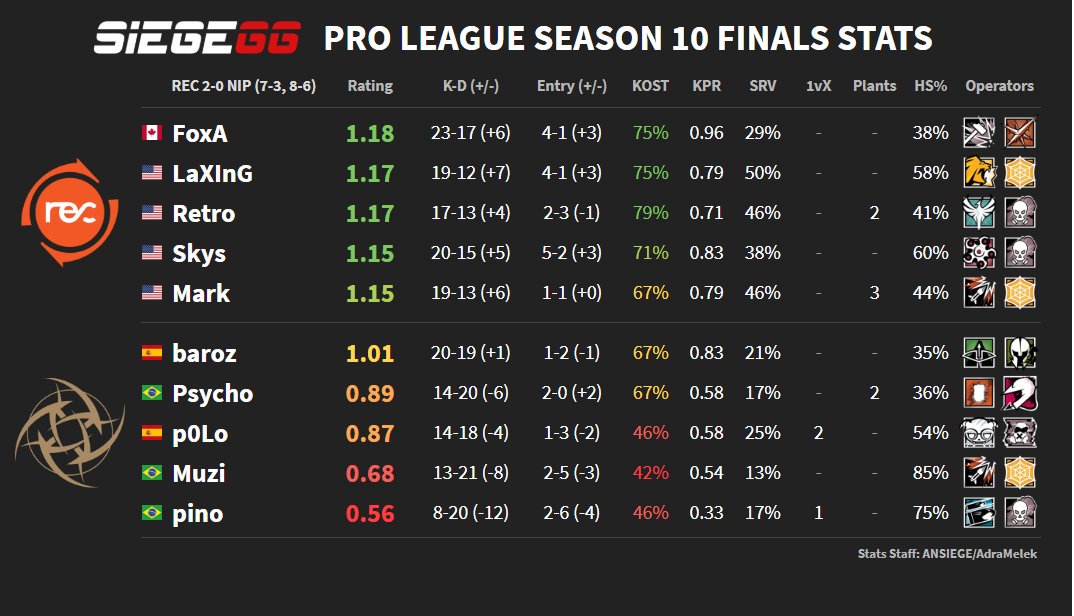 Ninjas in Pyjamas, now eliminated, will certainly feel hard-done after their incredible domestic run was disrupted by the Japanese visa failure, while Team Reciprocity will feel glad to get an expected win out of the way. They now face Natus Vincere in the semi-finals, with both teams standing a good chance to make it through to the grand final.
---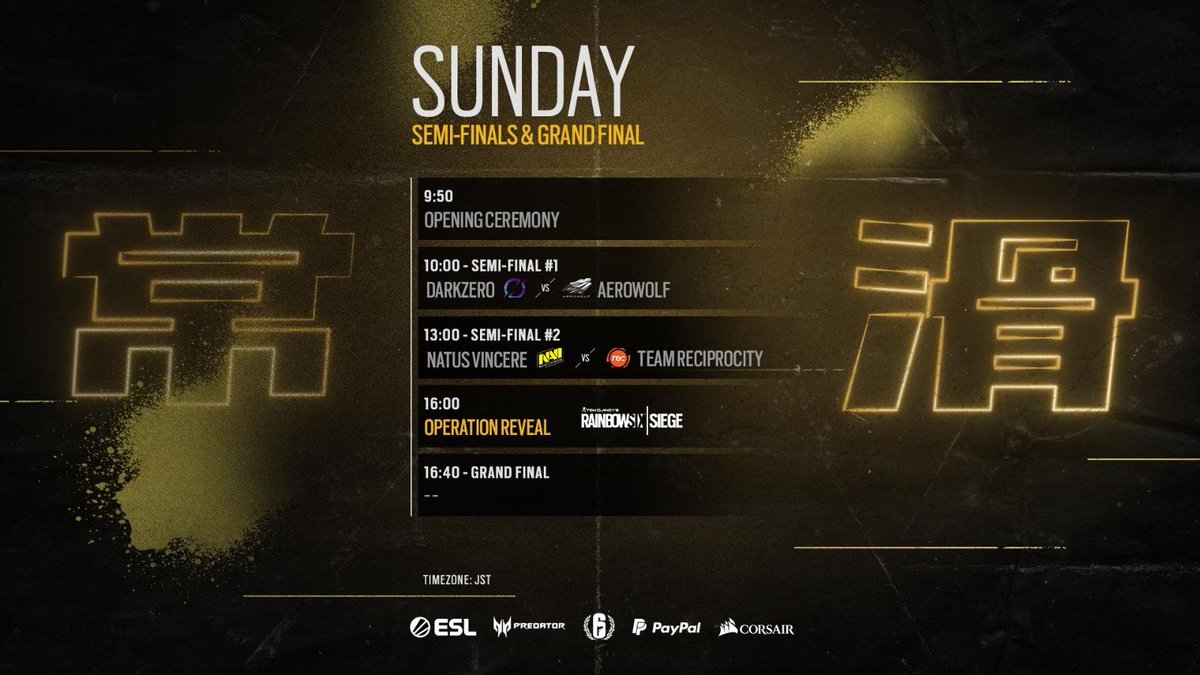 That marks the end of all the action on the first day of the Pro League Season 10 Finals, and check back for more tomorrow as the action gets underway again, with DarkZero Esports vs Aerowolf to be followed by Natus Vincere vs Team Reciprocity, the operation reveal, and then the grand final. Check in here at SiegeGG for constant updates, and follow us on Twitter and YouTube for more.