For a full recap of the tournament prior to the closed qualifiers, including the format, prizes, and dates, check out our previous article here. For a quick summary, qualifiers are being run in Europe, Latin America, and North America, with the top two teams from each region qualifying for the OGA Pit Season 3 Finals in Croatia this December. Here, they will be joined by two teams from the Asia-Pacific region to play for a spot at the Six Invitational 2020 and parts of the $75,000 prize pool.
So far, each region has seen their Round-of-16 (Ro16) matches as well as one quarter-final each play out, meaning just 21 teams remain across the three qualifiers.
---
Jump to:
---
Europe
In Europe, we saw very few upsets, as the favourites won in each and every circumstance.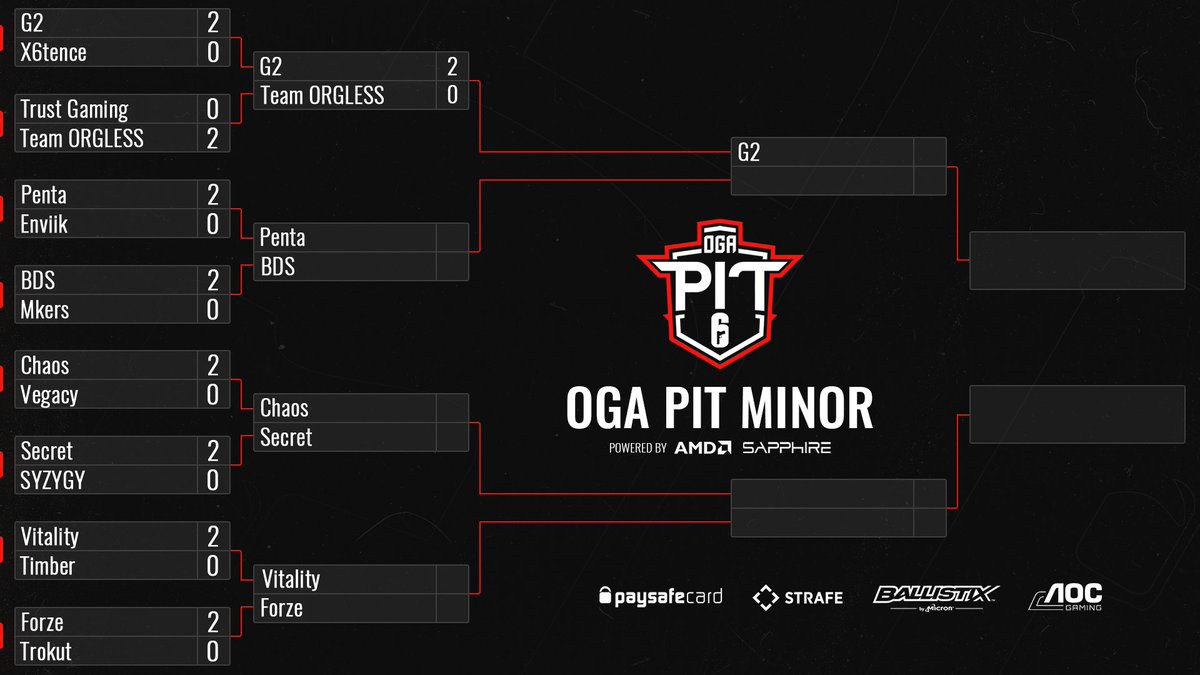 In every game above, the Pro or Challenger League team beating a non-league team with a 2-0 scoreline, with the exceptions of Trust Gaming vs Orgless and Team Secret vs SYZYGY (where both opponents are in the Challenger League). In these two games, though, the 2-0 rule still held true as Orgless and Secret, who finished in the top-four this season, beat their opponents with a 7-4, 8-7 scoreline in Orgless' favour and a forfeit victory in Secret's favour.
While they were 2-0 scorelines, not all the games were as clear cut as this suggests. Firstly, we saw G2 Esports struggle against the reigning Spanish champions, x6tence, who were even playing with a substitute. The game was neck-and-neck between the two teams for much of the first map, Clubhouse, before G2 took control at 4-4 and shored up much of their weak links. They went on to take the map 7-4 before we saw almost an identical second map on Kafe also end 7-4 as UUNO achieved 26 kills to 12 deaths across the 22 rounds. Also of note is Mkers' 7-8 loss on map one against the Challenger League victors of BDS Esports despite recent losses in the Italian Nationals, showing they have a lot of promise moving towards the Challenger League Season 11 qualifiers.
"We dropped 0-2 in the round-of-16 against @G2esports

Scores of 4-7 on both maps."
Following this win, G2 has now also defeated the Challenger League team of OrgLess in another "close" 2-0 win (8-6, 7-3) to advance them forward into the qualifier's semi-finals, meaning they're just one win from a trip to Croatia.
Latin America
While the favourites did win in every circumstance here as well, the results were more polarised than in Europe, with each game either being a demolition or a hard-fought victory.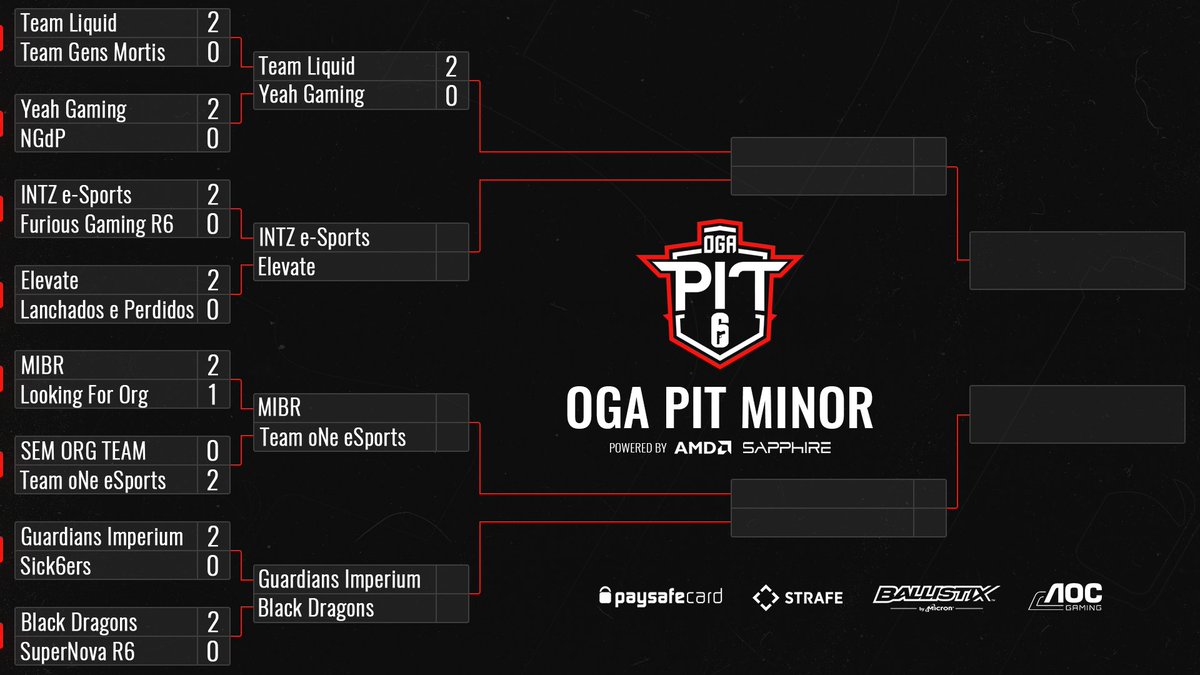 Starting with the demolitions, the Pro League teams of Liquid, INTZ, and Elevate lost a total of just eight rounds between them across the six maps. A much harder time was found by MIBR, however, as they fell in a dominant 1-7 scoreline against the sixth-placed Challenger League team of Looking For Org BR on map one. While MIBR did manage to recover and take the remaining two maps 7-2, 7-5, this doesn't bode well for their upcoming relegation matchup against YeaH Gaming, who defeated LFO BR 7-3, 7-4 two weeks ago.
Also of note is Black Dragons going to overtime against SuperNova -- the last-placed Challenger League team with just three points in 14 games. While they did take the game 7-2, 8-6, this once again bodes well for those higher seeded Challenger League teams such as YeaH Gaming and CHICOS during this week's relegations. YeaH Gaming, this season's LATAM Challenger League runners-up, also won their Ro16 game against the unknown team of NGdP before being knocked out in the quarter-finals by Team Liquid in a crushing 7-2, 7-1 scoreline as Liquid hope to guarantee their place at both the OGA Finals and the Six Invitational.
North America
Finally, we have North America in which more Pro League teams actually struggled in their opening games than those who had an easy time.
Starting off with the simple games, Spacestation Gaming (SSG) and Luminosity Gaming (LG) both beat their respective opponents with relatively clean 2-0 scorelines (7-1, 7-5 against Atheris for SSG and 7-5, 7-0 against Disrupt for LG), while the top Challenger League teams of Obey and Rise took down their sub-CL opponents 2-0. SSG then continued this form to beat Adventure Force 7-3, 7-1 to push themselves to the semi-final, one game from LAN.
Looking next at the closer games, we saw the two teams battling relegation from the Pro League, Rogue and Soniqs, lose maps against lower seeded teams -- Okami (Benji's new roster previously known as Attempt #) for Rogue, and OrgLess for Soniqs -- which, again, does not bode well for their Pro League relegation hopes.
Finally, EG last night went to the final round of map three (5-7, 7-2, 8-7) to fend off Shrug as the Challenger League team came very close to knocking out one of North America's favourites.
What's Next
Below are the dates for the remaining games. All playdays start at 4 PM local time (BRT/CEST/EDT) and are played back-to-back. A grand-final won't be played in each region as it is not needed:
Oct 31st - LATAM QF #2-4

INTZ eSports Club

vs

Elevate
MiBR

vs

Team oNe eSports
Guardians Imperium E-Sports

vs

Black Dragons e-Sports

Nov 2nd - NA QF #2-4

Rogue

vs

Susquehanna Soniqs
Luminosity Gaming

vs

Rise Nation
Evil Geniuses

vs

Obey Alliance

Nov 3rd - EU QF #2-4

PENTA

vs

BDS Esport
Chaos Esports Club

vs

Team Secret
Team Vitality

vs

forZe

Nov 4th - LATAM SF #1-2

Liquid

vs

INTZ

/

Elevate
MiBR

/

oNe

vs

GIMP

/

BD

Nov 5th - NA SF #1-2

SSG

vs

Rogue

/

Soniqs
LG

/

Rise

vs

EG

/

Obey

Nov 6th - EU SF #1-2

G2

vs

PENTA

/

BDS
Chaos

/

Secret

vs

Vitality

/

forZe

December 7-8th - LAN-Finals