Banner photo: ESL
While APAC has got the second part of its Pro League underway last week, and will in fact see its online segment come to a conclusion this week, the other three global regions are only getting started once again from tomorrow. To preview what's to come, I have a look at five storylines worth paying attention to in the second half of Season 10.
1. G2 Esports: Still Hunting for a Six Invitational 2020 Slot
While G2 Esports is undoubtedly the best team to have touched Rainbow Six: Siege, it is undeniable that they are in a particularly problematic slump right now, one that could see them miss out on the Six Invitational 2020. The team started off 2019 poorly, only amassing two wins over the first seven games, but shook the doubters right off by becoming the first team to defend their Six Invitational title.
Season 9 had gone poorly that they couldn't pull off a rescue job to make it to the Finals for the first time since the team was formed, but would be qualified for the Six Major thanks to their Invitational win. Season 10, though, started off just as poorly, with the team winning and losing three games each. This has now put G2 Esports virtually out of contention for the Finals yet again, but -- more importantly -- has jeopardised their Six Invitational 2020 ticket after they lost at the Six Major Raleigh in the Grand Final and crashed out of the group stages at DreamHack Montreal.
Now, only two avenues remain for G2 Esports to qualify -- the OGA PIT Minor in Croatia in early December and the open online qualifiers. With neither seemingly the cakewalk for G2 like they once were, it is a very real possibility that they miss out on the premier Siege event. As such, with the Pro League restarting, we may see G2 start experimenting with strategies aiming to get them back to top form and on the road to the Six Invitational next year.
2. Team SoloMid: Getting into Pro League Gear
Team SoloMid is somewhat of an oddball so far. Similar to G2 Esports in that they have been terrible in the Pro League, they have been setting the competitive world alight with their play in Best-of-Three games. Starting with the Raleigh Major qualifiers in North America, they went on a rampage to qualify for the Six Major where they took down NORA-Rengo and MIBR after taking a map off Team Empire and qualified for the playoffs.
At DreamHack Montreal, the team went the full distance, beating the Susquehanna Soniqs and FaZe Clan in the group stages, before taking down Rogue in the quarter-finals, G2 Esports-defeating Team BDS in the semi-finals, and Team Liquid in the Grand Final. Having added Jarvis in replacement of b1ologic, and Gotcha as a coach, the team seems to be firmly pointed upwards.
Currently sitting in seventh place with a mere four points, Team SoloMid will be looking to build upon their successes so far and translate them into an online, Best-of-One environment -- something the new additions of Jarvis and Gotcha may be key for. While they are not mathematically out of the race for Finals yet, it is all but impossible that they make it there, and thus will be looking to get some much-needed Best-of-One practice in in the second half of the Pro League.
3. Ninjas in Pyjamas: The gohaN Factor
After a hugely disappointing 2019 so far, Ninjas in Pyjamas finally made a change, shifting one of their recent signings, Gabriel "pino" Fernandes, to a substitute position and brought in former FaZe Clan captain and Team Liquid player, Guilherme "gohaN" Alf. The signing itself was a late one, with gohaN himself revealing that he had begun coaching a Pro League team (rumoured to be INTZ e-Sports) for a few days before NiP had come knocking on his door.
With his prior experience, having played at every Major save for the Six Major Raleigh this year and three Pro League Finals appearances, it is likely that NiP made the change with the motivation of adding a much-needed guiding hand to the team. Crashing out of both the Six Invitational 2019 and the Six Major Raleigh must have been a stark wakeup call for NiP, and lack of success in Season 9, BR6, and the Allied Esports Minor must have only served to compound the misery. However, some observers have noted a risk with the gohaN signing, pointing out that both FaZe and Liquid had dropped him for overt toxicity towards his own teammates that allegedly went as far as physical threats.
Despite the lack of tournament success, though, NiP has been performing well in Season 10 of the Pro League -- though they will be wary of counting their chickens before they hatch, having missed out on a Finals spot by a mere two points last season. This time, though, the team is two points clear of FaZe Clan at the very top of the table at the halfway mark, and will be hoping to continue their form which has seen them win six out of seven games played and draw the remaining one. As such, only time will tell if six months away from the game has not impacted gohaN negatively, and if NiP's choice to bring him aboard was the correct one.
4. Na'Vi and Vitality: Challenger League to Pro League Finals?
Shooting up from the Challenger League have come two squads few would have anticipated to be having such success in Season 10 of the Pro League so far. Team Vitality, relegated in Season 8, and Natus Vincere (formerly MnM Gaming) both made their way up to the Pro League through the European Challenger League in Season 9. With Team Empire, Vodafone Giants, PENTA, Chaos, and G2 Esports lying in wait, though, few had given either squad a chance to do much other than to narrowly avoid relegation.
Both Na'Vi and Vitality, though, have been happy to throw the script away. Instead, they sit in fourth and third with 12 and 13 points, respectively -- for reference, Giants are in second with 16 points, and Empire are in first with 17. Below them is G2 Esports with 10 points, and the remaining three teams some ways off. Clearly, qualification to the Pro League Finals is not an impossibility for both Vitality and Na'Vi, though the slim one-point margin could prove very valuable for Vitality come the end of the season.
While a team shooting to the Pro League Finals (and winning it) straight from the Challenger League is far from unheard of -- one only has to look towards Empire for that -- two teams doing so with such strong competition perceived is definitely a surprise. Both Team Vitality and Na'Vi have brought their own spin on things in Europe, with the latter especially favouring Kafe (giving them three out of four of their wins), and opposition teams have not exactly been quick to adapt. While they would need an immense effort to not just sustain this first-half form but also build upon it to overhaul the Giants, it is not mission impossible, and we could well see at least one of the two teams at the Pro League Finals in Tokoname.
5. A Post-Canadian Evil Geniuses Era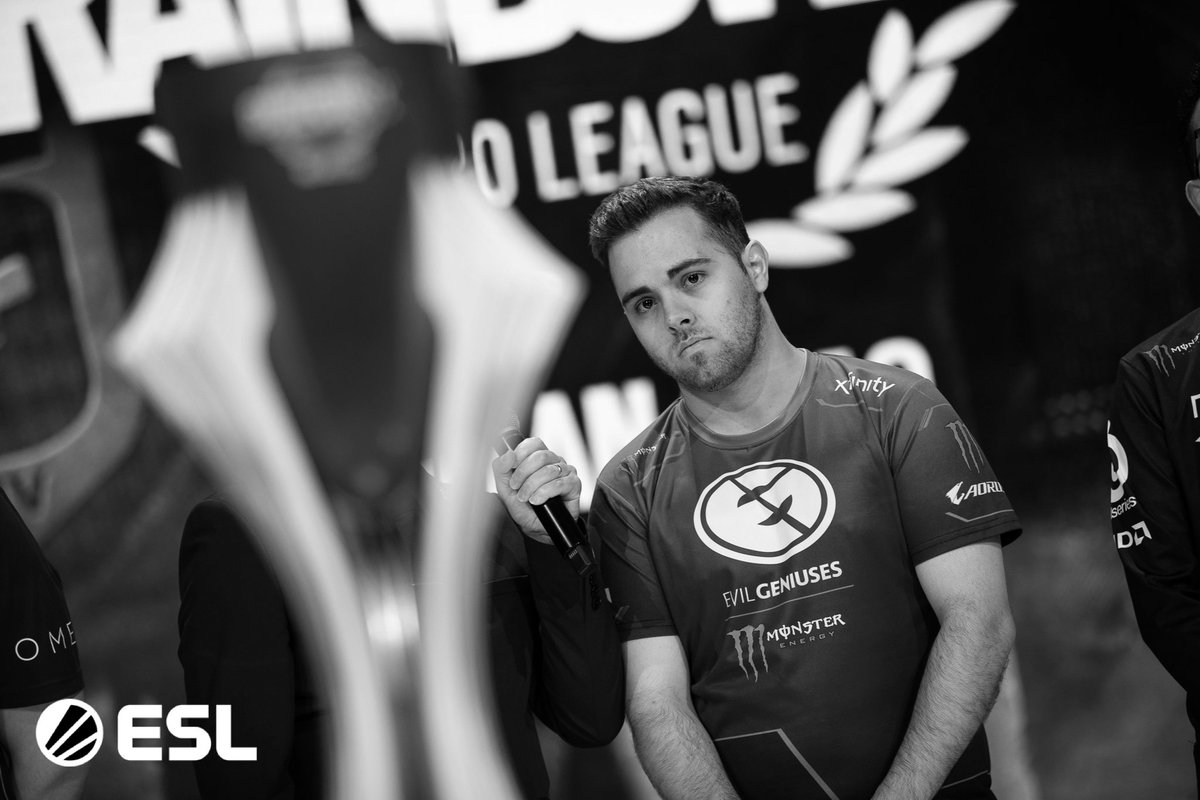 In the biggest roster change in North America, Troy "Canadian" Jaroslawski left Evil Geniuses (EG) for Spacestation Gaming after nearly three years with the same team. The move followed after EG followed up their unfortunate choke at the Season 9 Finals with a group-stage exit at the Six Major Raleigh -- a first for the storied team.
Drafted in as Canadian's successor was Morquis "Modigga" Hribar from Challenger League squad Disrupt Gaming, and the future for Evil Geniuses looks bright if the team's DreamHack Montreal results are anything to go by. While the game plays very differently on LAN and in a Best-of-Three format, Modigga seemed to be fitting into EG well despite the lack of practice with his new roster and helped them to a semi-final finish.
Despite that, however, EG only sits in third place in the Pro League -- tied with Team Reciprocity on 13 points, but behind on head-to-head. With Canadian's departure marking a sea change for the team in terms of In-Game Leadership and play style, it is very much possible that the team misses out on the Pro League Finals, much like how NORA-Rengo's spot is also in jeopardy over in Japan after they, too, replaced a strong and experienced player with a newcomer to the Pro League. Luminosity Gaming are just a mere two points behind EG, and with both Reciprocity and DarkZero looking good -- at least online -- EG will have a tough road to qualify for the Finals.
---
Re-watch the return of the APAC Pro League from last week, and catch the restart of the global Pro League live from 6 PM CET (GMT+1) onwards on the Rainbow6 Twitch channel, with Europe's games set to kick things off.