After a very different Six Masters in 2018 that saw four teams invited to Melbourne to play, including NORA-Rengo from Japan, the tournament made its return this year and was a lot bigger than before. Heading to the Margaret Court Arena as part of the Melbourne Esports Open this year, twelve teams were cut down to eight as they prepared for the Finals.
Playing for the right to be called the best team in the region and the largest slice of the A$50, 000 pie, three months of the tournament were set to come to an end across three days.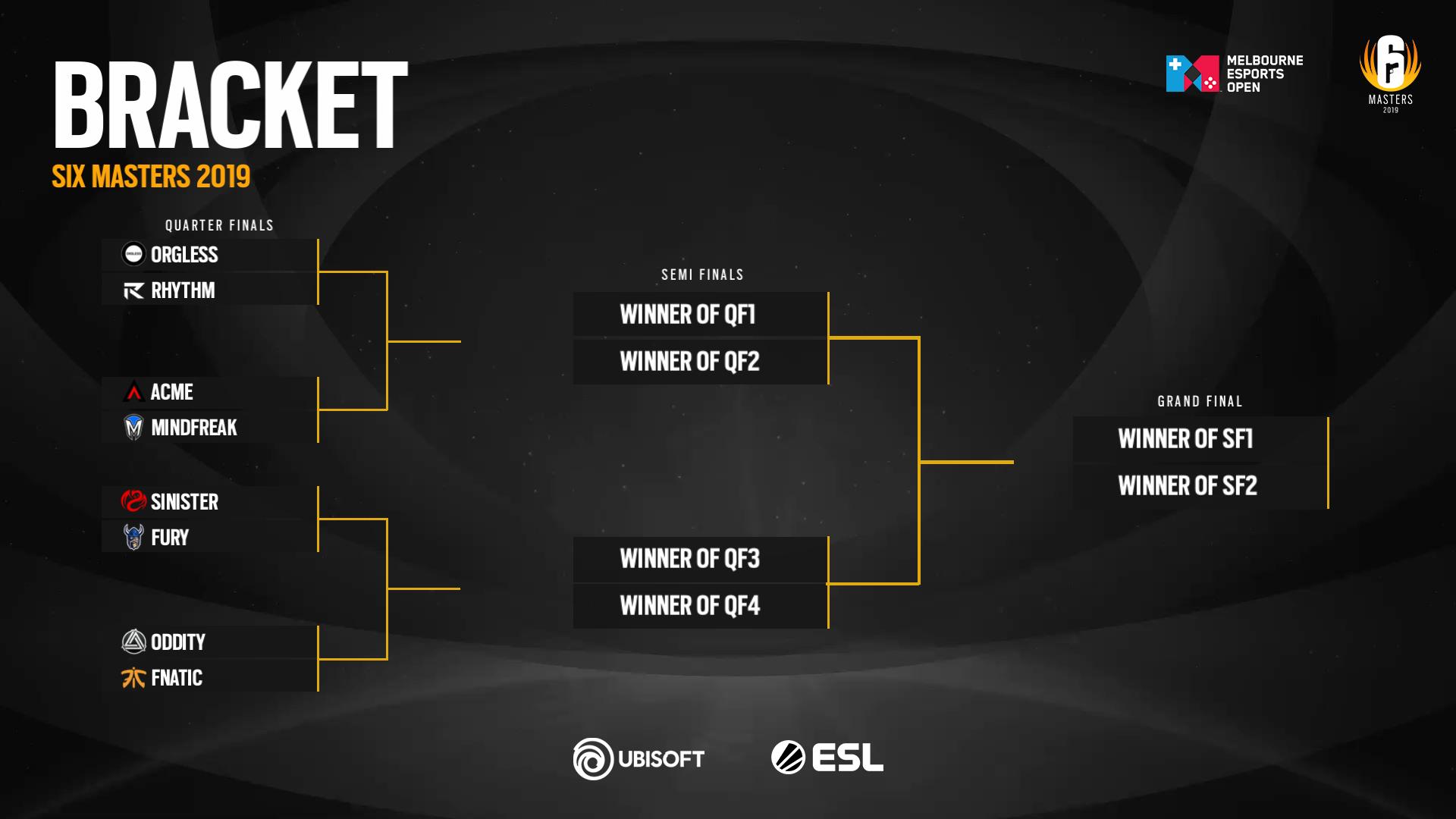 Missed what happened? Read on to catch up with our quick summary.
Quarter-Finals
Played on Friday, before the Six Masters had opened to the public, the first quarter-finals got started with Six Oceanic Cup champions, 0RGL3SS, sweeping past Rhythm with a 2-0 (7-3, 7-1) victory. Moving onto the next day, though, non-Pro League team ACME Association would give Mindfreak more than a fair share of trouble, beating them 7-5 on the first map, and then forcing overtime on the third map, but losing 6-8 after Mindfreak had taken the second map 7-4.

Another close match was then to follow, with FURY being pushed to overtime on both maps played by Team SiNister, though 8-6 scorelines in favour of the former meant that it was, in the end, a 2-0 victory. Closing out the first day and the quarter-finals were then Fnatic and Oddity Esports in what was billed as the match of the day, the quality of play did not disappoint. With Fnatic choosing to give sixth-man Ryan "Speca" Ausden game time in place of Matthew "Acez" McHenry, they lost the first map 7-5, but came back strong to win 7-4 and 7-3 and push on to the semi-finals.
Semi-Finals
After 0RGL3SS' dominant display against Rhythm, and Mindfreak being pushed hard by ACME, some had been expecting 0RGL3SS to swiftly take the win. Win they did, but 0RGL3SS had to fight for it. Kicking things off on Coastline proved to be a bad idea for them, with Mindfreak demonstrating their superiority over 0RGL3SS on the map with a 7-3 win. 0RGL3SS, though, responded in kind with a 7-2 win on Clubhouse, and it came down to a bloody battle on Villa that saw 0RGL3SS only emerge winners after an 8-6 overtime.

The second semi-final, however, was not anywhere close as the first had been. Fnatic had now warmed up with Speca and did not need any more time to adjust back to their usual level of chemistry. Taking the first map, Kafe, in a swift 7-0, it seemed that audiences would be treated to a 14-0 with Fnatic on the precipice at 6-0. However, FURY would tease a comeback, winning two rounds before Fnatic put the game to bed, finally winning a round on defense.
Grand Final

With only a short break for Fnatic, they were slow out of the blocks in the Grand Final against 0RGL3SS. Round after round went to the Oceanic Cup holders as the defending Six Masters champions began sinking without a trace on Consulate, with the map eventually finishing 7-1 in the former's favour.
Moving to Clubhouse, though, Fnatic would finally begin to come into their own as they had against FURY and began firing back. However, 0RGL3SS were not ones to be deterred and were eager to close things out for the win, taking the first half 4-2 on defense. Fnatic, though, would prove to be far better defenders than 0RGL3SS were attackers, and took five rounds on the trot to take the map 7-4.
With just Kafe left, both teams would come out swinging, trading blow for blow and kill for kill, and end the first half even at 3-3. However, with Kafe being defender-sided and 0RGL3SS now moving onto attack, the odds were stacked against them. Sure enough, as had been on Clubhouse, Fnatic proved to be excellent at defense, only conceding one round as they took four of their own to win the map, defend their Six Masters crown, and take the lion's share of A$50, 000 on offer.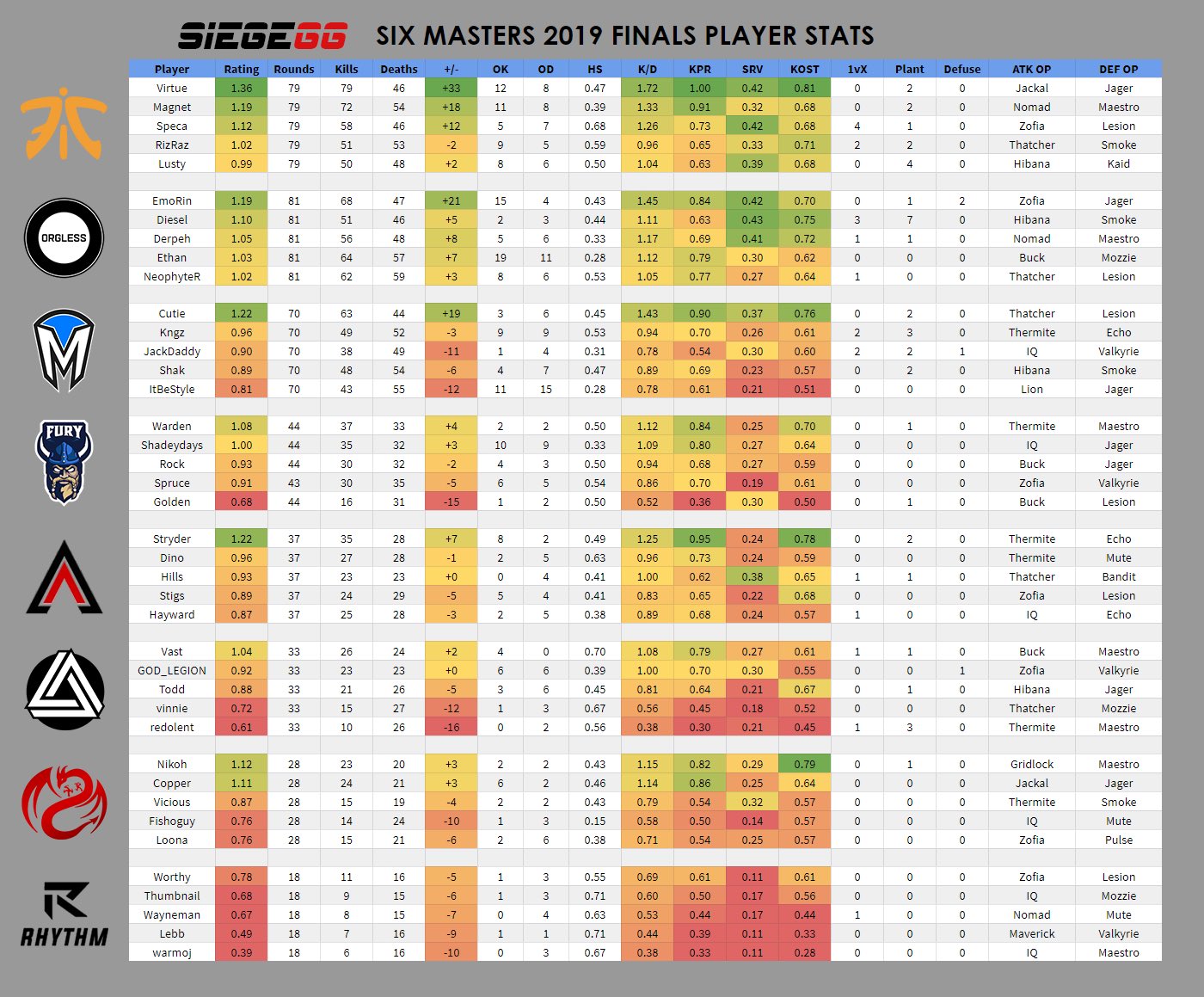 ---
And that's the quick summary of all that happened last weekend at the Six Masters Finals. Catch our highlights of the event on our YouTube channel, and look out for more tournament coverage, continuing with DreamHack Montreal later today.