Missed the action on Day Two of the Six Major Raleigh? Fret not, and read on for a brief summary of all the action seen on the opening day of the fifth-ever Rainbow Six Major, held at the Raleigh Convention Centre.
---
Group A
Team Empire 2 - 0 MIBR
Maps: Bank (7-2), Clubhouse (7-2) and Border (Not Played)
Team Empire surprised very few people as they came out of their group as the top team by defeating MIBR (previously known as Immortals) today. The reigning Pro League champions looked in control throughout, while MIBR struggled to win many rounds at all after they just about defeated NORA-Rengo playing with their coach yesterday.
Statistically, however, this did cause a drop in performance by JoyStiCK who just about achieved a +1 KD spread, but considering the rest of his team were performing well this really wasn't an issue for them. With both Bank and Clubhouse being strong maps for Empire, the Russia-based squad had no problems dispatching the Brazilians in swift fashion.

Team SoloMid 2 - 0 NORA-Rengo
Maps: Bank (7-4), Kafe Dostoyevsky (7-5) and Coastline (Not Played)
After a disastrous first day where star player Tsukasa "Merieux" Asano was hospitalised and their coach Yasuhiro "Kizoku" Nishi had to fill in, NORA-Rengo's spirits would have undoubtedly received a boost when it was revealed that Merieux was out of the hospital and would be able to play again.
However, this was not enough to steer the Japanese away from elimination as Team SoloMid's prowess at Best-of-Threes was once again apparent and, while they lost a fair few rounds and nearly conceded overtime on Kafe, the North Americans never looked like they were not in control and set up a date with MIBR at the expense of NORA-Rengo.

Group B
G2 Esports 2 - 0 Team Secret
Maps: Coastline (7-3), Clubhouse (7-3) and Kafe Dostoyevsky (Not Played)
The third major match between G2 and Secret, circumstances could not have been better set up to be a test for both teams. G2 Esports needed to prove that they were still the same team they had been at the Six Invitational 2019 after their faltering online play, while Team Secret had to prove that they had properly fixed their issues that had got them relegated in Season 9 against ostensibly the best team in the world.
While Secret gave a decent fight to G2 Esports, taking them to Coastline and Clubhouse proved to be somewhat of a mistake as the reigning world champions proved that they were back to form by taking Secret apart on both maps with identical 7-3 scorelines. Secret, on the other hand, showed that they are still a strong team, just not quite at the level of their three-time Major winning opponents.

Rogue 2 - 0 Cyclops Athlete Gaming
Maps: Bank (7-3), Clubhouse (7-2) and Border (Not Played)
Having come into the event with high spirits, a devastating first international game against G2 Esports was never expected to go their way, but Cyclops Athlete Gaming (CAG) would have surely held out hope against Rogue. However, with Rogue themselves experiencing a renaissance of their own, returning to fine form (especially in Best-of-Threes), they were given little chance by their North American opponents.
Rogue simply brushed aside CAG on Bank and Clubhouse both, only dropping five rounds across both maps as the Japanese looked lost, uncertain, and devoid of the confident firepower that they had swaggered into the APAC Qualifier LAN with. Up against a different region's meta, a poor choice of strategy and an uncharacteristic loss of gun skill -- likely due to pressure -- meant that yet another APAC team was eliminated, though this being CAG's first international event means that they are likely to be back in the future with much improved thanks to this Major's experiences.

Group C
Spacestation Gaming 2 - 0 Evil Geniuses
Maps: Kafe Dostoyevsky (7-3), Clubhouse (7-2) and Villa
Evil Geniuses are the most successful and consistent team in North American region while Spacestation Gaming failed to win their region's open qualifier to make it here. This made the match seem pretty clear cut, and it was, just not the way anyone expected.
Spacestation dominated Evil Geniuses. Throughout their 5-14 loss, Evil Geniuses seemed like they had no real answer to a team then regularly play every three months as SSG prove they truly are a LAN-team.
What's unique about this game was how SSG was getting their wins, the roamers from Spacestation on Kafe -- EG's map pick -- were slowing EG down so much that four out of six rounds in the half ended with victories on time by Spacestation with the round only ending early on the Kitchen/Service objective as it's simpler to attack leading to a 5-1 first half on EG which spelt out huge trouble straight away.
Ultimately, coming out top in this group put Spacestation as one of the top teams in the world, as shown by the SiegeGG Ratings. They'll now be keen to see how far they can go this weekend as teams like Empire, G2 and surprisingly, forZe, will stand in their way on Spacestation's ship to the title.

Vodafone Giants 2 - 0 Ninjas in Pyjamas
Maps: Clubhouse (7-2), Kafe Dostoyevsky (7-2) and Consulate
You'd think a game between the top placed Latin American team and the second-placed European team would only show up later in the competition, however, they infact were fighting today to remain in the tournament altogether and not go out first in their group.
Many people favoured NiP in this matchup as Giants had lost 0-2 to SSG who had been incredibly underrated in this tournament (as shown by their previously mentioned 2-0 victory over EG). This was shown to be a bad call from spectators as the two oldest members of this roster put up some pretty impressive numbers to fend off the Ninjas.
Map one saw an impressive comeback by NiP from 3-6 down to win four rounds in a row only to push it to overtime map point only to lose two rounds running before a just as close second map saw pretty much the same thing happen in reverse; NiP went up 5-3 and Giants went on to win four of their own defensive rounds to close out the map without needing overtime. This meant the very first Latin American team would be going home, setting up an Evil Geniuses vs Giants game -- a matchup we saw at the last two Majors as well, both won by EG.

Group D
ForZe 2 - 0 DarkZero Esports
Maps: Kafe Dostoyevsky (7-2), Clubhouse (8-7) and Villa
As one of the biggest underdogs of the event, a team whos biggest goal last month was to qualify for the Challenger League now saw themselves just one win away from the Six Major playoffs. In their way was the top placed North American team so far in the Pro League who had a lot of hope riding behind them.
The first map of Kafe showed everyone that forZe was no one-hit wonder and a serious international contender as they crushed DarkZero 7-2 with them pulling off Team Empire-style takes off the map -- strategies likely carried over from Empire's previous player of Shockwave who now plays for forZe.
Map two was a much more contested game, however, with DarkZero taking the lead initially by going up 3-1 as bad time management made it seem like this was DZ's map. The half ended 4-2 and as DZ went onto the attack they quickly put themselves up to match point, 6-2, pretty much cutting forZe out of the map before they won four consecutive rounds to put us into overtime.
The defence had won 8/12 of the rounds already making that the preferred side which was given to forZe. Despite this, the overtime saw two of three of the rounds fall for the attackers with forZe demolishing their opponents on round 15 to become the top seeded team of group D.

FaZe Clan 2 - 0 Fnatic
Maps: Bank (8-7), Clubhouse (7-2) and Consulate
Coming into Raleigh ranked fifth and tenth, FaZe Clan and Fnatic were both not quite at the level of teams like G2 Esports or Team Empire, but were still being given sufficient respect. With the two pitted against each other once again after their Six Invitational 2019 group stage meeting, FaZe Clan were itching for revenge.
Their desire was satiated, though not without a fight on the first map where Fnatic rocketed to a 3-0 lead but then had to come back from 4-6 to force overtime where FaZe eventually prevailed. After that, though, it seemed that Fnatic had run out of steam and FaZe had a much smoother road as they took the second map 7-2 and got themselves another shot at making it to the playoffs.

---
In summary, play day two saw the Asia-Pacific region go out with a 1-12 map win-loss record, while LATAM now also sits in a precarious position with one team already out and the remaining two teams could either be knocked out tomorrow, or they both could make it to the playoffs.
North America and Europe saw amazing days, meanwhile, with European teams losing only to other European teams, while North American teams set up what could be a clean sweep where all five of their participants stand a good chance of making it to the playoffs.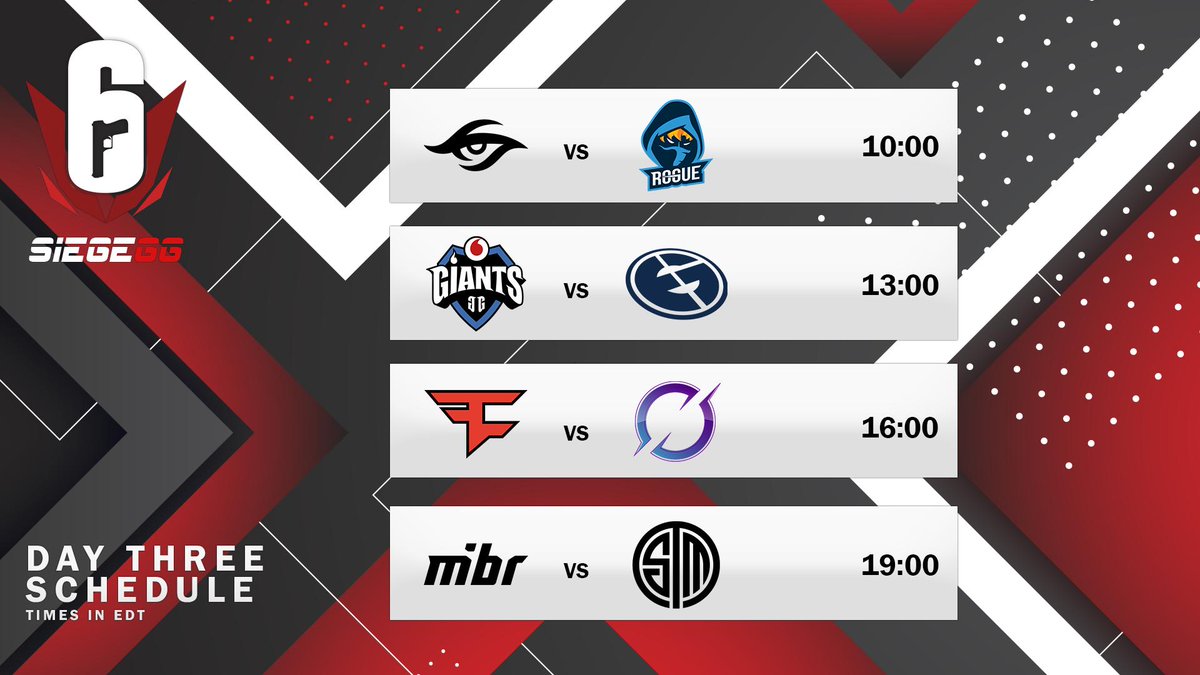 Catch all of day three's Six Major Raleigh action on the Rainbow6 channel from 10 AM EDT onwards, as four teams qualify for the playoffs and four teams go home.