Team Dragons was, until now, a Spanish organization that owned two different rosters that played in CS:GO and Rainbow Six. However, the Spanish team has recently announced the shut down of the organization, giving all their players the chance to talk with other teams. Today, Team Heretics has announced the signing of the Team Dragons Rainbow Six roster, which means that the biggest Spanish organization has joined the R6S scene.
The organization of Team Dragons joined the Rainbow Six Spanish scene to compete in the ESL Masters, a tournament in which they finished in fifth place. Thanks to that finish, the team qualified for the LAN Finals, where they almost got into the semifinals. Some months later they qualified for the Drone Cup and reached the Grand Final after knocking out Movistar Riders, the roster that won the ESL Masters LAN Finals. In the Drone Cup Final they lost 3-0 to Vodafone Giants. Even though it was a big loss, Team Dragons roster showed an impressive improvement that they would show again in the Spain Nationals, one of the most important European national tournaments.
Their current Rainbow Six roster is formed by Curr3nsy (captain), jwey, batfat, YORPU, Iluzjonist and Rivas (coach). Currently they are placed second in the Spain Nationals, and their numbers in the Spanish competition are very positive: seven wins, one draw and one loss, which came against Vodafone Giants and Movistar Riders respectively. These great results place Team Heretics in the second place of the tournament, just behind x6tence, the leader of the tournament with 23 points. However, we must highlight that this roster has played one less match than x6tence as their last week match against Arctic Gaming got postponed.
Team Heretics' new roster have also shown a great level outside Spain. In Europe, the ex-Team Dragons roster was one of the two Spanish teams that qualified for the Challenger League closed qualifiers, where they got knocked out by MnM Gaming (now Na'Vi) and Look at all that damage.
Once again, alongside x6tence, Team Dragons is one of the two Spanish rosters that have qualified for the Six Major Raleigh closed qualifiers, after finishing second in the fourth open qualifier. As it happened in the Challenger League closed qualifier, their first opponents will be Natus Vincere. The Spanish roster will try to get their revenge now against the Ukrainian organization.
Team Heretics was born back in 2016 with the objective to revolutionize Call of Duty inside Spain and also worldwide. Nowadays they are, by far, the best Call of Duty Spanish team, after finishing in the 7th-8th place of the CWL Pro League 2019, earning a playoff spot for the Call of Duty Championship 2019. The playoffs matches will be played in Miami this month.
The Spanish organization also has rosters in other esports like CS:GO, Clash Royale and League of Legends. In this last one they have a partnership with Ocelote and its organization, G2 Esports, called G2 Heretics, a team that's currently playing in the SuperLiga Orange, the Spanish national league of League of Legends.
SiegeGG spoke to Team Heretic's coach, Julen "JulenRivas_" Rivas, to know more about the organization and the objectives of the roster:
What does it feel to join such a big organization like Team Heretics?
We feel a lot of joy and we are proud to be able to represent Team Heretics. These things happen when you work hard. The results give place to these things.
Do you think that this is going to improve the team performance?
Yes, for sure. Their large infrastructure can bring lots of positive things to the team. They will help us to grow and to have more stability.
Nowadays you're in second place of the Spain Nationals with one less played match than x6tence. You both have kept behind Vodafone Giants and Movistar Riders, the main favorites of the competition. What's the key to this growth in comparison to the past season?
It's been thanks to our trainings and trying to fix every mistake. We're also a block, we are all one: we're a little family. We have been able to face lots of things thanks to this mentality.
This week you're facing Natus Vincere in the closed qualifier for the Six Major of Raleigh. How do you feel to be able to play against such a big roster?
We already have played against them in scrims previously and every time we have faced them we liked it and we feel comfortable. We learn lots of things.
After signing with Team Heretics, what are your main objectives in the near future?
Our main objective is the same: qualifying to Challenger League. We also want to keep our working rhythm to keep getting better. We want to keep the core roster as it's the best way to grow together.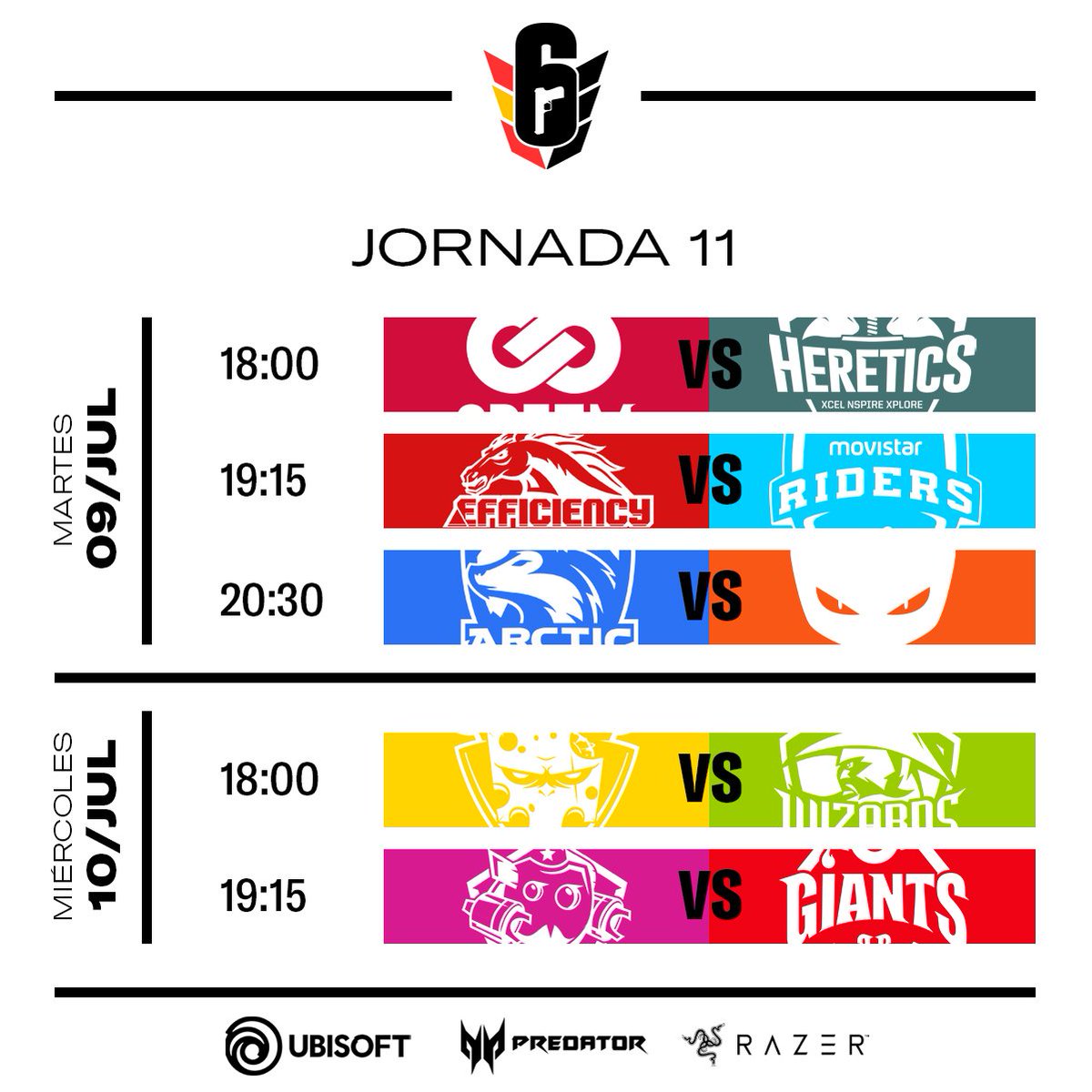 ---
Team Heretics' first match will be played this 9th of July against Cream Esports. They will be playing in the Six Major closed qualifiers the next day against Natus Vincere. Keep an eye to SiegeGG to not miss anything related to both competitions and Pro League.