This series aims to highlight the best and most interesting games of all the lower leagues in competitive Siege, from the BR6 national league to the German Saturday League, to ensure that you don't miss the best action going on at all levels of play.
Brasileirão 2019 - Black Dragons e-Sports vs Ninjas in Pyjamas
As we near the very end of the BR6 2019 regular season, each top-level game such as this is crucial for both teams. Black Dragons and NiP currently sit in third and fourth position in the league, with the top four making it to the Finals, however, while both teams are favourites to finish in the final two qualifier positions, the loser of this matchup on Sunday will be in real danger to losing out to a revamped INTZ e-Sports Club roster and fail to make it to the LAN finale of the league.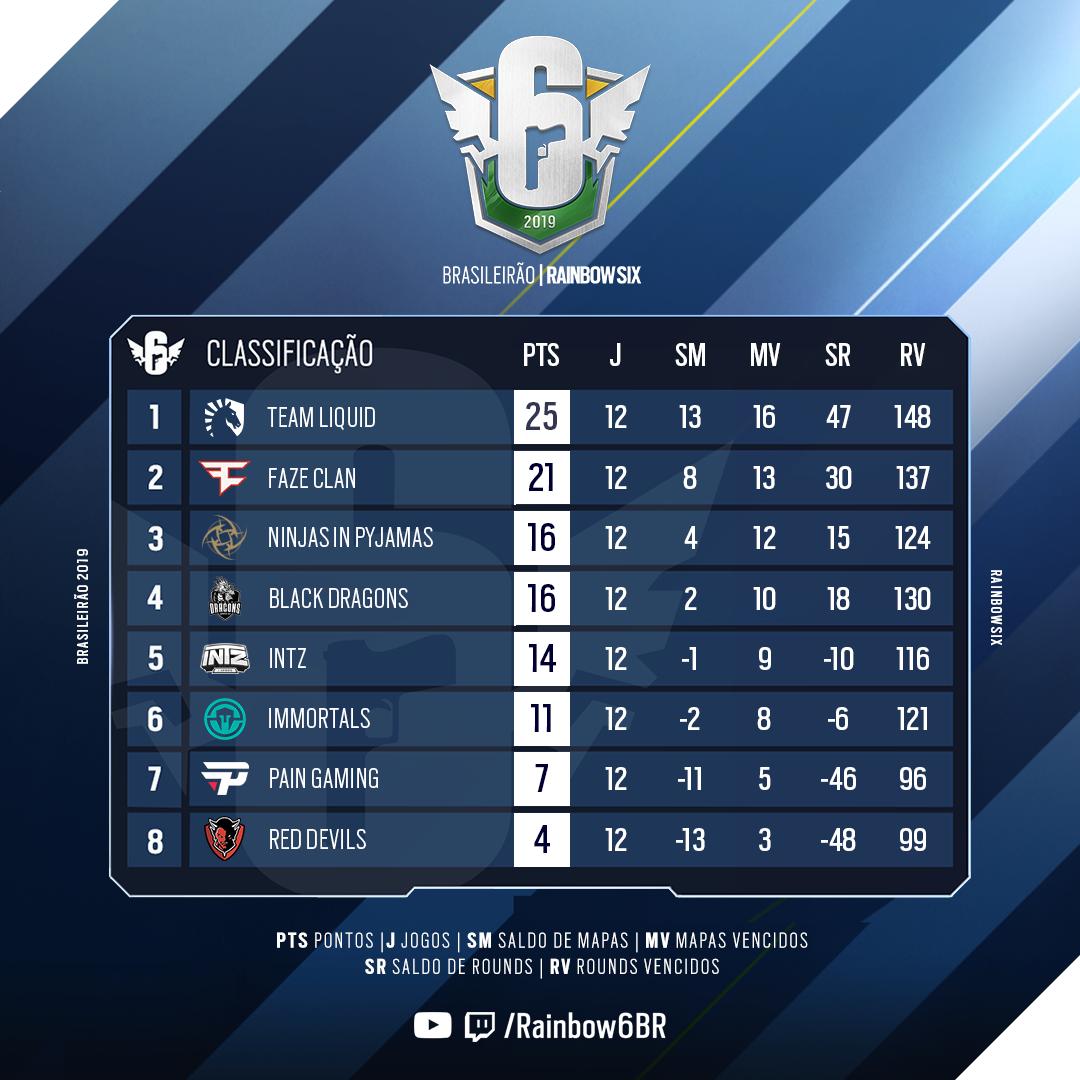 The last time these two teams played in the BR6 League was in January, with the match ending in a 1-1 draw, however both teams have made a number of changes since then, with pzd, live, and muzi joining the teams. This means that this match may not only decide which one of them make it to the biggest national LAN event in Brazilian history, but will also be a huge insight into what we can expect when the Pro League kicks off for the Latin American teams three days later.
Just before this match on Sunday, there will be the much less important game of FaZe Clan vs paiN Gaming. This game is essentially no meaningless for FaZe Clan, who have already locked in their LAN position and will be focussing almost completely on the Pro League, but is key for paiN who will be fighting to keep their BR6 spot after being relegated from the Pro League and will be eager to try out their two new players, D1OGO1 and ghost1. Latin American Challenger League have always been a virtually ignored competition internationally, but if paiN Gaming can ensure they can stay in the BR6 League while playing in the Challenger League, this will hopefully boost the quality and attention given to the league.
We have many challenges ahead and we know that the way to the top will not be easy. We have restructured and our lineup arrives with full force to face this season!
Spain Nationals: Season 1 - Movistar Riders vs Giants Gaming
Last week, Giants Gaming suffered two major losses to x6tence and Team Queso which makes tonight's rematch of the ESL Masters España Season 1 grand-final -- last year's Spanish national tournament -- crucial for the Giants' reputation and standings in the league.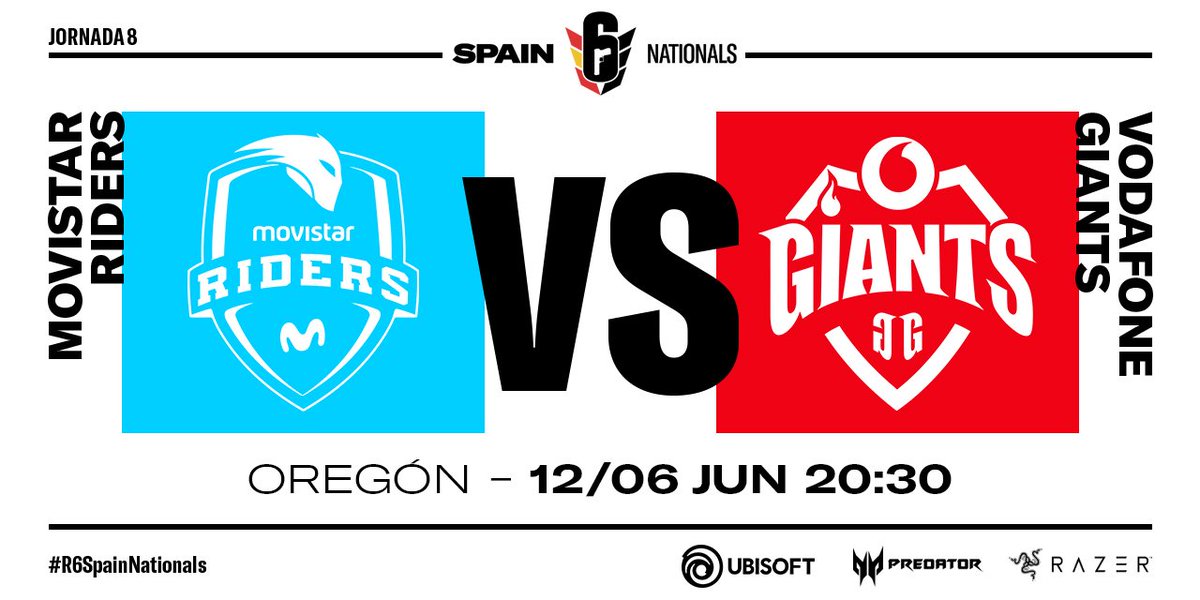 Both these teams are currently sitting in third and fourth place in the league and will see this as an opportunity for them to return to the top and show themselves as a real challenger whereas the loser will fall very likely down to fifth. Between these two team's previous meetings, Giants is ahead five maps to four, however it has been close in every meeting, meaning we can expect a thrilling matchup.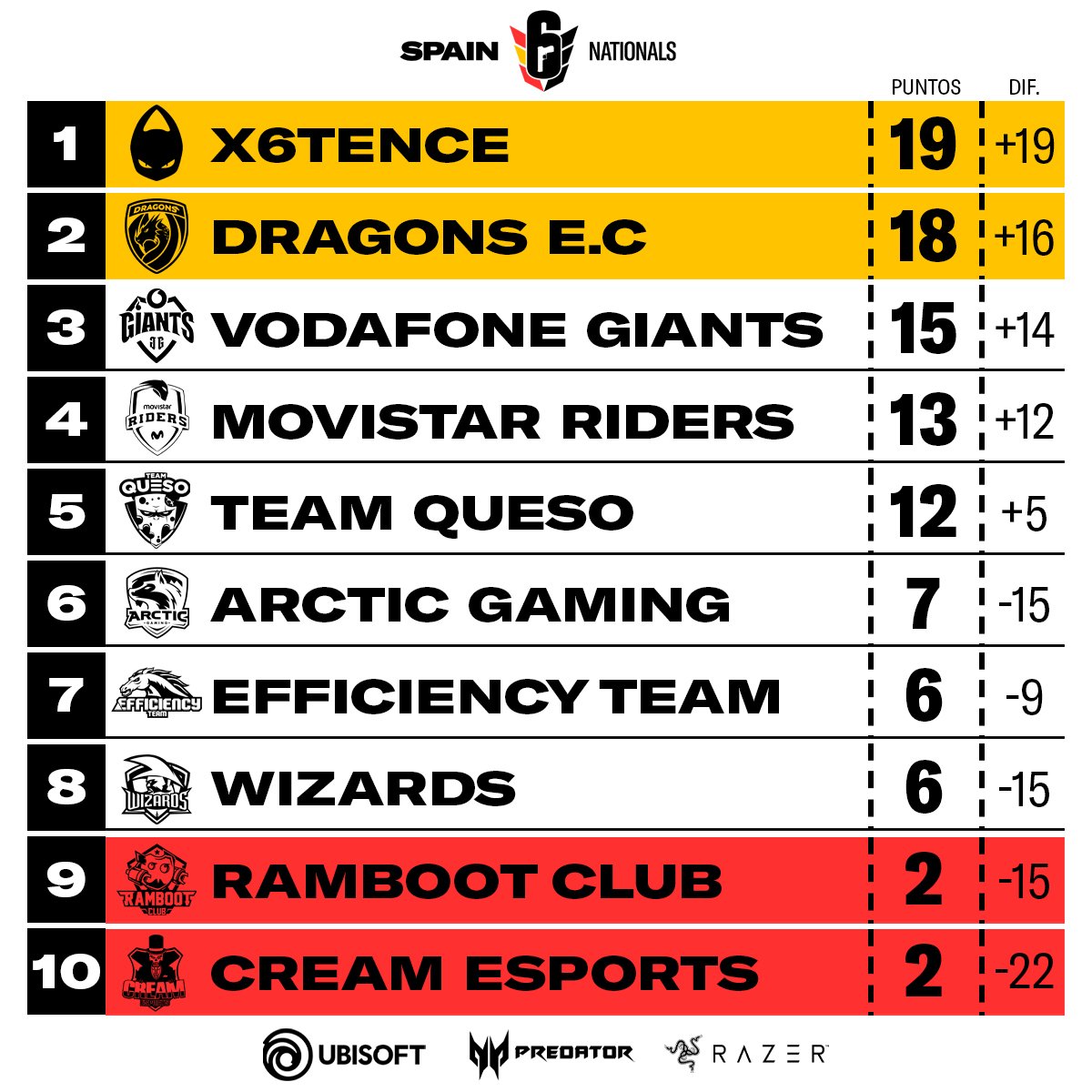 Giants are seen internationally as the top team in Spain, but following their shock defeat to Movistar in their last meeting, as well as defeats to the upcoming teams of x6tence and Queso last week, this reputation is really being challenged, making this a really important game for the team regardless of the changes in standings. Also of note is Wizards Esports Club vs Ramboot Club tomorrow, as two of the bottom three teams play against each other. Ramboot Club has yet to get a win in their seven games so far, however, and with two draws and three 5-7 losses they are certainly due a victory sooner rather than later.
Campeonato Mexicano Season 1 - Synergy Gaming vs x6tence Mexico
The Mexican national league is also coming to an end of its online season as we reach round 14 of 14. At the moment, three of the teams which will attend the LAN Finals in Mexico city have been decided, with just the fourth position up for grabs. This position is currently held by Synergy with 16 points, with Timbers Esports just behind them by virtue if round difference, and x6tence Mexico and Athlon Gaming both down with 10 points.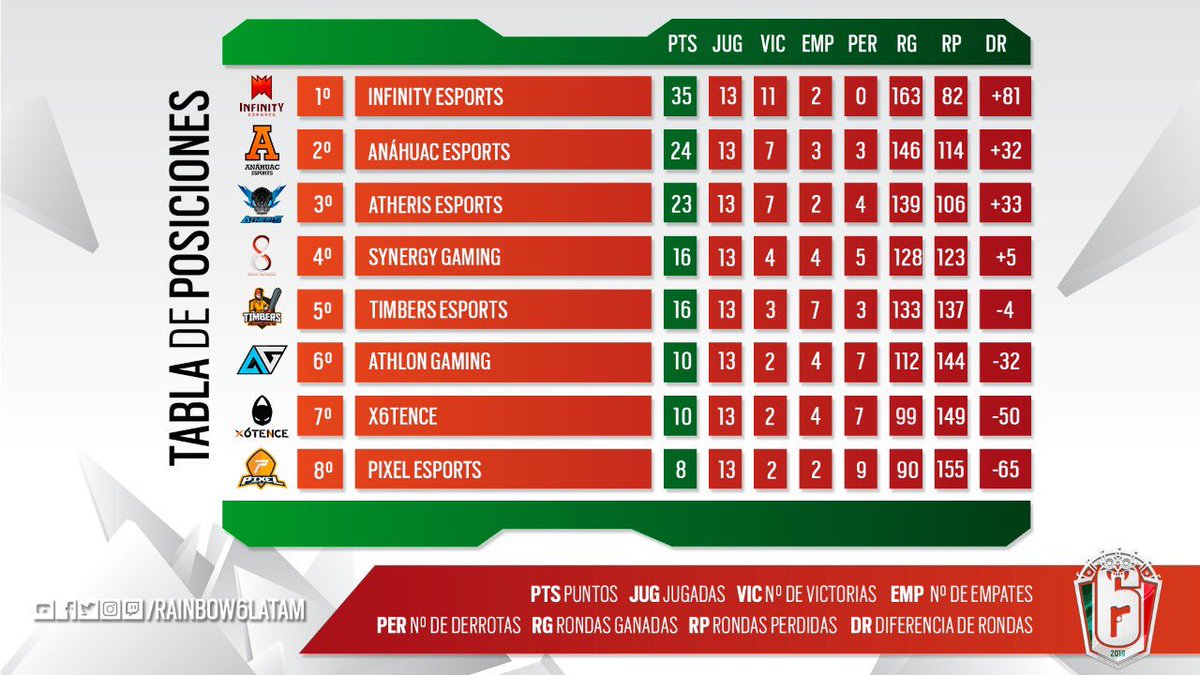 While it is virtually impossible for x6tence to qualify for the Finals, this is Synergy's last chance to perform, making this extremely important for the team. They need to beat x6tence to a greater degree than Timbers defeats Anáhuac Esports, a result in itself which is somewhat unlikely. Should Synergy stomp x6tence on Saturday as they did in the first half of the season (6-0, 6-1), we will know the four teams that will face off in July for the $500kMXN ($26k/€23k) prize pool, the second biggest tournament in North America this year. However, if the game is close, Synergy will have a nervous week-long wait to see Timber's result as their fate leaves their hands.
We welcome our new coach and backup for the squad of @Rainbow6LATAM! @Rubncarmona7! Let's go for those playoffs!
Saturday League - Season 1 - Delays
Following delays due to the deactivation of Clash, Claymores, and Deployable Shields, as well as PENTA being unavailable due to the Vegas Minor, this weekend will see the fourth postponed Saturday League playday in a row. This means out of the 14 scheduled playdays, we are officially on week 11 despite only 7 having been played. This means we will have to wait even further before the games kick off again with matchups between the top three teams of PENTA vs ForeignFive and ForeignFive vs BUTEO eSports to look forward to.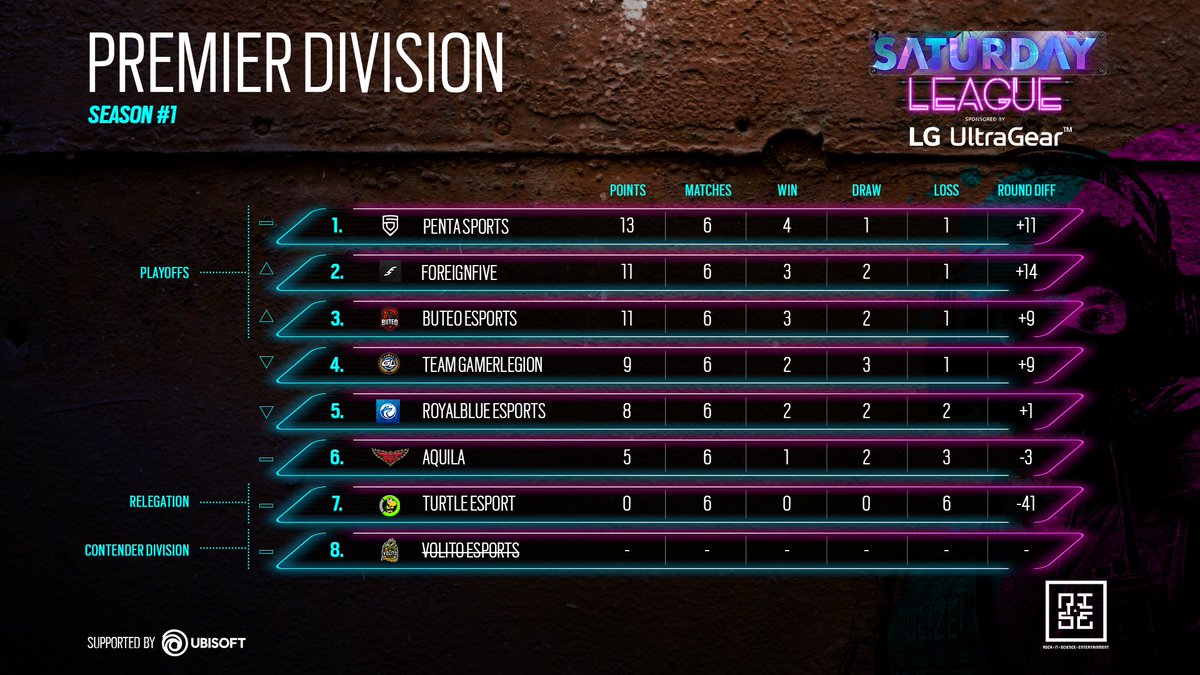 ---
These are the biggest and most interesting matchups this coming week across the secondary-level tournaments around the world. Keep an eye out for more SiegeGG coverage of all levels of Rainbow Six, including the kick off of the French League and Six Masters next week.